Gatner predicts that despite the turbulent economy, the worldwide tech and IT spending will increase to $4.5T (24% higher than in 2022). Companies are looking for new ways to optimize their operations and costs, while also looking to complete their digital transformation and find new revenue streams.
Tech expertise and engineering capabilities hold one of the key roles in the organizations' ability to transform and achieve their business goals. Thus, the demand for IT specialists will continue to grow. According to the US Bureau of Labor Statistics, it will increase by 22% from 2020 to 2030. At the same time, hiring experienced tech experts with the right skills remains challenging and costly.
To solve the problem, businesses, from tech companies to Fortune 100 leaders, partner with external suppliers to expand their engineering capabilities and often opt for IT outsourcing.
In this report, we explore IT outsourcing in Eastern Europe, aiming to help business and technology leaders create a winning outsourcing strategy, choose the best location for building up tech capabilities, and partner with the best IT outsourcing vendor.
Contents
Executive summary
Overview of the European IT outsourcing:

Poland
Ukraine
Romania
Czech Republic
Hungary
Bulgaria
Lithuania
Estonia
Latvia
Moldova
Slovakia

Final words on outsourcing IT to Eastern Europe
Business strategies, benefits, and engagement models
Afterword
How can N-iX help you?
About this report
The scope of the report uncovers the latest trends of outsourcing in Eastern Europe and its tech talent pool. It examines the current state of IT outsourcing in Poland, Ukraine, Hungary, Romania, the Czech Republic, Bulgaria, Moldova, and the Baltic region. The report aims to help businesses, investors and make up their minds about IT outsourcing in Eastern Europe and choose the most advantageous IT destination. We have analyzed and compiled data from 20+ sources, including reports by McKinsey, Deloitte, Bloomberg, Tholons, Kearney, and more, to the availability of resources and technical expertise in this region.
Executive summary
Outsourcing to Eastern Europe is an excellent business solution that provides access to a wider tech talent pool, expertise, or allows companies to find reliable tech partners to excel their tech competencies. This report explores major outsourcing destinations in terms of availability of resources, companies, overall economic and business climate.
The top four countries with the largest tech talent pools are Poland, Ukraine, Romania, and the Czech Republic have the largest number of experts working in IT outsourcing and R&D. Poland has almost 500k ICT specialists, but only 40% work in IT outsourcing. Ukraine has around 300k ICT professionals and is still a top European outsourcing destination despite the war.
Hungary and Bulgaria are also gaining their attention due to constant innovation, governmental support of the industry, and a growing number of experts. These countries have 175K and 101K of ICT specialists respectively.
The Baltic countries are well-known for their business climate and favorable legislative system. While their tech talent pools are smaller compared to other locations (less than 120K combined), these countries are well-known for destinations for start-ups and SMEs.
And Moldova and Slovakia have an increasing popularity as a potential IT outsourcing destination in Eastern Europe.
Outsourcing to Eastern Europe: IT industry overview
In today's highly competitive and dynamic business environment, not many decisions are as critical for your success as the right outsourcing destination. Most entrepreneurs are considering outsourcing to Eastern Europe to access skilled talent, reduce costs, and pursue new growth opportunities.
Eastern European tech talent pool
According to the Emerging Europe data, the combined tech talent pool of Central and Eastern Europe (along with Balkans and some neighboring countries) exceeded 2.2M in 2022. Out of this number, countries discussed in the report account for 70.46% of all tech experts (around 1.6M).
With the growing number of people employed in the ICT sector, their share in the overall employment also grows, meaning that there's a steady inflow of new employees (both from ICT graduates and people who switched from other industries).
You may also be be interested in: How to partner with the best developers in Eastern Europe?
Eastern European vendors: overview
As of March 2023, Clutch lists 3,380+ software development vendors that provide IT outsourcing services. While the most significant number of IT outsourcing providers are registered in Poland and Ukraine, large companies usually build presence in two or more countries within the region.
Countries in this region have versatile industry expertise, which ranges from business and financial services to healthcare, education, and telecom. We will dig deeper into the breakdown of companies by their size and domain expertise while exploring every country.
Eastern Europe remains one of the most vibrant software development destinations due to constant growth and development of its IT sector and a high level of digital technology adoption. Countries like Poland, Ukraine, Hungary, and Romania have already defined IT as a major catalyst for their sustainable growth and technological advancement.
So which country has the biggest talent pool and the strongest technological expertise for delivering projects of any scope and complexity?
Read more: 15 best software development vendors in Eastern Europe
Top IT outsourcing destinations in Eastern Europe
Poland
When it comes to Eastern European outsourcing, Poland is one of the top candidates. The country has a fast growing economy, which makes it an attractive software development destination for various organizations overseas. The country has an impressive tech talent pool of almost 500,000 ICT professionals. Nearly 40% of the tech experts work for IT outsourcing companies. The lion's share of Polish IT specialists work for global shared services, business processes outsourcing, and other non-IT types of companies. The country has the largest working population in Central Europe, composed mostly of people under 34 years old.
Additionally, around 12,000 IT graduates enter the Polish software development market annually. According to Statista, in the academic year 2021/2022 the number of people studying ICT subjects reached 67K.
Clutch lists over 1,130 vendors offering software outsourcing services. And while the lion's share of them (over 90%) are smaller vendors with up to 250 employees, there are almost 100 of mid-size and large vendors. Among the top industries in the portfolios of Polish vendors are financial and business services, IT, e-commerce, and healthcare.
The country's IT services market reached $12.8B in 2022. Moreover, Poland was ranked 9th in the Tholons Top 100 Outsourcing Destinations ranking. The major centers of the country's IT development are Krakow and Warsaw, both of which have repeatedly made it up in the Tholons Global Innovation City list.
In addition, Polish R&D activities are becoming increasingly financed by the private sector thus fostering interest among global market players. For instance, companies like ABB, Google, Siemens, Motorola, Delphi Automotive, Intel, and McKinsey opened their R&D centers in Poland.
Related: Software development in Poland: IT hubs, developers, companies
Ukraine
Ukraine is considered one of Europe's leading destinations for global software development services. The country's software development sector is progressing steadily year by year. The country offers a wide array of benefits – from its vast IT talent pool and extensive expertise to cost effectiveness and strong technical education.
Ukraine is a home to roughly 300,000 ICT professionals. Approximately 60% of all tech experts work for IT outsourcing and IT outstaffing companies.
Over 1,600 companies in Ukraine provide a myriad of IT-related services (more than 950 listed on Clutch). Over the years, these vendors developed strong expertise in different verticals ranging from fintech, IT, healthcare, e-commerce & retail, which helps the country maintain a competitive edge on the global IT market.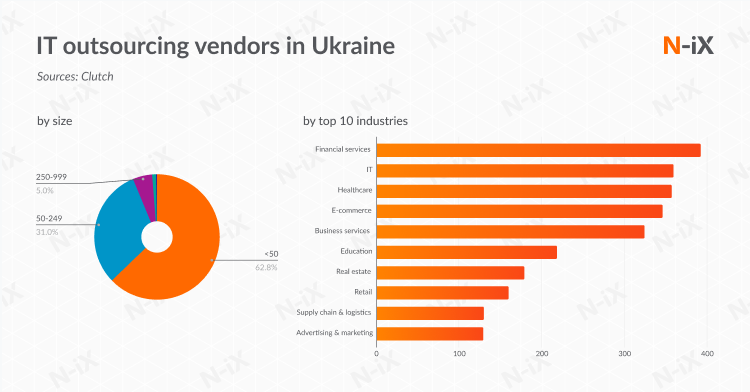 The country is home to more than 100 R&D subsidiaries of international companies from a variety of industries including software, gaming, telecoms, and e-commerce. Global companies like Microsoft, Samsung Electronics, Apple, Wargaming, Boeing, Skype, eBay, Siemens, IBM opened their R&D centers in Ukraine.
In addition, Ukraine is gaining weight in terms of IT industry recognition. The country has made it to the 42nd position in the Kearney Global Services Location list. The country has also ranked 4th in its category in the 2022 Global Innovation Index by WIPO. What's more, 12 Ukrainian IT companies, including N-iX, were featured in the 2022 list Global Outsourcing 100 by the International Association of Outsourcing Professionals (IAOP) as the best outsourcing providers.
Read more: Software development outsourcing to Ukraine: All you need to know
How has russian invasion of Ukraine affected the development of the Ukrainian IT industry?
The recent Statista data shows that despite the brutal invasion of Ukraine in February of 2022, Ukrainian IT sector remains strong and retentive. It shows that in 9 months of 2022, the country has reached the same level of computer services export as in 2020, and had the potential to reach the level of 2021 or more.
Moreover, thanks to post-pandemic improvements to business continuity plans and already adopted hybrid and WFH models, many companies were able to keep their delivery. For example, within the first month N-iX was able to stabilize and keep delivery rate above 95%.
Romania
The IT industry in Romania employs around 192,000 ICT specialists. Romanian developers have an excellent reputation in the industry for their high IT service quality – the country is ranked 23rd by SkillValue and 12th in the TopCoder lists. Experts in this location have strong knowledge of the English language. Romanian developers reached 17th position in the EF EPI English proficiency ranking.
In 2022 the IT industry growth accelerated and reached $3.4B. Also, according to McKinsey, IT services accounts for 6% of Romanian GDP. As an outsourcing destination, Romania scored 32nd position in the Kearney Global Services Location Index.
This country is a home to 400 companies with diverse technical and domain expertise. Among some of the most common industries are IT, business and financial services, and healthcare.
After Romania joined the EU in 2007, its IT business has prospered and attracted global companies like Hewlett-Packard, Huawei, Ericsson, and Gameloft. Moreover, the regional department of Microsoft in Romania runs two global business support centers in Bucharest and Timișoara and makes a significant contribution to the development of the country's tech industry.
The Romanian government actively supports IT industry development by exempting software developers from the 16% income tax and introducing a number of incentives for local IT companies.
Czech Republic
The Czech Republic is one of top European locations for outsourcing IT-related services with around 199,000 ICT professionals employed in the information and communication sector. Every year approximately 4,600 ICT graduates enter the market from Czech universities.
The country is experiencing a 10% increase in IT outsourcing year over year. Czech IT industry growth is fueled by the strong inflow of high-value-added projects of the local IT companies and interest of global investors.
While Czechia is a popular outsourcing location in Eastern Europe, the overall number of vendors is smaller, compared to the previous three countries on our list. Out of 115+ vendors, 70% are small firms with under 50 employees. Also, there are very little to none tech giants that specialize in IT outsourcing. As for domain expertise, the top industries represented are IT, financial services, and e-commerce.
Such world-leading companies as Google, Microsoft, Oracle, CA, RedHat, Skype, NetSuite, Tieto, and IBM chose the country for both direct investment and outsourcing. Moreover, internationally recognized IT brands like Avast, AVG and Socialbakers have their roots in the Czech Republic.
Hungary
The Hungarian software development industry is one of the most dynamic sectors. The country has a large share of outsourcing within the IT market in Eastern Europe with around 175,500 specialists employed in the ICT sector. Hungarian developers rank 4th in the SkillValue ranking.
As for the selection of potential tech partners, Hungary is a home to a little over 125 companies, seven of which are midsize and large vendors. Their primary specialization is IT, along with business and financial services.
According to Statista, IT services sales reached $1.35B in 2022, with the market's largest segment being IT outsourcing. Budapest remains the driving force behind the country's development and is ranked 31st in Tholons Services Globalization City Index in 2021.
In addition, the country has attracted a number of multinational companies such as Siemens, Microsoft, Deloitte, Ericsson, Nokia, TATA, etc. to establish their R&D centers. Throughout the last two decades, the Hungarian government has launched a number of R&D tax incentives as well as provided fast access to technical knowledge by means of regular workshops, meetups, and conferences.
Related: Top destinations for software development: Hungary vs Ukraine
Bulgaria
When talking about outsourcing to Eastern Europe, we cannot forget Bulgaria. In 2021, its exports of ICT services constituted $2.1B and are projected to reach $2.6B by 2026. As stated in the Emerging Europe report, the Bulgarian IT market employs around 101,400 ICT specialists.
Approximately 2,000 ICT graduates enter the market annually and more than 220 educational establishments offer diverse opportunities for technical students.
Bulgarian outsourcing vendors are well known for the quality of their services. A little over 200 companies cater to the clients in financial and business sectors, IT, healthcare, and e-commerce.
The country also benefits from the presence of the global IT giant – Hewlett-Packard, which employs more than 6,000 IT specialists. Bulgaria has a rather high number of R&D offices of multinational IT corporations such as HP, SAP, Johnson Controls, Oracle, VMware, CISCO, ProSyst, and Atos. Moreover, due to the developed IT infrastructure and favorable business climate, the country ranks 11th in the IT Competitiveness ranking by Emerging Europe.
You may find this interesting: Hiring Bulgarian developers: talent pool, expertise, education and more
IT Market overview: Baltic countries
The Baltic region is recognized as one of the most economically stable locations in Europe, boasting high levels of digital solution adoption and effective legislation that ensures data security. The launch of e-programs, ease of doing business, cyber security and low corruption rates foster IT industry development in the region.
Nevertheless, the pace of software development market growth and digital technologies adoption in Estonia, Latvia, Lithuania are still moderate compared to the Eastern European market leaders.
If you are interested in the Baltic companies or the state of IT industry in this region, check out our article IT outsourcing destinations overview: Estonia, Latvia, Lithuania.
Lithuania
Around 53,000 specialists are employed in the ICT industry in Lithuania, with nearly 700 future experts graduating every year.
The country has attracted the attention of Google, AIG, and Nasdaq which decided to set up their regional development centers there. Moreover, such global companies as Uber, IBM, Wix, HP, Virtustream, and Unity have already opened their R&D and IT development centers in Lithuania.
As for the Lithuanian landscape of software development and IT outsourcing vendors, there are a little over 100 vendors listed on Clutch. These companies have experience with delivering IT, business and fintech, e-commerce, and healthcare solutions.
On the whole, IT companies in Lithuania have received substantial investments over the past years, which stimulated the growth and development of the IT industry within the country.
Estonia
The ICT sector in Estonia employs around 32,400 specialists with around 800 people graduating with degrees in technical disciplines every year. Estonian ICT services exports reached $1.24B in 2021 and are expected to grow to $1.5B by 2026.
Two major cities contribute the most to the development of the Estonian IT industry – Tallinn taking the lead (67.5%) and Tartu as a runner-up (12.5%). In addition, Tallinn scored second in the 2022 Emerging Europe Business-Friendly City Perception ranking for smart city development.
Estonia is a well-known tech hub and a popular destination when it comes to startups. However, there are also a variety of small vendors to partner with when it comes to outsourcing in Eastern Europe.
According to IBIS, the number of software development companies in Estonia grows 1.2% per year on average over the five years between 2018 and 2023. According to Statistics Estonia, 37% of local enterprises have established ICT security assessment procedures, whilst 62% of enterprises educate their employees about ICT security. Estonian tech companies develop robust security policies mainly to avoid the potential risk of destruction or corruption.
Estonia is known as the birthplace of Skype and TransferWise along with such influential startups as Pipedrive, Cloutex, Click & Grow, Grabcad, Erply, Fortumo, Lingvist, etc. Moreover, the country attracted such global market players as Microsoft, SAP, Acronis, Parallels to open their R&D centers.
Latvia
The ICT services turnover reached almost $5B in 2021, with the tech market comprising 6% of the country's GDP. The main trade partners of ICT services from Latvia are Sweden, Ireland, and the USA.
The Latvian ICT sector employs around 30,000 specialists. Approximately 700+ computer science students graduate every year from Latvian universities thus accelerating industry growth.
As for the IT outsourcing vendors in Latvia, Clutch lists 40+ companies with only four of them in the midsize category (250-999 employees).
The evolution of the Latvian IT market led to the birth of such large IT service providers in the country such as Tieto, Evolution, Accenture Latvia, and Lattelecom Technology. Moreover, international companies like IBM, PwC, Accenture, KPMG, Siemens, ABB, etc. have already opened their R&D centers in Latvia.
Moldova
The Moldovan IT industry is one of the most dynamic sectors of the country's economy and remains the priority area for development and expansion for the Moldovan government.
Due to the government's reforms and incentives, ICT exports have increased in the last five years by 89.6%. Around 80% of Moldova's ICT services are exported to the foreign countries, with two-thirds delivered to Western European and US enterprises.
More than 33,500 specialists are involved in the IT sector with around 900 students graduating from Moldovan universities with degrees in computing or a related field every year.
The IT industry in Moldova is represented by 60 various vendors, including some midsize and large companies, that help businesses in e-commerce, IT, business and financial services with software development, QA, and other related requests.
According to Statista, the Moldovan ICT market value is expected to reach $40.1M in 2023. Emerging Europe forecasts that in the upcoming years, the revenue will grow at 7.39% CAGR, resulting in a market volume of $1.95B by 2027.
Slovakia
The ICT sector in Slovakia employs over 114,000 tech professionals that constitutes around 5% of the country's workforce. Every year, approximately 1,600 specialists graduate from Slovak universities with degrees in tech specializations.
As for the number of outsourcing vendors, Clutch lists 70 companies with expertise in fintech, IT, healthcare, and other business verticals.
The IT services market in Slovakia reached $670.7M in 2022. Joining the European Union in
2004 and gaining access to the EU markets, the country has greatly boosted its technological potential. The biggest IT hubs in Slovakia are Bratislava and Kosice – the cities are home to the largest technology hubs in the country, such as the Science Park at the University of Bratislava.
The country's technological potential attracted Volkswagen, Kia, and Siemens to set up their R&D centers in Slovakia. In addition, the number of software development companies in Slovakia industry has grown 3.8% per year in 2018 - 2023.
Keep reading: Software development destinations: Slovakia vs Ukraine
Final words on outsourcing in Europe
For companies that consider IT outsourcing in Europe (specifically, Central and Eastern parts of the region), it is important to find the right balance between availability of resources and tech partners, international rankings, and industry-related reports. All these details will help you find the right balance between the resources, costs, skills, and business results.
Many countries have sufficient tech talent, a variety of vendors to choose from, and a steady influx of ICT and STEM graduates every year. On the chart below, we have summarized the key aspects covered by this report.
Poland and Ukraine are taking the lead, offering a myriad of cutting-edge technology-related services. Poland has the largest tech talent pool with almost 500,000 ICT specialists, although only nearly 40-ish% of the experts work for IT outsourcing companies. Ukraine remains one of the leading destinations for IT outsourcing in Europe, boasting the second largest talent pool with around 300,000 ICT professionals and keeps the good work despite the war. Romania, the Czech Republic and Hungary have also attained a competitive position among top five Eastern European outsourcing destinations in terms of IT market capacity and annual industry growth rate of 10-15%.
Countries like Moldova, Bulgaria, and Slovakia are falling behind market leaders in terms of innovation adoption and overall technological capacity. Nevertheless, they've introduced a number of incentives to attract foreign investments and foster IT industry development. Meanwhile, Baltic countries launched a number of e-programs and created a favorable business environment in the region.
Read more: Developers in Eastern Europe: expertise, hubs, and more
Business strategies in the digital age
With the volatility of the modern world, businesses have redefined the understanding of IT outsourcing (incl. Eastern Europe). According to Deloitte Global Outsourcing Survey 2022 , 76% of executives indicated that some functions within their organizations are outsourced. However, the question remains: why do companies outsource these functions?
57% of companies still view traditional outsourcing as the main tool for cost reduction. However, around 50% of respondents also mention shifts in business models and access to new expertise as well. From startups to leading enterprises, companies are forced to optimize their operations, automate processes, and overall – find new ways to reduce costs or use them wisely.
Despite certain economic uncertainties, many businesses still want to keep up the speed of their digital transformation and are looking to augment their expertise. Deloitte reports that 62% of respondents view managed services as a great way to address the growing speed of digital and technology transformations.
Cybersecurity and industry regulations are now major risks outsourcing vendors manage to mitigate while fostering innovation. The same survey, 45% of C-level executives seek new forms of outsourcing cooperation to address changing regulatory requirements, and 30% look for ways to overcome increasing and complex cybersecurity threats through the same channel.
Among other benefits that IT outsourcing offers are:
presenting vast availability of all kinds of IT resources;
giving the flexibility to change the size and scope of any IT activity;
enabling easier and faster project scaling;
creating an effective way to automate manual processes and improve their efficiency;
allowing companies to focus on core functions.
What service or engagement model can bring you the most value?
Depending on your needs and reasons for outsourcing, there are four major services that you might want to consider:
Team extension is an excellent choice for businesses that know exactly what they need, but require external resources to scale and complete the tasks.
Managed team allows companies to share some risks and responsibilities with their vendors, while also delegating management of the team.
Custom solution development helps companies tackle specific technical challenges, modernize existing systems, or address specific business needs.
Technology consulting is the way to address complex business problems that seem to have no clear immediate solution.
Afterword
Overall, IT outsourcing in Eastern Europe is an excellent opportunity for companies worldwide to access rare tech expertise and find reliable tech partners for digital acceleration. The collected data reflects dynamic growth of the IT market across Eastern European countries. This region has become a number one choice for many global companies looking for a software development partner due to its extensive talent pool, technological excellence and great price-quality ratio.
N-iX: 20 years of experience powered by 2,000 experts and engineering excellence
N-iX is a global software solutions and engineering services company that helps world's leading organizations turn challenges into lasting business value, operational efficiency, and revenue growth using modern technology.
The company has been recognized as a reliable IT outsourcing vendor by numerous industry associations (GSA UK, IAOP).
N-iX partners with technology leaders across a variety of industries, including finance, manufacturing, supply chain, retail, e-commerce, healthcare, and more.
We offer expert solutions in cloud, data analytics, embedded software, IoT, AI, machine learning, and other tech domains.
N-iX has formed strategic partnerships with a number of global businesses including Lebara (renowned telecom brand), Gogo (world's leading in-flight connectivity provider), Currencycloud (global payments platform), to name a few. N-iX has cooperated with over 160 clients across the globe such as Fluke, OpenText, Travelport, TuneIn and many Fortune 500 companies;
N-iX adheres to international regulations and complies with ISO 27001:2013, PCI DSS, ISO 9001:2015, and GDPR.
Sources
COVID-19 digital transformation & technology by McKinsey
COVID-19 Digital Engagement Report by Twilio
State of Remote Work Report by Owl Labs
Global software marketplace insights: Eastern Europe by SourceSeek
State of European Tech 2020
The 2021 Kearney Global Services Location Index
Tholons Services Globalization City Index in 2020
Bloomberg Innovation Index 2020
World Bank Group. Doing Business Report 2020
Global Innovation Index 2020 by Wipo
The World Bank. Service Exports
The World Bank. ICT Service Exports
The Hays Global Skills Index 2019/20
Tertiary education graduates: main subject areas
tradingeconomics.com
Clutch.co
pwc.com
Future of IT Report by Emerging Europe
QS World University Rankings 2020
Dou.ua
ABSL
Rise in EU population working from home by Eurostat
Global Startup Ecosystem Index 2022 by StartUp Blink
TopCoder Ranking, Aug 2022
Where to find the best developers in 2019? by Skillvalue
Global outsourcing survey 2022 by Deloitte
Have a question?
Speak to an expert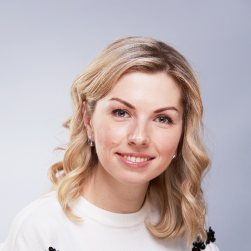 Uliana Batiuk
Engagement Director
---