In recent years, the global lack of talent has become the main blocker for Western enterprises. As of May 2022, 7 in 10 American companies have already admitted that they lack specialists to run their business processes [1]. The workforce shortage issue significantly affects the IT industry as well. According to the US Bureau of Labor, by 2030, the demand for CS specialists will grow by 13%.
So, where can you find qualified IT professionals that will take responsibility for your solution's development? A possible way out of the talent crisis is offshoring development services to Eastern Europe, one of the world's popular outsourcing destinations. In this article, we will overview the current state of the tech market in the region as well as outline a portrait of an average software developer from Eastern Europe.
Why offshore IT services to Eastern Europe?
By definition, offshore software development presupposes augmenting your team with IT experts from distant locations. While offshoring, businesses can staff ICT specialists worldwide and reach tech talent with expertise unavailable in their country. But why offshore your software development to Eastern Europe rather than look for tech specialists in other destinations? We listed the key advantages of partnering with the Eastern European engineering team:
Access to a skilled workforce. Eastern Europe is one of the richest regions on the outsourcing map in terms of talent availability. According to the ABSL, the area is home to more than 1M of tech specialists. Moreover, developers from Eastern Europe provide high-quality engineering services: EE countries scored high positions in the skill evaluation rankings. For instance, Ukraine ranks 6th in the Top Coder research that assesses the developers' technology acquisition. At the same time, its closest neighbor, Poland, closes the Skillvalue top 3 of the countries with the best IT services quality.
Prompt and painless project launch. Clutch lists more than 200 midsize and large engineering companies in Eastern Europe. Rather than small vendors, larger companies usually have optimized development processes and available resources to scale. According to the US Bureau of Labor Statistics, the average time to hire in the US constitutes 33 days for the IT industry. When partnering with an offshoring vendor from Eastern Europe, you will be able to set up the project within a shorter time period, due to higher talent accessibility.
Cultural compatibility. When handling business with a partner that shares similar values, you minimize the risk of miscommunication at work. Due to globalization, Eastern European countries are well-integrated into Western business ethics.
Related: How to find the best IT outsourcing company in Eastern Europe
5 reasons to offshore software development to Eastern Europe
1. Software developers in Eastern Europe: the extensive talent pool
The talent capacity of your potential outsourcing destination is the key aspect to consider. In these terms, Eastern Europe is an alluring option — the region is home to an extensive talent pool of 1.1M ICT specialists. With over 490,000 of them residing in Poland, the country is the EE leader in terms of talent working in digital. To compare, the joint talent pool of Lithuania, Estonia, and Latvia constitutes over 275K ICT employees.
The offshoring destination boasts a vast talent pool of skilled engineers. The number of software developers in Eastern Europe roughly estimated 580K. Ukraine, Poland, and the Czech Republic are the locations with the largest numbers of specialists providing software development services.
2. Multidimensional tech specializations of Eastern European developers
Offshoring to Eastern Europe allows you to access tech experts of all specializations and qualification levels. The local labor market is diverse, so you will be able to quickly find a candidate for a managing or technical role in your team. According to LinkedIn, more than 20,000 Technical Leads in the region have expertise in driving engineering projects. Moreover, Senior specialists make up a considerable share of developers in Eastern Europe. There are over 40,000 Senior Software Developers in the region.
A big number of software developers in Eastern Europe have expertise in cloud services and DevOps. Around 40K of EE engineers are well-versed in configuration management, infrastructure automation, and cloud adoption. One-third of the region's DevOps experts reside in Poland. Ukraine and Romania follow the country with talent pools of 9,000+ and 5,000+ DevOps engineers respectively.
In addition, Eastern Europe is rich in ICT experts that have experience in project management and product ownership. The destination is home to more than 69K of Project Managers that are experts in project planning, performance evaluation, and documentation management.
3. Wide expertise range of developers in Eastern Europe
No matter what technology stack you require for your project, Eastern European developers have diverse expertise to cover your needs. Let's take a look at the most widespread technologies used in the region, according to LinkedIn. JavaScript is the most popular programming language in Eastern Europe, primarily used to implement web applications. The region's talent pool of JavaScript engineers counts over 270K software developers. The largest hubs of JavaScript experts are located in Ukraine and Poland.
The second most popular stack in Eastern Europe is Java. More than 240,000 developers use the technology to build web servers, mobile applications, embedded systems, and other solutions. Top three countries with the biggest Java talent pools are Ukraine, Romania, and Poland. The latter is the EE leader in terms of developers skilled in the technology: over half of the local talent pool code with the Java stack.
Python closes the top three of most common technologies among developers in Eastern Europe. Every sixth tech specialist in the region knows Python. Along with Ukraine and Poland, Romania, the Czech Republic, and Hungary are other countries that house most Python developers.
Moreover, data management experts make up a considerable part of the Eastern European talent pool. According to LinkedIn, the region boasts over 100K of data-related specialists in total. You may find assistance with any kind of data-related projects in Eastern Europe: developers offshore data warehousing, data analytics, cloud computing services, and more. In addition, Eastern Europe houses around 80K of data scientists.
4. High English level among developers in Eastern Europe
English proficiency is a vital aspect of successful intercultural cooperation. Eastern European developers have a good knowledge of English and effectively use it in corporate communication. EE countries excel in the EF EPI ranking of English proficiency. Romania and Poland are the region's leaders reaching 16th and 17th positions on the list. Hungary, Bulgaria, Slovakia, and the Czech Republic also enter the top 30 of the rating, with an average level of English estimated as high. ICT specialists in Moldova and Ukraine have moderate knowledge of the language. According to DOU, the vast majority of developers in Ukraine have intermediate and upper-intermediate levels, which is enough for effective corporate communication. Moreover, tech experts in Eastern Europe have access to language courses that help them advance their English skills. As a result, Ukraine has gone nine positions up on the EF EPI list since 2019.
5. Education possibilities for software developers in Eastern Europe
The dynamic educational background sets the foundation for continuous workforce increase and vibrant industry development. Eastern Europe boasts many technical universities and strong STEM education. AGH University of Science and Technology (Poland), Ukrainian Catholic University (Ukraine), and Babes-Bolyai University (Romania) are only some of the prominent higher education institutions that offer CS programs. Many other universities that provide tech-related courses, such as Warsaw University of Technology and Lviv Polytechnic National University, have made it to the top 700 of the Times Higher Education Ranking (2022).
The number of ICT students in Eastern Europe roughly estimated 290K. Ukraine houses 40% of the region's computer science students. With 26,000+ CS students getting their degree each year, the country is the leader in the number of tech course graduates. In these terms, Poland and Romania follow Ukraine with over 12,000 and 8,000+ graduates, respectively.
Eastern Europe: key offshoring destinations
Poland
Poland has one of the most stable economies in Eastern Europe, which makes the country an alluring choice for investment. Due to the favorable economic environment, there are many software development companies in the local market. As of May 2022, Clutch lists 970+ Polish engineering vendors. Most of the country's ICT specialists are involved in IT projects for e-commerce, finance, and consumer products domains.
Keep reading: Software development in Poland: major IT hubs, developers, and more
Ukraine
Over the last two decades, Ukraine has earned a reputation as one of the most promising Eastern European outsourcing destinations. There are 870+ software development vendors in the country. Ukraine is a large hub of Eastern European developers that apply their engineering expertise to finance, healthcare, and real estate industries. In addition, local IT specialists continue to deliver amidst war: up to 90% of Ukrainian developers have already resumed work on their projects.
Romania
Another location that houses a considerable number of Eastern European software developers is Romania. According to Clutch, there are 340+ IT vendors in the country. The main industry vectors among Romanian developers are e-commerce, education, healthcare, and telecom.
Bulgaria
The Bulgarian government has made considerable efforts to attract more investments in the local market. As a result, many international corporations such as HP, Oracle, and VMware have opened R&D centers in the country. Bulgaria is home to over 170 engineering vendors specializing in delivering tech solutions predominantly for manufacturing, finance, and e-commerce domains.
Czech Republic
The most popular industries services in the Czech Republic are finance, e-commerce, telecommunications, and automotive. Local developers work using mostly JavaScript, Java, and PHP stacks for their projects. All in all, there are more than around 100 IT outsourcing companies in the country.
Hungary
The tech industry is one of the fastest-growing sectors in the Hungarian economy. As of May 2022, there are 100+ tech companies on the local market. 25% of them are midsize and large companies that employ over 250 Eastern European developers. The key industries serviced by Hungarian vendors are finance, healthcare, and telecommunications.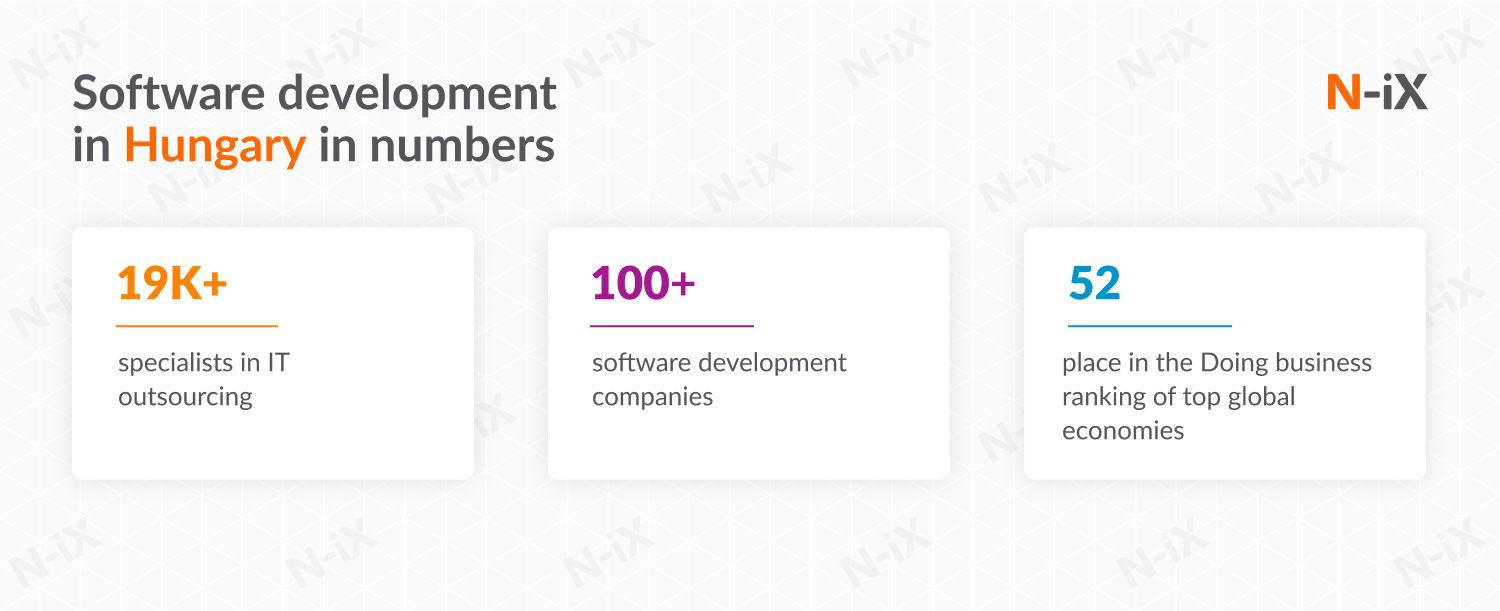 Slovakia
Slovakia has greatly boosted its engineering potential since it joined the EU in 2004. In 2021, the country appeared in the 44th position in the Bloomberg Innovation rating. Moreover, Slovakia has earned a reputation for the high quality of the local engineering services. According to the Skillvalue, the country is a global leader in terms of programming skills. There are over 50 engineering vendors in the local market that provide IT outsourcing services.
Moldova
There are 50+ software development enterprises in the Moldavian market, around 20 of which staff more than 250 employees. Moldavian developers have considerable experience in delivering solutions for e-commerce, consumer products and services, and finance industries.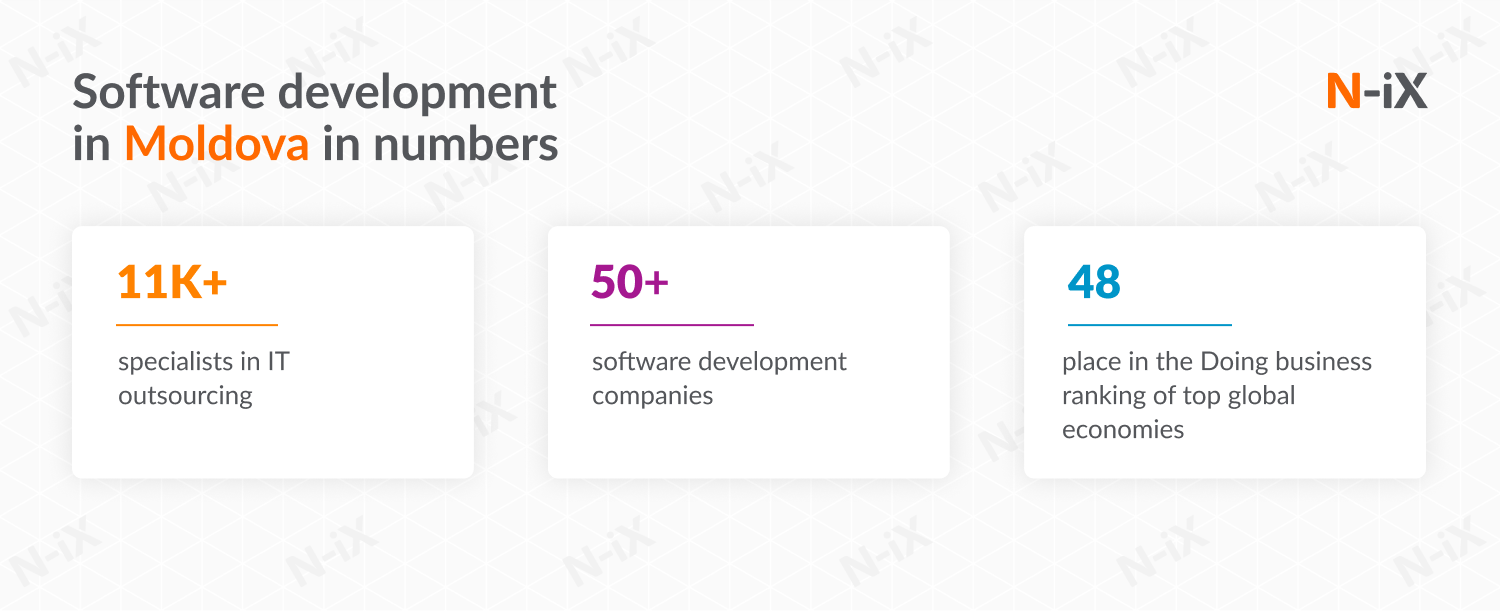 Why choose N-iX as your trusted Eastern European partner?
N-iX is a reliable Eastern European engineering vendor with proven experience in software development for manufacturing, logistics, healthcare, agriculture, fintech, telecommunications, and other industries.
With over 20+ years on the market, N-iX has opened its offices in many countries of Eastern Europe, including Poland, Ukraine, and Bulgaria.
The vendor's specialists are skilled in cloud solutions development, business intelligence, big data and data analytics, IoT, embedded systems implementation, and more.
Such international enterprises as Fluke, Gogo, Currencycloud, and many Fortune 500 companies are among our clients.
The company adheres to international cybersecurity standards, in particular, PCI DSS, GDPR, ISO 27001:2013, and ISO 9001:2015.
N-iX has earned industry recognition: the vendor appeared among the global best engineering providers in the CRN Fast Growth 150 List, IAOP Global Outsourcing 100, and many other rankings.
References:
1. ManpowerGroup Talent Shortage survey 2021
Have a question?
Speak to an expert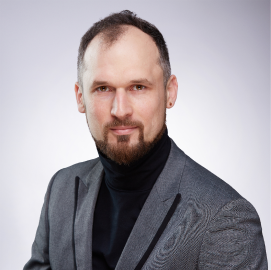 Taras Petriv
Associate Engagement Director
---