For years, development in Eastern Europe* has been a preferred choice for IT outsourcing among many leading companies from the US and Western Europe. The region boasts a huge talent pool, good tech education, well-developed IT infrastructure, a high level of digital technology adoption, and a number of other benefits.
* Top Eastern European outsourcing destinations are Ukraine, Poland, Belarus, Bulgaria, Czech Republic, Hungary, and Romania. The combined number of software developers in the EE region exceeds 1,051,000 experts.
There are over 3,500 Eastern European software development companies. So how to choose a reliable partner that will help you meet your specific business needs in the new post-COVID world? The main goal of our research was to create a list of the most reliable companies from Eastern Europe to help you make an informed business decision and find a trustworthy partner. Let's explore the best Eastern European software development service companies together.
Contents
The research gathers the information and statistics from 30+ sources. It is based on the research provided by international advisory companies, award associations, dedicated vendor listings, business associations, and other reputable sources. The report includes findings by Forbes, Deloitte, A.T. Kerney, IAOP, IT European Software & Excellence Award, Clutch, LinkedIn, and others.
Selection Methodology
We created a software vendors list with over 100 software development firms that either have a significant presence in Eastern Europe or were established in the region. They have development centres in one or several EE countries and offer nearshore and offshore development services. We've selected the companies with 1,000+ employees as they have established processes, the capacity to deliver solutions of various complexity and scale, wider domain and tech expertise, and numerous case studies of successfully delivered projects both for medium businesses and enterprise-level customers.
Then, we have matched this list against The Global Outsourcing 100 (2016 through 2021) by International Association of Outsourcing Professionals (IAOP) and the European IT & Software Excellence Award (2019 and 2020/21) by IT Europa to select the vendors whose achievements have been recognized by the leading industry associations.
After that, we have analysed the companies' websites for their technological competences, industry expertise and public case studies that describe the projects they have delivered. Also, we took into account certifications, partnerships, and the biggest clients.
The main criteria for selecting a software development service provider include cost-effectiveness, the company size, technological and domain expertise, communication, to name a few. In this report, we have considered all the essential vendor selection criteria and made a list of the best Eastern European vendors trusted by IBM, Microsoft, Panasonic, OpenText, Volvo, Bosch, and other industry leaders.
We have also added essential vendor information, including when the company was founded, the number of employees, HQ, development centres in Eastern Europe, and key clients to make the selection process easier.
Awards and certifications
We have also matched the software vendors list against The Global Outsourcing 100 (2016 through 2021) by IAOP and European IT & Software Excellence Award (2019 and 2020/2021) by IT Europa to select the vendors whose achievements have been recognized by the leading industry associations.
N-iX
N-iX is one of the top software development companies in Eastern Europe with 1,500+ engineers onboard. Since 2002, N-iX has formed strategic partnerships with global industry leaders, including OpenText, Lebara, Gogo, Fluke Corporation, Currencycloud, several Fortune 500 companies, and over 50 other medium and large businesses. With delivery centres across Eastern Europe, N-iX possesses strong expertise in:
The company has multiple industry awards, including 2020 IT Europa Awards in two categories, GSA UK, Software 500, etc. Also, it has been recognized among The Global Outsourcing 100 providers by IAOP for the fourth consecutive year.
EPAM Systems
Founded back in 1993, Epam is one of the oldest IT companies in Belarus. This software vendor specialises in software product development, IoT, application & cloud management, as well as IT consulting services. It has development facilities in Ukraine, Poland, the Czech Republic, Bulgaria, Belarus, and Hungary.
This company works with a variety of clients in industries, such as fintech, media and entertainment, hi-tech, travel, automotive, and others.
SoftServe
Founded in 1993, the company specializes in IT outsourcing services and partners with many international businesses. The vendor has seven development facilities in Ukraine, Poland, and Bulgaria.
The company was shortlisted among leading vendors in the Global Outsourcing 100 by IAOP for several years in a row.
GlobalLogic
The software development company from Eastern Europe has a worldwide presence and development centres in Poland and Ukraine. It specialises in*:
Also, the software vendor offers web app development, UI/UX design, and quality assurance. It builds custom solutions for iOS, Android, web, wearables, IoT, and VR. The company works with clients in a wide range of domains, including social networking, travelling, media, taxi booking, productivity, and others.
Infopulse
This Ukrainian company has over two decades of experience in IT outsourcing. It has almost 2,000 professionals and offices in Ukraine and Poland. The vendor's services* include:

This software outsourcing company from Eastern Europe provides development services for automotive, banking, finance, energy, healthcare, fintech, and other industries.
Ciklum
An IT outsourcing service provider that has over 3,500 experts working in its software development centres in Poland, Ukraine, and Belarus. It provides a wide range of services*:
This company works with a number of clients, including small businesses and enterprises in information technology, retail, financial technology, and other domains.
IBA Group
This is one of the largest software development companies in Eastern Europe, with more than 2,500 professionals. Headquartered in Prague (the Czech Republic), IBA Group has software development centres in Belarus, the Czech Republic, Slovakia, Ukraine, and Bulgaria.
The company partners with companies from the USA, Western Europe, Belarus, and CIS.
ELEKS
Initially founded in Lviv (Ukraine), this company has several delivery centres across Eastern Europe. With over 1,500 experts, this vendor provides a variety of IT services* including:
Its expertise also includes Data Science, enterprise mobility, QA and testing, IoT, R&D, and technology consulting.
Luxoft
This software development company was founded in 2000. With development centres in Ukraine, Poland, Romania, and Bulgaria, this vendor specialises* in:
The company has expertise in automotive, financial services, media & entertainment, retail, logistics, and telecom.
Lohika
The engineering centres of this IT service company are located in Ukraine: in Lviv, Odesa, and Kyiv. The company's services include:
The company has a track record cooperating with global businesses in the automotive, security, manufacturing, and other industries. It has helped over 100 clients improve their products and bring them to market.
Endava
It is one of the largest Eastern European software development companies with over 8,000 IT experts and development centres in Romania, Moldova, Bulgaria, Serbia, and Macedonia. The firm has 18 years of experience and focuses on*:
This vendor primarily works with midsize and large companies in financial services, media, telecom, and transportation.
Sigma Software
Sigma Software is an Eastern European software vendor with over 1,000 professionals. Headquartered in Kharkiv (Ukraine), Sigma Software has development centres in Ukraine and Poland. This company specialises* in:
The company partners with midsize and large-scale companies and has extensive expertise in advertising & marketing, automotive, and financial services.
Itransition
Established in Belarus in 1982, this IT outsourcing vendor works with startups, midsize businesses, and enterprises. The company offers a wide range of services*, including:
Nearly 65% of the company's products were created for the media sector. The company has also developed products for such directions as omnichannel commerce, document management, Business Intelligence, and others.
Grid Dynamics
This software vendor was founded in 2006. With a little over 1,300 experts, this software engineering company has development centres in Serbia, Ukraine, and Poland.
Its services* and areas of expertise include:
The vendor has experience working with companies in retail, advertising and marketing as well as consumer products and services.
iTechArt Group
This company has been on the market since 2002, helping startups and fast-growing tech companies build custom software solutions. It has over 200 active clients and focuses mainly on the development for financial services, healthcare, medical services, and real estate.
All these vendors offer top-notch software development in Eastern Europe. However, how do you find a company with a specific expertise? We took this software vendors list and narrowed it even more, based on the most popular services.
Finding a reliable company that specialises in development in Eastern Europe is just the first step. Next, you have to choose a company with a strong technical expertise that matches your business needs. In this section, we are going to explore:
In 2021, companies can tap into even a larger pool of experts due to remote work mode. As one of the primary IT outsourcing destinations, Eastern Europe has over 3,500+ vendors [6] and a little over 1M IT specialists.
Software development companies in Eastern Europe have strong domain expertise in fintech, healthcare, automotive, and other industries. On the chart below, you can see the expertise breakdown by country.
In Eastern Europe, software development companies have a diversified tech specialization. Eastern Europe has a lot of developers who work with Java, .NET, JavaScript, Python, and other programming languages and technologies that cover all the major tech tasks and challenges nowadays.
The best software development vendors in Eastern Europe
Eastern Europe has a lot of firms of all sizes and specializations. To narrow down the software vendors list, we have selected the firms that offer custom software development, analyzed their websites, relevant case studies, and shortlisted the companies with the strongest expertise:
Case studies from companies' websites:
N-iX has partnered with Orbus Software, helping them modernize the tech stack of their software products, extend their functionality, and increase performance and scalability of their solutions.
Another example of a success story in custom software development is N-iX partnership with Currencycloud, a global payments provider that has collaborated with N-iX on its cloud-based platform that processes over $400M in 35 currencies every month.
Epam has worked with Wolters Kluwer on updating their incident management and auditing software.
Infopulse has helped Agillic ApS with an application for flexible management of marketing campaigns.
IBA Group has created a centralized platform for the Belarusian Railway to support various business applications running under z/OS.
Team extension is widely used in the USA, United Kingdom, and Western Europe to speed up the development process and bring their products to market faster. Many industry-leading businesses, such as Microsoft, Mercedes, Lebara, Gogo, Rakuten, and others chose to expand their teams with highly-qualified tech experts from Eastern Europe.
Clutch lists almost 300 Eastern European companies who offer staff augmentation services to their clients. With a tech talent pool of over 1M software engineers [2], Eastern Europe has become a gold mine of staff augmentation for the US, the UK, and Western Europe.
The best companies for IT staff augmentation in Eastern Europe
We have cross-checked the list of companies from this report with the services they offer and case studies matching this service.
Success stories:
A leading UK fashion retailer PrettyLittleThing (part of Boohoo Group) has chosen N-iX for staff augmentation to increase the speed-to-market of their e-commerce solutions.
N-iX has also helped a fintech leader that offers a P2P lending platform to expand their development capabilities and migrate their solution from a monolith to the microservices architecture.
Avid, a digital media solutions provider, has chosen GlobalLogic to expand the in-house software development and testing teams.
A tire production company (under NDA) partnered with IBA Group to design and develop the Approver Maintenance Application (AMA) as a part of an in-house development team.
You may also like Staff augmentation in Eastern Europe: How to make the most of it
The IoT market has reached $193.60B in 2019 and is expected to reach $657.31B by 2025, with a CAGR of 21%*. With the development of wireless networking technologies, adoption of advanced data analytics, and cost reduction of connected devices, the market is expected to grow at a positive rate [12].
The top industries that dominated the IoT adoption are utilities, transportation, retail, government, insurance, and healthcare. Consumer, professional services, retail, transportation and healthcare had the highest CAGR of around 15-19%.
However, McKinsey forecasts that IoT applications will have an even bigger impact on the global economy in the range between $3.9T and $11.1T (€3.5T and €10T respectively) by 2025 [13]. In 2020, VC-backed investments in the IoT solutions exceeded $145B across 57 countries [11].
Embedded software market worldwide
The global embedded software market is estimated to reach $20B by 2025. The stand-alone systems sector has the biggest share of the market (more than 70%).
The number of open job postings for IoT developers is skyrocketing on Indeed.com and LinkedIn.com and there's a definite shortage of qualified experts.
Companies that want to outsource embedded software development often choose embedded software companies in Eastern European countries, such as Ukraine and Poland.
Best companies for IoT and embedded development in Eastern Europe
Eastern Europe has an extensive tech talent pool with over 240,000 C/C++ developers. Leading IoT companies are working on projects in a variety of industries, including automotive, healthcare, transportation, etc. Here's a short software vendors list:
Examples of case studies:
As a part of the partnership with Weinmann Emergency, N-iX experts have worked on the firmware development for a defibrillator with monitoring functions. The N-iX teams has implemented predictive maintenance of the MEDUCORE Standard² device, which enabled cost savings, solution reliability, and its seamless operation.
The N-iX team has also cooperated with Cardo Systems on the wireless motorcycle communication system. Working as a part of an in-house team, 10 experts from N-iX are working in software and hardware testing of a wide range of their connectivity solutions.
The SoftServe team developed a blockchain environment to measure the audience reaction to different speakers at the conference by analyzing the character and noise level of applause in real-time.
Sigma Software worked with ENAiKOON GmbH on their new product for vehicle tracking.
Itransition, a software vendor from Belarus, has experience working on an autonomous baby care ecosystem with real-time biometrics tracking for one of their clients.
Eleks has built a network of 47 smartwatches for real-time phone-free communication and boost interactions among the AdForum Worldwide summit participants.
Keep reading: How to build a strong team for embedded software development
With an introduction of the cloud, both Cloud solutions and DevOps as-a-service have been growing exponentially. The hosting, storage and computing cloud services market reached $126B in 2017 and was forecasted to grow to $163B in 2021 [17].
Along with the growing interest in cloud computing, the need for experts with relevant expertise is also increasing. As of the beginning of 2020, Indeed.com lists over 115,000 open job postings on the US market alone. The EU market has over 180,000 job opportunities for experts in cloud computing and DevOps services.
So can the Eastern European market be the solution to this problem?
The best Cloud/DevOps service providers in Eastern Europe
Eastern Europe has over 300 companies with solid expertise in cloud consulting & computing and nearly 150 vendors who specialise in DevOps services. If you plan to outsource Cloud development to Eastern Europe, here's a breakdown of vendors by their expertise.
Here are the top 5 companies with a strong Cloud and DevOps expertise:

Success stories:
The variety of cloud services these companies offer ranges from cloud adoption and cloud migration to custom development of scalable, high-load solutions.
For example, N-iX has helped Vable, a UK-based content automation platform, move their existing on-premise product to the cloud and build a microservices architecture to enable flexible scaling and a growing customer base.
N-iX has delivered a cloud-based Big Data analytics platform for Gogo, which helped the company reduce infrastructure costs and ensure uninterrupted performance of their aviation technology solution.
Infopulse has helped one of its clients replace an outdated data centre with an IT infrastructure in the cloud.
Another software vendor, Luxoft partnered with a telecom firm to bring all the distributed systems to the cloud.
Keep reading: DevOps outsourcing: How to make it work
IDC forecasts that worldwide revenues for Big Data and business analytics went up to more than $203B in 2020, at a compound annual growth rate (CAGR) of 11.7%.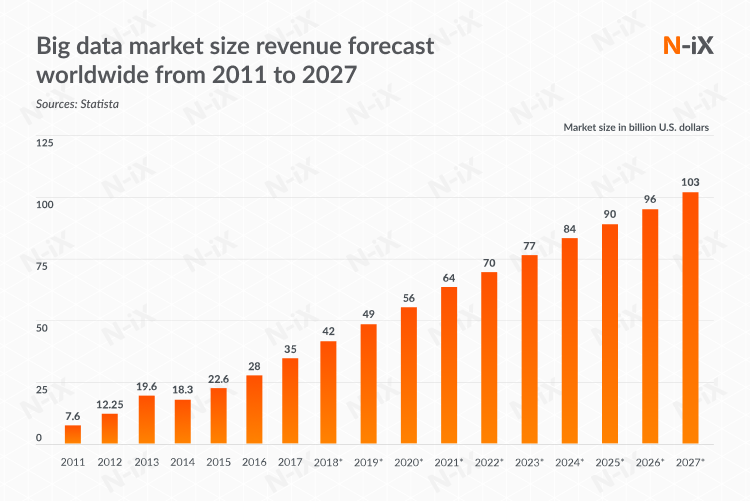 The number of job postings related to Data Science (DS) has skyrocketed. For instance, the Royal Society reports that the number of relevant UK job postings went up by 231% between 2013 and 2018 [19].
Both American and European markets are looking for affordable specialists with excellent tech expertise and established reputation.
While looking for data scientists, you should pay attention to the number of skilled experts in the country as well as the overall billing rates. Let's take a look at the number of DS specialists in this region:
Best data analytics companies
We have compared the software vendors list against their technical expertise and narrowed down the companies with the strongest Data Science and Big Data portfolio. Here are the top vendors:
Examples of case studies:
N-iX provides data analytics expertise for Lebara, Gogo, a Fortune 500 company under NDA, and other businesses – global leaders in healthcare, telecom and information management.
Lohika, Ukrainian software vendor, assisted Tidemark in speeding up the development of their big data SaaS solutions.
Luxoft has helped a major oilfield service company to enable predictive maintenance to reduce downtime and simplify logistics.
Read more:
Artificial Intelligence is changing our understanding of technology across all major industries. From virtual personal assistants and face recognition to smart cars and robotic helpers – AI-based solutions are taking over our personal and business lives. The global Artificial Intelligence (AI) market reached $20.67B in 2018 and is projected to reach $202.57B by 2026, marking a 33.1%* CAGR during the forecast period. As of 2020, the VC-backed funding has reached $71B with a primary interest in ML applications and ML platforms.
Consequently, the need for developers with relevant skill sets and experience is growing. As of March 2020, the US has over 8,000 job opportunities for experts in AI and ML, while the European Union has over 12,000 open vacancies.

Let's compare it to the Eastern European tech talent pool. LinkedIn lists 15,000 Scala experts, around 11,000 Hadoop specialists, and over 12,500 Python data experts.

The best AI companies in Eastern Europe
This area of software development in Eastern Europe is one of the fastest growing. The number of vendors that offer AI and ML expertise grew 4 times since 2018. Ukraine has the largest number of AI & ML providers in Europe. As of 2021, Ukraine has almost 150 vendors with sufficient AI expertise, followed by Poland with 110+ vendors and Germany with 55+ companies.
If you are looking for a reliable partner in Eastern Europe, here's the software vendors list of companies with a strong data expertise:
Examples of case studies:
N-iX specializes in real-time data science, development of self-taught analytical tools, AI algorithms & applications, natural language processing solutions, and fraud detection systems. The company has helped Gogo improve operations and customer experience by applying machine learning and data science to user behaviour and flight information.
Ciklum has helped SeeTree, an agritech company, build an AI-based solution for tree monitoring.
Grid Dynamics has developed an AI-powered product Grid Genie, an experimental open omnichannel conversational commerce platform.
Related:
In 2019, the global spending on enterprise software solutions reached $456B and is expected to reach $503B in 2020. Enterprise software solutions range from payment processing and automated billing systems to complex enterprise content management (ECM), customer relationship management (CRM), enterprise resource planning (ERP), Business Intelligence (BI) systems, etc. Many industry leaders have outsourced their development to Eastern Europe.
Top enterprise solutions companies
Enterprise software development covers a variety of services, including enterprise automation, enterprise mobility, professional services ( e.g. SAP), etc. The main tasks enterprises have today include improving inventory management and productivity, reducing maintenance costs and machine downtime, increasing speed to market and flexibility to meet customer demand, to name a few. To address all these tasks, companies use advanced analytics, cloud, DevOps, AI, and other technologies. We have shortlisted the initial software vendors list to five companies have both development capabilities and previous expertise in creating large-scale solutions for enterprises around the world:
Examples of case studies:
N-iX has helped Fluke Corporation increase the equipment uptime, reduce maintenance costs, as well as improve performance, customization, and scalability of Fluke's products.
GlobalLogic collaborated with BMC on numerous projects, including database automation suites and user experience monitoring solutions.
Continue reading: How to succeed with enterprise automation: 5 growing trends
Back in 2020, when the world was forced to introduce social distancing and shifted to the work-from-home mode, the line between on-site and remote development teams became hardly visible. Business leaders realized that offshore talent was closer than ever before and started to rethink the value of IT outsourcing.
In the report, we explored the advantages of partnering with Eastern European software development companies and the expertise this region has to offer.
Eastern Europe remains one of the most attractive outsourcing destinations due to the excellent price-quality ratio, constant growth of the IT industry, and strong technological expertise.
Eastern Europe has a large tech talent pool of 1M professional developers. Ukraine, Poland, and Romania are leading the Eastern European software development market, offering a vast availability of IT experts.
Software development in Eastern Europe is a major business enabler of digital transformation and acceleration.
The research explores the leading software development companies in Eastern Europe, examines their expertise, partnerships, case studies, awards, and industry recognition. All the companies on the list have a proven record of delivering top-notch custom software products to clients all over the globe. They are well-known IT outsourcing vendors with experience in many industries.
Eastern Europe has over 3,500 IT outsourcing vendors with strong expertise in fintech, healthcare, education, and other industries.
There are almost 300 Eastern European companies that offer staff augmentation services to their clients.
The Internet of Things and embedded development market is thriving as the region has over 240,000 C/C++ developers.
Eastern Europe has over 300 companies with substantial expertise in cloud consulting and computing, and nearly 150 vendors who specialise in DevOps services.
The number of companies that offer AI and ML development in Eastern Europe has gone up 4 times since 2018. Now, Ukraine houses almost 150 vendors with strong AI/ML expertise, followed by Poland with 110+ vendors.
You may also be interested in:
References:
Press releases Businesses preparing for a slowdown in sales and cash flow challenges due to COVID by Deloitte
State of European Tech [2019 report]
The 2019 Kearney Global Services Location Index
The Global Outsourcing 100 by IAOP
European IT & Software Excellence Awards 2020 by IT European Software Excellence Awards
Software industry in Eastern Europe [Report] by N-iX
The European Large-Scale Pilots Programme Driving IoT Innovation at Scale in Europe by European IoT Pilots
Virtual reality and its potential for Europe by Ecorys
Virtual Reality and Augmented Reality in Europe by CBI.eu
15 top IT outsourcing companies in Ukraine by N-iX
Internet of Things from VentureScanner
The Internet of Things in Europe by CBI.eu
By 2025, Internet of things applications could have $11 trillion impact by McKinsey
Virtual Reality from VentureScanner
Augmented and Virtual Reality in Operations by Capgemini
Global Big Data market size 2011-2027 By Statista
Global hosting and cloud computing market 2010-2020 by Statista
Cloud Adoption Statistics for 2020 by HostingTribunal
DavenportD.J, T. H., Patil, McAfee, A., & Brynjolfsson, E. (2017, May 26). Data Scientist: The Sexiest Job of the 21st Century.
Dynamics of data science skills: How can all sectors benefit from data science talent by The Royal Society
Artificial Intelligence from VentureScanner
Machine Learning Leads AI Exit Activity by VentureScanner
Artificial Intelligence Market Size, Growth | Analysis 2026 by Fortune Business Insights
Enterprise software - Statistics & Facts by Statista
2016 Global Outsourcing 100, 2016
The 2017 Global Outsourcing 100 2017
The 2018 Global Outsourcing 100, 2018
The 2020 Global Outsourcing 100, 2020
The 2021 Global Outsourcing 100, 2021
Finalists 2019 by European IT Excellence Awards
Finalists 2020/2021 by European IT Excellence Awards
Start-Ups Are Pummeled in the 'Great Unwinding' by NY Times
Have a question?
Speak to an expert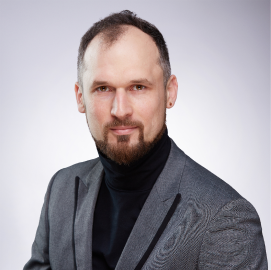 Taras Petriv
Associate Director
---