In today's blog, you will discover the reasons to hire a team in Eastern Europe and ways to do it successfully. We will scrutinize countries such as Poland, Ukraine, and Romania, as they are the ones with the most significant talent pool in the region to help you make an informed decision.
We will provide insights into the countries' tech talent pool, business climate, IT industry growth, and more. Also, we have compiled a step-by-step guide on how to find a top-notch vendor in the chosen location.
Hire team in Eastern Europe: Poland
Poland is the country with the most significant talent pool (350,000 developers) in the region. Poland has a stable economy that attracts new investments and makes this destination even more attractive for outsourcing. This fact is proven by many awards. For instance, the country was recognized as the 9th most alluring outsourcing destination by Tholons Top 100 Outsourcing Destinations ranking.
There are more than 500 vendors that operate in the Polish outsourcing market, including grand players (companies with 1,000+ people on board). Many Eastern European companies have one or several delivery centers in Poland. For instance, N-iX, one of the largest vendors in the Eastern European market, has an office in Krakow.
Now that we are done with the general overview of the Polish outsourcing market, let's view it in more detail. We will view such critical aspects as the skills of local developers, level of tech education, and English proficiency.
Skills of Polish developers
When selecting the destination to find an outsourced dedicated development team in Eastern Europe, you should pay close attention not only to the significant talent pool but also to the high-quality tech skills.
And Poland can give you that: the tech expertise of local professionals is recognized by various rankings. For instance, Polish professionals are placed 7th most skilled developers in the world, according to the TopCoder ranking, and 3rd, according to SkillValue.
As far as the programming languages are concerned, the lion's share (200,000 software engineers) indicated that they use JavaScript, Java, or Python. So, it is safe to say that these languages are the most popular in Poland. The PHP and .NET community is also significant in the country. If you are looking for app developers, you should take a look at Poland, as local mobile app developers were ranked as the most skilled in the world by SkillValue.
Tech education in Poland
Polish ICT educational institutions and their graduates are known for their high standards of education. In 2020, 75,000 ICT students were studying in Polish universities, and about 17,000 graduates enter the tech labor market and are available for recruitment annually.
The biggest institutions that graduate tech students are Warsaw University of Technology, Jagiellonian University, and AGH University of Science in Krakow, as well as the Wroclaw University of Technology.
English proficiency
If you choose to hire an IT team in Eastern Europe, you should consider Poland as a viable option, as local professionals have a very high English level. This fact, in turn, will help you streamline the communication within your team much easier. According to the EF English Proficiency Index 2021, Poland ranks 16th, leaving many European countries behind. Also, keep in mind that IT professionals typically have higher English proficiency, as they use the language in their everyday work communication.
Hire team in Eastern Europe: Ukraine
Ukraine boasts an extensive and second-largest talent pool of over 200,000 professional developers in the region. The country has over 800 vendors, where you can hire a development team in Eastern Europe. What's more, many Ukrainian software vendors are recognized by Global Outsourcing 100 by IAOP; Software 500, Inc. 5000, and other industry ratings.
Despite the fact that the country was affected by the war, the tech sphere keeps operating and delivering services. Local professionals who are safe continue to work even harder, as now it is vital to support the Ukrainian IT industry and economy. Some Ukrainian vendors reported an above 90% delivery rate in the first weeks of the russian aggression.
So, Ukraine remains an important tech hub for many international businesses. Let's look at the reasons why.
Skills of Ukrainian developers
If you choose to hire an outsourced development team in Eastern Europe, you should consider Ukrainian professionals due to their high-quality skills and profound experience with ensuring data security. For example, HackerRank lists Ukrainian specialists 11th among top outsourcing destinations and the first in the field 'Security.' TopCoder names them 6th most skilled worldwide.
Tech education in Ukraine
The country boasts nine universities, which are recognized by Times Higher Education World University Rankings that offer the best computer science programs. What's more, Ukrainian higher education institutions graduate 39,000 computer science and engineering students each year.
One of the reasons for tech education development is the support of local IT companies. Ukrainian IT vendors collaborate with the government to launch innovative labs and tech programs.
English proficiency
According to the DOU survey, 81% of local software engineers have a good command (Intermediate+ level) of English. Meanwhile, top management, project managers, and business analysts are the most fluent among tech specialists in Ukraine. So, streamlining communication with local professionals is typically easy for businesses that have chosen to hire a team in Eastern Europe here.
Hire team in Eastern Europe: Romania
The tech industry and software outsourcing in Romania boast a 15% annual growth rate. In 2018 the tech branch growth had accelerated and reached $4.5B, with a 13.4% CAGR in this industry. Also, the export of software and IT services makes up 1.9% of Romanian GDP.
The country is home to the third-biggest talent pool in Eastern Europe: around 131,000 professional developers reside here.
Skills of Romanian developers
In Romania, the most used programming languages are JavaScript, SQL, and PHP. According to LinkedIn, there are around 50,000 Java developers, 44,000+ JavaScript engineers, 27,000 PHP specialists, 24,000 Python developers, and 14,000 .NET developers in Romania.
Tech education in Romania
For Romania, the industrialization of the second half of the 20th century resulted in a boom in technical education. The educational background gives Romania the high ground in the global tech outsourcing market. As for ICT education in this country, a little more than 7,500 new professionals graduate from Romanian higher education institutions.
English proficiency
Romanian professionals have strong communication skills and good command of English. The country scored 598 in the EF English Proficiency Index (2021 ranking). A lot of high school students also learn French. That makes Romanian specialists attractive to French companies who are looking to hire a team in Eastern Europe.
How to choose a trusted vendor
Your business success depends directly on who you choose to work with. So, here are some steps that will help you to make the right decision:
Make a long list of vendors you will review based on the quality of their services, security standards, and expertise.
Take a look at the reviews, references, success stories, testimonials of the vendors you listed as possible partners. To find this information browse through their websites, LinkedIn pages, platforms such as Clutch, Manifest, and Goodfirms;
Consider the size of the outsourcing company, as it directly influences their recruitment capabilities. Mid-sized and large providers are more likely to have resources you need internally than smaller companies;
Opt for a company that has a strong employer brand and ensures opportunities for professional growth. Such a vendor will be able to find experts for the project promptly and scale up teams quickly.
Look for a company that has solid experience in building outsourced dedicated teams in Eastern Europe and delivering software products similar to yours, preferably in your industry;
Make sure your potential partner complies with international security standards such as ISO, PCI, HIPAA and has an effective security policy;
Assess their level of communication skills. Choose the partner that is ready to go the extra mile and understand your business needs, the one who sets up extra calls with you and sends you follow-ups. It is crucial that your vendor is eager to clarify all the aspects and details of your cooperation, as it ensures the success of your partnership in the long run.
Working with an outsourced dedicated development team in Eastern Europe: Success stories
There are many significant tech players that have successfully hired an outsourced dedicated development team in Eastern Europe, shaped strategic partnerships with them, and benefited from the cooperation. Here are a few examples:
PrettyLittleThing
This is one of the top players in the fashion retail market. The company was recognized by Hitwise as one of the top three fastest-growing fashion companies. As the business developed, their ecommerce solution needed new automated integrations. N-iX managed to find the relevant expertise within a short time frame and quickly level up the client's development potential.
Our professionals filled in the gaps in PHP, JavaScript frameworks, AWS stack, and other expertise. We succeeded in integrating with the client's teams via the Agile framework and coordinating the tech stack alignment.
As a result, together we developed a custom solution that allowed us to automatically export a wide array of products from Excel Spreadsheets to the client's ecommerce platform. Also, we helped the client to build a secure AWS Lambda-based cloud environment.
Currencycloud
Currencycloud is a global payment platform that enables companies to send and receive cross-border payments all around the world. The company started an ongoing partnership with N-iX in 2013. Our development team has worked on migration to microservices, enhancing the functionality of the platform, including APIs, core banking and payment services, customer-facing features, and more.
Fluke
Fluke Corporation is a global manufacturing leader and a worldwide producer of electronic equipment. The N-iX team has been working on developing enterprise automation solutions for this client. The products we have built together are used by such companies as Honda North America, Toyota UK, Volkswagen, and more.
Wrap-up
The success of development with an outsourced dedicated development team in Eastern Europe mainly depends on your primary decision on who to collaborate with. A thorough analysis and comparison of proven collaboration records, employer branding, and industry recognition of several potential outsourcing partners will help you avoid outsourcing pitfalls.
After you establish a reliable partnership, you have to set up an effective communication framework, knowledge sharing, and workflow unification. These activities will keep all of your specialists on the same page.
Why hire a team in Eastern Europe from N-iX?
We build teams and help you manage them throughout the development process for optimal performance;
N-iX offers expertise in cloud, DevOps, Internet of Things, data analytics, and many other domains;
With over 20 years of experience in the global IT market, we have experience providing such services as extended teams, managed teams, as well as custom software development;
We have built long-term strategic partnerships with industry leaders and Fortune 500 companies from across the globe.
Have a question?
Speak to an expert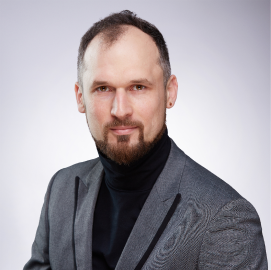 Taras Petriv
Associate Engagement Director
---