In our fast-moving business world, Eastern Europe has become one of the most attractive nearshore software development destinations. It provides a myriad of opportunities for companies that are looking for a remote software development team. Thus, many European and US companies choose Ukraine and Hungary as their IT outsourcing destinations. They offer such benefits as rich talent pool, qualified and experienced specialists, solid educational background, and cost-efficiency.
To help you make a well-grounded decision, we've done a detailed analysis of these countries considering findings by A.T. Kearney, Tholons, Bloomberg, and more.
Talent Pool for Software Development
Every business owner is looking for mature and qualified software developers who have a wide range of tech skills, can work globally with any client, and ensure the highest level of communication.
In Hungary, software development is one of the most vibrant industries, and it represents about 6% of the Hungarian economy. Around 80,100 people are engaged in the IT sector [1] in this country. In addition, there are many R&D centers of different international companies in Hungary including Microsoft, Siemens, Ericsson, Nokia, TATA, etc. That makes a significant contribution to the development of IT industry in this country.
Meanwhile, the Ukrainian software development industry has over 184,700 IT experts. It has more developers involved in IT outsourcing than any other country in Central and Eastern Europe. And this number is growing year by year. More than 100 R&D centers of global companies such as Cisco, Dell, Microsoft, Bloomberg, Ericsson, Boeing, Oracle, Siemens and many others are situated in Ukraine. Furthermore, many successful startups have all been set up in Ukraine. They include Looksery (bought by Snapchat for $150M), PetCube, Grammarly, Viewdle (purchased by Google Inc. for about $45M), Preply, Clickky, and others.
Technical Education
Ukraine is famous for its strong technical educational background. At the moment, there are around 450 institutions and many of them include IT related programs. About 16,000 students choose IT related disciplines, and thousands of students graduate each year with certificates in IT disciplines. Additionally, more than 23,000 highly qualified professionals graduate annually with STEM-related and engineering degrees.
Ukrainian IT companies, including N-iX, start their own courses and encourage their employees to undergo certification by reimbursing their education. What's more, new courses on Data Science, AI, IoT have been launched in Lviv Ivan Franko University, Ukrainian Catholic University, and Polytechnic University.
In Hungary, there are 70 educational institutions with over 2,700 ICT and 12,000 STEM and engineering grads every year [2]. Six universities are mentioned in the QS World University Rankings (it is regarded as the most widely recognized university rating including the world's top 800 universities) [3].
However, according to the Global Information Technology Report 2016, Ukraine is ranked 37 positions higher than Hungary as a country with better quality of math and science education.
Cost of Software Development Services
In terms of the best price/quality ratio, Ukraine is one of the most attractive software development countries in Europe. To understand the difference between development costs in Ukraine, Hungary, and other countries, you can go through the rates on Elance. However, it's worth mentioning that this is a freelance platform. So if you are looking for a reliable provider that has been on the market for many years, the rates will be higher.
Meanwhile, the taxation in Hungary constitutes 51% of the total cost of employment, and the rates are higher than in Ukraine. Also, the cost and standard of living in Ukraine are a bit lower than in Hungary, which influences the cost of software development services. There are more developers in Hungary that charge over $40/hour, and 4,8% of these specialists charge more than $61/hour of work. Thus, development services are more affordable in Ukraine.
On the other hand, you should first of all consider the experience and competence of the IT vendor, its portfolio, and references.
Favourable Location for Software Development Nearshoring
Cooperating with a country that is located nearby and is in the same time zone is definitely an advantage. Hungary is within two hours by air from major European capitals, and its time zone is GMT+2.
Ukraine is within 2-3 hour flight from most European countries, and its time zone is GMT+3. There are many flights from Europe and the US to Kyiv, Lviv, Odesa, Dnipro, and other Ukrainian IT centres.
The nearby location of Hungarian and Ukrainian software developers facilitates business communication and thus ensures a smooth project flow. Both countries have many international airports with good connection to European, Asian, and North American countries. However, Ukraine has the bigger number of software development hubs and regional IT clusters.
Nearshore Software Development Hubs: Kyiv vs. Budapest
Budapest and Kyiv are capital cities and the biggest IT centers in their countries. Budapest is considered as one of the most influential cities in Europe, and it is ranked 22nd in Tholons Services Globalization City Index in 2019. Moreover, many multinational companies have established their IT centers in Budapest (such as Vodafone, Lufthansa, British Petroleum, General Electric, Deloitte, Systemax, etc.).
Meanwhile, Kyiv attracts many developers for relocation from other parts of Ukraine. The city is home to many talented and qualified software engineers. It has a highly-developed IT industry and engineering infrastructure and makes up a perfect software outsourcing destination. In fact, over 76,000 programmers work in the IT sector in Kyiv.
Adoption of Innovations
Keeping up to date with IT innovations is of top priority for the best outsourcing providers. According to Bloomberg's 2019 Innovation Index, Ukraine notably improved its position in the overall ranking and holds the 53rd place. Technology now constitutes 3-5% of the country's GDP. Software development in Ukraine is especially focused on such tech domains as IoT, Blockchain, AI, VR/AR/MR, etc.
Hungary holds 32nd place in the Bloomberg's list, which means that both countries are innovation-oriented. They both have many innovative companies that operate on international markets and are regarded as leading innovators in respective fields worldwide.
Business Environment for Software Development
A favourable business climate of a country is vital in terms of a company's performance, brand reputation, and growth. In order to improve the business environment, both Hungary and Ukraine take a number of actions every year. For example, the Hungarian government has doubled the amount of financial support for R&D sector for the 2016-2020 period and started a strategic partnership with many companies.
Meanwhile, Ukraine has taken a major step forward in improving its business climate with the appointment of a Business Ombudsman Council for the country's Anti-Corruption Initiative that was established in May 2016 and increased the financial assistance of the United States. As a result of the sustainable progress, Ukraine's Ease of Doing Business ranking has improved by 66 positions since 2013. Furthermore, Ukraine notably simplified the taxation system of the IT sector, making it more attractive for investors.
IT industry development
Ukraine is home to over 1,000 software development providers. It also holds the 4th position globally by the number of IT professionals. On top of that, A.T. Kearney Global Services Location Index 2019 ranks Ukraine 20th. Over 47% of Ukrainian IT specialists have upper-intermediate and advanced English knowledge levels. That enables smooth communication and cooperation with international clients. Furthermore, the export volume of Ukraine's software development and IT services reached $4.5B in 2018 and is showing double-digit growth year after year.
Hungary has a 25% share of outsourcing within the IT market in Eastern Europe. According to Hungary Information Technology Report, IT services sales are expected to go up from $760M (in 2016) to $993M in 2020. In addition, A.T. Kearney Global Services Location Index ranks Hungary 31st.
IT companies in Hungary and Ukraine
Clutch lists 50+ Hungarian IT companies, but only three of them employ over 250 experts, and there are no companies with 1,000 employees. These IT companies with with clients in finance, entertainment & media, travel & tourism, and gaming industries.
Ukrainian IT market has the larger number of companies, working with clients in banking and finance, security, travel & tourism, and other industries. Clutch lists over 580 companies, with 100+ companies having more than 50 employees.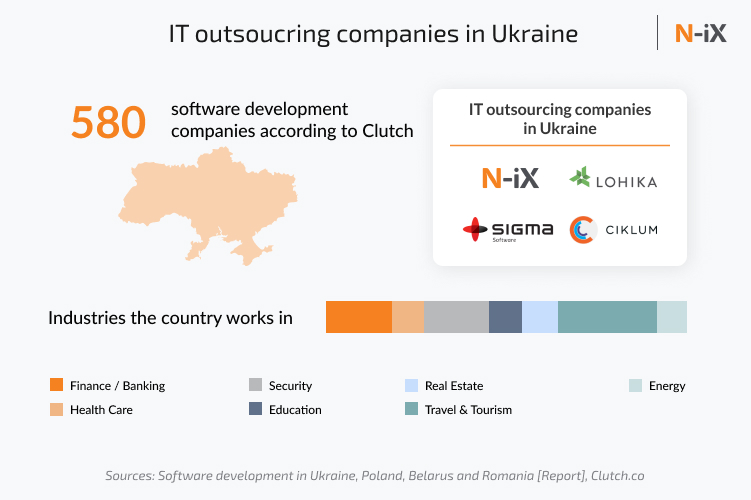 Summary
Ukraine and Hungary are deemed to be among the leading software development destinations. They are keeping up with the latest innovations in the IT industry successfully applying them in practice. Ukraine is a large country with a big pool of experienced software developers. In addition, the Ukrainian government is supporting the IT market by encouraging new investments. Depending on the factors that are crucial for your business, you may decide which of the nearshore software development destinations meets your needs and choose the best IT outsourcing provider.

References:
State of European Tech
Tertiary education graduates: main subject areas
QS World University Rankings 2020
Global software marketplace insights: Eastern Europe by SourceSeek
---