Upscaling your in-house team with skilled developers has its perks: you get maximum flexibility, optimize your spending, speed up the staffing process, and gain full control over the process.
But looking for a reliable outstaffing partner is challenging. There are many factors to consider-legal aspects, security issues, company reputation, and many others.
What makes Ukraine a desired and trustworthy outstaffing destination? How to find a reliable company for IT outstaffing in Ukraine? Let's explore together. In this article, we'll
Ukraine's IT market is booming: the country boasts 200,000 software developers and IT specialists who work within 1,600+ IT companies.
Ukraine was recognized as "Outsourcing Destination of the Year" by Global Sourcing Association (GSA) in 2017 and 2021.
Around 60% of Ukrainian software developers are currently employed in software development outsourcing and outstaffing companies.
Constant inflow of new experts: almost 40,000 engineering and ICT graduates enter the market every year.
Ukrainian tech talents have a similar mindset to the Western one, so the communication is smooth and trouble-free.
Moreover, the Ukrainian market of IT services is one of the most developed ones while the price to value ratio is rather attractive here. An impressive number of international tech leaders, including Microsoft, eBay, Samsung, Skype, and many others, have chosen Ukraine as their outstaffing or outsourcing partner.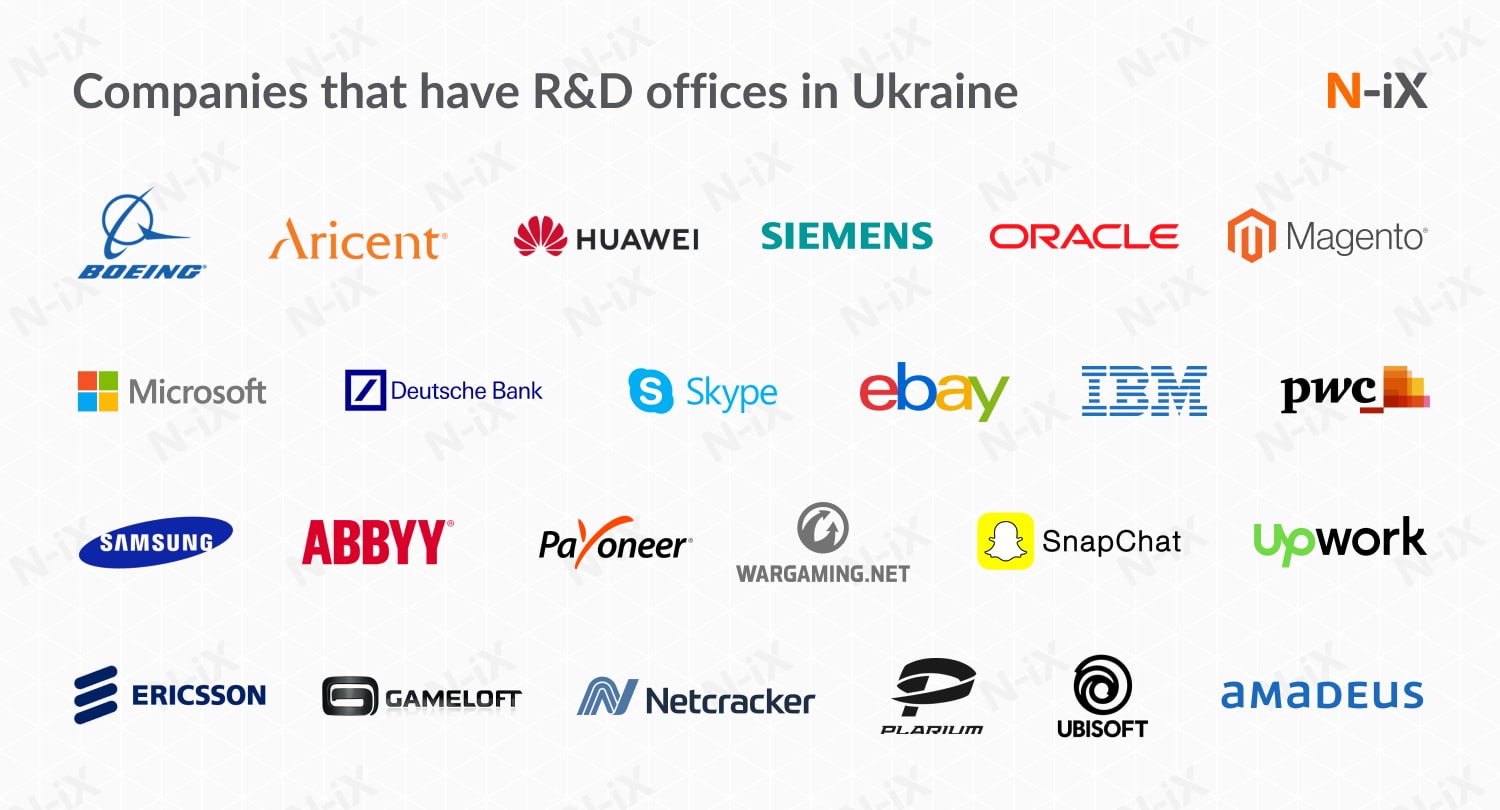 In terms of IT outstaffing, Ukraine is one of the most desired destinations. The size of the IT outstaffing services market in Ukraine is impressive. How to choose a reliable outstaffing vendor among 1600+ Ukrainian companies? Here is what to take into account.
Industry and tech expertise
The first thing to keep in mind while searching for an outstaffing partner is whether the company can provide you with the needed tech and domain expertise. For example, if you need to migrate your on-premise solution to the cloud, pay attention to a company's cloud expertise and go through its case studies and success stories to check whether they have implemented similar solutions.
As your project will grow over time, technical needs will become more complicated as well. Even if you don't consider implementing cloud-based solutions or AI now, you may do so in the future. So choose a potential long-term partner with comprehensive tech expertise and the ability to help you with scaling and improving your solution.
Company size
When you are looking for an outstaffing partner, you want a team of professionals to get down to working on your solutions as soon as possible. Company size has a positive correlation with how fast your cooperation starts. Medium and large-size vendors can ensure quicker staffing.
IT outstaffing in Ukraine becomes even easier, as the country leads in the number of IT companies among others.
Moreover, to handle an increasing workload and avoid bottlenecks, sometimes, there is a need to expand the team temporarily. Bigger companies can quickly scale their development teams as they have more resources and a considerable talent pool. At N-iX, we have a team of more than 60 recruitment specialists who are constantly looking for the best specialists in the industry.
Employer brand
Strong employer reputation on the market is a sign of a vendor's reliability. That impacts how fast a company attracts new talents and how long they stay with it. There are more than 4,000 tech companies in Ukraine. More than 1,600 provide IT services, including outstaffing. When specialists choose between a large number of employers, they will definitely review those with positive market recognition and awards.
In Ukraine, one of such recognitions is the DOU rating of the best employers. For instance, DOU recognized N-iX among the top 5 best Ukrainian employers among companies with 800-1,500 IT specialists.
Awards and industry recognition
Industry recognition is a vital criterion that determines the trustworthiness and service quality of the IT outstaffing partner. You should pay special attention to the designations aligned with the vendor's tech expertise. For example, a company providing .NET expertise should be certified by Microsoft Azure. Also, partnerships with major tech organizations such as Amazon Web Services or Google Cloud are one more tick towards the company.
Moreover, take into account international security compliances and regulations. We'll dive deeper into it further in the article.
Security
Many issues can occur due to poor company security: data loss, phishing attacks, corporate information leakage, and many others. Ukrainian IT companies pay special attention to their information security. Most companies have legal teams to ensure they comply with all international regulations and best security practices. That's why you can be confident in the security of IT outstaffing services in Ukraine.
When choosing a reliable vendor, pay attention to whether the company corresponds to all the security requirements and compliances. It allows averting key cybersecurity issues like infrastructure vulnerabilities, phishing attacks, ransomware attacks, etc. Look for a company compliant with key international Infosecurity standards such as ISO 27001, PCI DSS, HIPAA law, etc.
Below is presented a list of international security compliances and regulations a reliable vendor should have:
Client's feedback
The reviews from former and current clients can tell a lot about the quality level the company provides. You can do a small research right when scrolling the vendor's website — usually, companies have a separate page for client testimonials. You can also check out the reviews on such platforms as Clutch, Google and social media.
Communication level
Often communication is a last point on the list while comparing all pros and cons of the vendor. Nevertheless, it is an underestimated criterion that can either result in a partnership success or, in the worst-case scenario, in a failure of cooperation. English proficiency, cultural aspect, emotional intelligence are integral components of well-established cooperation and rapport.
In Ukraine, 79% of developers have an Intermediate or higher level of English, according to a DOU survey.
Communication is also about an understanding of the client's business needs and caring about them. It is an ability to ask accurate questions, be curious about the smallest nuances and empathize with the client's answers. Your partner should dive into your problem and develop the best possible solution to it.
Agility
In the world of technology and constant market changes, being flexible and agile is vital to survive and scale. Businesses need to be adaptive to changes and keep up with innovations.
Choosing an agile company will help you benefit in the long run. A combination of practical experience and a significant talent number enables companies to respond to change quickly. For example, you decided to scale, adopt new technologies or change your pricing model with a vendor. In such situations, your partner should offer solutions to satisfy your new business needs and requirements.
Team extension is a perfect cooperation model towards agility. You can quickly upscale your team with new talents and adopt new technology and expertise at any stage of product development.
How to partner with an IT outstaffing company?
Choose the right pricing model
Pricing terms depend mostly on your business needs, budget, and the cooperation model. When looking for IT outstaffing in Ukraine, make sure that your potential vendor can offer you the best cooperation type that is a perfect match with your requirements. Typically, software development providers offer three engagement models: fixed price, dedicated development team, and time and material model.
Discuss legal aspects
After you've gone through the long process of examining different vendors, negotiating your needs and requirements, and finding that one perfect outstaffing partner, here comes the time to sign a contract. Although it may seem as a mere formality, actually it's a significant step that can help both sides achieve a win-win deal.
You should pay special attention to such points as payment terms, notice periods, liability and warranties, intellectual property rights, сonfidentiality and data protection.
Ensure effective communication
To make the most of your cooperation with an outstaffing vendor, make sure that your in-house and remote teams are on the same page. That includes knowledge transfers, proper communication tools and regular meetings. Even if your teams are in different time zones, you can benefit from it as your development team works when you sleep and vice versa. Try to find overlapping slots in your calendars and arrange syncs then.
To have everything structured in one place, decide on tools you'll use within your extended team. There are a wide variety of such tools available on the market, so сhoose with your partner what works best for you.
At N-iX, we choose tools depending on business needs, size and budget.
Knowledge transfer
Good knowledge sharing is an ongoing process that starts at the pre-project stage and finishes only after the cooperation ends. Even when the team quits, you should accumulate all the project information to ensure you won't be caught off guard when something goes wrong.
Look for an outstaffing partner who can provide you with a solid knowledge transfer plan and knowledge sharing sessions. Successful knowledge transfer is a product of mutual efforts because it depends on people from both sides, processes, and a product.
At N-iX, we have been working on our knowledge transfer plan for more than 17 years, since the partnership with our first clients.
Companies that benefited from cooperation with N-iX
Lebara is a global telecom company providing services to 5M customers worldwide. In 2014, the company was looking for a dedicated development team to consolidate a wide range of expertise. Considering the above criteria, Lebara has preferred IT outstaffing in Ukraine and particularly N-iX as their partner.
Since then, the dedicated team has grown to 100 specialists responsible for digital transformation, big data and cloud solutions, migration to microservices, business intelligence development, and more.
Weinmann Emergency is a medical technology company developing ventilation and defibrillation solutions for emergency medicine. The company needed additional experts to work on embedded Linux firmware and partnered with N-iX.
Together, we've successfully developed a number of efficient technological solutions and enhanced the client's development capabilities.
hy choose N-iX as your IT outstaffing partner?
During almost 20 years on the market, N-iX has built a reputation as a reliable partner for providing a top-notch IT outstaffing in Ukraine:
N-iX has a pool of 2,000+ experts including the team of 60+ recruiters, so we ensure a fast recruitment process;
N-iX has established over 100 strategic partnerships with global industry leaders such as OpenText, Lebara, Gogo, Currencycloud, Fluke Corporation, and others;
Our dedicated developers have versatile expertise in cloud services, data analytics, machine learning, business intelligence, IoT, and many others;
We have more than 60 ongoing projects within the dedicated team model;
N-iX cares about data security: we comply with all the global security standards such as ISO 27001:2013, PCI DSS, ISO 9001:2015, GDPR, as well as HIPAA law;
N-iX is featured in the list of the top 100 Global Outsourcing Companies by IAOP. Also, the company is a certified partner of OpenText, SAP, and Microsoft.
---