The Polish IT community accounts for nearly 25% of the entire developer population in the Central and Eastern European region. Poland has several IT hubs spread all over the country: Warsaw (the capital), Krakow, Wroclaw, Katowice, Tri-city (combined area of Gdansk, Gdynia, Sopot), Lodz, and Poznan. What is the tech talent pool in each location? Do the salaries differ? What are the benefits of each of the cities? Let's dive in.
Software development in Poland: market overview
Poland is one of the biggest countries with one of the largest tech talent pools in Eastern Europe. This country has numerous recognitions as a reliable outsourcing destination. For example, it is ranked 9th in Tholons Top 100 Outsourcing Destinations. The 2021 A.T. Kearney Global Services Location Index rated Poland as the fourteenth most attractive outsourcing location, offering both financial appeal and availability of tech experts. Ease of Doing Business Ranking places Poland at the 40 position, recognizing its improved conditions of starting business and contracts enforcement.
Software developers in Poland
The overall number of IT specialists and software developers in the country equals the population of several small European countries like Monaco and San Marino. In 2022 this number reached almost 500K experts all over the country [6].
Poland has seven major IT hubs employing over 85% of all IT professionals in the country, with the majority of them living in Krakow, Warsaw, and Wroclaw.
Technical expertise of Polish developers
What do you pay attention to while choosing an outsourcing destination? Apart from a large tech talent pool, it is important to ensure that experts have skill, knowledge and experience to handle complex projects. The technical expertise of software developers from Poland is well-known beyond their own country or even Europe. Many rankings acknowledge the competence of developers from Poland, as they typically qualify within the top 5 counties based on their knowledge and experience [7,8].
The top three technologies popular among the tech specialists in Poland are JS, Java, and Python, as over 275,000 developers have listed these programming languages on their LinkedIn profiles. There's also a significant number of .NET developers in Poland, as well as C#, C++, and PHP experts. While considering Poland for software development, you should also note that there is a significant number of Cloud experts and DevOps specialists in the country.
Also, software developers in Poland are well-recognized for their professional accomplishments. For example, SkillValue places an average developer in Poland among the top 3 experts in the world, along with Slovakia and Mexico.
Polish specialists have a very high English level. They were ranked 16th for English skills [8], ahead of many European countries. Thus, American and European clients find it easy to communicate with them.
Keep reading: Software nearshoring to Poland: benefits, tips, and success stories
ICT education in Poland
Polish Information and Communication Technologies universities and their graduates are well-known for the high standards of education. In 2020, there were 75,000 ICT students and nearly 17,000 graduates available for recruitment.
The universities that have ICT graduates are Warsaw University of Technology, Jagiellonian University and AGH University of Science in Krakow, and Wroclaw University of Technology.
Software developers' salaries in Poland
An average salary in Poland equals around €830 per month [10], while software developers' salaries can be 3 to 7 times higher. Therefore, the number of people interested in software development is growing, increasing the overall tech talent pool. Let's take a look at how the average tech salary of a Polish developer compares to a similar specialist in other locations.
Typically, software development in Poland is 30% cheaper compared to the US [11], and 20-25% lower compared to Western Europe or the UK in terms of labor costs. However, this highly depends on skills and level of expertise of tech specialists, as well as the type of contract. Moreover, in 2018-2019 the dramatic increase in salary rates has stopped, making software development outsourcing to Poland much more predictable in terms of rates.
In smaller cities, like Katowice or Poznań, developers may receive 10 to 20% lower compensation, compared to their colleagues from large IT hubs. On the chart below, you can find a comparison of how an average rate in the country compares to the ones received by software developers from different areas of Poland.
The difference in compensation rates might not be significant on its own. However, if you add lower competition for tech talent and shorter staffing periods, it makes a considerable difference. Moreover, salaries are not the only aspect we need to take into consideration.
Read more: Offshore software development in Poland: All you need to know
Cost of living
Traditionally, capitals and large cities are more expensive due to the higher rents and overall expenses. However, the difference between the major cities in Poland is not that impressive. We can see that rates vary within a 10 to 15% difference. For example, the rent index in Poznan is only 10% lower compared to Warsaw.
Let's take a look at Numbeo.com data that allows you to compare and interpret the expense rates in major cities all over the world. This system uses the cost of living in New York as a baseline for comparison. Polish IT hubs are twice cheaper compared to European locations and over 60% better in terms of cost of living, compared to NY.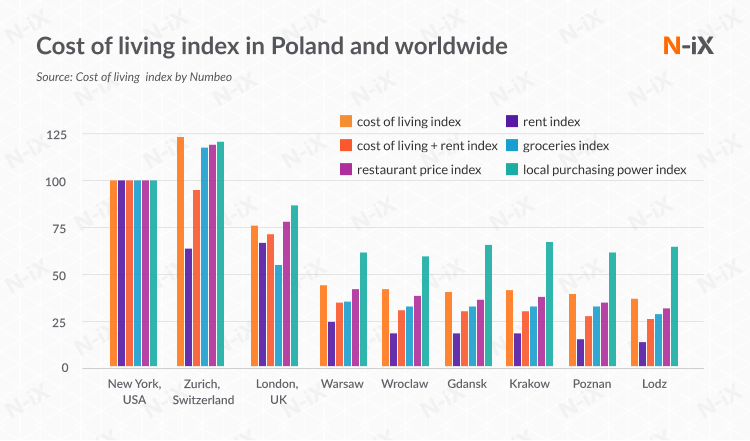 Combined with the salary rates, this proves that even with 25-30% lower salaries, software developers in Poland are more likely to be satisfied with their income as their major expenses are twice lower. Thus, such experts are less likely to leave the company or the country. What does it mean for your business? Software developers engaged in your project are more likely to stay for a long period of time, so the knowledge and expertise will be intact.
Software development companies in Poland
Clutch lists over 1,000 software development companies all over the country. Several IT outsourcing companies from Poland were included in the Top 100 Global Outsourcing Companies by IAOP, Software 500, Inc 5000 Europe. Here's a sample selection of top Polish software development companies in different locations.
IT outsourcing companies located in Poland keep growing and evolving towards more advanced processes and services.Together they make up a decent market share in the Polish talent market. Another aspect to take into account is the service markets Polish software companies cater to. Most vendors have experience working with Western European businesses. There's a large share of providers that partner with North American and Nordic brands, as well as Southern Europe. There's a significantly lower number of companies that list APAC, Middle East, and Africa as their target regions.
However, this should not be the defining criteria, unless you have specific restrictions or unique expertise (for example, experience with local regulations and standards within your industry).
International R&D centers in Poland
Next, let's take a look at some tech companies in Poland. Overall, there are more than 500 R&D facilities and companies, including global players such as Google, Samsung, and IBM. The entrance of such technology giants as Akamai, Cisco, as well as Capita, one of the biggest UK tech providers, has significantly enhanced the development of the industry as well.
Also, Polish R&D activities are often financed by the private sector, thus fostering interest among global market players. For instance, companies like ABB, Google, Siemens, Motorola, Delphi Automotive, Intel, and McKinsey opened their R&D centers in Poland.
How to choose a city for software development in Poland?
We have created a step-by-step guide on how to choose the software development company where we recommend learning more about the chosen location. In this section we will focus on software development in Poland in terms of factors that define the convenience of location for doing businesses, as well as tech and labor potential of each major IT hub in Poland.
Software outsourcing in Warsaw (Poland)
As the capital, Warsaw is home to 82,500 Polish developers. In 2019, Warsaw witnessed a significant flow-out of software developers to other destinations across Poland. The competition for talent is fierce as the number of IT outsourcing companies and various R&D centers here is one of the highest in the country.
This location has a great transportation system (2 airports, excellent train connection), as well as a large number of available offices. Warsaw is also one of the primary sources of new specialists with over 3,000 ICT graduates entering the market every year.
You may also be interested: 15 best software development vendors in Eastern Europe
Software development in Krakow (Poland)
Krakow is the second-largest city and the first one by the number of ICT and tech specialists. The talent pool exceeded 93,000 experts in 2022. The overall number of Krakow IT companies is higher (compared to Warsaw), resulting in higher competition for tech talent compared to Warsaw. According to ABSL, Krakow scored 1st in the availability of skilled experts.
Besides, Kraków is home to more than 200 startups, including such well-known companies as Brainly, Callpage, Elmodis, kontakt.io, Estimote. Kraków has also been recognized as one of the top 60 startup- and scale-up cities in Europe [11]. Overall, software development in Krakow has become well-known beyond Polish borders.
Software development outsourcing in Wroclaw (Poland)
Wroclaw is recognized not only for its talent pool of 59,500 professional developers. This location is also known for their cooperation with local authorities to create a healthy business environment. This city is also known for its collaboration with local universities and the availability of offices across the city.
IT companies in Wroclaw typically work with clients from the USA, Poland, and Nordic countries but also partner with companies from Switzerland, France, and the UK.
Keep reading: Developers in Eastern Europe: expertise, hubs, and more
Software development outsourcing in Tri-city (Poland)
The area that combines Gdansk, Gdynia, and Sopot has joined a tech talent pool of 34,000 software developers. The region's growth skyrocketed in the last couple of years. This area has a high quality of public transportation and availability of offices is the highest across the country.
Along with Warsaw, this region works with clients from the US (37.9%), Poland (16%), and the UK (6.8%) [3]. This region is an excellent nearshoring choice for Nordic companies due to geographic proximity.
Software development in Katowice (Poland)
Despite being recognized only for its transportation value, Katowice also congregates a rather impressive number of Polish developers. As of 2021, the number of tech experts here reached almost 29,500. This IT hub also has 1,400 ICT grads every year.
IT companies in Katowice work mainly with companies from Poland, France, and the UK.
Software development in Lodz (Poland)
Contrary to other Polish cities, the biggest share of clients among the IT companies in Lodz belong to Asian countries. Local specialists also have experience working with clients from Nordic countries.
The 2021 report by ABSL recognises Lodz for both level of wages and cooperation with local universities.
Software outsourcing in Poznan (Poland)
Poznan has the biggest share of IT companies working with other Polish clients (16%) and one of the largest shares of German IT outsourcing (21.9% of clients) [3]. It is the smallest city on our list with only 22,000 professional developers.
With a little over 130 IT companies in Poznan, this location would be a perfect choice for small startups and companies that do not need big dedicated teams.
Convenience of the location
All of the cities on our list have at least one airport and a decent number of transborder flights. One can get to Poland within 1.5-2.5 hours from any part of Europe. It takes nearly 11 to 14 hours to get to Poland from the US (from the East and West coast respectively). Almost 40 airlines operate in the country, providing connections to all the major cities in the US, Europe, and the UK. It means that if you decide to outsource software development to Poland, there will be little to none problems visiting the team.
A note on WFH/returning to office tendencies in Poland
The global pandemic led to a forced switch to the work-from-home (WFH) model for many industries across the globe. Poland and its BPO and tech industry were no different. And while in Q2-Q4 of 2020, working from home was a predominant option as very little people had access to vaccinations, the situation changed later in 2021. The 2021 ABSL survey showed that almost 42% of employees were working from home full time and almost 28% worked primarily from home (with an office option available). In 2022, the situation changed and the share of full-time WFH shrank to 24.1%, with a major increase in mixed form (WFH+office).
However, if we zoom in on the tech sector (IT outsourcing and software development) a little closer, we will see a different picture. Over 80% of specialists are working from home, with a lion's share of them having an option to visit the office.
Companies have successfully adapted to the challenges of WFH, established effective security and communication protocols, allowing their specialists to choose the most convenient option.
What does this mean for you? With a global shift to WFH, more and more employees are opting for mixed work and WFH options. However, it means that you are no longer limited by only the tech talent pool of the city that your vendor has a development center in. You can cast a wider net and hire the top talent from whole country.
Why do companies choose software development outsourcing in Poland? Recap
Software development in Poland has been rapidly developing over the last decade. This country has both human capital and versatile expertise to become a reliable outsourcing destination for companies worldwide. Here are top three reasons to outsource software development to Poland:
Huge tech talent pool (over 500,000 tech experts in Poland);
Versatile technical and industry expertise;
Numerous IT hubs all over the country, and overall convenience of the location.
Reasons to choose N-iX as a software development company in Poland
N-iX has software development centers in Krakow and Wroclaw (Poland), as well as the ability to find experts throughout the country.
We have two decades of experience in the IT market and employ more than 2,000 software developers in 24 destinations worldwide.
N-iX has many industry recognitions (Clutch, GoodFirms, OpenText and Microsoft partner, GSA, Inc. 5000, Software 500, IAOP, and many more).
References on software development in Poland
Future of IT report
Kraków IT Market Report by MOTIFE
Business services sector in Poland 2022 by ABSL
The 2021 A.T. Kearney Global Services Location Index
Ease of Doing Business. A World Bank Group Flagship report
TopCoder Country Rating
World top developers: Programming skills assessment by Pentalog
EF English Proficiency Index 2022
Statistics Poland / Główny Urząd Statystyczny
How Much Can a Software Developer Expect To Get Paid? by USNews
European Digital City Index
Have a question?
Speak to an expert
Andriy Varusha
Head of N-iX Poland
---