2020 and the pandemic changed the global economic landscape. Companies, from small startups to Fortune 500 companies, were forced to keep up with digital adoption while reducing costs on operations and innovations. Amid these turbulent and challenging times, finding a reliable IT outsourcing partner was seen by many businesses as a viable solution.
And many global tech leaders such as Microsoft, Mercedez, Siemens, and others have chosen Ukraine as their software development outsourcing destination. It comes as no surprise as the country is recognized for the second-largest engineering talent pool in Eastern Europe (over 295,000 ICT specialists in 2021) [1].
Overview
Ukraine has one of the largest pools of IT specialists in the CEE region. - Kerry Hallard, President of Global Sourcing Organization and CEO at GSA UK
Key facts about software development outsourcing to Ukraine:
Ukraine (2.65) has better financial attractiveness than Malaysia (2.49), China (1.99), Mexico (2.33) Poland (2.05), or Estonia (2.33) according to the 2021 Kearney GSLI.
Ukraine is home to 1600+ IT service providers. It takes the lead in Eastern Europe, followed by Poland (900+), Romania (750) and Bulgaria (500+).
The country was named Offshoring Destination of the year by GSA in 2017 and 2021;
More and more Ukrainian software development outsourcing service providers are recognized by Global Outsourcing 100 by IAOP; Software 500, Inc. 5000, and other industry ratings.
Let's take a look at the IT industry dynamics in the country, its engineering talent pool, and how to benefit from software development outsourcing in Ukraine.
1. Tech expertise and talent pool
By the end of 2021, the country was home to 295,500 ICT professionals, and the number is constantly growing. Software engineers in Ukraine are globally recognized. According to HackerRank, Ukraine ranks 11th with an overall score of 88,7 points out of 100 among the top 50 countries with the best software developers in the world. Also, the country is ranked 6th on the TopCoder rating of countries with the best programmers. Additionally, Ukrainian software engineers specialize in an extensive range of coding languages and technologies.
According to the DOU 2020 research, the most widely used programming languages in Ukraine are JavaScript, C#, Java, Python, and PHP. Other popular languages are Kotlin, Swift, C++, TypeScript, Go, and ruby.
Around 60% of software developers and IT specialists are currently employed in software outsourcing in Ukraine [2].
Ukraine has taken a strong stand in the global software development market. It is known for its extensive IT talent pool, high level of STEM-based education and high-quality engineering expertise. Around 39,000 qualified IT and engineering students from 38 tech universities graduate each year. Many Ukrainian software engineers start coding at a rather young age on their own. Students often work as trainees in software development companies and start freelancing or creating their own projects. Therefore, when they graduate at 21-22, they already have a few years of hands-on experience under their belt.
2. Large number of vendors
Another aspect that makes software development outsourcing to Ukraine so attractive is the variety of companies to choose from. Clutch lists a little over 800 Ukrainian firms, with over 30% of them being midsize and large vendors. This is nearly a half of all IT outsourcing and software development companies registered in Ukraine.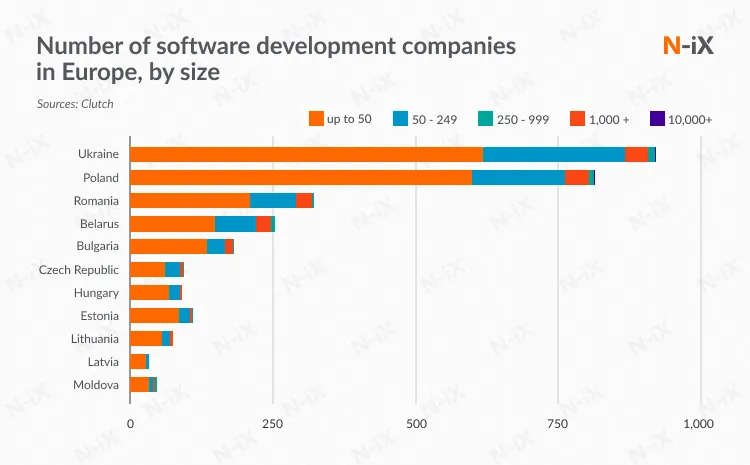 These companies have a wide range of services to offer, from simple IT staff augmentation to complex solution development or niche expertise like data analytics, embedded & IoT, or automotive testing. In the image below, you can see that vendors in Ukraine also have versatile domain expertise, as they have experience partnering with businesses in many verticals.
3. Major hubs for software development outsourcing in Ukraine
Kyiv is a major administrative, cultural, and scientific hub of Ukraine. It is home to the lion's share of tech professionals (44.2%) in the country. Such global enterprises as Samsung, Huawei, Ericsson, NetCracker, and others, have R&D centers in the capital. What's more, many enterprises and large businesses choose the city for outsourcing software development to Ukraine. So, major Ukrainian tech companies, including N-iX, have development centers in the capital. What's more, Kyiv is a startup-friendly city: such successful tech startups as Grammarly, Petcube, Terrasoft, Augmented Pixels have offices in the city.
Lviv is the largest city in Western Ukraine, as it houses more than 800,000 people. The city takes third place in Ukraine by the number of programmers - over 25,000 developers are engaged in the IT industry. The State of European Tech report states that the majority of Lviv developers work for either outsourcing (46%) or outstaffing (11%) IT vendors. Also, Lviv is home to 317 IT service providers, 90% of which provide software outsourcing services.
Kharkiv is the second-largest city in Ukraine that houses 1.5M citizens. The city is one of the most industrialized spots in the whole country. Due to its long-established engineering tradition, well-developed machinery, and electronics industries, Kharkiv is a big business hub. Software development outsourcing is a well-developed branch here. The city is home to over 27,000 tech specialists and around 450 IT service providers. Kharkiv software development outsourcing companies cooperate with the USA clients a lot, and the American market constitutes almost 65% of all IT exports.
4. The business climate for software development outsourcing
If you are considering outsourcing software development to Ukraine, please remember that apart from a large tech talent pool and a variety of vendors, there is also a question of business landscape. Ukraine ranges well in many international rankings, including the following:
42nd position in the A.T. Kearney Global Services Location Index;
58th place in the Bloomberg Innovation Index,
64th position in the Ease of Doing Business by the Wold Bank;
38th place in Tholons Global innovation Index 2020, and much more.
Like most emerging economies, Ukraine is struggling with corruption issues, but in recent years the situation has improved significantly. The country is on the way to its EU integration so it's taking active steps to implement the EU association agreement that came into force in 2017. An important part of the integration plan is dedicated to fighting corruption.
What's more, travel to Ukraine is mostly visa-free. Citizens of 64 jurisdictions, including all European citizens, the citizens of the USA and Canada can enter Ukraine without a visa and stay here up to 90 days within a 180-day period. Moreover, on April 4, 2018, Ukraine introduced electronic visas. Now, 52 more countries can receive visas, which allow staying in Ukraine for 30 days.
Ukraine is the largest country in Europe, and it has a favorable geographical location for IT development outsourcing and business trips. A flight from most European capitals to Ukraine takes just 2-3 hours.
Read more: How to choose the best offshore development company in Ukraine
Software development outsourcing to Ukraine: Featured success stories
1. Gogo
Gogo is a global provider of in-flight broadband Internet with over 20 years of experience and more than 1,000 employees. The company has partnerships with more than 16 commercial airlines, and has installed in-flight connectivity technology on more than 2,900 commercial aircraft and over 6,600 business aircraft.
Gogo initiated a complex data governance project in order to ensure the flawless operation of the equipment and high speed of the in-flight Internet. The client engaged N-iX as their strategic software development partner.
Together with our client, we completely migrated Gogo data solutions to the AWS cloud and shut down its costly on-premises infrastructure. Our team built a unified AWS-based data platform that collects and aggregates data from 20 different sources and can process up to 3 TB of streaming data per day.
With Data Science and Machine Learning algorithms, we developed models for predicting failures and health monitoring of antennas.
2. Lebara
Lebara is a global telecom company that has formed a long-term partnership with N-iX. Our software engineers have helped Lebara with software development, quality assurance, database administration, application and infrastructure support, and more. We set up an offshore development center for Lebara (100 + experts) and worked on such products as LebaraPlay, MyLebara, LebaraMoney, Bluepipe, and others.
We helped the client achieve:
Seamless omnichannel user experience;
Simplified business processes and improved management of commerce data flows;
The website with wide functionality to serve the needs of Lebara's customers in the UK, France, Germany, the Netherlands, Spain, and Denmark;
A multi-cloud strategy for better flexibility and avoiding a vendor lock-in; the opportunity to negotiate better terms with cloud vendors;
Optimized BI reports without delays thanks to the data lake development;
Saving infrastructure costs and improved scalability with cloud and microservices;
Faster time-to-market and prevented downtime thanks to the test automation framework;
Faster introduction of innovations thanks to microservices architecture.
3. A Fortune 100 company (under NDA)
Our client is a multinational engineering and technology company, based in Germany. The company operates in over 60 countries worldwide through a complex network of over 440 subsidiaries and regional entities.
To improve the logistics between the warehouses, the client introduced an internal logistics platform. The platform is used by warehouse staff to efficiently allocate and manage goods and materials. However, after being in use in a few warehouses for several months, the platform turned out to have a lot of flaws and was unsuitable for further scaling.
We help the client with migrating the platform to microservices, implementing best DevOps practices, building a Computer Vision Solution that allows contactless tracking of goods with industrial optic sensors and Nivida Jetson devices, and more.
Why choose N-iX for software development outsourcing to Ukraine
N-iX has a talent pool of over 2,000 tech experts.
The company has helped 100+ clients implement and scale innovations.
With more than 20 years in the market, the company has shaped long-term, strategic partnerships with businesses from the USA, UK, Germany, Nordic countries, and other locations. Today the USA is the biggest market for N-iX as we partner with a lot of established American businesses.
N-iX is a certified AWS partner, a Microsoft gold certified partner, a Google Cloud Platform Partner, an Opentext Services silver partner, and a SAP partner.
N-iX is compliant with PCI DSS, ISO 9001, ISO 27001, and GDPR standards.
N-iX has broad data expertise to design different kinds of data solutions: Big Data / Data Warehouse / Data lake, Business Intelligence, Data Science, Artificial Intelligence & Machine Learning.
N-iX is recognized as a trusted vendor by IAOP, GSA, Inc. 5000, Software 500, Clutch.co, and others.
We offer professional DevOps services, including Cloud adoption (architecture, migration, optimization), building and streamlining CI/CD processes, security issues detection/prevention (DDOS & intrusion), firewall-as-a-service, and more.
We have always contributed to the development and promotion of the Ukrainian IT industry, investing in education, nurturing tech communities, developing infrastructure projects, and more.
* Response to the pandemic
Ukraine acted fast and within two weeks after the first confirmed COVID-19 case, both the authorities and businesses took prompt actions to prevent the speed of the disease - from closing schools to travel bans.
Most big Ukrainian software development outsourcing providers, including N-iX, had a business continuity plan in place and started preparing their infrastructures, tools, and processes long before the quarantine started in Ukraine. Also, we created a working group to monitor the situation and take the necessary actions.
Our top goal was to keep all our employees, clients, and partners safe. What's more, it was critical for us to continue providing high-quality software development services to our clients as efficiently as ever.
As the global pandemic is still ongoing, Ukrainian authorities are taking measures to curb its spread and mitigate the effect.
The Ukrainian Anti-coronavirus Fund amounts to UAH 66B. These funds are aimed to increase payments to doctors who fight coronavirus. It also provides for purchasing essential medical equipment and personal protective means. Also, it covers payments to citizens of Ukraine who, due to quarantine, unfortunately, lost their jobs and financial assistance to the families of the doctors who died from COVID-19.
References
Future of IT Report by Emerging Europe
Portrait of Ukrainian IT specialist by DOU.ua
Have a question?
Speak to an expert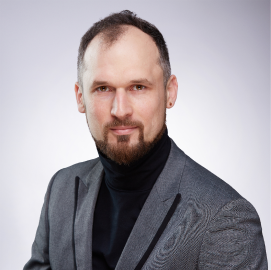 Taras Petriv
Associate Engagement Director
---