The COVID-19 outbreak has transformed the way we work and do business. Nevertheless, some business problems, including talent shortage, remain unchanged.
The Harvey Nash/KPMG CIO Survey of 2020 states that the global tech talent shortage stays almost on the level of pre-pandemic times. As of May 2021, LinkedIn lists nearly 250,000 unfilled positions for software engineers in the US only.
As a result, the recruitment and hiring process gets costly, lengthy, and complicated, and employers may wait months to find a fitting candidate. So, to achieve benefits, including agility, cost-effectiveness, and scalability, businesses frequently go for offshore team augmentation.
What's more, many US and European companies choose offshore developers for their skills, experience, and ability to work well in cross-cultural teams.
In this article, we will discuss the best offshore software development countries, including:
We will compare these countries in terms of their talent pool, IT hubs, tech education, rates, and other aspects that are important for successful IT outsourcing.
Offshore development countries: Eastern Europe
Eastern Europe is a popular outsourcing destination due to its vast talent pool of over 1M professional developers that share Western work ethics. What's more, the region is home to skilled developers, recognized by various rankings, including SkillValue and TopCoder. Also, developers from this region have strong expertise across different industries. For instance, Ukraine is known for its robust automotive expertise and Bulgaria for expertise in finance and banking.
Here is the infographic that shows industry specialization among the countries of Eastern Europe.
What's more, Eastern Europe boasts an excellent price-quality ratio. The rates are significantly lower than in the US or Europe, but the quality of services is still high.
The lion's share of Eastern European developers live in Ukraine, Poland, and Romania. In the article, we will also view Belarus and Slovakia.
Ukraine is home to 192,000 tech specialists. IT outsourcing vendors make up the lion's share of the Ukrainian IT service market, as the percentage of product companies in the country is comparatively low. According to Clutch, over 850 IT service providers are located in Ukraine. Thus the country takes the leading position in Eastern Europe, followed by Poland with 750+ IT vendors and Belarus with 250+ outsourcing providers.
HackerRank ranks Ukraine 11th among the best countries for offshore software development and the first in the field 'Security.' According to TopCoder, Ukrainian developers are the 6th most skilled in the world.
Most of the developers live and work in big cities such as Kyiv (44.2%), Kharkiv (14.5%), and Lviv (12.8%).
One of the critical aspects contributing to successful IT industry growth in Ukraine is its strong technical education. Each year, there Ukraine boasts over 39,000 graduates with degrees in technical studies.
What's more, the Times Higher Education World University Ranking lists the nine best Ukrainian universities that offer computer science programs.
The Ukrainian IT sector has been flourishing over the past years. The country's IT industry export volume grew by almost 45 times in the last ten years, from $110M in 2003 to $4.5B in 2018. The IT industry now has a third place by export volume in the country.
The cultural compatibility of Ukrainian developers with Western clients is one of the reasons for the rapid growth of IT outsourcing in Ukraine. Ukrainians have a European mindset: they are open, tolerant, and decisive.
Ukrainian developers are known for their positive and flexible attitude, high responsibility, and a good sense of teamwork. What's more, they have experience communicating with foreign clients, mainly from the US, the UK, and Western Europe.
Learn more about the cultural compatibility of Ukrainian software developers - read the article.
The country has an extensive talent pool of 295,000+ tech specialists. Various rankings prove their professionalism. For example, Polish tech experts are ranked third in the SkillValue ranking, which recognizes the most skilled developers worldwide and the fifth in the TopCoder ranking.
The country has seven major hubs, which are home to over 85% of all tech professionals. The majority of them reside in Warsaw and Krakow. Other prominent IT hubs are Wroclaw, Katovice, Tri-City, Lodz, and Poznan.
Learn more about the IT hubs in Poland
Polish Information and Communication Technologies universities and their graduates are well-known for the high standards of education. In 2018, there were 74,000 ICT students and nearly 17,000 graduates available for recruitment.
The best computer science universities in Poland are Warsaw University of Technology, Jagiellonian University and AGH University of Science in Krakow, and the Wroclaw University of Technology.
Polish IT services exports grew from $1.09B in 2010 to $4.62B in 2019 with an average CAGR of 22.9%. Sales of IT services exports continue to grow and are expected to reach €14 billion in 2022.
Romania is one of the top three Eastern European countries with the largest numbers of software engineers. Local vendors employ 119,100 professionals.
Romanian developers are ranked 23rd best skilled in the world by SkillValue and 20th by TopCoders.
A significant share of the Romanian talent pool resides in the cities of Bucharest, Cluj-Napoca, Timișoara, and Iasi. What's more, Bucharest, Cluj-Napoca, and Timișoara are known as the top-3 most start-up-friendly cities, according to StartupBlink.
Romania is home to 41 technical universities. These institutions graduate 7,500 computer science specialists annually.
Five hundred thousand students enroll each year. Such a number of students ensures constant talent inflow, thus makes Romania one of the best offshore software development countries.
The tech industry and IT outsourcing in the country boast a 15% annual growth rate. In 2018 the tech branch growth reached $4.5B, with a 13.4% CAGR of this industry. Also, the export of software and IT services makes 1.9% of Romanian GDP.
Romanian culture and values are very similar to those in the USA and Western Europe. Thus, Romania is among the best countries for offshore software development for them. Romanian tech professionals work with clients from Germany, Austria, and Switzerland, Western European countries, and the US. The CEE report 2019 states that 74% of clients of Romanian vendors come from Europe and 22% from the USA.
As of 2019, Belarus housed almost 56,000 software developers (compared to 40,000+ in 2015). According to SouceSeek, tech professionals in Belarus have robust domain expertise in financial services, healthcare, and education.
What's more, Belorusian experts have made it to 7th place in the TopCoder ranking and 26th in the rating by SkillValue.
Minsk is home to 85% of the tech professionals in the country. Gomel gathers nearly 9.4%, and Grodno and Brest-2.7% and 2.9% of the tech talent, respectively.
There are 60 educational institutions that provide computer science programs in Belarus. Belarusian National University and Belarusian National Technical University were included in the top 1000 QS Global World Ranking in 2021.
The local tech talent pool grows by 4,000 ICT graduates annually. What's more, there are 19,000 STEM graduates that can join the tech labor market. Many IT vendors in Belarus actively collaborate with universities and schools across the country. Besides, some IT outsourcing providers in Belarus offer training courses to people who want to join the tech community.
IT outsourcing has played a significant role in Belarusian economic development for the past two decades. IT has a share of nearly 6% country's GDP and employs 2.2% of the total workforce.
However, research on the Belarusian commercial sector perceptions and its perspectives by Civitta states that the Belarusian political crisis of 2020/2021 will affect the local software development sector and the economy in general.
Some Belarusian IT vendors report searches and raids authorized by the government. Meanwhile, other tech companies decided to close their offices or move their operations to other countries. For instance, Godel Technologies moved its office to Kyiv, Ukraine, and offered relocation to its employees.
What's more, Belarus faced severe criticism for the lack of response to the pandemic at the beginning of 2020. Despite the measures taken by the government, there is no data about actions taken by the Belarusian software development sector.
Slovakia is home to more than 39,000 tech specialists. According to the ABSL report, around 46% of specialists work for Shared Services Center (SSC)/Global Business Services (GBS) companies, software development providers employ 32%, and additional 22% work for BPO outsourcing firms. As a result, most developers in Slovakia are not available for outsourcing.
What concerns the tech expertise, according to the SkillValue report, Python developers from Slovakia are more skilled and knowledgeable than experts in other technologies.
The vast majority of Slovak software developers live in Bratislava, Kosice, and Zilina.
There are five most trusted HEIs that have computer science programs. These institutions are Comenius University in Bratislava, Pavol Jozef Šafárik University in Kosice, the Slovak University of Technology in Bratislava, The Technical University of Kosice, and the University of Zilina. All these universities are recognized by the Times Higher Education world universities ranking.
Slovakia has a GDP of $106.5B, with IT export of $2.5B. Also, as an EU member, Slovakia is a secure software development outsourcing destination. The country is also subject to the GDPR.
Offshore development countries: Asia
IT outsourcing to Asia is accompanied by a wide array of advantages and disadvantages. The most substantial pros are low rates and a vast talent pool. However, businesses that choose to outsource to Asia often struggle with communication (as Asian work ethics differs significantly from Western) and lower quality of services. Also, Asia lags behind the US and Europe in terms of Internet quality, which is an obstacle to effective collaboration with local developers.
Nevertheless, Asia is an alluring outsourcing destination due to its large talent pool. India, China, and the Philippines house the most significant number of programmers in the region.
India is home to over 5M programmers. Indian developers have made it to the top 10 most skilled software developers worldwide, according to the ranking by TopCoder. SkillValue ranks them 35th among 100 countries worldwide that are home to the best software engineers.
Bangalore, Chennai, Mumbai, and Delhi are the cities that house the lion's share of Indian software developers.
In terms of computer science education, India houses 58 trusted institutions that ensure regular talent inflow in the tech industry, according to the Times Higher Education World University Ranking.
The National Association of Software and Services Companies (Nasscom) states that over 230K employees entered the IT market during the last year. The Indian IT market generated $181B during 2018 as compared to $146.5B in 2015. Such software development growth rate is attributed mainly to the country's population size, which is around 1.36B, and a high youth rate with about half the population under 25.
Working with IT specialists from India can be quite a challenge when it comes to the cultural differences in how they do business. In this country, it is considered rude to challenge anyone in a more senior position than yourself, even if there is a simpler solution to the problem than they are suggesting. This may lead to miscommunication and a number of unresolved issues which have to be clearly communicated at the early stages of the project development.
As of April 2021, LinkedIn lists 325,000 software developers in China. Chinese developers have made it to fourth place among the most skilled software engineers across the globe, according to the ranking by TopCoder.
According to the Times Higher Education World University Ranking, China is home to 80 top computer science universities.
Developers from China are known for their high productivity and strong work ethics. However, they're rarely willing to learn foreign languages and English-speaking countries should bear this fact in mind while choosing china as a country for offshore software development.
More than 200 offshore software companies and 95,000 tech professionals are there in the Philippines. Each year, more than 130,000 IT and engineering graduates enter the market.
The country's software industry is valued at $7 billion and gains uninterrupted governmental support.
The Philippines have an excellent understanding of Western culture thanks to their historical background as a former British colony. Filipin developers are fluent in English, both in verbal and written communications.
Offshore software development rates by country
Due to overall talent shortage, thus fierce competition for tech talent, many businesses don't know where to outsource software development to get the job done within their budget.
Let's now compare billing rates for software development in Eastern Europe and Asia.
The chart below shows how the rates differ depending on the seniority level of a developer, QA, and architect in Asia.
Eastern Europe has slightly higher rates, as compared to Asia. However, it can be explained by excellent tech education of local talent, robust expertise in software engineering, and a decent command of English.
Outsourcing to offshore development countries: success stories
1. Leading industrial supply company (under NDA)
Our client is a Fortune 500 industrial supply company that needed to transform its existing on-premise data solution and move it to the cloud to ensure better scalability, improve reliability, and reduce costs. So, they teamed up with N-iX to achieve their deliverables.
N-iX has helped the client develop the cloud-agnostic strategy towards cloud migration and built a unified data platform on AWS. As a result, the client can access all data in one place, predict and optimize costs, easily switch a cloud provider, and deliver excellent service at scale.
2. Multinational engineering and technology company (under NDA)
Our client is a Global Fortune 100 company based in Germany but operates in over 60 countries across the globe.
The client needed to streamline inventory management for more warehouses. Their existing logistics solution was difficult to scale. So it was essential to modernise the platform to improve the efficiency of internal logistics, which was the primary reason they reached out to N-iX.
Our experts have helped this company to transform its logistics platform by introducing microservices, DevOps, and implementing several advanced technologies, including ML, AI, NLP, computer vision, etc.
The improved logistics platform will allow the client to scale fast to more warehouses, ensuring better performance and responsiveness.
3. cleverbridge
cleverbridge is a company that provides full-fledged e-commerce and subscription management solutions for monetizing digital goods, online services, and SaaS across a variety of industries. The company offers a cloud-based e-commerce platform that simplifies recurring billing, optimizes the customer experience, and offers comprehensive global compliance and payment capabilities.
cleverbridge needed to redesign its solution to increase customer outreach and improve customer experience and chose N-iX as their offshore software development partner.
With the help of N-iX, the client migrated the desktop solution to the web, built a brand-new UX design, and enhanced their value proposition to customers by designing lucid BI reports.
With a new web-based application available across different operating systems, browsers, and mobile devices and improved UX design, cleverbridge is able to expand market reach and improve customer retention.
WRAP-UP
All these countries are alluring IT outsourcing destinations that offer quality and cost-effective IT services. So, first of all, you need to decide what factors are critical for your business. We hope this infographic will help you make an informed decision and choose the right destination for setting up a software development team.
Why choose N-iX as a software development partner?
N-iX has over 20 years of experience in the global IT outsourcing market. The vendor has provided offshore software development services to such companies as Lebara, Opentext, Gogo, Currencycloud, etc.
With offices in Ukraine, Poland, Bulgaria, as well as Sweden and Malta, this provider will help you to tap into a vast talent pool of top-notch professionals;
The company has a strong portfolio in such tech domains as Big Data, Cloud, DevOps, ML&AI, and others;
The company boasts an expensive internal talent pool of over 1,900 professionals that can help you with project implementation.
Have a question?
Speak to an expert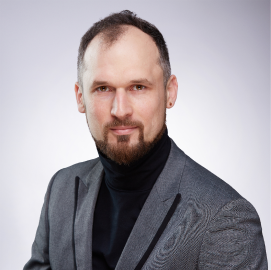 Taras Petriv
Associate Engagement Director
---