When it comes to IT outsourcing, the fear of miscommunication is one of the most common ones. Business owners have their doubts about building offshore dedicated development teams, as they know very little about their culture, communication style, and work ethic. In this article, we discuss:
cultural factors that affect communication;
Ukrainian software developers from the cross-cultural perspective;
Aspects of the Ukrainian culture that might influence cooperation.
A quick look at the Ukrainian IT market
In recent years, Ukraine has greatly improved its position on the global IT service market. The number of Ukrainian developers has reached 184,700 specialists, achieving 26% growth over the last year. Moreover, Ukrainian tech talent pool is projected to reach 200,000 experts by 2020 [5].
Ukrainian software developers work with world-known companies, such as Microsoft, ABBYY, Samsung, TuneIn, Fluke Corporation, and many others. Moreover, the country is winning increasing recognition in the world tech scene. For instance, it holds the 24th position on A.T. Kearney Global Services Location Index and every year, more and more Ukrainian software development companies make it to the Global Outsourcing 100 by IAOP [6].
A large tech talent pool, competitive prices, and high quality of engineering skills are the primary factors that drive this growth. Yet much of the success of outsourcing partnerships established with Ukrainian developers can be attributed to the cultural closeness of Ukrainians with the European and American clients. So let's take a closer look at cultural differences and similarities that affect communication with Ukrainian software engineers.
Cultural Aspects that Ensure Successful Partnership with Ukrainian Software Developers
Communication is the key to successful cooperation of any kind. And when the teams are divided by the culture, distance, languages, and different business ethics, we need to put in extra effort to ensure that everyone is on the same page. Also, there are two ways to minimize culture-related risks in outsourcing:
To choose a software development company that is culturally close to your business.
To get a grasp of each other's culture to be able to envisage and mitigate the risks.
A study back in 2010 established five fundamental aspects that define the probability of success or failure of outsourcing arrangements. They are cultural compatibility, internationalization, the social system, background, and religion. The study shows that the first three have the most significant impact on outsourcing [3].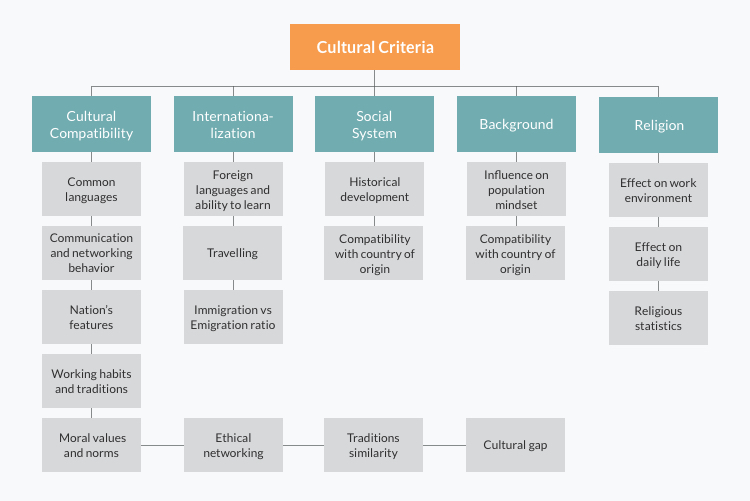 Let's take a closer look at these criteria and the aspects that are important when working with Ukrainian developers.
1. Cultural compatibility of Ukrainian software developers
In general, Ukraine as a country located in Europe shares much of the Western culture and values. Although there are slight differences in mentality and some traditions, Ukrainian software developers are culturally close to European and American partners.
A widely acknowledged cultural dimensions theory by Geert Hofstede allows analyzing and comparing different countries and their cultures against several vital factors. Hofstede's framework describes the effects of a society's culture on the values of its members and the way people communicate in a working environment. If we explore Ukrainian culture using this model, we can get valuable insights for establishing more effective cooperation with Ukrainian developers.
Masculinity: For Ukrainian developers, it's important to have a passion for their work.
Ukraine scores 27 points in the 'masculinity'dimension, which refers to the inner motivation. 'Masculine' societies are interested in domination and power, whereas the 'feminine' ones are motivated more by love for what they do. It means that Ukrainian developers are interested in the work itself more than in the status their position gives.
A massive survey by DOU, the largest developer community in Ukraine, confirms this. According to their research, a wide majority of Ukrainian programmers chose a career in tech because of their passion for technology. Also,65% of Ukrainian developers value interesting tasks when choosing a job.
78% of developers in Ukraine say they chose a career in tech because of their interest in technology.
Uncertainty avoidance: Detailed planning is very common for Ukrainian IT professionals.
Ukraine scores 95 in 'uncertainty avoidance', which means Ukrainian developers need certainty in life. As an emerging economy, Ukraine goes through economic and political difficulties from time to time. So it's not surprising that its people strive for stability. According to the analysis, detailed planning and briefing are very common in the business setting. Ukrainians prefer to have context and background information. As long as they interact with people considered to be strangers they appear very formal and distant. At the same time formality is used as a sign of respect.
Individualism: Ukrainian software developers are team players.
'Individualism' describes how various cultures interpret 'me' vs. 'we' balance. With a score of 25, Ukrainian developers focus more on the group interest and well-being of their team. By contrast, India scored 48 points in the same dimension meaning that their developers tend to be more individualistic compared to Ukrainians. Since team velocity depends on how well team members work together, as well as how much they care about their joint success, this aspect of the Ukrainian culture brings many benefits to the table.
In addition, it allows Ukrainian software development companies to create strong teams for lasting partnerships. For example, we have quite a few dedicated development teams at N-iX that have worked with our clients for three, five, ten or even more years, with people staying on the project throughout the cooperation. This has allowed our partners to preserve valuable product knowledge and share it with newcomers when needed.
Power Distance: For Ukrainians, behavior has to reflect the status roles in all areas of business interaction.
Ukraine, scoring 92 in Hofstede's research, is a country where power holders are very distant in society. Being the largest country entirely within Europe and being for almost a century part of the Soviet Union, Ukraine developed as a very centralized country. Therefore, Ukrainian software developers often distance themselves from their bosses demonstrating respect at all times. However, it doesn't influence their integrity. Ukrainian engineers are always willing to speak their mind when it comes to important technological decisions and the success of the product.
If you add these factors up, you can see that the cultural profile of Ukrainian developers makes them an excellent choice for companies from Europe, the UK, and North America.
2. Foreign languages and the ability to learn
Many software development companies in Ukraine are offering outsourcing services and have experience working with clients worldwide. Ukrainian IT outsourcing market understands the need for proper communication between partners. Therefore, the local tech industry invests heavily in taking down the language barrier.
79% of Ukrainian software developers are fluent in English.
As English is the primary language of IT outsourcing, most companies that offer outsourcing services demand at least an Intermediate level of English with further improvement. Thus an average developer in Ukraine has either Intermediate or Upper-Intermediate knowledge of English, according to DOU survey.
Despite Ukraine's modest English Proficiency Index (43rd position worldwide), Ukrainian IT professionals have a good command of English. Most Ukrainian software development providers either have internal language training and speaking clubs or offer reimbursement for external courses. For example, at N-iX, besides reimbursement and a speaking club, we practice English as a language of corporate communication. It allows us to maintain the high standard of communication both within the company and on the projects.
As for the education in Ukraine, it is one of the counties with the highest literacy rates in the world (99.9%). According to the Ukrainian Constitution, access to free education is granted to all citizens. Secondary education is compulsory, and it is free in state schools, which constitute the overwhelming majority. In addition, the country has a strong STEM education, which impacts the quality of engineering skills of the Ukrainian software developers.
83% of Ukrainian IT professionals have a university degree.
According to the survey, 56% of Ukrainian developers have a degree in Computer Sciences and related fields, and an additional 27% have a degree in other fields. Moreover, 89% of developers say that devote time for self-education using online courses, conferences, and field-specific reading [8].
3. Working habits and traditions
Ukrainians are well-known for their hard-working nature and the ability to focus on the task at hand. Many developers do not mind doing overtime to help the project succeed.
More than 55% of Ukrainian developers work more than 40 hours per week.
Ukraine has multiple state and religious holidays, though, very few of them are days off. Generally, there are between 11 and 13 religious and national holidays that are days off, which is close to the number of federal holidays in the US and most European countries.
Source: Public Holidays in Europe (wageindicator.org) [4]
As far as the holidays and days off are concerned, Ukrainian developers often try to come to the best arrangement with their foreign partners. For instance, Ukrainian Christmas doesn't overlap with the European and American. However, if there is a critical project milestone during holiday time, they will work to deliver the best result.
4. Business trips
Located in Eastern Europe, Ukraine lies within 1-3-hour flight from major European capitals. In 2017, Ukraine obtained the right for visa-free travel within the European Union. So now it is much easier for Ukrainian developers to meet their European partners and improve remote collaboration.
For North American customers, the process is also simple as many companies cooperate with embassies to ensure proper arrangements for business travel. Also, there are several direct transatlantic flights from Ukraine to key destinations in North America, as well as many connecting flights from Europe.
As for the visas, the EU and the US citizens do not need a visa to enter the country. In general, citizens of 64 jurisdictions, including all European citizens, the citizens of the USA and Canada, can< enter Ukraine without a visa for a stay up to 90 days within any 180 day period.
Ukraine has suitable time-zone to work with most foreign partners. European businesses have a 1- or 2-hour difference with Ukrainian software developers, so the teams can easily synchronize their working schedules. Whereas the development teams that work with North American partners start their working day later to create suitable time slots for communication.
5. Immigration vs emigration ratio
Apart from geographical proximity, Ukraine has a decreasing number of developers interested in moving abroad. So the companies do not have to worry about their software developers moving elsewhere.
Despite the spike back in 2015, less than 5% of Ukrainian developers consider moving abroad today.
6. Beliefs and religion
Ukraine is a fairly religious country, with a majority of the population adhering to Christianity. A 2018 survey conducted by the Razumkov Centre found that 71.7% of the population declared themselves believers.
However, Ukrainian software developers have proven to be open towards working in multi-religious environments. They don't openly demonstrate their religious beliefs in public and avoid discussing this topic at work. Also, Ukrainians have no prejudice against working with any client or business domain. Therefore, beliefs and religion in Ukraine have no impact on the working environment.
Key Takeaways
Most communication problems in software development outsourcing stem from lack of knowledge about the other partner and thus misunderstanding them.
Ukrainian software developers have virtually no cultural differences with their clients who are mostly located in North America and Europe. Also, minor issues can be harmonized via traditional communication channels, as most moral norms and values are similar to the American and European.
Ukrainian companies have specific training to overcome cross-cultural differences and provide smooth communication regardless of the partner's cultural background.
Therefore, Ukrainian software developers are an excellent choice when talking about an offshore dedicated development team. It is smart not only in terms of cost-efficiency and skills availability but also due to their ability to adapt and work well in diverse cultural environments.
If you have any questions or want to gather a strong team of Ukrainian software developers for your next project, contact us!
References
Hofstede Insights: Ukraine.
Guiso, L., Sapienza, P., & Zingales, L. People's opium? Religion and economic attitudes.
Kvedaraviciene, G., & Boguslauskas, V. Underestimated Importance of Cultural Differences in Outsourcing Arrangements.
Public Holidays (Number of days) – Decent Work Map. (2018, July 19).
Tech Ecosystem Guide To Ukraine.
The Best of The Global Outsourcing 100.
Volianska, O., & Schulz, C. Risk Identification in Offshore Outsourcing of Services in Small and Medium-sized Enterprises.
DOU. The portrait of the Ukrainian IT professional 2018.
---