Working with in-house and onshore teams may be one of the most productive ways and give you the most sense of control. But, as Forbes puts it:'' If you can't hire them, you can't take advantage of this productivity benefit.''
According to Forbes, the USA is experiencing a severe tech talent shortage, as there are just not enough engineers to satisfy demand – there are five job postings for one software developer. And the similar situation is in the UK, Germany, and other Western European countries. Moreover, companies there are not only unable to attract and find talent, but they also can't keep the talent they have because it's being poached by other companies.
...with this severe talent deficit, we're seeing offshore services flourish aggressively again, as it's the only way to address the talent deficit. - Peter Bendor-Samuel, CEO of Everest Group
To stop struggling with the problem, many industry-leading businesses, such as Microsoft, Mercedes-Benz, Lebara, Gogo, Viber, and others, have settled on going for team extension in Eastern Europe. What were they driven by? Let's take a look at some facts:
Eastern Europe is home to almost 1,600,000 software engineers (according to the Emerging Europe report) and 3,300 + IT outsourcing companies.
The competition for talent here is not as fierce as in the USA, UK, Germany, etc., because of fewer top engineering employers.
Eastern Europe boasts a sustainable number of top-notch universities and ICT graduates. As stated in the Emerging Europe report, around 62K tech specialists enter the EE IT market every year.
Besides good education, that also means a high level of competition in the local IT talent market among IT specialists and the high-quality engineering services they provide.
There are, however, a lot of aspects to take into account when considering staff augmentation in Eastern Europe. How to choose the right country and the most suitable vendor? And which cooperation model to opt for?
To help you, we've researched top countries for successful IT team extension in Eastern Europe (Poland, Ukraine, Romania, Hungary, Czech Republic, and Bulgaria). The research is based on The State of European Tech Report, Stack Overflow, and more.
In addition, we have compiled a list of top team extension services providers in different locations based on companies' websites, LinkedIn profiles, and lists like The Best of The Global Outsourcing 100 by IAOP, Clutch.co, Manifest, etc., to help you choose a reliable partner for staff augmentation in Eastern Europe.
Top countries for team extension services in Eastern Europe
In terms of team augmentation, Europe, especially its Eastern part, has great potential. Eastern European countries significantly developed infrastructure and tech education in the last 20 years. Moreover, the region is a thriving market for software development and team extension services. Now let's explore the IT market of Eastern European countries in more detail and find out where to look for an extended development team. View our detailed report on the IT outsourcing destinations of the CEE region.
Poland
There are many reasons to look for team extension services in Poland. Developed infrastructure in the country and a vast talent pool are just some of them. Polish universities graduate 15,000 new specialists annually. Moreover, over 1,100 IT companies in Poland offer team extension outsourcing services.
Another reason why Poland is on the list of top outsourcing locations is its favorable economic background and substantial IT market growth. According to Statista, the revenue of the Polish IT services market grew up to $12.8B in 2022 with an annual growth rate of 8.85%. Therefore, many global industry leaders have opened their R&D centers in Poland. For instance, ABB, Google, Siemens, Motorola, Intel, and many others have Polish R&D centers.
Related: 15 reliable IT outsourcing companies in Poland: a market overview
Ukraine
Ukraine boasts more than 1,600 software development providers, the majority of which provide team extension services. The country offers a wide range of benefits: from its vast talent pool to extensive expertise, and strong technical education. Moreover, Ukraine leaves behind many EE countries including Poland in terms of cost-effectiveness.
In addition, the country is well-recognized in the global IT market. Ukraine has the 42nd position in the global ranking of outsourcing locations by A.T. Kearney and is listed among the top IT outsourcing destinations in Europe. In addition, 12 Ukrainian IT providers were mentioned in the 2022 Global Outsourcing 100 list by the International Association of Outsourcing Professionals (IAOP) as the best outsourcing companies.
One more reason to consider Ukraine as a place to look for staff augmentation services company is the considerable potential for fruitful cooperations. Indeed, many partnerships last for years, and small outsourced teams grow into large development centers. For example, Anoto cooperated with N-iX, an Eastern European IT company, for over 12 years. Another instance, Lebara, a British telecom company, started from a team of 5 people and expanded it to over 100 software engineers.
Despite the full-scale Russian invasion and temporary blackouts, Ukrainian IT enterprises have successfully implemented their Business Continuity Plans and now manage to deliver above 95% of services.
Keep reading: Software development outsourcing to Ukraine: An ultimate industry overview
Romania
If you are going for staff augmentation in Eastern Europe, Romania is another country worth attention. In 2022, the IT market revenue made up 2.83% of the Romanian GDP, and this figure tends to grow. To encourage the development of the tech branch, the local government has exempted tech professionals from the 16% income tax. The leading IT cities in the region are Cluj-Napoca, Bucharest, and Brasov.
Read more: IT outsourcing to Romania: major hubs, tech talent pool, and more
Czech Republic
The country houses around 200,000 tech professionals, which makes it especially attractive for businesses that are looking for a team extension provider. Prague, Ostrava, and Brno are the cities with the most developed infrastructure, which makes them particularly appealing in terms of staff augmentation in Eastern Europe.
Hungary
The Hungarian tech industry represents about 6% of the country's economy. Hungary can boast over 175,000 ICT professionals, so many global businesses look for staff augmentation in this Eastern European country. In addition, Hungary is home to 120+ IT outsourcing providers that deliver projects for a wide range of domains, with a focus on financial and business services, e-commerce, and healthcare.
Bulgaria
Staff augmentation in Bulgaria is another viable option to consider, since this Eastern European country houses over 101,000 tech specialists. Around 200 companies are operating in the Bulgarian IT market, the majority of which offer team extension services. Moreover, due to the favorable business environment, many multinational IT corporations (HP, SAP, Johnson Controls, Oracle, and others) have opened R&D offices in Bulgaria.
Benefits of staff augmentation in Eastern Europe
1. The vast talent pool and high quality of services
Ukraine, Poland, Romania, Hungary, Czech Republic, and Bulgaria are the EE countries with the most significant number of software developers. The region houses a talent pool of almost 1,6M tech professionals, with more than 62,000 ICT graduates every year.
2. The geographical proximity of Eastern Europe
Location
Expanding your software development team with professionals from a distant country may seem challenging. Team extension in Eastern Europe is, however, seamless due to well-developed international transportation, so it is easy to organize business trips and meet your extended development team in person.
CEE boasts a network of easily accessible airports, relatively modern highway and rail systems, and well-developed digital infrastructure. - McKinsey report
Time difference
Only one-two hours of time difference divides Eastern Europe (depending on the country) and the UK. Concerning the USA - there are comfortable time overlaps with the region when you can schedule a call, which is of great importance in cooperation with an extended development team. Also, you can benefit from the time difference: your remote development team works when you sleep and vice versa. This means the project is controlled 24/7, which is a powerful advantage.
3. Cost-effectiveness of staff augmentation in Eastern Europe
In terms of the price/quality ratio, Eastern Europe is one of the most attractive outsourcing destinations. The rates, however, vary among different countries, and each of them has its peculiarities. Staff augmentation in Hungary (where taxation makes almost 55% of the total cost of employment) is more expensive than, for instance, in Ukraine.
4. Governmental support
In various ways, the governments of CEE countries foster the IT industry and encourage R&D investments via various incentives, including tax breaks, investment subsidies, streamlined bureaucratic processes, and funding for training partnerships with universities.
How to choose the right cooperation model?
There are three main cooperation models for staff augmentation: an extended team, a managed team, and an outsourced team. Each model has its peculiarities, which should be considered, as they work for different purposes.
With this model, you get additional development capacity and expand an existing team. In this case, you have the most significant share of responsibility. You manage a team yourself, and you are basically in charge of product development. This model also brings more flexibility, as everything is done according to your business requirements. Due to high tech workforce availability, team extension in Eastern Europe will help you kill two birds with one stone: you will be able to tap into the rare tech expertise as well as to promptly gather the team.
In this case, you and the chosen vendor build a core development team. If you select the managed team cooperation model - you share the risks and responsibilities with the vendor. You share your product vision and project roadmap and make critical tech decisions while the vendor ensures administration pertaining to your team at its development centers. Moreover, the HR team of the vendor will help you meet your special requirements through custom recruitment. The managed team model allows you to handle your outsourced team as an in-house one, whereas the vendor gives you all the necessary tools for that and provides assistance.
Custom software development
If you choose the custom software development model to address your business issue, your vendor becomes fully in charge of the team gathering and all the phases of SDLC. The IT outsourcing provider scales the team and develops the product from discovery to final release. So, the model you choose depends primarily on how much control you want to have over the final product.
Wrap-up
Team extension in Eastern Europe brings a wide range of benefits: from access to additional talent pools and flexible scaling to cost-effectiveness and the ability to innovate. All these aspects are critical for businesses that want to succeed with their software products.
We hope that our research will help you partner with a reliable vendor for team augmentation in Eastern Europe.
Why should you choose N-iX for staff augmentation in Eastern Europe?
N-iX is a global software development service company with offices and R&D centers across the Europe and the Americas;
We have vast experience in tech consulting and delivering robust custom software for a wide variety of industries, including manufacturing, logistics and supply chain, fintech, retail, automotive, and more;
The company's in-house team spans over 2,000 seasoned tech professionals that provide help with Data Analytics, Cloud development, DevOps, IoT, AI and Ml, as well as other services;
N-iX's track record spans fruitful cooperations with top global enterprises, such as Gogo, Lebara, AVL, Fluke, and many other Fortune 500 enterprises;
N-iX adheres to international data protection compliances and regulations, namely, ISO 27001:2013, ISO 9001:2015, and GDPR, PCI DSS;
The vendor is well-recognized in the industry and repeatedly reached top positions in the industry rankings, such as IAOP, ISG, CRN, and Forbes.
Have a question?
Speak to an expert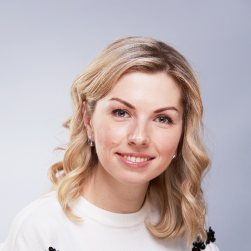 Uliana Batiuk
Engagement Director
---