Software development outsourcing to countries such as Romania, Poland, and Bulgaria has seen a great leap forward in recent years. These countries are well-recognized in the global outsourcing market thanks to the quality-to-price ratio and growing talent pools. Apart from cost-saving, many US and European companies choose Romanian developers as well as experts from other Eastern European countries for their skills, experience, and ability to work well in cross-cultural teams.
In this article, we will discuss custom software development in Romania and compare Romania with other popular outsourcing spots, such as Poland, Ukraine, and Bulgaria. Let's dive in!
The number of IT specialists and software development companies in Romania
Romania enters the top three countries in Eastern Europe with the most significant number of software developers. Local vendors employ 191,965 professionals. As of January 2023, Clutch, the platform that ranks the best tech companies in different categories, lists the top 380+ software development companies in Romania.
Outsourcing software development to Romania, you can benefit from multi-dimensional industry specialization. The most significant chunk of local companies offers software development services for the business services industry. Romanian experts specialize in the following business verticals: finance, healthcare, and e-commerce. So, if you operate in those niches, consider outsourcing to Romania. Some other widespread domains that opt for Romania outsourcing are automotive, education, retail, telecom, and others.
Romania software development: R&D centers in the country
Many global giants have opted for IT outsourcing to Romania after it joined the EU in 2007. Hewlett-Packard, Huawei, Ericsson, Siemens, Oracts, Gameloft, and Porsche are just a few of them. Almost 20% of Romanian tech professionals work in the R&D sector. This fact can be viewed as both advantage and disadvantage of outsourcing to Romania. On the one hand, the presence of such industry giants may lead to intense competition for talent, as these companies allure the best employees. On the other hand, these global businesses set a high bar for their employees, so the other professionals in the market must keep up to stay competitive in the labor market.
Moreover, Romania is slowly but steadily becoming an Eastern European center for the automotive industry. Apart from Porsche mentioned above, companies such as Renault and Huf entrust software outsourcing to Romania.
IT outsourcing in Romania: Biggest hubs
As the capital, Bucharest is the central hub for software development outsourcing in Romania and the city with the most tech universities and graduates. The cities of Cluj-Napoca and Iasi also offer developed technology infrastructures that are a perfect fit for software outsourcing to Romania. The first one, in fact, has seen almost a 300% growth in startups from 2011 to 2016. There are other smaller IT and BPO outsourcing hubs in Sibiu, Targu Mures, Brasov, and Constanta. Now, let's view Bucharest, Cluj-Napoca, and Iasi as hubs of Romania outsourcing in more detail.
IT outsourcing to Bucharest
As of January 2023, Bucharest houses 130+ tech vendors. The most significant share (85%) are small vendors that employ up to 250 experts. Eighteen companies are mid-sized and large ones. The most widespread industries among Bucharest-based firms are business services, e-commerce, finance, and healthcare.
IT outsourcing to Cluj-Napoca
The city of Cluj-Napoca is home to many top companies that provide services of outsourcing in Romania. In total, 174 outsourcing vendors have established their presence in the city. This destination for software outsourcing to Romania has 15 midsize and large firms. Regarding the industry focus, vendors of Cluj-Napoca specialize in implementing solutions for finance, healthcare, e-commerce, telecommunications, and automotive business verticals.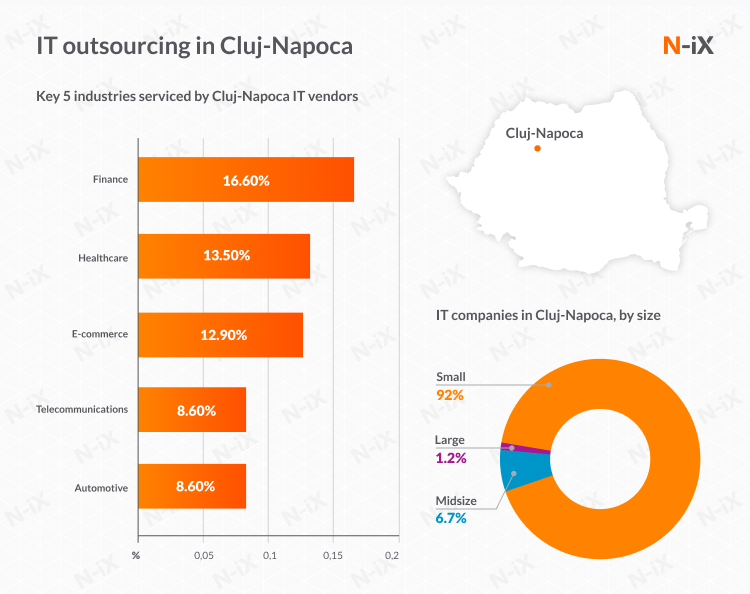 IT outsourcing to Iasi
Iasi is the prominent spot of outsourcing software development to Romania in the North-East of the country. Clutch lists 33 vendors with offices in Iasi. Though large enterprises are absent in the city, five midsize companies have established their presence in Iasi. Local engineering professionals are primarily involved in projects for finance, healthcare, education, logistics, and supply chain domains.
Tech education of Romanian software developers
41 Technical Universities in Romania graduate more than 8,200 engineers and computer science specialists yearly. 500,000 students enroll annually, including 27,000 international students. Such a number of students ensures constant talent inflow, thus being beneficial for outsourcing software development to Romania.
According to the Times Higher Education world university ranking, 14 Romanian universities are included in the world's best computer science institutions, which also boosts software development in Romania. The most significant educational institutions in the country are the Bucharest University of Economic Studies, Babes-Bolyai University in Cluj-Napoca, the University of Bucharest, and the Polytechnic University of Bucharest. ICT students represent 6.8% of the total students that can potentially join the market of outsourcing in Romania.
Most Romanian software developers start working even before graduation, as many tech companies offer yearly internships. So, even though the students are working in software development companies in Romania, they don't yet have a technical degree.
Location and infrastructure for outsourcing to Romania
Romania is a country in Eastern Europe that houses 19.6M people. The country is ranked 32nd, according to Kearney Global Services Location Index 2021, which recognizes the most attractive offshore destinations. Software development outsourcing to Romania is recognized for its financial attractiveness and the skills of professionals. The country has been a European Union member since 2007, the 12th largest country in the EU, and the 18th largest economy by nominal GDP.
IT outsourcing in Romania: Industry dynamics
In 2022, the tech industry market share made up 2.83% of the GDP in Romania, meaning that outsourcing in Romania is growing. However, in 2025, this figure is expected to reach 10%, according to ANIS Romania. Romanian authorities are working on boosting the Romanian IT sector. Since 2007, they have been implementing reforms to create a favorable environment for business funding and improve the quality of computer science education. As a result, over the last six years, foreign capital investments in Romania have reached $1.9B, according to the Coming of age: Central and Eastern European startups 2021 report.
What's more, the tech industry and software development outsourcing in Romania boasts a 15% annual growth rate. In 2020 the tech branch growth had accelerated and reached $4.5B, with a 13.4% CAGR of this industry. So, software outsourcing to Romania contributes to the country's economy significantly.
Romania is a startup-friendly location: the country is home to 353 startups, according to the Evozon report. It also ranks 41st on the Global Startup Ecosystem list by StartupBlink, leaving Hungary, Slovakia, and Latvia behind. What's more, one of the startups – UiPath, has become a billion-dollar startup and has made it to New York, London, Singapore, and Tokyo.
Let's compare custom software development in Romania to other alluring outsourcing locations across Europe. This article will focus on Poland, Ukraine, and Bulgaria.
Software outsourcing to Romania vs outsourcing to other countries
Eastern Europe is home to many skilled tech professionals involved in outsourcing engineering services. Nearly 709K software developers are working on foreign clients' IT projects. The region is also well-known for the high quality of services delivered.
Why outsource software development to Romania vs Poland
The number of IT professionals and companies
Poland houses over 490K IT professionals, around 157,400 of which are involved in outsourcing software development abroad. Polish software developers have solid knowledge in multiple domains, proven by their high position in multiple skill evaluation rankings.
IT outsourcing hubs
Most of the country's engineers reside in major Polish IT hubs: Krakow (23.7%), Warsaw (22%), Wroclaw (15.3%), and others. Gdansk, Gdynia, and Sopot are neighboring cities that comprise the Tri-city cluster. Around 7.8% of Polish engineers live in this area.
Tech education
Poland boasts 400 higher educational institutions, around 20 of which are public universities that offer CS and STEM courses. The best local institutions to obtain a tech degree are Warsaw University of Technology, AGH University of Science and Technology in Krakow, and Poznan University of Technology.
Why outsource software development to Romania vs Ukraine
The number of IT professionals and companies
The talent pool in Ukraine surpassed 297,800 tech specialists in 2022. Software development outsourcing companies constitute the lion's share of the Ukrainian IT service market. According to Clutch, there are over 915 IT service vendors in Ukraine.
IT outsourcing hubs
DOU states that 61% of the surveyed IT specialists had to leave their homes and move to a safer place due to the start of the war. Most often, IT specialists moved to the Lviv region – 11% of all surveyed IT residents relocated there, Ivano-Frankivsk region (6%), making these cities new major IT hubs, on par with Kyiv. Lviv houses 210 IT companies that employ over 20,000 tech specialists. Most provide outsourcing services to clients from the USA, Western Europe, the UK, and other locations.
Tech education
Ukrainian universities graduate 23,000 engineering and 16,000 Computer Science graduates annually. Times Higher Education world university ranking lists the five best Ukrainian computer science institutions, including Lviv Polytechnic National University, Ivan Franko National University of Lviv, National Technical University Kharkiv Polytechnic Institute, Sumy State University, Taras Shevchenko National University of Kyiv, and V.N. Karazin Kharkiv National University.
Learn more about tech education in Ukraine.
Why outsource software development to Romania vs Bulgaria
​​The market for software outsourcing in Bulgaria is growing steadily. Moreover, during the global pandemic, the industry kept working, thus significantly boosting the economy and bringing money to the state budget. Overall, the ICT exports exceeded €1.67B (roughly $1.8B) in 2020. ICT exports account for 2.76% of the country's GDP. Experts estimate that by the end of 2024, the ICT industry can reach €6.6B in exports (BPO and ITO services combined).
The number of IT professionals and companies
The second important aspect of IT outsourcing is the availability of tech talent. The number of professional software developers is growing slowly but steadily. The Future of IT Report shows that the number of ICT specialists exceeded 101,000 in 2020.
The lion's share of local vendors are small vendors with less than 50 employees. Small companies account for almost 74% of all vendors. The other 34.7% are midsize firms that employ between 50 and 999 specialists. And less than 2% of all software development companies in Bulgaria are large vendors with 1,000+ experts aboard.
IT outsourcing hubs
Apart from Sofia, the capital of Bulgaria, several other large IT hubs are located all over the country: Plovdiv, Varna, Burgas, Veliko Tarnovo, Ruse, Stara Zagora, and Blagoevgrad.
As the capital and the largest city, Sofia houses the largest number of software engineers and IT specialists. Over 80% of companies are either headquartered in this city or have a delivery center here. The second largest city is Plovdiv. And the third largest city is Varna, which houses offices of 70+ companies and has a variety of educational opportunities as well.
Tech education
There are 50+ universities across 14 cities offering STEM, ICT, or other tech and business degrees. As of 2020, the number of ICT graduates exceeded 2,100 people annually.
Wrap-up
Regarding IT outsourcing, Romania is an alluring destination that offers quality and cost-effective IT services. So first of all, you should decide what factors are the most important for your business. We hope this infographic will help you conclude and choose the right spot for setting up a development team.

Why choose N-iX as your software development partner?
N-iX is a trusted European tech company with 20+ years of experience in software development for healthcare, fintech, telecommunications, agriculture, and many more domains;
We work with businesses from all over the world, including the EU and Nordic countries, but our primary focus is companies from the US;
Their teams are well-versed in cloud development, Data Analytics, Big Data services, Business Intelligence, IoT, embedded software development, and more;
The vendor's portfolio includes global market players, such as Gogo, PrettyLittleThing, Ringier, and many other Fortune 500 companies;
N-iX complies with international cybersecurity guidelines, namely, ISO 27001:2013, ISO 9001:2015, PCI DSS, and GDPR;
The company is well-recognized in the industry: N-iX has appeared on IAOP, Forbes, Forrester, and CRN rankings.
---