Over the last decade, scaling your team in Eastern Europe has become an optimal way out of the talent shortage crisis. The balance between workforce accessibility and service quality made the region one of the most attractive destinations for IT outsourcing. Eastern European tech specialists have solid experience in custom software development and can solve any specific technical challenge. One of the region's hidden gems is Romania, the country with more than 190,000 skilled engineers. Thanks to the solid tech expertise of local teams, Romanian IT companies have earned a reputation as trusted services providers among clients from Western Europe and the US.
But what are the key expertise areas covered by IT vendors in Romania? And how to choose your perfect engineering partner in the heart of Eastern Europe? In this article, we look at the Romanian tech environment, highlighting the key features and vectors of the local engineering vendors. To help you get a multidimensional look at the outsourcing market in Romania, we analyzed IT companies in terms of:
Software development in Romania: a brief overview
With a vibrant economy and considerable talent pool, Romania is one of the most prominent Eastern European destinations on the outsourcing map. The country holds high positions in the international rankings of global digital hubs. Romania scores 32nd position in the AT Kearney list of the most prominent outsourcing destinations. Moreover, it ranks 55th in the global Doing Business research.
As for the workforce availability, Romania boasts a talent pool of around 192K of ICT specialists. Many of them work for global R&D and BPO companies assisting with software development, business accounting, human resources, and customer operations. According to the ABSL report, around 67% of Romanian companies offer help with financial processes, while half of the local vendors provide HR services. As for the tech sector, over 80% of the Romanian enterprises handle IT-related projects for foreign companies. The expertise of Romanian IT specialists is recognized in the skill evaluation reports—they appear 16th on the Top Coder list and enter the top 25 in the Skillvalue rating.
Another characteristic of the Romanian tech market is its vector for gender equality. As stated in the Eurostat research, around 30% of the country's tech talent are women. In these terms, Romania closes the top three of the EU states with the largest number of female software developers, losing only to Bulgaria and Greece.
Related: Top 3 software outsourcing countries in Eastern Europe
Local digital market: business ecosystem
As of February 2022, the tech industry market share made up 6% of the country's GDP. However, according to the ANIS Romania, in 2025, this figure is going to reach 10%. Local authorities are making efforts to boost the growth of the Romanian IT sector. Since the country entered the EU in 2007, they have been implementing reforms to create a favorable environment for business funding and improve the quality of CS education. As a result, over the last 6 years, the foreign capital investments in Romania have reached $1.9B [1].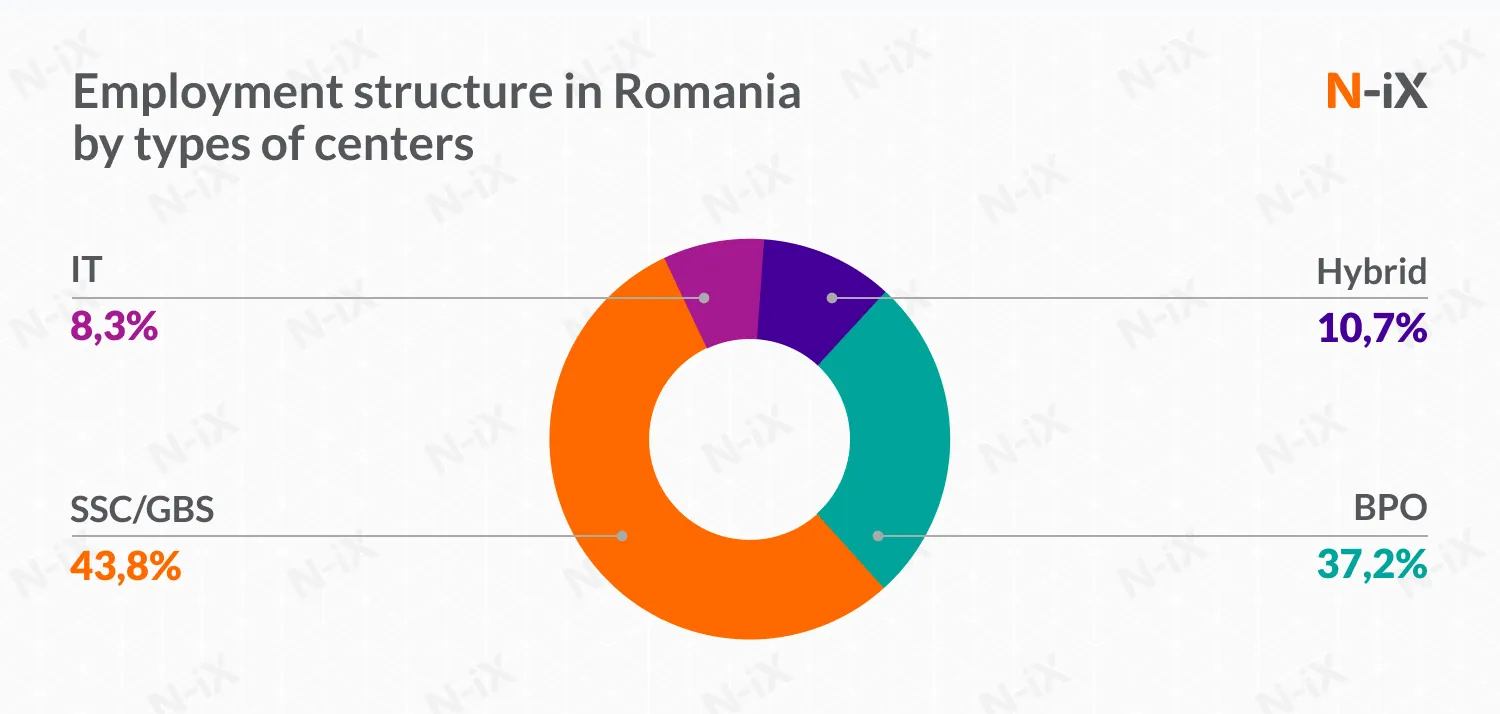 According to the ABSL survey among local outsourcing vendors, 83% of respondents view Romania as an alluring investment location. In addition, the location is widely recognized for the strength of its startup ecosystem. Romania ranks 41st on the Global Startup Ecosystem list by StartupBlink, leaving Hungary, Slovakia, and Latvia behind.
Sectional analysis of IT companies in Romania
Thanks to the government that actively supports the IT industry in Romania, IT companies there can be painlessly set up and scaled. According to Clutch, there are already 345 engineering vendors in Romania, making it one of the top outsourcing destinations in Eastern Europe. In comparison, the Bulgarian IT market counts around 170 firms.
Many of the local engineering vendors have been granted certifications from Microsoft and Oracle, as well as established partnerships with AWS. They have access to the best technical data and cloud resources and their support. Moreover, Romanian IT companies ensure a high level of cybersecurity and adhere to international standards such as ISO 9001:2015 and ISO 27001:2013.
Despite the steady growth of the Romanian tech market, the country is yet to unravel its full engineering potential. Therefore, there are a few midsize and large IT companies in Romania. Clutch lists around 25 vendors that employ from 250 to 1,000 skilled engineers. As of 2022, there are 8 large Romanian enterprises that staff over 1,000 software developers.
Small-sized engineering companies make up approximately 85% of all IT vendors on the market. The majority of their teams count up to 50 software developers. Around 80 Romanian IT outsourcing companies employ from 50 to 250 well-versed engineers.
Local tech companies offer deep expertise in most common programming languages. Over 150 vendors may help you with Java and JavaScript development. Another language that has made it to the top three among IT companies in Romania is Python. Around 110 vendors in Romania offer implementation of Python-based solutions. Some other most popular programming languages used for software development are PHP and C#. In addition, one of the leading expertise areas is .NET development: around 90 engineering vendors include it in their projects' technology lists.
Romania is an IT outsourcing destination where every business may find what suits their needs. Local engineering vendors offer help with custom software development, implementation of web solutions, mobile app development, and many more. Apart from these focus areas of Romanian IT companies, a lot of vendors are involved in IT strategy consulting (40+ companies), enterprise app modernization, and IoT development (29 and 26, respectively). Around 20 companies in the Romanian market provide assistance with cloud development, data management, and BI solutions.
Romanian IT companies: client portrait
To get a better insight into the Romanian IT market, we analyzed it from the client's perspective. For this purpose, we used Clutch as the reliable source of information on leading IT companies in any location. The core areas of study were the size of the partnering companies, the clients' domains, and their geographical origins.
The industry specialization of IT companies in Romania is multidimensional. Almost one-fourth of the local software development vendors have expertise in providing engineering services for the business services industry. This sector is followed by healthcare, finance, and e-commerce domains. Some other industries that make up a considerable part of the local industry expertise are consumer products and services, education, and retail. Finally, telecommunications, automotive, and manufacturing close the top ten of most popular domains in Romania. There are around 30 vendors with proven expertise in successful software development for each of these industries.
According to the EMEA report, market players from four continents outsource to Romania. Engineering companies there mostly deliver projects to clients from Western Europe (62%) as well as the Middle East and Africa (56%). Moreover, Romanian vendors have established successful collaborations with enterprises from the US: 30% of Romanian outsourcing partnerships are with American businesses. One more region that benefits from the expertise of Romanian developers is Asia-Pacific, with 24% of Romanian projects being delivered to the local vendors.
One of the indicators that might give you a better understanding of the market capacity is the size and revenue of the client companies. In these terms, the Romanian IT outsourcing market is well-balanced. Out of 345 IT companies in Romania, 179 vendors handle projects for small businesses. At the same time, midsize vendors make up around 46% of the local outsourcing client lists. Over 100 Romanian software development firms deliver solutions to large market players.
Main outsourcing hubs in Romania
Bucharest, the country's capital, is the largest Romanian IT hub. According to Clutch, 110+ software development companies have their HQs or offices in Bucharest. In addition, the city is home to most of the country's tech educational institutions that provide courses in CS education or training.
In terms of software development outsourcing, other prominent locations on the Romanian map are Cluj-Napoca, Iasi, and Timisoara. Cluj-Napoca is also famous for its universities that offer tech programs, namely, the Technical University of Cluj Napoca and Babes-Bolyai University. The latter was included in the QS rating of top global universities more than once. Some smaller cities with well-developed technological infrastructure are Brasov, Constanta, Sibiu, and Targu Mures.
Since most of the engineering specialists reside in IT hubs, these cities are home to a large number of engineering vendors. Romanian IT companies offer help with all types of tech-related projects, including software development application lifecycle management, infrastructure support, and other services. Most of the enterprises that cooperate with the local outsourcing companies are market players from Western Europe and the US.
Software outsourcing in Bucharest (Romania)
According to Clutch, the country's capital, Bucharest is home to 110+ software development vendors. Most of them (85%) are small companies that employ up to 250 engineers. As of now, around 15 enterprises represent midsize and large markets. The most popular service industries among Bucharest-based vendors are the business services domain, e-commerce, finance, and healthcare.
Software outsourcing in Cluj-Napoca (Romania)
Cluj-Napoca houses a lot of the best IT companies in Romania. In total, over 160 software engineering firms have their development centers in the city. This outsourcing destination has 13 midsize and large enterprises. As for the industry focus, local vendors specialize in implementing solutions for finance, healthcare, e-commerce, telecommunications, and automotive domains.
Software outsourcing in Iasi (Romania)
Iasi is the major office market hub in the North-Eastern part of Romania. In terms of software development, Clutch lists 30 engineering vendors with offices in Iasi. Though large enterprises are not present in the city, 5 midsize Romanian companies are represented in the city. Local engineering teams are mostly involved in projects for finance, healthcare, education, logistics, and supply chain domains.
How to choose a reliable software development vendor in Eastern Europe
After you decide upon your outsourcing destination, you have to find the company that will be able to fulfill all of your project requirements. Choosing between a considerable number of best IT companies in Romania or any other EE country might be challenging. To help you in your vendor selection, we prepared a list of key criteria to assess before embarking on a partnership.
The vendor's size. When choosing among potential engineering partners, opt for midsize and large vendors. This way, you will be able to launch the project almost immediately since larger companies usually have the available workforce and optimized development processes.
Technology expertise and project experience. Your team must have experience with relevant technology stack and corresponding best practices.Therefore, we recommend checking the company's technology stack beforehand. You may also look through your potential partner's portfolio to find out how these technologies were applied in other projects.
Information security policies. One more aspect to pay attention to is cybersecurity guidelines. Some of the trusted international certifications that ensure sufficient digital protection are GDPR, PCI DSS, ISO 27001:2013, and ISO 9001:2015.
Agreement terms. Before signing a contract, research the legal details of the cooperation to prevent yourself from any issues in the long run.
To mitigate the risks, it's always better to opt for a vendor that can provide staffing opportunities in several destinations. Here's a comparison of the top three locations in the region.
Keep reading: How to choose the best outsourcing destination: Ukraine vs. Romania?
Why choose N-iX as your Eastern European outsourcing partner?
N-iX is a trusted European tech company with 20+ years of experience in software development for healthcare, fintech, telecommunications, agriculture, and many more domains.
Their teams are well-versed in cloud development, data analytics and big data services, business intelligence, IoT, embedded software development, and more.
The vendor's portfolio includes global market players, such as Gogo, PrettyLittleThing, Ringier, and many other Fortune 500 companies.
N-iX complies with the international cybersecurity guidelines, namely, O 27001:2013, ISO 9001:2015, PCI DSS, and GDPR.
The company is well-recognized in the industry: N-iX has appeared on IAOP, Forbes, Forrester, and CRN rankings.
References:
Coming of age: Central and Eastern European startups 2021
ANIS. Impact of the software development industry and services on the Romanian economy 2021
---