When you make up your mind to outsource your software project development, you still have the hardest part left – to choose the best IT software outsourcing company.
If your business is located in Western Europe or the UK, you're definitely considering nearshoring to Eastern Europe. The advantages of this destination are obvious: close cultural affinity, geographical proximity, high quality of software development services.
Any business would prefer to cooperate with an established IT software outsourcing provider. So, how to choose it? In this article, we are going to focus on two most important steps:
Eastern Europe has 7 of the top 30 global outsourcing destinations and is recognized as one of the top IT outsourcing markets. Besides, in Eastern Europe, the supply of outsourcing companies meets and in some countries such as Ukraine and Belarus even exceeds the demand. Others, like Poland and Romania, have moderate to high competition for talent. It means that you will hardly find reliable outsourcing companies not engaged in developing software for your contenders. Moreover, many global companies such as Microsoft, Samsung, Hewlett-Packard, Oracle, Gameloft, Google, Cisco have their R&D centers in Eastern Europe.
Although rates for IT outsourcing services in Eastern Europe are moderate, some destinations have more competitive offers. That usually depends on many factors such as the country's cost and standard of living.
In general, the choice of the outsourcing destination depends on the talent pool and its availability, local IT market development and the development cost. Let's consider the six IT outsourcing countries in Eastern Europe – Belarus, Ukraine, Poland, Hungary, Romania, and Bulgaria.
Analyze IT talent pool and number of companies
The combined tech talent pool in Eastern Europe exceeds 1M engineers and IT specialists. This region has a strong and versatile technical expertise, as well as diversified domain representation. Clutch lists a little over 3,000 vendors who offer software outsourcing services.
IT outsourcing services in Ukraine
IT outsourcing services is one of the largest export service industries in Ukraine. According to the 2019 State of European Tech, the number of IT professionals in Ukraine is 192,100+. The country is home to over 1,600 IT service companies, and more than a half of them are listed on Clutch.
According to SkillValue, Ukraine ranks 5 among the world's top countries with the best programmers with an average score index 93.17%. And in 2021, the Global Sourcing Association recognized Ukraine as the UK's top delivery destination of the year.
The competition for talent is low in this outsourcing destination because of the large supply. The thing is that local IT professionals earn up to 10 times more than employees engaged in other spheres. To put it into perspective, let's consider the purchasing power of the developer in this country. A Ukrainian programmer can afford 21.444 Big Macs per year, which is the 3rd highest result worldwide after South Africa and the USA. Therefore, more and more young people want to get into the sphere as they are motivated by decent salaries. At the same time, the competition on the IT job market keeps qualification standards at a high level.
Thus Ukraine appears to be much more affordable than the neighboring IT outsourcing hubs in Eastern Europe. In case of a big team and long-term cooperation that hourly rate difference can make a considerable saving.
IT service outsourcing in Poland
In Poland, there are many companies that provide software development and employ IT professionals with excellent tech and soft skills. The country is often chosen as an IT outsourcing destination by firms from the English-speaking countries as it is a country with high English proficiency. Despite having technically the largest pool of experts, only 32% of them are involved in IT outsourcing. The lion's share of Polish specialists are working for business processes outsourcing, global business services, and other types of companies.
Poland has a transparent legal system and it constantly introduces reforms to improve the business climate. The country has a low inflation rate and offers attractive tax incentives for IT outsourcing companies. Therefore, in 2019, the IT market reached $4.62B. Moreover, the country is listed among the most innovative countries, according to the 2019 Bloomberg Innovation Index. So partnering with Polish developers, you may enjoy all the benefits of outsourcing to the EU country, which obviously influences the development cost. All these factors make outsourcing IT services to Poland worth considering.
IT outsourcing services in Romania
Romania with its impressive internet speed is another attractive country for IT outsourcing. Romanian developers are attractive for French firms because a lot of people there speak French.
Today, Romania has over 119,000 IT professionals, and more than 350 Romanian IT service companies are listed on Clutch. Nevertheless, it may appear a bit difficult to find the Romanian developers with necessary expertise for your software project. A large amount of talented specialists are already bound by employment contracts with global companies such as Hewlett-Packard, Huawei, Oracle, Ericsson and Microsoft. For example, Oracle employs over 3,000 IT professionals in several Romanian cities. Prices for IT outsourcing are moderate, still higher than those in Belarus and Ukraine.
IT outsourcing services in Hungary
Among Eastern European countries, Hungary is known as one of the first to have started exporting software. Today, many international companies have their offices in Budapest. The country is a member of the EU. So legislation and political environment are favorable for software development and finding a great IT software outsourcing company in Hungary. The country houses more than 84,500 IT specialists. In addition, the geographical proximity makes Hungarian outsourcing providers popular for nearshoring among the German-speaking countries of Europe.
As a rule, Hungarian prices for software development and IT consulting services are higher compared to other IT outsourcing destinations in the region.
IT outsourcing services in Bulgaria
Bulgaria is another attractive IT outsourcing destination. The Bulgarian IT industry currently employs 56,000 people, and there are about 250 IT companies in Bulgaria (160 out of which are listed on Clutch). In 2020, the country ranked 62nd in the World Bank's ranking of ease of doing business among 190 economies. The country was also rated 41th in the 2019 Bloomberg Innovation Index.
Thanks to a growing talent pool of qualified IT specialists and an attractive price-to-quality ratio, many European and US leading companies reasonably choose Bulgaria for IT outsourcing services.
IT service outsourcing to Belarus
In Belarus, there are more than 55,700 IT professionals working in almost 1,000 local companies. As Belarussian domestic demand for IT services is very limited, the local companies offer offshoring services. As a result, in 2019, IT services export of Belarus reached $3.1B.
The country's population is about 9.5M, which is 4 times smaller than in Ukraine. So, naturally, the local talent pool is not as big. As for the cost savings, this country also offers rather competitive prices for software development. It's worth noting, that Belarusian software outsourcing companies get the support from the national government and enjoy special tax rates.
Explore available engagement models
Today most big and middle-size Eastern European IT outsourcing companies offer a variety of engagement models.
Models by delivery method
Dedicated development team – the provider sets up a development team that focuses only on the outsourced project; the client has full control over team building and product development. A dedicated development team is the best choice for the client's long-term needs.
Time and material model – used when a project cannot be estimated in advance as the scope of work may change in the process.
Fixed price model – most effective when the scope and specifications of the project are clearly defined. Usually used in small projects.
Models by location
Remote team – an extension of the client's team located in the nearshore or offshore outsourcing destination.
Mixed team – the team that consists of both onsite and nearshore/offshore developers. The provider's team or some of its members travel to a client and work in the client's office.
Distributed team – employees are connected using a networking infrastructure that makes it easy for them to work together despite geographical location.
Define which model suits the needs of your project and then make sure your potential outsourcing provider uses the cooperation model you're interested in. Some companies share this information on corporate websites. Otherwise, ask them during the interview.
Examine the profile of IT software outsourcing company in Eastern Europe
Check the company's portfolio. From the portfolio, you'll get general information about the projects, used tech stacks, teams' sizes, time spent and other details. Moreover, success stories of cooperation with companies like yours on the projects alike will give a deeper insight into the provider's presence on the market and their performance.
Whether you're a FinTech, a healthcare or a telecom company, naturally, you want your outsourcing partner to know the industry. Outsourcing providers of a middle size with 501-1000 employees and bigger usually have extensive expertise and a large portfolio of projects developed for clients in different industries.
The next step should be to find out if the potential IT service outsourcing provider has experience in working with clients similar in size to your company. Big corporations and small startups have a different style of decision making and management. Of course, it may not necessarily cause problems, but it may create some difficulties.
Reach out to potential IT service outsourcing partner
When you've shortlisted potential outsourcing partners, it's time to contact them. Effective and smooth communication is very important for any business. And when you outsource a software project development to some remote team it is even more important. Hence, such details as how fast the company managers respond to your first email may say a lot about your future communication.
You've already established contact and continue further communication. Use such opportunities as Skype calls to specify any details on the candidate: their experience, portfolio, and so forth. The main question, perhaps, is if they have a sufficient understanding of your project mission and your business goals.
We also believe that meeting in person is always the best chance to mitigate any outsourcing risks. By coming to the provider's office and meeting in person you may remove many of your doubts. Any reliable software development company will eagerly invite you and help you organize your visit. It's not a secret that a beneficial outsourcing partnership is built on mutual understanding and trust.
Read more: How to find the best IT outsourcing company in Eastern Europe
Summing up
Choosing the best IT outsourcing company in Eastern Europe is definitely challenging and it takes quite some time and effort. You need to take into account many factors such as potential cost savings, favorable business environment, sufficient engineering resources, etc. We hope our overview of the leading software development destinations in Eastern Europe has helped you weigh up the pros and cons of IT service outsourcing to a particular Eastern European country. As the number of companies that offer IT outsourcing services in this region has significantly increased over the last couple of years, you have a lot of companies to choose from. So if you do your research and clearly define your priorities, you will undoubtedly find the software outsourcing company that will meet your business requirements.
Why choose N-iX as your IT outsourcing partner in Eastern Europe?
N-iX has over 2,000 experts, and we have development centers in Ukraine and Poland.
We have almost 20 years of experience in the IT market and focus on building long-term and strategic partnerships with our clients.
The company has extensive technical and industry expertise. Our company offers custom software development, cloud solutions, DevOps, Machine Learning & AI, Big Data, Data Science, BI, and other services to companies in telecom, manufacturing, retail, fintech, healthcare, and other industries.
N-iX has a team of 60 recruiters that have collected an extensive base of candidates that we've been expanding since 2002 and which now amounts to over 95,000 professionals;
We've been recognized by many industry rankings, such as Inc. 5000 Europe, Software 500, top 100 Global Outsourcing Companies by IAOP, GSA, Clutch, and many others.;
Have a question?
Speak to an expert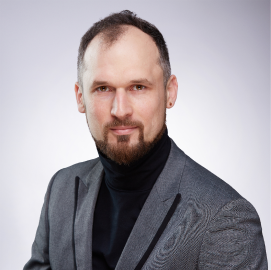 Taras Petriv
Associate Engagement Director
---