The year 2019 is going to blow the tech world with new disruptive solutions. This will be a period of change and tech companies in Eastern Europe aren't standing still. Today, many global giants are setting up their research and development labs in Eastern Europe, partnering with local software firms. The tech engineers in the region are already writing code for the next game-changing solutions. So if you want grow your software development capabilities, here is why you should first consider choosing a software engineering company from Eastern Europe.
#1 A growing IT market
The US and Western Europe generate most of the demand on the global IT market. In terms of delivery volumes of IT services, China and India are true leaders as their IT markets account for $10.2 bn and $13.4 bn respectively. However, Eastern Europe is a strong competition for them. The region is building up momentum and it is already rated among the top 5 outsourcing destinations globally.
Source: The Software development in CEE report
According to the Ease of Doing Business 2018 rating, the countries from Eastern Europe have grown rapidly in comparison with the previous years. Poland has risen from 74th place in 2006 to 27th place in 2018, Romania – from 71st to 45th, Hungary – from 60th to 49th, and Ukraine – from 132th to 76th respectively.
#2 A large software developers talent pool
Eastern European countries are consistently listed in international rankings such as Tholons, Clutch, and the Kearney's Global Services Location Index. So, the growth engine of Eastern Europe doesn't show signs of running out of steam. Global investors from around the globe partner with dedicated development teams to innovate their businesses. They are searching for the untapped tech talent pools. And this is exactly where the software engineering companies from Eastern Europe have a lot to say.
Traditionally strong engineering education has brought the region a large number of trained professionals. Ukraine, Poland, Romania, and the Czech Republic boast the large number of IT talents. There are 1,000,000 developers in Eastern Europe. About a quarter of them reside in Poland and nearly half of them are located in Ukraine, Romania, and the Czech Republic.
#3 Excellent tech education and highly qualified engineers
Eastern European countries have been historically known for their well-established engineering universities. According to the data from QS World University Rankings, Eastern Europe is a home to 30 universities out of the 369 top educational institutions in Europe. The particular emphasis is put on STEM subjects (science, technology, engineering, and mathematics). For example, coding is one of the subjects that is taught in Estonia's schools from kindergarten on. As a result, the countries of this region have the best developers in the world.
#4 High English proficiency
To ensure transparency and avoid miscommunication, it is essential for the offshore development team to be fluent in English. When it comes to daily stand-ups and regular planning meetings, language barriers can hinder effective cross-team collaboration. As research shows, programmers in Eastern Europe can speak English well and communication bottlenecks are reduced to a minimum. According to the EF English Proficiency Index 2018, which ranks 88 countries based on their English proficiency level, such Eastern European countries as Poland, Romania, Croatia, and the Czech Republic are listed in the top 20.
What's more, IT companies in the region care about the English skills of their employees. They offer either optional or obligatory English courses in-house that are fully or partially reimbursed.
#5 Geographical and time proximity
The issue of location and time differences becomes especially important when you need to meet and talk with your offshore developers on a frequent basis.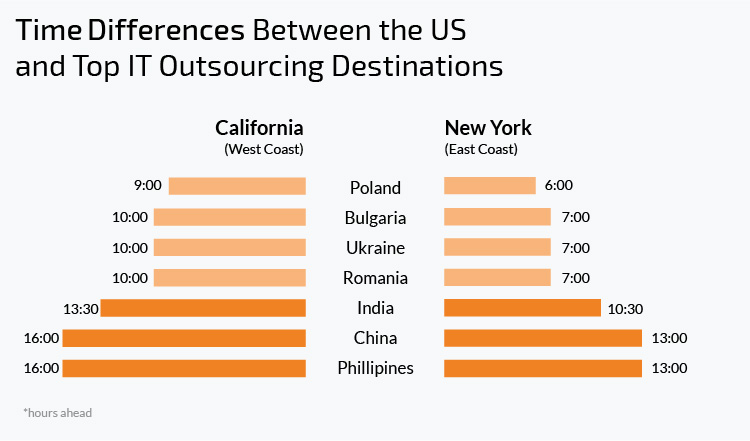 As you can see from the infographic above, the time difference between the US and Asian countries such as China, India, and the Philippines, is impressive while the overlap between the US and the most Eastern European countries, including Ukraine, is much more manageable. It is easy to find at least a three-hour overlap to sync up the daily tasks. On the flip side, a small difference in time can play to your advantage, especially when your product needs 24/7 technical support.
As for the working hours in Western Europe and Eastern Europe, they are virtually the same with minor time difference in two or three hours roughly. That's why clients from the UK choose to partner with software engineering companies in Eastern Europe. They don't only share similar mindset and business ethics but also are always available.
Moreover, a visa-free regime in the EU countries and a convenient geographical location create favorable conditions for foreign investors to venture into Eastern Europe. There are many direct international flights connecting countries in the region and most US and European cities, which makes it easy to get to any major point in the world. For instance, it takes only 2-3 hours to get from Ukraine to the UK and other Western European countries.
#6 Cultural affinity
To forge a lasting partnership with an engineering company, customers need to make sure that offshore provider's culture is close to theirs and they can accept it. This concerns both ethnic divergences as well as unfamiliar business ethics.
It's not a secret, Indian developers tend to overpromise when it comes to clients' needs and ideas. They are not likely to question the client's requirements and suggest some alternatives ways of product development. The specialists from Eastern Europe, by contrast, are more Western-oriented and like to ask questions and contribute to formulating a winning product strategy.
#7 Attractive software outsourcing locations
Eastern Europe has become one of the most favorable places to invest in according to the Mckinsey study. Software engineering companies in the region provide top-of-the-line software development outsourcing services.
The IT industry in Ukraine is showing a sustainable growth rate of 11-26% year by year. The Global Sourcing Association has recognised Ukraine as the UK's best delivery destination of the year. The Global Outsourcing 100 has included 18 Ukrainian tech companies in the annual ranking of the best suppliers of IT services in the world.
The IT sector in Poland grows at average at 8,6% per year. As the data from StackOverflow reports, the country currently has around 254,000 engineers. Plus, it is a home to over 40% of all outsourcing R&D centers in Eastern Europe.
The Bulgarian IT market accounts for 24,000 specialists that work in 400 IT companies. Information technologies occupy 20% of the Bulgarian outsourcing industry.
The IT industry in Hungary generates almost 10% of the country's annual GDP. The local IT market has over 150,000 specialists, most of whom live Budapest, Debrecen, Pécs, Szeged, Miscols, and Veszprém.
In Belarus, local tech companies generate 1.5% of the country's GDP. Many of them have joined the Hi-Tech Park where companies can work without paying any corporate taxes.
In Romania, there are about 95,000 IT specialists employed in 250 tech companies. It was estimated that about 8% of Romania's GDP comes from the IT sector.
The IT sector in the Czech Republic contributes $3 bn into the annual revenue of the country's economy. The Czech Republic has over 180 service companies and R&D centers, the majority of which are located in Prague.
#8 Wide tech expertise and a comprehensive skill set
Developers in Eastern Europe offer profound knowledge in the range of technologies a customer is looking for. Based on the Infoshare data, PHP is one of the most popular and widespread languages across the region. Nonetheless, the percentage of developers who use Python for web development is constantly growing with Estonia and Slovakia holding the leading positions. In the upcoming years, Python is expected to take over PHP and become the most used programming language in Eastern Europe.
According to HackerRank that classified countries with best developers by domain, Eastern European states scored high positions: Poland is the first in Java category, Hungary in Tutorials, the Czech Republic in Shell, and Ukraine in Security.
Source: HackerRank
Analyzing the types of services each country focuses on, Ukraine, Poland, Romania, and Moldova primarily specialise in web development and embedded software development. However, Poland is also emerging now as a regional leader in the provision of outsourced IT-BPM services. Ukraine, besides web development, puts a lot of emphasis on game development and VR. In Belarus, more than 90% of IT companies develop customized software and only 30% are solely service-oriented. Hungary and Bulgaria are known for software development of anti-virus and IT security services as well as their BPO centers. There are so many companies in these countries that offer diverse services. Any client can find what they're looking for, and they will have a wide choice of options in any technology and solution type.
Closing notes
Judging from the emerging IT outsourcing trends, we will be witnessing a global IT skills shortage. By 2020, in the USA and the UK, there will be about 1,4 mln and 800,000 unfilled jobs respectively. Eastern European countries will provide a stiff competition to India and China as the popular IT outsourcing destinations boasting the largest number of skilled engineering talents in the world. Now Eastern Europe is becoming a mainstream outsourcing location, as it also offers a great cost-to-quality ratio, not simply low rates like India or China.
Estonia, Ukraine, and Romania are becoming new startup powerhouses where the next success stories similar to Skype, Grammarly, Transferwise, and Prezi, will come from.
More and more companies are outsourcing software development to third-party vendors as they can't grow fast enough only with the help of the in-house expertise. Markets are changing faster with every day, and businesses have no time to lose. Partnerships with software engineering companies from Eastern Europe allow them to expand their engineering capabilities and gain a competitive edge.
---