IT outsourcing to Poland and Ukraine has seen a great leap forward in recent years. Ukrainian and Polish outsourcing companies attract more foreign investors thanks to a wide pool of skilled software engineers, proximity to the Western world, and the best value for money proposition.
Such giants as Google, Intel, McKinsey, Oracle, Cisco, WarGaming, Lebara, and Currencycloud have already discovered the benefits of cooperating with software developers from Poland and Ukraine.
In this article, we will look at IT outsourcing destinations, their pros and cons, and help you decide between Ukraine and Poland for IT outsourcing.
This country is well-known beyond Eastern Europe or even Western Europe for the quality of their services and opportunities they open to businesses worldwide. Let's take a closer look at Poland and its IT outsourcing sector.
Market overview and IT industry dynamics
The Polish IT outsourcing services market grew from $1.09B in 2010 to $4.62B in 2018. By 2021, it is expected to reach $12.4B. According to a study by Euromoney, the average growth rate of the IT services sector per year between 2015 and 2019 was 8.2%.
The 2019 A.T. Kearney Global Services Location Index has recognized Poland as the 24th most attractive IT outsourcing location, four positions lower than Ukraine. The country is also ranked 9th in Tholons Top 100 Outsourcing Destinations. Ease of Doing Business Ranking places Poland in the 40th position, as it offers favorable conditions for foreign investors who want to venture into Poland. So it's not surprising that it has attracted such big tech corporations as IBM, Google, Microsoft, Motorola, etc.
Although companies outsourcing software development to the region manage to save up to 50%, Poland is not the least expensive IT outsourcing destination. It's an EU country with a strong economy and stable political situation so you'll have to pay for it a bit more than in Ukraine, for example.
Tech talent pool & IT outsourcing companies in Poland
Poland has the largest working population in Central Europe, which is also one of the youngest populations on the continent comprised mostly of people under 34 years old. The total number of IT specialists in 2019 reached 295,100 experts. The majority of them live and work in Warsaw, Krakow, and Wroclaw. In Poland, IT outsourcing is the second largest sector that employs 32% of tech experts.
However, the competition for engineering talent in Poland is more fierce than in other Eastern European countries. Tech giants like Google, Amazon, and Microsoft have big R&D centres in Poland and allure the best IT specialists. So if you want to outsource to Poland, you would have to compete with them for IT professionals.
Clutch lists around 690 outsourcing companies in Poland. Most of them have offices in Warsaw, Krakow, and Wroclaw. Among the countries that outsource development to Poland the most are the US, Nordic countries (Sweden, Finland, Denmark, Norway), the UK, France, and Germany,
According to HackerRank report 2018, software developers in Poland are ranked 4th globally in terms of IT skills. According to Clutch, there are more than 500 R&D offices and centers in Poland.
Education
The country has a strong higher education system with a particular focus on science, engineering, and mathematics. According to the National Science Board's Science & Engineering Indicators 2018 report, 43% of citizens in Poland aged 25 – 34 have university degrees. According to GUS (Central Statistical Office in Poland), the number of IT students in the academic year 2018/2019 was 74,000. Polish tech universities graduate over 17,000 new IT specialists annually.
Polish Information and Communication Technologies universities and specialists are valued in the world. The universities that graduate most IT professionals include Gdansk University of Technology, Jagiellonian University, the University of Silesia in Katowice, Warsaw University of Technology, etc.
Poland is a country with very high English proficiency. It was ranked 11th in the world for English skills in the EF English Proficiency Index 2019, getting ahead of most European countries.
Culture and politics
The Poles are Europeans with the Western mindset and values. So on the cultural level, you can expect smooth communication with your software development team in Poland. Compared with other popular IT outsourcing destinations, such as India, the country has a close political and social affinity to the countries of Western Europe and North America.
The Polish government takes proactive steps to support the IT sector by introducing a number of reforms that improve the business climate. As a business center, the country offers attractive tax incentives, low inflation, and stable GDP. Poland promotes an investment-friendly environment. Standardization with the EU law helps to plan long-term investments in Poland. In addition, you are protected by the EU legislation, when outsourcing software development to Poland.
Location
Poland is one of the largest economies in the European Union, with a population of over 38M people. The EU membership has provided access to funds, boosting the economy, fighting unemployment, and improving its infrastructure. So one of the main benefits of outsourcing software development to Poland is economical and political stability.
Another important factor is proximity to European countries. Even if we take the US, the time difference between Poland and New York is not that big and constitutes just 6 hours. The major IT outsourcing hubs in Poland are Warsaw, Krakow, Wroclaw, Katowice, Tri-city (the combined area of Gdansk, Gdynia, Sopot), and Poznan.
Market overview and IT industry dynamics
Information and communications technology became the 3rd largest export service industry, amounting to more than 20% of all Ukrainian service exports. The government sees ample opportunities in the IT sector and cooperates with software development companies to make the legislation more transparent and attract more business.
A. T. Kearney's research indicates that the country's financial attractiveness, people skills, and business climate have significantly improved. In 2019, Ukraine took 20th place in The A.T. Kearney Global Services Location Index and outperformed other Eastern European IT outsourcing destinations like Poland, Romania, Latvia, and Hungary. The country has moved up 22 positions since 2009.
The number of IT specialists & IT outsourcing companies in Ukraine
The tech talent pool in Ukraine surpassed 192,000 IT specialists in 2019. And by 2020, it is projected to grow to 200,000 professionals.
IT outsourcing companies constitute the largest share of the Ukrainian IT service market. There are over 1,600 IT service companies in Ukraine. And over 775 of them have detailed profiles on Clutch. Although the number of startups (over 2,000 companies) and international R&D centers (over 100 companies) is growing, IT outsourcing companies employ more than 60% of all IT specialists who live in Ukraine.
The USA and Western European countries remain the largest export markets of the Ukrainian IT outsourcing companies. Ukrainian IT companies cooperate with large and small businesses across the globe. As for the key industries, Ukrainian IT vendors primarily specialize in data management, telecommunications, cloud, gaming, e-commerce, media, fintech, healthcare, and others, according to the report by Ukraine Digital News.
Keep reading: 15 top IT outsourcing companies in Ukraine
As the demand for IT professionals grows, universities graduate more students with computer science degrees. Also, more and more specialists from other sectors consider making a career change. People are eager to enter the IT industry to start a new career that offers many opportunities and benefits. Thanks to many specialized IT courses and traineeship programs many software development companies in Ukraine offer, it's getting easier to change the occupation and become a professional in the IT sector.
Education
Ukraine boasts a highly-educated workforce. The literacy rate is reaching 100%. 70% of Ukrainians have a secondary or higher education. The country ranks 4th on the World Bank Enrollment Index (tertiary education), and according to Universities 21, a global association of research universities, Ukraine is 38th out of 50 countries in the 2018 ranking of National Higher Education Systems.
Ukraine has always been known for its strong engineering education. Today, IT outsourcing companies in Ukraine collaborate with the government on launching innovative labs and tech programs at universities. They consolidate their efforts to encourage more and more young people to enter the IT industry. With an increasing number of young specialists that graduate from universities each year (about 23,000 IT students), finding a software development team in Ukraine is easier than in other popular IT outsourcing destinations.
Ukraine is a country with moderate English proficiency as it holds 43rd place in the EF English proficiency index 2018. According to the DOU survey, 81% of the Ukrainian IT specialists have the intermediate and higher level of English. Top management, Project Managers, and Business Analysts are the most fluent, while UI developers, system administrators, and designers know English a bit worse.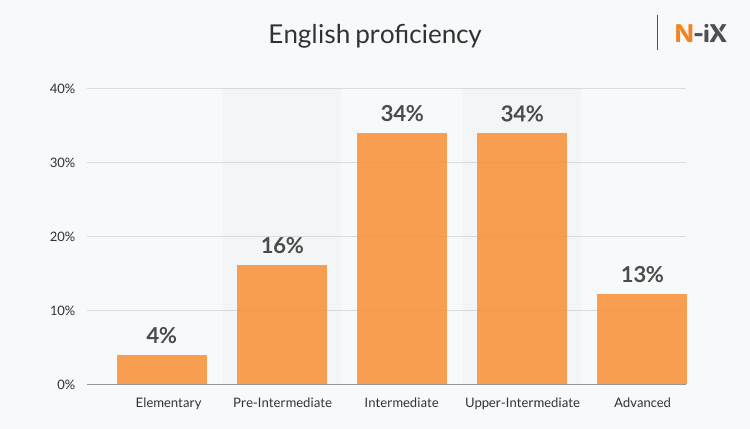 Culture and politics
The reason for such rapid growth of the IT outsourcing industry in Ukraine lies not only in the good geographic location but also in the cultural compatibility of Ukrainian software engineers with Western clients. Despite the remnants of the Soviet Union, Ukrainians have a European mindset. They are open, tolerant, inquisitive, and decisive.
The pro-European orientation of the country has led to the Revolution of Dignity in 2014. It was caused by the high level of corruption in the country, the change in the EU integration course by the government, and its violent attack on the protesters. After the revolution, the Crimea was annexed by the Russian Federation and the military conflict began. Now, much of the fighting is taking place in the east of the country.
Despite the ongoing armed conflict with Russia, Ukraine is safe for software development outsourcing as major IT hubs in Ukraine - Kyiv and Lviv, are closer to Prague, Krakow, and Berlin than to the conflict zones. Plus, to settle the conflict and keep it under control, Ukraine is cooperating with the US and Canadian army, the US Congress, the UN, and many international organizations. The IMF has also provided a multi-billion dollar plan to help Ukraine handle the crisis and ensure its stability.
The data on the Ukrainian service export by The World Bank shows that there were declines in 2009 just after the world crisis had hit and in 2014 after Russian intervention in the east of the country. However, if we look at the export of ICT services, the sector wasn't affected by any of these downfalls and continues to grow steadily. The number of companies that want to set up a software development team in Ukraine is even larger than it was before the conflict. More than 100 companies on the Fortune 500 list are clients of Ukrainian IT firms.
Related: Ukrainian software developers in cross-cultural communication
Location
Ukraine is the largest country in Europe that has a convenient geographical location. It is a huge advantage for businesses that want to outsource software development to Ukraine as it takes just 2-3 hours to fly to Ukraine from most European capitals.
Moreover, travel to Ukraine is mostly visa-free. Citizens of 64 jurisdictions, including all European citizens, the citizens of the USA and Canada can enter Ukraine without a visa for a stay up to 90 days within any 180 day period. And on April 4, 2018, Ukraine introduced electronic visas. So 52 more countries can obtain these visas and are valid for tourism and business purposes for 30 days and cost $85.
The country has a population of 42,5M people and a huge workforce of around 20M people.
The largest cities where the majority of IT outsourcing companies in Ukraine are Kyiv, Lviv, Kharkiv, Dnipro, and Odesa.
While choosing where to outsource, it is essential to pay attention to crucial criteria that define which country is going to be a better choice for outsourcing. These are the availability of experts, a variety of vendors to choose from, and the overall attractiveness of the selected destination.
1. Size of the tech talent pool
In Poland, the IT outsourcing sector employs nearly 32% of all tech experts, narrowing the pool to 94,500 specialists. In Ukraine, among 192,100 IT professionals, almost 70% are working for IT outsourcing or IT outstaffing companies, which roughly equals 130,600 people.
2. Companies to choose from
Both Poland and Ukraine have an impressive number of IT outsourcing vendors. However, Ukraine has a slightly bigger number of midsize and large companies. Software outsourcing in Poland is a little bit less developed, compared to Ukraine, however, they have a larger number of vendors and experts who represent BPO and SSC / Global Business Services sectors.
Related: 15 best software development vendors in Eastern Europe
3. Overall attractiveness of the location
In the chart below, you can find a summary of the important information about both locations. Both of these locations have well-developed infrastructures, have enough IT graduates to fuel the industry, and are well-recognized IT outsourcing destinations.
Wrap-up
Both Ukraine and Poland are excellent IT outsourcing destinations that offer quality and cost-effective IT services. So first of all, you need to decide which factors are the most critical for your business. We hope this infographic will help you draw the final conclusion and choose the right place for setting up a software development team.
Can't decide between Ukraine and Poland for IT outsourcing?
N-iX has development centers in Krakow (Poland), as well as in Lviv and Kyiv (Ukraine).
We have over 18 years of experience in the IT market and we focus on building long-term and strategic partnership with our clients.
N-iX has expertise in custom software development, Cloud computing, DevOps, Big Data engineering, Data Science, AI/Machine Learning solutions, and more.
We've been recognized by many industry rankings, such as Inc. 5000 Europe, Software 500, top 100 Global Outsourcing Companies by IAOP, GSA, Clutch, and many other.;
N-iX Information security management system is certified to meet ISO 27001:2013, PCI DSS, ISO 9001:2015, GDPR, and HIPAA. The company undergoes annual external security audits and internal audits two times a year to ensure maximum security.
If you have any questions about IT outsourcing in Poland or Ukraine, contact our experts.
---