There are thousands of software product development companies in today's highly saturated market, each promising exceptional quality and unique solutions. With such an abundant offer, it might be hard to select a truly reliable software development partner. So, how do you find a custom software development company that can actually deliver on the promises and fulfill all of your requirements? Let us see how you can initiate your search, what red flags you should avoid, and what you should look for in a potential development partner.
How to start the process
Choosing the right software product development company for your project is not that simple as there are more than 27,000 software development agencies listed on Clutch – one of the biggest vendor rating platforms. Their number is growing constantly as new companies enter the scene, making it even harder for you to make the right choice.
The process of choosing does not start with the list of vendors, it starts with you. You need to understand what you are looking for before you even start.
Have clear goals in mind
Prior to starting your research, you need to specify your own requirements and needs. It would not be possible to make the right choice if you don't know what you are looking for exactly. So, you need to start with figuring out two things:
What are your needs and what kind of product are you trying to build? You have to know exactly what you are trying to achieve with that project. Each business is unique and has its own specifications, so you need to know exactly what your specific needs are and what goals you are working towards.
What kind of partner do you need? Knowing what kind of product you are trying to build, you can figure out what kind of vendor might match your requirements. You can start to filter out the potential vendors by different parameters such as expertise, number of employees, rating, etc.
Watch out for red flags
There are certain red flags you need to keep in mind when choosing among software development product development companies:
No clear estimates: it is essential to have clear estimates for the project's timeline and budget. It is not enough to have rough estimates that do not show all the details and possible deviations from the initial plan. A good vendor will give you clear estimates with all the potential caveats along the way.
Lack of references: choose trustworthy software product development companies that have a track record of successful projects and customer-validated success. Avoid vendors who do not present any customer-validated success to their name.
Size mismatch: you cannot embark on an enterprise-level solution development project with a small-size vendor. They just won't be able to provide a sufficient number of experts and scale up the team when you need to. That is why you have to select a partner who can provide a necessary number of developers.
What to look for when choosing a reliable partner?
Choosing a trustworthy software development company is the most important decision you'd have to make when building a reliable solution. You need to pay attention to several factors and criteria that define a reliable partner.
1. Experience with Product Discovery, advanced prototyping, and business analysis
Additionally, you want a partner who can handle your project across the entirety of the development lifecycle, from the Product Discovery up to market launch and post-launch support. A reliable partner should be able to drive the project forward and you can be as involved in it as you want. The end goal of mature development practices is to lift as much weight off your shoulders as possible, and a reliable custom software product development company should be able to deliver desired results with minimal involvement on the client's side.
2. Company's portfolio
When choosing a software product development company, the first thing you need to do is check out their portfolio. You need to know what kinds of solutions they've been working on before, what industries they specialize in, and what kinds of products they typically develop. It is usually a good sign if a vendor has already worked on a project that is similar to yours or at least has an in-depth understanding of your domain.
Let's say you are trying to build an embedded software solution for smart inventory management. The best idea is to look for a custom software product development company that has already worked on similar solutions. See what they did, how they approached the client's challenges and needs, what solutions they offered, and how they addressed the needs of the client. Regardless of the type of product that you are trying to build, look for a partner who already has similar experience and success stories of building reliable software for their previous clients.
3. Company's rating
Check out how high the potential vendor ranks among other firms of compatible size and expertise. Go to rating platforms like Clutch to see what rating the company has based on clients' opinions. There, you can see how software product development companies compare to one another in terms of clients' satisfaction. Filter the companies out based on their size, location, expertise, and other parameters, and then look for the highest-ranking companies that match your search criteria.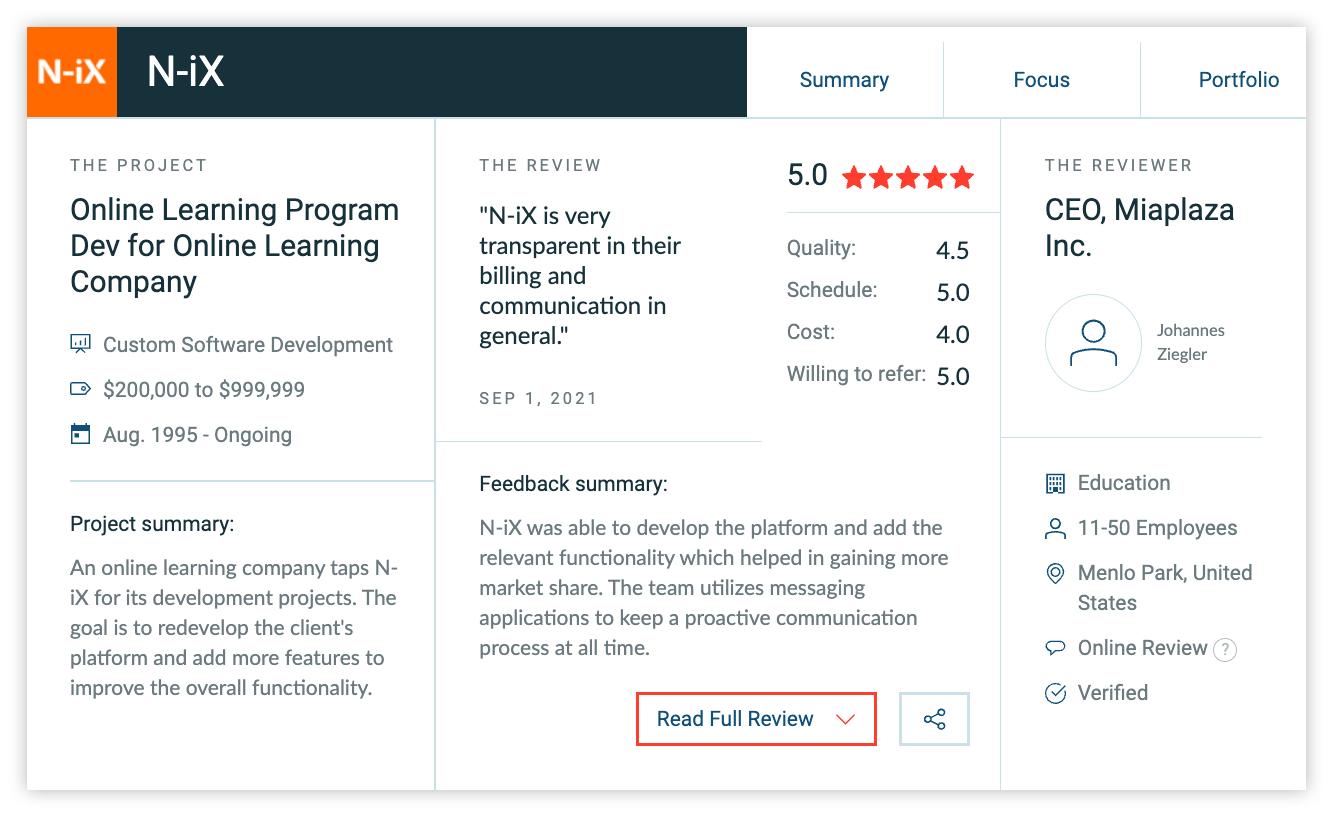 Being ranked among the leaders on international ratings such as Global Outsourcing 100 by the International Organization of Outsourcing Professionals (IAOP) is also good. International recognition by the world's leading ranking platforms is a sign of industry expertise and mature business practices, so you should look for software product development companies that have some credit to their name.
4. Client reviews
It is important to not just see the ratings but know what the clients have to say about different software product companies. The numbers alone might not reflect the whole picture, so you should go deeper and see what the actual clients have to say about a particular software product company you are looking at.
Alternatively, you may try to reach out to the previous or current clients and ask them about their experience working with the vendor. Most of them would not mind sharing their experience, and you will receive a first-hand review. Each custom software product company takes pride in working with large and famous companies, so you will find the list of their clients right on the main page.
5. A strong tech community
A strong internal IT community means a lot for any software product development company. A company with a large, properly structured, and interconnected community of experts would have sufficient knowledge to tackle any kind of challenge. The company's technology office has to consist of strong experts, each of whom drives different aspects of the project. Additionally, each of these experts would have connections within the company allowing for skill and idea sharing.
Participation in the external IT community also plays a significant role in expanding the company's expertise. Companies take part in different external events to demonstrate their expertise, share knowledge, and of course, gain some publicity. So, you might want to check whether the company:
Has a strong and structured internal community of experts;
Participates in local and global IT conferences;
Arranges workshops, shares knowledge, hosts online webinars;
Has awards and expertise acknowledgements from reputable IT and outsourcing associations.
A custom software product development company that has a proactive community stance attracts more expert developers, expands its knowledge base, participates in innovative projects, and usually is more successful when dealing with challenging projects.
6. Established development practices
Assess the company's development practices. Agile is the current trend among software development companies, but it is not a universal methodology that would suit any type of project. Some projects are managed better using a classic waterfall methodology or a hybrid methodology that combines the features of both agile and waterfall.
You need to be sure your potential partner is equally comfortable applying different methodologies. You should be interested in developing practices that match the requirements of your unique project rather than following the latest trends.
Over the years, we've built mature development practices at N-iX to ensure a flexible approach to each project and guarantee success at each step of the development lifecycle.
Discovery phase that includes ideation and validation of the product, its design and architecture, as well as advanced prototyping;
Precise roadmap for the project;
Selection of the core team of experts;
Development process that adheres to the industry's highest standards;
Pre-launch quality assurance and check-ups to ensure the quality of the product;
Support and maintenance;
Knowledge transfer to make sure your users can use the product to its maximum potential.

Technologies, partnerships, certifications
Naturally, you need to pay attention to the vendor's tech stack. You must know what kinds of technologies they work with, what kinds of solutions they are familiar with, and what tools they leverage to deliver the results you need. Different projects require different tech expertise, and you have to be sure the vendor has the necessary know-how.
Technology partnerships with reputable software companies are also a good sign. Being a certified partner with the global tech giants such as Microsoft, Amazon, OpenText, Google, and others means that the company offers expertise recognized by the industry leaders. Such certifications add credibility to the company's name and guarantee exceptional service quality.
8. Available talent pool
Pay attention to the size of the company. As mentioned above, you cannot expect a company with a small talent pool to fill all the positions you need with top-tier experts fast. When choosing a custom software product development company, try to select companies that have at least 500+ people on board. The optimal size of the talent pool, however, is hard to determine as it would depend on your needs and further plans to scale the project up.
So, if you are shooting to equip your project with a considerable number of experts, want to do it fast, and have plans for scaling the team up, it is better to look for the companies that can accommodate your needs. More so, bigger companies are much more likely to have the exact people you need at the ready.
Why choose N-iX as your software product development company?
N-iX has a talent pool of 2,000+ experts and an international outreach across Ukraine, Poland, and Bulgaria.
We offer client-verified expertise across industry verticals like manufacturing, healthcare, fintech, supply chain and logistics, retail, telecom, and more.
The company works with advanced tech like cloud computing, big data, IoT, big data, data analytics, machine learning and AI.
We deliver our services in accordance with international standards and regulations like ISO 27001:2013, PCI DSS, ISO 9001:2015, GDPR, and HIPAA
N-iX has built numerous successful and lasting partnerships with leading tech companies like Gogo, ACL, Lebara, Wirepas, and more.
N-iX has been repeatedly recognized by CRN among the leading solution providers in North America in their ratings, including Solution Provider 500 and CRN Fast Growth 150.
We are a Microsoft Gold Certified Partner, AWS Advanced Consulting Partner, OpenText Services Silver Partner, a SAP Partner, Google Cloud Platform Partner, and more.
Have a question?
Speak to an expert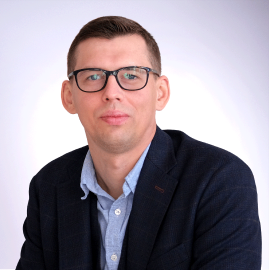 Dmytro Ovcharenko
Director of Technology Office
---