''There is a clear talent shortage in the US, and this is particularly true of specialized skills (engineering and IT), which are at the center of the competitiveness of the US economy.'' ~ Forbes
To remedy the problem, many companies from the US, UK, Singapore, and other locations choose to outsource. Every year more and more companies partner with an offshore software development company in Ukraine. In this article, we are going to explore the offshore development market in Ukraine, as well as provide you with a ste-by-step guide on how to choose the best offshore development company in Ukraine.
Offshore development in Ukraine: market overview
Ukraine has the largest number of offshore software development companies in the region. More than a half of these vendors are listed on Clutch. We can see that even though the lion's share of firms are small firms with up to 50 employees, the share of midsize and large companies remain impressive.
Ukrainian companies also have wide and versatile industry expertise, including business services, IT, healthcare, and others.
But how to find the one that suits you best among 1,600+ vendors of different shapes and sizes? What criteria are the most critical ones? And how to make your partner selection process smooth and safe?
To help you navigate the diverse vendor landscape and make an informed decision, we've prepared a step-by-step guide.
1. Create a long list of companies
Whether you are a CTO, PM, or a procurement manager looking for a list of companies that can help you solve your business problems, the route is pretty much the same.
Explore the local IT industry landscape and its leading players
Explore the IT industry dynamics in the region to get helpful insights into the local IT market and discover the top offshore development companies in Ukraine. To do this, you can use such local resources as DOU, MC Today, Liga Tech, IT ID Lviv, etc. They will help you to find vendor listings, companies' websites, info on industry recognition, reputation, and employer brands of Ukrainian offshore software development companies.
Read more:
Check vendor directories
Another reliable source of info on offshore development companies in Ukraine is dedicated vendor listings such as Clutch, Manifest, GoodFirms, and others, which base their rankings on meticulous research and a defined set of criteria. Such lists will help you find the companies that offer offshore development services in Ukraine and around the world. You can filter them by the size of the project, the number of employees, industry focus, as well as the size of their clients. Moreover, large directories, like Clutch, present verified clients' references, which dwell on different aspects of partnerships, from the ability to collect a team promptly to project management skills.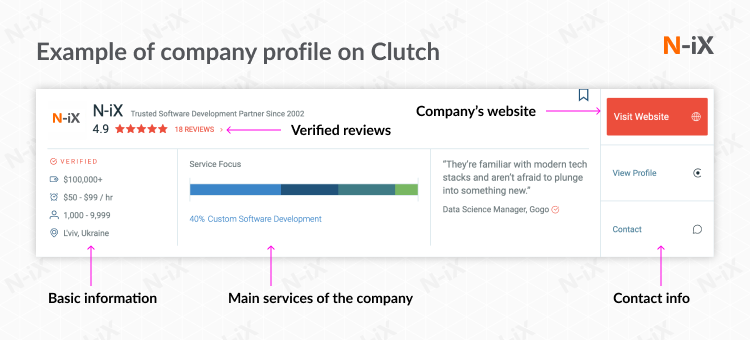 Browse companies' websites
Any great offshore software development company in Ukraine (or CEE) will pay attention to their website, and present as much information as possible. What to look for:
a company overview page with the basic information about them;
the company's offices and their locations;
services, technologies, and expertise they have, as well as their portfolio;
their blog (updates and topics they cover);
ob opening and careers section, etc.
While browsing the vendors' websites, you will be able to check their domain and tech expertise, types of services they offer (e.g dedicated development team, team extension), and their portfolios. Besides that, pay attention to
their size as small companies may not have enough capacity to boost your project and very large ones may not care enough about your business problems. So, in most cases, it's better to go for middle-size companies ( 800-1,500 employees). Besides, these companies are more likely to offer you an attractive combo: agile processes+structured organization.
the number of long-term partnerships they have as that is indisputable proof of their ability to cooperate and deliver.
professional development programs and initiatives that help them to grow and retain talent.
Look for memberships, awards, and certifications
An established offshore development company in Ukraine should have certifications from major tech partners and be compliant with international regulations and security norms. You can check them on the company's website and their Clutch profile. They include ISO certifications, PCI DSS certification ( if the offshore software development company provides solutions for payments and financial transactions), Microsoft partnership ( if you need a provider for .NET services), AWS partnership ( if you are looking for cloud computing and cloud migration services). Also, pay attention to industry recognition, such as Global Outsourcing 100 by IAOP, which celebrates the best outsourcing companies around the world. In 2020, 13 Ukrainian companies were recognized by IAOP.
Also, look for memberships in various chambers, associations, and business communities.
2. Shortlist the initial pool
Now, it is time to narrow down the list of offshore software development companies in Ukraine. There are a few simple steps to shortlist potential vendors:
Send out RFIs
Knowing what questions to ask your potential vendor is critical. Pay attention to these aspects of a potential partnership with an offshore software development company in Ukraine:
what pricing and cooperation models they offer ( as it may affect the ultimate cost of your project);
what professional development services the company offers;
how they ensure effective Agile processes;
do they have a robust knowledge transfer plan;
what they do for attracting, training, and retaining the talent;
Assess their communication level
First interactions with a potential vendor matter a lot. If you see that it takes them ages to reply, they show little to no interest in your company, or they don't seem enthusiastic about working with you, it might be better to avoid a company like that.
However, if you need an answer ASAP, make sure to include important details to reduce the time required to process your request. It may include your business needs, your domain, size of the team you will need, and the technical stack you will require. This will help an offshore development company in Ukraine (or anywhere for that matter) to understand whether they can help you with the services you need.
Remember, that no experience, portfolio, or expertise can make up for the lack of communication and customer approach. If they ignore you at the beginning, what makes you think they will change it later?
Discuss the pricing model
In many cases, your business needs and your budget will define the pricing model for the cooperation with an offshore software development company in Ukraine. It is also recommended to negotiate the part-time involvement of additional specialists (e.g., software architects or DBAs) with the vendors you are considering for partnership.
There are three typical engagement models: fixed price, dedicated development team, and time and material model. The fixed price model is ideal for small and medium projects with clearly determined requirements. It is the least flexible model since any deviation from the initial plan will cause significant changes in either price or schedule. That is why you need to discuss the project scope, requirements, budget, and deadlines before signing the contract.
Another model is a dedicated development team - an excellent solution for long-term projects with changing requirements. It's suitable in many cases, e.g. when you need to develop a product or extend your development capabilities. It allows you to have full control over the team or delegate it to the vendor. This model is highly flexible and adaptable to changes.
The T&M model is used to hire an expert on a temporary basis for the needs of the project. It allows you to engage necessary experts effectively and pay only for their work based on the hourly rate. This ensures cost-efficiency, transparency and timely delivery of the tasks.
So when looking for offshore development services in Ukraine, make sure that your potential vendor can offer you the best cooperation model that suits your business needs.
Clarify legal details
Contract signing is the final stage in the vendor selection. However, any promising cooperation may turn into a disaster if the companies run into legal obstacles.
While shortlisting the pool of potential vendors, make sure to discuss legal aspects such as liability, intellectual property ownership, timeframes of partnership, and other clauses. This will help both you and your potential vendor prepare for drafting a contract. And while the final contract always differs from the first draft; it is important to understand whether the cooperation is possible at all.
Continue reading: Offshore development in Ukraine: how to avoid contract loopholes.
Bonus tip
Knowledge transfer & communication
Knowledge transfer is about mutual effort. Look for a vendor that provides a robust knowledge transfer plan and has an established culture of knowledge-sharing. Make sure to cover the basics and appoint stakeholders that your team can contact in case of further questions.
Also, setting up the proper communication can be the key to tackling time zone differences. Make sure to schedule meetings, status checks, or reviews during the overlapping hours.
Recap
Offshore development in Ukraine is a great way to expand your business. However, it works only if you do it right. Remember to:
Clearly define your budget, business KPIs and expectations you have towards an offshore software development company in Ukraine. Create a long list of companies based on the predefined set of criteria.
Narrow down the list based on the detailed vendors' profiles.
Discuss the legal and procedural aspects of cooperation before signing the contract.
Oversee the knowledge transfer and first weeks of the partnership.
After all, the time and attention you pay to the selection process will pay back, and you will find the best offshore development center or vendor in Ukraine that will help you bring your business to the next level.
If you have any other questions about setting up an offshore development company in Ukraine, just contact our experts to find out more.
Why opt for offshore development in Ukraine?
Ukrainian IT market is thriving. Along with an impressive tech talent pool and a large number of IT service companies, Ukraine is known for a large number of IT hubs across the country. The majority of Ukrainian IT specialists live in Kyiv, Kharkiv, and Lviv.
Offshore developers in Ukraine are also known for excellent tech education and cultural-compatibility with partners from the US, UK, and Europe.
When looking for an offshore software development company, Ukraine is one of the most common choices. And here is why:
Ukrainian tech talent pool reached 192,100 developers and technical experts, who work for 1,600+ offshore outsourcing companies all over the country.
Our country has the largest number of established and reputable IT outsourcing companies among all CEE countries and second-largest after India (13 Ukrainian companies made it to the Best of The Global Outsourcing 100 ranking by IAOP).
Ukraine was named "Outsourcing Destination of the Year" by Global Sourcing Association (GSA) in 2017 and 2021. Moreover, Ukraine has a solid reputation as an IT outsourcing destination for many companies worldwide.
Why choose N-iX as your offshore software development firm in Ukraine?
N-iX has provided quality offshore development services since 2002.
We offer a wide range of services & expertise, including Big Data, Data Science, Cloud, DevOps, etc.
We build strategic partnerships with companies in FinTech, Telecom, Retail, Finance & Banking, Healthcare, Hospitality, and many other industries.
Have a question?
Speak to an expert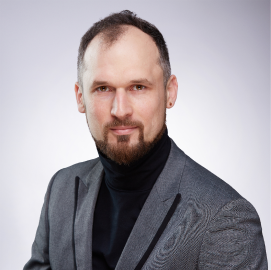 Taras Petriv
Associate Engagement Director
---