"The real power of outsourcing is its ability to increase an organization core capacity for change and growth. The business challenges over the next decade are going to be very different than anything we've seen so far, and the companies that weave a powerful network of global partners through outsourcing will be the winners."

Michael Corbett, Chairman of the IAOP
Outsourcing is an inevitable part of the modern business world. It helps companies overcome current obstacles, plan their growth, and improve their products and services. According to Whitelane Research, around 91% of the clients are satisfied with their cooperation with European outsourcing service providers. Moreover, around 80% of the respondents confirm that they will continue to outsource at the same rate or more. However, it might be challenging to select a trustworthy vendor for your custom solution development among the great number of market players. So, how do you find the right partner among the thousands of IT companies in Europe? Scroll down to find out.
Software development market in Europe
Software development in Europe is a huge market with remarkable potential for growth. According to Statista, its revenue is supposed to reach around $199B by the end of 2027. As of 2020, the overall number of professional software developers in Europe has already reached 6.1M (compared to 4.4M in the US), and this figure continues to grow. Eastern, Central, and Southern Europe are the top three locations by the number of professional developers, but these countries are also the ones with the most fierce competition for this talent.
Related: Top IT outsourcing destinations of Eastern Europe: Market report
Outsourcing companies in Europe: Statistics
In terms of software development, Europe has a reputation of one of the top tech outsourcing markets. The estimated number of software development companies in Europe varies between 4,000 and 6,000 vendors. For example, Clutch lists over 4,815 vendors that provide IT outsourcing services. Let's take a look at the breakdown of these companies by their country.
With a great number of reliable software development companies, Europe makes a prominent outsourcing destination. However, it is important to understand that most of these companies are small vendors comprising 50 people or less. If we filter the results, showcasing only midsize and large software development companies in Europe, the final picture will be quite different.
Now, the overall number of companies hardly reaches 400. But it's still a lot of firms to choose from. So how can you find a reliable engineering vendor to become your partner?
Best software development companies in Europe: What should you look for?
So, how do you find the most reliable partner that will help your business thrive among the myriad of IT companies in Europe? In our article 15 сriteria for choosing a software development company, we have discussed the myriad of factors that can help you make a well-grounded decision. However, let us recap the main aspects here. Looking for the best vendor among the outsourcing companies in Europe, you should consider the following criteria:
Location of the company's delivery centers and headquarters;
Expertise in your domain and technology, as well as overall experience on the market (very young companies are more likely to have less experience);
The vendor's portfolio, case studies, and client references;
Availability of resources to scale your team if needed (thus, the number of employees is important);
Industry recognition and awards.
10 trusted software development companies in Europe
Compiling our list of IT outsourcing vendors with development centers in Europe, we've gathered all this information to choose the best software engineering companies. We've analyzed many vendors to define whether their European development centers have enough capacity to deliver top-notch solutions to their customers. Another important aspect we've covered was the talent accessibility of outsourcing companies for team extension in Europe. To shortlist the top software development vendors in the region, we have:
Analyzed over 100 software development companies in Europe. They were either established in Europe or have a significant presence in the region, as well as development centers in one or several European countries.
Divided the selected IT companies in Europe in two categories: 250-999 and 1,000+ employees or companies reaching those numbers, as they have established processes, capacity, and scalability to work on solutions of any complexity.
Chose the most reputable European outsourcing companies listed in the Top IT Outsourcing Companies and Top Custom Software Development Companies on Clutch.co. The selection methodology is based on service providers' areas of focus, client reviews, and proven ability to deliver business value. Also, we have included the companies featured in the Global Outsourcing 100 ranking by IAOP and other industry awards.
Researched the vendors' technical competence, industry expertise, and portfolio using the public information on their websites, social media, news, etc.
Additionally, we examined the company's websites and LinkedIn profiles to find essential information about the providers, such as the number of employees, major clients, years on the market, key services, and industries.
1. N-iX
N-iX is one of the leading European software development outsourcing providers with more than 20 years of experience and over 2,000 tech experts on board. The tech enterprise has several R&D centers across the globe, namely in Poland, Ukraine, Bulgaria, and other countries besides Europe. The company has extensive expertise in tech consulting and custom software development that spans manufacturing, logistics, fintech, telecommunications, retail, and other domains. Our specialists are well-versed in the implementation of Cloud solutions, DevOps services, Data Science, Artificial Intelligence and Machine Learning development, Data Analytics, BI, VR & AR, enterprise mobility, embedded software, and much more.
N-iX partners with midsize and enterprise-level businesses to provide continuous guidance on their digital transformation journey—from Product Discovery to the final release, as well as post-launch support. The company's track record encompasses long-term cooperations with over 50 clients from the US and Europe. Among enterprises that trust N-iX are technology leaders such as Lebara (a prominent telecom brand), Currencycloud (a global payments platform), Gogo (the world's leading in-flight connectivity provider), HotSchedules (the US hospitality leader), and many others.
The company is well-recognized in the industry—N-iX was featured among the top software development companies in Europe in the IAOP Top 100 Global Outsourcing ranking and received the European IT & Software Excellence Award by IT Europa. It was also shortlisted for the Global Sourcing Association UK Awards and regularly listed in the Clutch Leaders Matrix in different categories. N-iX has also been repeatedly recognized by CRN among the leading solution providers in North America in their ratings, including Solution Provider 500 and CRN Fast Growth 150.
2. Sigma Software
This engineering company has over 20 years of experience in delivering full-cycle software development services to clients from the advertising, education, gaming, and automotive industries. The vendor's experts specialize in tech consulting, Big Data development, R&D in extended reality, as well as Artificial Intelligence and IoT. Their client list includes such companies as Volvo, AstraZeneca, and Scandinavian Airlines.
3. ELEKS
Headquartered in Lviv, Ukraine, the company provides a variety of software engineering and consultancy services. ELEKS has several delivery centers across Europe and sales offices in the US and Japan. This vendor specializes in Data Science, mobility, QA and testing, IoT, and technology consulting, with around 50% of projects related to financial and retail industries. The company designs, builds, and delivers products to Fortune 500 companies, enterprises, and other technology organizations.
4. IBA Group
One of the most experienced outsourcing companies in Europe, this vendor was founded in 1993 and has more than 2,500 professionals on board. Originally from the Czech Republic, IBA Group also has software development centers in Slovakia, Ukraine, and Bulgaria. This vendor specializes in custom software development, managed IT services, mobile app development, and Cloud computing. The tech enterprise mostly helps companies in the finance and banking, telecom, manufacturing, and transportation industries. The list of their clients includes Coca-Cola, McBride, Panasonic, and T-Mobile.
5. Cegeka
With their HQ in Belgium, this European software development company also has offices and delivery centers in Austria, Czech Republic, France, Germany, Italy, Netherlands, and Romania. This is one of the top software development companies in Europe that has a clear expertise focus—they specialize in Cloud consulting, CRM consulting, and blockchain. The company partners with companies from different industries, including energy and utilities, healthcare, banking, retail, telecommunications, and others. They predominantly work with small and midsize European companies.
6. Coherent Solutions
This vendor has been on the market since 1995, helping startups and fast-growing tech companies build custom software solutions. Their portfolio includes custom software development, web application development, QA, and CRM consulting. It has over 2000 engineers on board and focuses mainly on software development for healthcare, e-commerce, logistics, and wellness domains. The list of their clients includes LifeTime Fitness, Daikin, WEX Health, MTS Systems, and LiquidSpace.
Read more: Best 50 outsourced software development firms in the world
7. Lohika
Founded in 2001, this is another representative of outsourcing companies in Europe with rich experience. Its expertise includes software product development, IT consulting, Data Science development, IoT, as well as AI/ML. This company works with clients across multiple domains, including healthcare, retail, logistics and supply chain, and cryptocurrency. Among their clients are such global companies as Coinbase, Twillio, Tenfold, Instartlogic, and Skype.
8. Ciklum
This European software development company has several delivery centers in Spain, Switzerland, Ukraine and is headquartered in the UK. Their technical expertise covers the development of data and analytics solutions, DevOps, robotic process automation, IoT, and other services. This vendor works primarily with large companies and midmarket vendors that operate in retail, fintech, hospitality, and telecommunications domains. Their key clients are Jabra, Just Eat, Mercedes Pay, Flixbus, Tobii, and Zurich Insurance.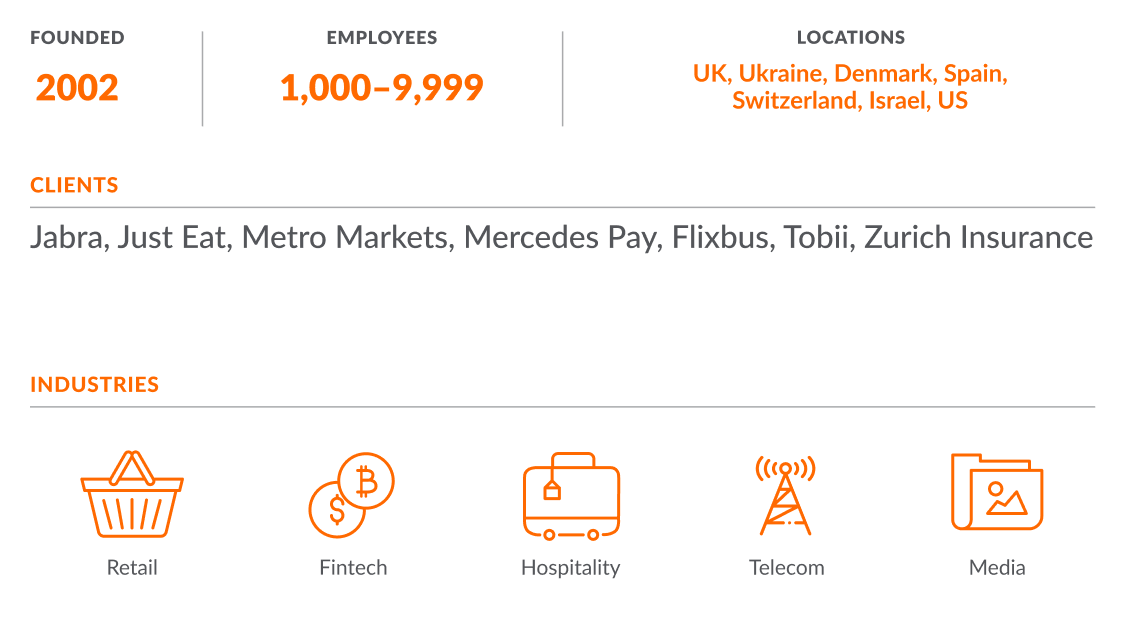 9. p3 Digital Services
Another reliable tech provider, this European vendor also has delivery centers in Romania and Germany. During 20+ years of market presence, this company developed strong expertise in mobile app development, cybersecurity, Cloud consulting, and system integration. This vendor works with companies of various sizes, mostly focusing on providers from the energy and natural resources, aerospace, telecom, automotive, and public sectors. Their client list spans such recognized vendors as Volkswagen, Deutsche Bahn, Vodafone, Sodexo, and Heat NL.
10. Software Mind
Since its foundation in 1999, this company has delivered software product development and tech consulting services mostly to midsize enterprises. Their experts specialize in custom solution development, digital transformation services, Cloud consulting, cybersecurity and identity management, and embedded services. During 20+ years on the market, this Polish vendor has developed industry expertise in fintech, telecommunications, gambling, and e-commerce domains. Among their clients are such companies as Corelogic, Dell, Backbase, Branch, and CallCredit.
Bonus list: 5 small and midsize software development companies in Europe
There are also a few honorable mentions that didn't make it to the original list because of their size. They've built strong expertise and an excellent reputation. Let's take a look at the best small and midsize outsourcing companies in Europe:
1. STX Next
Despite its relatively small size (around 450 experts), this Polish vendor has a good reputation for full-stack web development and implementation of cross-platform mobile app solutions. Their expertise also includes DevOps, Machine Learning, Data Engineering, and QA. This vendor cooperates with clients from the US, Canada, South Africa, Australia, the Middle East, and Western Europe.
2. Qulix Systems
This European software development company employs over 400+ IT professionals. This vendor is particularly known for its strong expertise in the finance and banking sector. Additionally, nearly a third of the company's services are related to IoT application development. The company's teams have already created IoT solutions for smart homes, telematics, connected cars, wearables, AI, and e-health. The vendor works with different customers, from small businesses to enterprise-level corporations. Their key clients are Societe Generale, BNP Paribas, Vodafone, Mozido, iHeartMedia, Alcatel-Lucent, UNICEF, and others.
3. MentorMate
Having more than 20 years of experience, the company provides native and hybrid mobile and web application development services to its international clients. With European offices in Sweden and Bulgaria, this vendor manages all stages of the software lifecycle, including ideation, architecture, design, development, and quality assurance. Over 40% of the company's services focus on developing solutions for the healthcare industry. This software development company works with mid-market and enterprise-level clients, and their portfolio includes software development for companies like AstraZeneca, Jostens, SafetyNet, World Marrow Donor Association, Questar, R POPS! Diabetes Care, and Societe Generale.
4. Netguru
This Polish enterprise has been delivering custom software development and tech consulting services for over 15 years. The company specializes in mobile app and web development as well as BI and Big Data consulting. This vendor's industry expertise covers finance, retail, real estate, and healthcare. Their client list spans mostly midsize vendors and enterprises such as UBS, OLX, Keller Williams, Solaris, and Moonfare.
5. Future Processing
Concluding our list of trusted outsourcing companies in Europe, this vendor has 20+ years of experience. The company provides custom software development services to a number of market leaders. Its services also include web development, BI, and Cloud consulting. Almost half of the company's projects are related to developing fintech, medical, and supply chain solutions. Among their clients are Tenneco, The Linde Group, Ista, Credit Agricole, Valeo, TechSoup, and Thomas Miller.
So, speaking about trustworthy software development companies, Europe is definitely a destination that has a lot to offer. The main challenge rests in choosing from the best software companies in Europe the one that will fit your specific business needs. We hope this list has helped you on your journey to finding a reliable partner.
Why should you choose N-iX experts to help you develop a robust and scalable custom solution?
N-iX is a global engineering enterprise with over 20 years of experience in tech consulting and custom software development for manufacturing, logistics, fintech, telecommunications, retail, and other domains;
Our 2,000+ tech specialists are well-versed in Business Intelligence, IoT, Big Data, Data Analytics, Cloud development, AI and ML, as well as other services;
Among our clients are top global players such as Currencycloud, Ringier, PrettyLittleThing, Deutsche Post, and many Fortune 500 companies;
N-iX is a one-stop shop enterprise providing full-cycle development services from Product Discovery to the final release;
The company adheres to international data protection standards such as PCI DSS, ISO 9001, ISO 27001, and GDPR;
N-iX is well-recognized in the industry: the vendor repeatedly appeared on the IAOP Global Outsourcing ranking, the CRN Fast Growth List, as well as was shortlisted by Forrester.
Have a question?
Speak to an expert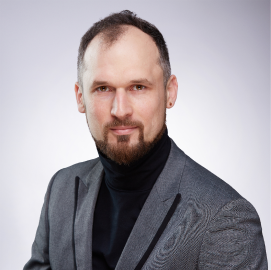 Taras Petriv
Associate Engagement Director
---