The beginning of 2020 has forced companies worldwide to adapt their operations to the new reality and re-evaluate strategies. Forced to adopt remote operations and work-from-home mode, many businesses are now struggling with digitalization and automation of their business processes.
Before 2020, an acute shortage of tech experts used to be the sorest issue. However, now, cost optimization is one of the top priorities for many businesses. As the difference between local tech talent pool and offshore experts is barely visible now, offshore software development is getting even more attractive.
Offshore software development is not only a cost-cutting solution, but also your access to the world-wide tech talent pool and varied industry expertise.
To help you make an informed decision and make the process as smooth as possible, this guide features:
Related: How IT outsourcing can help your business handle the coronavirus crisis
When talking about onshore and offshore software development, people often mean hiring a third-party vendor to carry out the technical tasks for you. Let's take a look at the differences between two notions.
Onshore software outsourcing means you work with a software company that operates in the same country as your company.
Value for business: onshore outsourcing allows you to have the technical expertise, without having to employ the team in-house.
Offshore software development means you work with a team located far away from your home country (typically in a different time zone).
Value for business: this scenario allows firms to tap into the international tech talent pool, access the needed expertise, and save money.
Cost-efficiency of offshore software outsourcing
Outsourcing software development (especially offshoring) can cut the development budget by 25-40% (compared to the cost of development in the initial location). Why is that? Let's take a look at the map below.
According to Payscale, the average salary of a software developer in the US is $70,000 a year. While in offshore software development these figures can vary between $7,000 and $30,000, resulting in $12-40K of annual salaries (when you add the billing rates). And before you begin worrying about lower quality, let us stop you there. Most outsourcing locations have a lower cost of living; thus, they can afford lower salaries.
Also, we have to mention additional costs like staffing and onboarding. Almost 60% of employers reported having troubles filling specific job openings within 12 weeks or more, resulting in over $800,000 in additional annual expenses. On the contrary, the typical staffing time of reliable offshore software development vendors is 3 to 6 weeks.
While many companies think about offshore development in terms of lower rates of experts, it's merely one of the perks it offers. Let's take a look at some of the other benefits.
Advantages of offshore software development
Qualified workforce. Companies that have extensive outsourcing expertise are focused on the professional growth of their employees. Moreover, some IT outsourcing destinations invest heavily in STEM and CS education, making it a state priority. You get access to top tech talent at an affordable price.
Easier staffing and onboarding. Along with a considerably shorter recruitment period, offshore vendors have access to an enormous tech talent pool with less competition for the top experts. Plus, large vendors have established processes that will help you make onboarding faster.
Access to rare expertise. Most offshore software developers have experience working within a particular tech stack and domain. If you are looking for a qualified expert with a specific skill set (or even a whole team), it might be faster to hire an offshore partner to get things done.
Ability to scale quickly. Working with an offshore vendor, you can easily change the size of your team based on the current needs of the project.
Boost for product development. Opting for offshore software outsourcing is a smart way to boost your development, helping you to reach your next milestone in time.
Lower operational costs. Offshore outsourcing allows you to reduce recruitment costs and save money on administrative expenses (like rent, computers, etc.).
Disadvantages of offshore software development
Despite the variety of things that make offshore software outsourcing so appealing to businesses around the globe, there are certain things to consider.
More communication needed. Unlike the in-house development team, offshore software development requires proper communication channels and regular status updates to keep everyone on the same page.
Time zone differences. Stemming from the previous issues, if communication is not set correctly, developers might have problems waiting for clarifications or comments, therefore not using their time effectively.
Demands more coordination. It's harder for an outsourcing team to understand your vision and all the details of your processes, so you need frequent meetings and checkpoints to stay on the right track.
Cultural gap. Unless you specifically choose the destination and company that shares your business approaches and values, you are most likely going to face some differences regarding work ethics, approach to teamwork, prioritization, etc.
Dependence on political climate and legislation. In some countries, businesses are extremely dependent on the political situation. Moreover, if the country is not eager to support the industry, it may cause complications for the outsourcing vendor.
Even with remarkable advantages, certain things can stop companies from outsourcing. However, what if we said that you could overcome or eliminate nearly 80% of these disadvantages and possible risks? Keep reading to learn how to do that.
We understand that sometimes there are more questions than answers. It is crucial to understand what issues you might face. Here are 5 risks of offshore software development and how to tackle them.
Legal issues. Successful offshore software development requires a lot of work on the contract. Confidentiality, liability, notice periods, non-solicitation terms, data protection, regulation compliance, and intellectual property rights are just a few things that you need to cover in your contract (check out Software development outsourcing: how to avoid contract loopholes).
Legislative issues. Well-developed offshore destinations strive to foster the benefits of IT outsourcing, creating both a business and a legal environment that helps tech companies to grow. Look for a country that cherishes the value of the outsourcing industry.
Cost overruns. Sticking to your budget is a tricky thing to do in both onshore and offshore software development. You need to select the right form of cooperation, plan the project properly, and select the vendor that fits your pricing range. Find more details in our article How to save your software development budget when outsourcing.
Knowledge loss. The knowledge that is not shared or documented is lost. Apart from proper documentation of the project, you need to transfer the knowledge base before and after the project effectively. To help you plan this process, we created An effective knowledge transfer plan.
Cultural differences. As we've mentioned before, unless you specifically look for a vendor that shares your values and has similar business approaches, you might find it hard to work with an offshore vendor.
And while these risks can be challenging, there's nothing that the diligent planning, proper choice of the vendor, and a comprehensive contract cannot eliminate or at least minimize.
One might think that the traditional ways of operating within your company are the ones you need to adopt in offshore software outsourcing. And while in some cases it might be true, often there's a big difference. Here are some of the most important practices and strategies to help you make the most of this experience.
1. Understand your business needs
"We will figure it out when we get there" is not the best way to start offshore software development. Knowing what needs to be done, understanding what business issues you are trying to solve, and what KPIs matter the most - all of this will help you understand what type of cooperation you will be looking for.
Augment development & QA teams. If you cannot scale up locally and you are looking to cut the development costs or get some specific expertise, then consider a dedicated development team or team extension.
Develop a product from scratch. If you know exactly what needs to be done but do not have a team to do it, hiring outsourced developers is the right choice;
Deliver a solution. If you are facing a specific business issue, finding a partner who can offer a solution and deliver will be your top priority.
2. Choose the right location
Understanding your business needs will bring you to the next step - choosing the right location. In one of our recent articles, we've discussed three main IT outsourcing destinations: Eastern Europe, Asia, and Latin America. While rates and salaries are the first things that come to your mind when thinking about offshore software development, you need to pay attention to:
Technical and industry expertise
If you are looking to outsource a particular scope of work or project with specific requirements, your vendor needs to have previous experience working with such types of tasks. Generally, well-established locations (like Eastern Europe) have a variety of experts to satisfy the needs of almost any project.
Cross-cultural communication in a working environment is a tricky thing to handle. Teams are divided by borders, cultures, and languages. Before you choose a vendor, look for an outsourcing country that is a great cultural fit for your business (in terms of corporate culture and expectations), and after - let your teams learn more about each other's culture to help them adapt faster.
Typically, some countries are considered a great cultural fit for companies from the US and the UK. For your convenience, we brought together Gartner research on cultural compatibility and English proficiency score.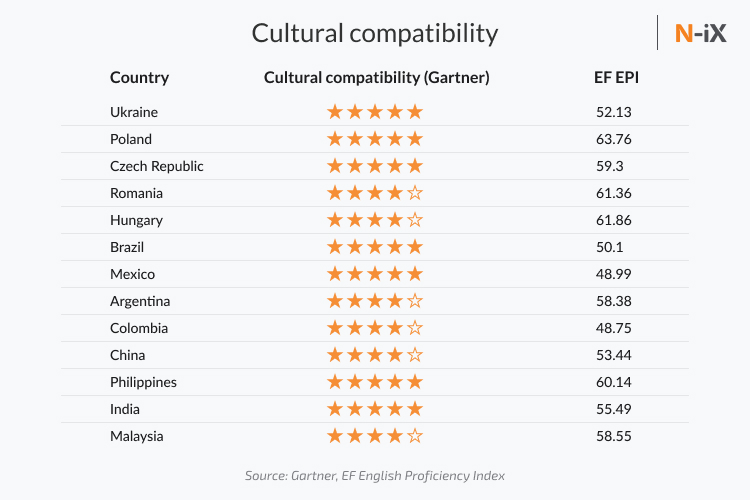 Use differences to your advantage.
Offshore software outsourcing might seem like a complicated thing to handle; however, if you look closely, it is similar to having a third-party in the next building. But this one just works different shifts. For successful offshore software development, all you need - is a window for communication. An offshore team can start early and have work done for you to review or pick up where you left. Plus, the time-zone difference is a huge plus when we are talking about on-call product support. Take a look at the chart below to see which locations have time slots that match your working hours.
3. Share the bigger picture
Having both a strategic and tactical plan is vital for the success of any activity, however your team also needs to know that. The better your partner understands your business needs and vision, the easier it will be for them to satisfy your needs. Things to cover:
product description and its position on the market;
your business needs;
expected deadline;
KPIs and milestones;
your vision of the process.
There are thousands of offshore software development vendors across the globe. Some of them have strong portfolios, others - glorifying customer reviews, and some are boasting about the all-around experience in every industry. You will also find vendors who offer insanely low rates, while others seem to exaggerate the cost of services.
To make the selection process easier, we have prepared some tips on what to look for while choosing a partner for offshore software outsourcing.
Establish clear criteria for vendor selection
The selection process is always based on certain criteria. Despite the best efforts, one can hardly find an outsourcing company that will match all of them perfectly. What aspects are critical for your case?Are you looking for rare tech experts? Is there a complex problem to be solved? Do you need to scale up the development process? Choose what matters the most:
Price. Cost-cutting is one of the primary reasons for outsourcing, so finding the company that fits your budget is vital.
Technical expertise. Your vendor should have experts that work within the required tech stack.
Relevant experience. Both in terms of industry and level of complexity. E.g., if you need a unique project from scratch, it's best to choose the company that can handle the discovery phase.
Company size. The vendor should have enough capacity to deliver solutions of various complexity and scale.
Select a proper cooperation model
You might wonder why the engagement model matters at this point. It's rather simple, as some vendors are better equipped to run the sprint (small short-term projects), and others are marathon runners (longer and complex development). General, there are 3 major forms of cooperation:
Dedicated Development Team. It's an excellent choice for full-time and long-term engagement, whether you need extra hands or looking for technical solutions for your business problems. It is widely used in the IT sector to run and deliver a project. In this case, offshore software developers are entirely committed to your project.
Fixed Price encompasses fixed quota, the fixed scope of work, and set time of project delivery. You address the vendor with a business problem and your vision of how it may be resolved. This cooperation model is suitable for smaller scale, well-specified projects, as once the contract is signed, no changes can be made. It is not suitable if you want to adjust the product to the market changes continuously.
Time & Material ("pay-as-you-go") is the best choice when the requirements are not clearly defined at the beginning. It is usually the right choice when a project cannot be estimated in advance (especially if the scope of work is likely to change in the development process).
Take a look at the table below for more details about these engagement models.
As you can see, some of them allow more flexibility, while others are better suited for short-term projects.
Make a long list of companies within the chosen location
Any company that is looking for an offshore vendor that will help them with software development is probably going a similar path.
Explore the local IT industry landscape and its leading players. Once you have chosen the country or region, you need to learn more about the local IT market and discover the top players.
Check vendor directories. Another reliable source of info companies are dedicated vendor listings such as Clutch, Manifest, GoodFirms, etc. Such lists will help you find companies that offer offshore software development around the world. You can filter them by the size of the project, the number of employees, and industry focus. Moreover, large directories, like Clutch, post only verified clients' references, allowing you to learn about different aspects of cooperation.
Look for memberships, awards, and certifications. You may also be interested in vendors whose achievements have been recognized by the leading industry associations. Also, any reliable vendor should have certifications from major tech partners and be compliant with international regulations and security norms (including ISO certifications and PCI DSS certification). You can also check memberships in various chambers, associations, and business communities.
Browse companies' websites. This will help you find information about offices, services, technologies, and expertise they have, as well as their portfolio. Also, pay attention to the number of long-term partnerships they have.
Shortlist the initial pool
Once you are past the long-list phase, it's time to take a closer look at the companies. There are a few simple steps to shortlist potential vendors:
Send out RFIs. Typically, questions to ask your potential vendor are rather similar. Pay attention to different aspects of a potential partnership, like what pricing and cooperation models they offer, how flexible they are, etc.
Contact vendors you are interested in. Once the companies are back with answers, it's time for first interactions. If you see that it takes them ages to reply, they show very little to no interest in your request, it might be better to avoid a company like that.
Discuss the pricing model. To ensure cost-efficiency, transparency and timely delivery of the project, it's better to discuss everything upfront. You may also need to discuss the part-time involvement of additional specialists (e.g., software architects or DBAs).
Clarify legal details. Contract signing is the final stage in the vendor selection process. However, any promising cooperation may turn into a disaster if the companies run into legal obstacles.
Congratulations! The last step is to sign a win-win contract Once you seal the deal, the work can begin. Which brings us to the next question: how to manage an offshore development effectively?
Managing an offshore software development team is challenging. Setting everything up, sharing knowledge, making sure that all the processes and workflows are aligned - all these things require your attention and time. In one of the recent articles we have discussed some of the most common problems in management of a remote team, and how to solve them. To face these challenges, remember:
Communicate effectively. Both lack and overload of communication can make things so much harder both for you and your team. So, make sure that the number of calls, e-mails, etc. is adequate for your project and your software development team.
Focus on productivity. To help your team reach their maximum potential and not micromanage them, make sure you clarify as many details as possible, set clear metrics and realistic expectations, and track implemented tasks.
Use collaboration tools. You can use JIRA, Trello, or any other tool for task tracking and reporting, Slack for instant messaging, and Skype or Hangouts for video calls.
Provide feedback. Regular retrospectives allow you to review the project's progress and give feedback to your team frequently.
Why opt for offshore software development in Ukraine?
Offshore software development in Ukraine is one of the leading sectors of services export. There are 3 major reasons why companies around the globe choose Ukraine over other offshore destinations:
Ukrainian tech talent pool reached 192,100 experts, who work for 1,500+ offshore outsourcing companies all over the country (three biggest hubs are Kyiv, Kharkiv, and Lviv).
Our country has the largest number of established and reputable IT outsourcing companies among all CEE countries recognized by leading industry rankings like The Global Outsourcing 100 by International Association of Outsourcing Professionals (IAOP) and the European IT & Software Excellence Award by IT Europa.
Ukraine was named "Outsourcing Destination of the Year" by the Global Sourcing Association (GSA). Moreover, Ukraine is a reputable offshore outsourcing destination for many companies worldwide.
Along with an impressive tech talent pool and a large number of companies that provide offshore development services, Ukrainian developers are known for their qualifications and skills, as well as cultural-compatibility with partners from the US, UK, and Europe.
You might also like: Kyiv & Lviv IT companies: how to find the best partner in Ukraine?
Why choose N-iX for offshore software development?
N-iX has over 20 years of experience in the global IT market. We have experience in managing a dedicated offshore team of any size by using Agile methodologies and practices.
N-iX Information security management system is certified to meet ISO 27001:2013.
Our company offers a wide range of services & expertise, including Big Data, Data Science, Cloud, DevOps, etc.
We build strategic partnerships with companies in FinTech, Telecom, Retail, Finance & Banking, Healthcare, Hospitality, and many other industries.
N-iX is well-recognized in the IT market and was recognized GSA UK Awards as a finalis, Global Outsourcing 100 by IAOP, and many others.
---