If you are looking to reduce development costs and need to hire several engineering teams, setting up a software development center in a foreign country is a reasonable choice. But, it comes with a few questions and challenges you need to address.
What is the best location for establishing an offshore software development center? How to find and hire the top talent? What are the operational and legal risks and how to prevent them? To help you, we have compiled a detailed guide on how to set up your offshore development center, based on best practices, industry reports, and real-life success stories.
In this article, you will discover:
Let's begin with a simple question: what is an offshore development center? It is a representative unit of a tech company. It means that the development office with a team or several teams of engineers is located in a foreign country. Setting up a dedicated offshore development center is the best choice in a few cases:
When you need between 20 to 40 professionals at once;
When your project is big and complex, and you need many services;
If you have different products and need different teams working on them;
If you have security-sensitive software;
If you want to establish a presence in other countries.
In other words, the offshore development center model is a perfect option for large, complex projects that require a lot of experts.
Here are the key steps that are needed to set up a dedicated offshore development center:
Choose a location;
Hire a legal consultant that will help you tackle administrative issues;
Register your offshore development center as a legal entity;
Find, rent, and renovate an office;
Take it up with the local tax system;
Hire recruiters as well as administrative and support staff;
Run a brand-building campaign. That will establish your company as a good employer in the new country;
Recruit developers.
It takes time, effort, and costs to establish your own dedicated offshore development center in another country. As we have mentioned before, you need to mitigate multiple HR and legal risks on your own. That's why many leading businesses decide to delegate these tasks to a reliable IT outsourcing partner. Such cooperation allows them to:
Reach better and faster recruitment if you choose a vendor with an established employer brand;
Entrust all HR, administrative, and infrastructure processes are taken care of;
Avoid administrative and management overhead;
Ensure better flexibility and scalability;
Mitigate security and legal risks using a contract.
Partnering with an IT outsourcing vendor allows you to mitigate multiple legal, HR, and operational risks and focus on your core business tasks. You don't need to spend time to find an office, hire recruiters, run a brand-building campaign, etc. Your partner is responsible for all recruitment and onboarding processes. It becomes much easier to find highly qualified and experienced specialists (including rare experts) as your IT outsourcing partner has an established employer brand and a large base of candidates. For instance, N-iX has collected an extensive internal base of candidates since 2002, and it comprises over 60,000 experts.
What's more, your IT partner helps you to scale your teams up or down, depending on your current needs. If you need to scale your dedicated development teams up, the vendor finds the best specialists for your project that meet your specific requirements. When you need to scale the dedicated development teams down, your IT outsourcing partner is responsible for rotating the specialists to other projects and tackling HR expenses. Therefore, you don't need to worry about any HR activities and risks.
Such cooperation also provides you with a high level of flexibility. You can interview all team members by yourself. Or you can choose to interview only the leading positions and find experts who will help you build the whole team.
Regarding security and different legal aspects, you can ensure them by using specific contract clauses. For instance, pay attention to data protection rules (deidentification, reidentification, anonymization of data). We'll dwell on the legal aspects of your cooperation in more detail further in the article.
That's why many companies decide to partner with an IT outsourcing vendor to set up their offshore development centers or hire a dedicated development team and scale it up or down when needed.
For instance, Lebara, one of the fastest-growing telecoms in Europe, first opted for hiring a dedicated development team and scaling it up delegating more and more tasks and tech directions to N-iX. Now, their offshore development center at N-iX comprises around 100 software engineers that work in various directions, from mobile and web development to cloud and Big Data.
A success story in detail
Back in 2014, Lebara initiated a digital transformation program designed by a leading consulting agency and selected N-iX as their software development partner. At that time, Lebara worked with several IT providers. However, the company was looking for a technology partner that could cover all their software engineering needs in software development and optimize costs. As a result of the selection process, a new CTO decided to establish a software development partnership with N-iX and make us responsible for the full-cycle development of new products and their maintenance.
First, our client needed to migrate its Hybris B2C platform from the 4.3 to 4.8 versions to meet their client base growth requirements. N-iX professionals developed a single master data system for offline and online channels, allowing Lebara to deliver a seamless omnichannel user experience.
Another strategic stream we contributed to was Business Intelligence development. Our team has optimized the workflow, removed delays in reporting, and helped reduce the supporting team by two times.
Following its digital strategy, Lebara decided to migrate its solutions to the cloud. To avoid the vendor lock-in and have more flexibility, our client decided to follow the multi-cloud strategy and chose two cloud providers - AWS and Azure. N-iX has been leading Lebara's cloud transformation and development of scalable, easy to maintain, and cost-efficient Cloud solutions.
While at the beginning of our cooperation, Lebara kept full control over the development, the company has been handing over more control of processes and project management to our team. Since 2017, this process has sped up, and eventually, our client handed over 100 % of R&D capabilities and part of project management to us.
Value delivered:
Comprehensive digital transformation and optimized operations;
Seamless omnichannel user experience;
Simplified business processes and improved management of commerce data flows;
The website with wide functionality to serve the needs of Lebara's customers in the UK, France, Germany, the Netherlands, Spain, and Denmark;
A multi-cloud strategy for better flexibility and avoiding a vendor lock-in; the opportunity to negotiate better terms with cloud vendors;
Optimized BI reports without delays thanks to the data lake development; all the client's reports are ready daily till 8 AM;
Saving infrastructure costs and improved scalability with cloud and microservices;
Faster time-to-market and prevented downtime thanks to the test automation framework;
Introducing innovations faster thanks to microservices architecture.
So, it is reasonable to establish a partnership with a vendor and understand whether this cooperation meets your requirements. If work runs smoothly, you can expand the cooperation and establish an offshore development center in partnership with your IT vendor.
When it comes to IT outsourcing, businesses usually consider two major locations: Eastern Europe and Asia. We will compare these destinations in terms of the talent pool, tech expertise, English profficiency, and more.
Here are the most popular locations where you can find an outsourcing vendor and set up an offshore development center.
Eastern Europe houses a combined talent pool of over 1M professional developers. That is the primary reason why global businesses, including Microsoft, Samsung Electronics, and NetCracker choose to establish their offshore development centers in the region.
Poland, Ukraine, Bulgaria, and Romania are the countries with the most significant number of professionals in Eastern Europe. So, let's view them in more detail.
Why establish a dedicated offshore development center in Poland?
Poland is home to the most significant number of software developers in Eastern Europe - over 490,000 professionals. However, around 20% of them are not available for IT outsourcing, as they are engaged in the BPO sector.
The country also boasts a well-educated workforce: the Times Higher Education World University ranking recognizes 20+ excellent Polish universities that graduate 12,000 ICT students annually. Polish professionals have a strong command of foreign languages. According to Bulldogjob, 100% of the surveyed speak English.
Keep reading: Software development in Poland: major IT hubs, developers, and more
Why establish a dedicated offshore development center in Ukraine?
Ukraine boasts a vast talent pool of 297+K professional developers. What's more, over 26,000 ICT graduates enter the market annually.
Ukraine is home to over 1,500 IT outsourcing companies, eleven of which are listed in the IAOP ranking. This ranking recognizes the best outsourcing providers worldwide. By contrast, Poland houses around 1,000+ outsourcing providers, five of which are ranked by IAOP.
Ukrainian professionals are highly skilled and educated. According to the TopCoder ranking 2022, they have made it to the world's 6th best developers. Software developers in Ukraine have a decent command of English: most of the respondents of the DOU survey estimate their level of proficiency as Intermediate and Upper-Intermediate.
Why establish an offshore development center in Romania?
With 191,000+ software developers residing in the country, Romania closes the top-three Eastern European countries with the most significant number of tech professionals.
What's more, the Romanian IT outsourcing market experiences constant talent inflow. Times Higher Education World University ranking includes 15+ Romanian computer science universities that graduate 8,200 engineers and computer science specialists each year. The EF English Proficiency Index lists Romania the 16th. That means that the country boasts high English proficiency.
Why establish an offshore software development center in Bulgaria?
Another prominent outsourcing destination, Bulgaria, is home to 100+K qualified IT experts. One fifth of them is software developers engaged in IT outsourcing projects. The country's specialists are recognized in the industry and take high positions in many international skill evaluation lists. For instance, Bulgaria scored 12th place on the global Skillvalue ranking.
As for STEM education, the Times Higher Education World University ranking lists 2 Bulgarian universities that qualify ICT specialists. Most of the local engineers have a good command of English—Bulgaria has made it to the top 25 of the EF English Proficiency ranking.
When we speak of Asia as an outsourcing destination, we mean countries of India and China primarily. Let's view these countries in more detail.
Why establish a dedicated offshore development center in China?
China's tech market is the fourth-largest market around the globe, after the USA, Japan, and Germany. The country is among the world leaders in IT outsourcing—it reached the 2nd position in the AT Kearney rating. With an extensive talent pool of 7M tech professionals, China is a great option when it comes to staffing. Professionals in China are well-educated, as the country houses 80 excellent computer science universities.
Why establish a dedicated offshore development center in India?
India is the location with the second most significant number of software engineers in the region. The country is home to 5.8 M developers who have experience in delivering engineering projects to clients from North America and Western Europe. The local tech specialists reached 10th place in the TopCoder ranking, which is the highest score in the region. The level of English in the country is rather moderate—Indian specialists are in the 48th position in the global EF English Proficiency ranking.
Those were the most popular locations for an offshore development center. Now, let's find out how to choose a reliable IT partner and what legal aspects to consider if you want to set up an offshore software development center.
Your business success depends on who you cooperate with. So, here are the steps that will help you choose a trustworthy IT outsourcing vendor:
List providers, you will consider, based on their service quality, years of experience, tech expertise, portfolio, security standards, etc.;
Research their websites, their LinkedIn accounts, and ranking platforms, such as Clutch, Manifest, Goodfirms to find the client reviews, references, success stories, and video testimonials of the chosen vendors;
Consider the vendor's size and their recruitment capabilities, as mid-size and large outsourcing companies are more likely to have the resources you require internally;
Partner with a company that has a powerful employer brand. This way, your outsourcing company will be able to recruit top experts for your offshore development center much faster;
Make sure your vendor is compliant with security standards, such as ISO, PCI, HIPAA, etc., and has an efficient information security policy.
7 critical aspects that the contract needs to cover to protect your business from potential risks:
Penalties in case of non-compliance to the contract terms by any of the parties;
Liability clauses that define responsibility for both parties;
Warranty clauses that guarantee a certain quality of the services your vendor provides;
Notice periods - time frames of the project. Vague notice periods can affect project delivery;
Data protection rules (deidentification, reidentification, anonymization of data);
Your ownership of the code, when the code is delivered and paid for;
Agreeing on the governing law if the contract is international.
Wrap-up
Establishing an offshore development center is no easy task that brings about many challenges. However, if you find a reliable outsourcing provider, you can benefit from this business decision. You can hire a large team of engineers, scale your project easily, and keep up with the latest innovations.
If you have any questions about establishing your dedicated software engineering center - contact our experts.
Why should you choose N-iX to implement an offshore development center model?
N-iX has been providing offshore development services for over 20 years. We have established long-term partnerships (5+ years) with such global companies as Lebara, Currencycloud, Fluke Corporation, and many others;
N-iX has helped over 120 companies, from small businesses to Fortune 100 leaders, build and extend their engineering teams (up to 100 people);
You can benefit from our expertise in such domains as Cloud, Big Data, Business Intelligence, Data Science, Artificial Intelligence & Machine Learning, and more;
Our cloud expertise includes cloud-native development, on-premise-to-cloud migration, cloud-to-cloud migration, as well as multi-cloud and hybrid cloud management;
N-iX professionals build solutions for clients in healthcare, manufacturing, automotive, retail, telecom, and other industries;
N-iX complies with the security standards and regulations, such as ISO 27001:2013, PCI DSS, ISO 9001:2015, GDPR, and HIPAA to ensure secure software development;
The company has offices in Ukraine, Poland, Sweden, Malta, and the USA, which allows you to tap into an extensive pool of tech specialists.
Have a question?
Speak to an expert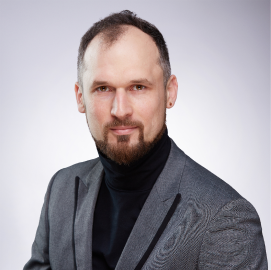 Taras Petriv
Associate Engagement Director
---