Global IT outsourcing market is thriving, and choosing the right software development destination is a complicated process. If you are considering Ukraine, this article will help you learn more about two primary hubs, provide you with a list of top IT companies in Kyiv and Lviv, as well as find out some of the differences between the two cities.
3 fundamental reasons to outsource to Ukraine
Here's why you should pay attention to Ukraine to find a potential IT outsourcing partner:
Ukrainian tech talent pool reached 184,700 developers and technical experts, who work for 250+ IT companies in Kyiv, Lviv, and other tech hubs all over the country.
Ukrainian developers are ranked among the Top 10 most skilled developers in the world.
Ukraine received the title "Outsourcing Destination of the Year" from Global Sourcing Association (GSA) in 2017. Moreover, Ukraine has a solid reputation as an IT outsourcing destination for many companies worldwide.
Therefore, if you choose to outsource software development to Ukraine, you are not only saving money but also getting access to an extensive tech talent pool.
Kyiv and Lviv as primary destinations for IT outsourcing to Ukraine
Kyiv and Lviv are considered the top locations for IT outsourcing in Ukraine and they are home to over half of all Ukrainian developers. Here are the top 5 reasons to choose either of these cities.
A pool of almost 100,000 experts
Overall, the tech talent pool reached 184,700 professionals in 2018 and over half of these specialists reside in Kyiv and Lviv. As of the beginning of 2019, these two cities are home to more than 97,000 developers and technical experts [2,3]. According to the same source, the majority of those developers work for either outsourcing (46%) or outstaffing (11%) companies. Simply put, you can gain access to roughly 55,300 experts while outsourcing IT services to Lviv and Kyiv.
Vibrant professional community with over 100 companies involved
Ukrainian tech community understands the need for an alliance as it allows sharing the knowledge and building stronger connections. Mainly, such cooperation exists in the form of professional clusters that organize meetups, tech conferences, informal gatherings, etc. For example, Lviv IT Cluster unites 82 companies, and there are 37 firms in Kyiv IT Cluster.
It is also worth mentioning that Lviv was included in the top 20 fastest-growing tech hubs in Europe, along with Zug, Bern, and Newcastle. It's growth increased by 57% from 2017 to 2018.
Kyiv & Lviv are 70% cheaper compared to NY
An average Ukrainian salary equals around $350 per month, while software developers' salaries can be 5 to 10 times higher. Dou.ua reports that software developers in Kyiv receive 5-10% higher salaries compared to their colleagues in Lviv. The only exception is that Java developer in Lviv earns 5 to 15% more than in Kyiv.
Having the same amount of money, one can afford different lifestyles in various cities. For example, a developer earning 1,000 in Chicago can barely survive, while in Ukraine such salary is 2.5 times higher than an average national one. It means that developers from Ukraine are more likely to be satisfied with the balance between earnings and expenses. For better understanding, let's take a look at Numbeo.com data that allows you to compare and interpret the expense rates in major cities all over the world. They used the cost of living in New York to create a baseline for comparison. For example, Zurich is approximately 20% more expensive compared to NY.
Kyiv and Lviv are 60 to 80% more affordable compared to NY. If we take a closer look at the primary expenses one faces in these cities, we can see that Lviv is usually cheaper compared to Kyiv.
The most significant difference appears in rent and dining indexes. Moreover, Lviv is considered to be the cheapest city among 45 major cities in Eastern Europe.
What does it mean for outsourcing?
Despite lower compensation rates (5-10%), compared to developers from Kyiv, experts from Lviv are more likely to be satisfied with their salaries, as general expenses are 12% lower with almost 30% difference in rent.
If you decide to visit the city and work with your team, Lviv would be a cheaper alternative in terms of living and dining.
Considering a general average salary in Ukraine and Ukrainian developers' salaries, you can understand why being a developer is considered popular, if not elitist in Ukraine. The competition for landing a job in top companies is tough, and only the most skilled developers get it. That is why you can reduce the cost of your development and be sure you are not compromising the quality.
182 IT companies have offices in either Kyiv, Lviv, or both
There are over 118 companies with over 50 employees that have offices in Kyiv, while Lviv hosts 64 companies. Some of the companies have offices in both cities as well as in other IT hubs in Ukraine. If we are talking about top-level spaces in Kyiv, the rent varies between $20 and $38 per square meter with $7-$9 in operational costs. So-called B-class offices are usually less expensive.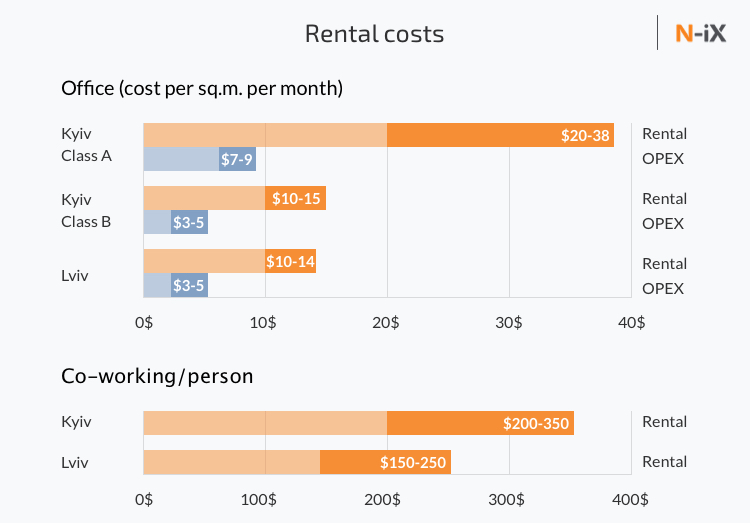 What does it mean for you?
In most cases, expenses for office rent are included in the price you have to pay for the services of your developers, so choosing the location with moderate prices will help you reduce the overall costs.
7 primary domains of Ukrainian IT companies (incl. Kyiv & Lviv)
Clutch.co has calculated that Ukrainian software development companies are working within several specific domains that include finance, enterprise solutions, e-commerce, education, health, and travel. On the graph below, you can see the representation of these domains.
There are several IT companies that work across multiple domains. Here is an example of the domain expertise of Ukrainian IT companies.
However, we have noticed that there are certain industries that local companies mostly work with in Kyiv and Lviv.
4 things to pay attention to when choosing the city
If you have chosen Ukraine as an outsourcing destination, have you thought about the city you would like your team to work in? There are two major hubs in central and western Ukraine that accommodate over 52% of all Ukrainian developers - Kyiv and Lviv. Usually, a company that is looking for a potential outsourcing partner should pay attention to:
The size of the tech talent pool and the local tech community;
Salary vs the cost of living ratio;
The overall number of companies and the level of competition;
Business domains and industries that companies serve in this region.
Despite their similarities, Kyiv and Lviv are different on so many levels. Kyiv, the capital, hosts more companies, has higher rent and cost of living index. Whereas Lviv has a more active tech community, lower rents and is the cheapest major city to live in Eastern Europe [1].
Moreover, both cities have a decent number of transborder flights, connecting them with multiple destinations all over Europe. It takes 2 hours to get from Kyiv to Berlin, 3 hours to fly to Rome, and 10 hours to get to New York. Lviv also welcomes a long list of flights from Austria, Poland, Germany, and a number of other locations. So in order to choose the city that fits your needs, pay attention to the domains that prevail in the region as well as the overall reputation of the company.
IT companies in Kyiv
When it comes to Ukraine, Kyiv IT companies represent multiple domains. There are several IT outsourcing companies in Kyiv that are diversified and may possess expertise in several sectors. We have researched GoodFirms and Clutch.co to create a list of the IT companies that have their headquarters in Kyiv and might be a good fit within a certain domain.
Kyiv IT companies have potential access to a bigger pool of developers, however, the number of trustworthy companies recommended by Clutch and GoodFirms is almost the same as in Lviv. Also, the competition for talent is higher in Kyiv.
IT companies in Lviv
Lviv IT companies seem to have an even wider representation of domains and technologies. Here are just a few IT companies that represent specific domains and have offices in Lviv.
In terms of outsourcing, Ukraine, and Lviv in particular, has a wide range of companies to choose from. So you need to find a company that has experience working in a specific domain, check their portfolio, and start a successful cooperation.
Wrap up
Overall, if you are looking for a reliable outsourcing partner, Ukraine is one of the greatest options for its cost, skills of developers, and location. Both cities are well-established tech hubs and have a great pool of developers. In order to find the right location, pay attention to all the factors.
References
Europe: Cost of Living Index 2019 by Numbeo.com
Software development in Ukraine, Poland, Belarus and Romania Report (2019)
State pf European TEch 2018
5 reasons to choose N-iX, while looking for IT companies in Kyiv and Lviv
N-iX has over 17 years of experience on the IT market and employs more than 900 software developers.
We have development centers in both Kyiv and Lviv and can build a strong team you need, regardless of the size or complexity of the project.
We offer a wide range of services and expertise, including staff augmentation, software product development, QA testing, and many others.
Among the key industries we serve are FinTech, Telecom, Finance & Banking, Healthcare, Hi-Tech, Hospitality, and many others.
Impeccable reputation supported by the industry recognition (Clutch, GoodFirms, OpenText and Microsoft partner, GSA, Inc. 5000, Software 500, IAOP, and many more).
Contact us right now if you have any questions on hiring developers in Kyiv or Lviv!

---