The global pandemic has brought a lot of volatility to the software development market. Some companies had to slow down their processes, while others have seen the growth potential. Now, that the market is almost back to the pre-COVID levels, the tech talent shortage is back on the table.
Java is one of the most popular programming languages. It powers large enterprise solutions, IoT, Big Data, and more. So it comes as no surprise that the demand for experienced Java specialists is soaring. Some companies are struggling to find them onshore, while others tap into an extensive pool of Java developers in Ukraine. How to benefit from Java development in Ukraine? And how to find the best technology partner to scale your team easily, quickly, and cost-efficiently? Find out in the guide.
According to different sources, the worldwide number of Java developers varies from 6.3M to 8M specialists. Despite having a large number of IT specialists, well-developed countries like the US or the UK are lacking tech experts. The US market has over 32,000 open jobs for Java engineers. European Union has more than 35,000 unfilled positions. The UK falls behind with a little over 5,000 open vacancies for Java developers.
What makes the situation even more complicated is the level of competition for the tech talent. Java is one of the most popular programming languages, used for enterprise software, web development, data, and other types of projects. Virtually any midsize or large company uses this technology in their projects. That is why many companies opt for outsourcing instead. But where do you find the best Java developers?
Eastern Europe is one of the top IT outsourcing destinations. The overall tech talent pool in the region exceeds 1M specialists, having experts with any technology or domain expertise. Countries in this region have excellent STEM and CS education, as well as moderate to strong knowledge of English.
Eastern Europe has a large pool of Java experts. There are nearly 260,000 Java specialists in the region. The top three countries with the highest number of Java developers are Poland, Ukraine, and Romania.
However, the lion's share of Polish IT professionals is working for global business services and business processes outsourcing, rather than IT service firms. Ukraine has the second-largest tech talent pool and the biggest share of experts working for IT outsourcing companies. The country was named the "Delivery Destination of the Year" in 2021 Global Sourcing Association (GSA), as well as received numerous industry recognitions.
Java is the second most popular programming language in the country. There are a little over 48,000 Java developers in Ukraine. According to the DOU research, the average age of Java engineers in the country is 29 years old, with an average of 4+ years of experience. The majority of Ukrainian tech experts live in the three largest hubs: Kyiv, Kharkiv, and Lviv.
As for the vendors, Clutch lists a little over 400 Ukrainian companies that list Java development among their services. The majority of them are small to midsize vendors. However, the country also has 35 large vendors, capable of delivering enterprise-level solutions.
Domain expertise of Java development companies in Ukraine is versatile. The top five industries are financial services, healthcare, information and business technology, and eCommerce. However, you can easily find the company with other domain-specific projects in their portfolios.
But how can you find the best vendor for your case? What should you pay attention to? What criteria are important while choosing the vendor for Java development?
Before you begin the selection process, make sure to clarify your business goals. Understanding exactly what needs to be done is the first and ultimate step. Moreover, based on what you would like to achieve, you may need to look for a different type of vendor.
Java is a versatile programming language that has many applications. It can be effectively used for enterprise applications, big data systems, or even mobile development.
In this section, we will discuss 7 steps that will help you choose a reliable tech partner and ensure a smooth start of cooperation.
1. Establish clear criteria for vendor selection
Before rushing into the research and selection process, you should clearly understand what aspects are critical for your case. Is cost reduction your top priority? Are you lacking technical expertise? Do you need to scale up your development? Here are three important things to pay attention to while choosing a tech partner for Java development in Ukraine:
Company size. Focus on large and mid-sized companies with established employer brands and a large internal base of experts. A small vendor (15-20 people) can hardly ever successfully deliver enterprise-level solutions. It is also important to choose a vendor that can staff teams quickly to scale up rapidly.
Relevant experience. Look for a vendor with similar projects in their portfolio, particularly focusing on the tech stack, the size of the client's entity, and the duration of the project.
Technical and domain expertise. While choosing a company, make sure you focus on those ones that have both technical and industry expertise that matches your needs. For successful outsourcing of Java projects, your technology partner should have experience working with a versatile tech stack:
2. Create a list of potential vendors
The most logical next step would be to google 'Java development in Ukraine' or 'best Java development companies'. It will help you find directories, listings, and other available resources for the initial lineup. There are dedicated websites, such as Clutch, GoodFirms, and others, that allow you to research the companies that provide IT services from all over the world. Such directories go to great lengths to check and prove the vendor's reliability to provide you with verified clients' testimonials and 360 feedback.
3. Check out the providers' portfolios
In order to understand whether the company has the expertise to meet your specific needs, take some time to look at their website. Check out the list of their clients, solutions developed, case studies, etc. This will help you learn more about their tech and domain expertise.
You should also check awards, certifications, and industry-related memberships. An established vendor typically has certifications from major tech partners, e.g. AWS Partnership. Also, if a company is a member of various chambers, associations, and business communities, it means it has an established position in the IT market and solid employer brand.
4. Contact the vendors
Send out RFIs or contact vendors directly. Pay attention to how they respond. Nothing can make up for lack of proper communication, regardless of how great the company may seem. If you see that the company shows little to no interest in your inquiry or doesn't seem to be engaged, it might be better to avoid a firm like that. Once you receive full information about the company, check whether they can help you with the services you need.
5. Choose engagement model
There is also a question of choosing the right engagement or cooperation model. There are three basic engagement models:
This model is perfect for small, well-specified projects, as it ensures that a defined scope of work will be delivered within a discussed timeframe and for a fixed amount of money. You, as a client, present the issue and your vision of the solution.
If your project cannot be estimated clearly or you may need part-time involvement of experts, then time and material model would work best. You are charged based on the amount of work delivered and the time reported by developers.
Dedicated development team
This model means that you have a team of developers. This engagement model allows you to be flexible, so you can scale when necessary and extend the project with new skills. You are billed according to a previously discussed cost per engineer in the team, which is definitely more cost-efficient in the long run. Any specialist is typically engaged full-time (160 hrs per month) with a long-term assignment (1+ year).
6. Negotiate the details of cooperation
Once you feel like you have found the company you like, make sure to discuss the legal base. It includes critical aspects like intellectual property ownership, liability, timeframes of collaboration, and other clauses that are vital for the draft of a contract. Of course, depending on the cooperation model, specific requests, or additional services needed, the terms might change. The final version of the contract is always different from the initial draft. However, it is important to understand whether cooperation is possible at all.
7. Knowledge transfer
Regardless of the chosen cooperation model or legal details, it is vital to have a robust knowledge transfer plan. No matter how well your project is documented, remember that the most valuable knowledge resides in the heads of your employees. Knowledge loss can cause many issues, create an unnecessary fuss, and result in extra work that could have been avoided.
Learn more: Effective knowledge transfer plan: moving IT outsourcing projects to a new vendor
Summary
It might be hard to find the best destination for Java development. Ukraine has a well-deserved reputation as an excellent tech location. It has a large number of Java experts, numerous vendors with diverse domain expertise, and versatile tech stacks. While choosing a tech partner, make sure to consider the company's portfolio, the type of projects they have worked on, what engagement models they offer, and more. Look for a vendor that meets your business needs and matches your technology demands the best.
Java development in Ukraine: success stories
Many world-known companies have already benefited from outsourcing Java development to Ukraine. Let's take a look at the three cases of successful partnerships with Ukrainian Java developers.
Fluke, the world leader in manufacturing, needed to develop several solutions for enterprise asset maintenance. The top demands were high standards of security, reliability, scalability, and extensibility. Our Java software developers have built highly portable and scalable enterprise solutions in IoT and mobility fields, deployable to all major operating systems on both clouds and customer premises. Since the beginning of partnership in 2013, the team has grown from 8 to 21 members. Apart from Java development, N-iX has offered our expertise in front-end development, manual and automation QA, Data Science, DevOps, solution architecture, and more.
We became a core client`s team and built several Java-based solutions for HotSchedules, the world's largest provider of end-to-end restaurant and hospitality management solutions. Our engineers have rebuilt the core platform to new architecture while ensuring the top performance of production and preserving the data. The system can handle high-load (2 mln unique users per day). Our partnership lasts for more than 5 years, and the team has grown from 6 to 33 people over the time. Our expertise delivered to this client ranges from custom software development to digital transformation, cloud services, and much more.
Java is also one of the primary technologies in our partnerships with Lebara, which started back in 2014. At the beginning of our cooperation, Lebara kept full control over the development. As the time passed, they have been handing over more control of processes and management to our team. Eventually our client delegated 100 % of R&D capabilities to us. Lebara's development center at N-iX consists of over 100 experts, working in various directions, including software development, Big Data, mobile, and more.
Why choose N-iX for Java development in Ukraine?
N-iX Java developers have built various solutions, such as content management platforms, enterprise systems, platform-agnostic web applications, cloud-enabled software, blockchain-powered systems, and more. Our teams also provide maintenance and upgrading of the existing Java-based solutions, along with the cross-technology migration. Our solutions meet high performance, scalability, availability, and configurability demands.
With over 18 years of experience in delivering scalable and secure Java solutions, N-iX is one of the top Java development companies.
We have delivered top-notch Java development services to over a dozen of clients, including Lebara, Fluke, Masmovil, Vable, Origin Enterprises, and many others.
The company has strong expertise in related fields, including cloud solutions, enterprise mobility, data science, big data analytics, BI, AI, SAP and OpenText consulting, and much more.
N-iX partners with technology leaders across a variety of industries, including fintech, telecom, manufacturing, logistics and supply chain, healthcare, retail, etc., to help them effectively implement digital transformations.
Have a question?
Speak to an expert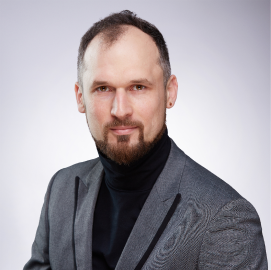 Taras Petriv
Associate Engagement Director
---