If you are looking to reduce development costs and need to hire developers promptly, IT offshore outsourcing is a viable option. However, there are some questions and challenges you need to address.
What are the pros and cons of IT offshore outsourcing? Where to find and how to choose a reliable partner that offers offshore IT outsourcing services?
Find the answers to these and other questions in the guide.
IT offshore outsourcing pros and cons
The first and foremost reason why businesses opt for IT offshore outsourcing is cost-effectiveness. However, it is just one of the benefits. Here are some more reasons why you should consider IT offshore outsourcing.
IT offshore outsourcing: pros
Skilled workforce. Trusted vendors that offer offshore IT outsourcing services are interested in the professional growth of their experts. What's more, some destinations (e.g., Ukraine) invest heavily in STEM and computer science development. Thus, you get skilled talent for reasonable pricing;
Shorter recruitment period. Large vendors usually have an extensive internal talent pool as well as a large internal base of candidates. Thus, they can all you find the right experts for your team promptly;
Easier onboarding process. Trusted providers of offshore IT outsourcing services have streamlined their onboarding processes, thus the procedure gets significantly easier and faster;
Flexible scaling. If you choose to partner with an IT offshore outsourcing services, you can scale your team up or down whenever you need;
Minimized operational expenditures. IT offshore outsourcing allows you to save costs on recruitment as well as cut administrative expenses (e.g., computers, rent, etc.).
IT offshore outsourcing: cons
More communication required. IT offshore outsourcing calls for well-streamlined communication processes to avoid misunderstanding and keep all team members on the same page;
Time zone differences. The time difference may become a challenge. But if you find overlaps in the schedules with your team and plan your work relying on that, you can turn it into a benefit. For example, Gogo, a leading provider of in-flight connectivity, is based in Chicago, USA, and there is an 8-hour time difference with their offshore development team in Ukraine. Despite this fact, N-iX software engineers are engaged in big data, BI operations, and more. What's more, the time difference allows for the support of the solution 24/7.
Cultural differences. If you opt for IT offshore outsourcing, you are likely to face some differences that concern work ethics, approach to teamwork, prioritization, etc. This challenge, however, concerns mostly outsourcing to Asia. Whereas, Eastern Europe is quite similar to the US and Western Europe in terms of work ethics;
Political climate and legislation. In some outsourcing destinations, businesses depend heavily on the political situation. If the country is not willing to support the industry, it may cause difficulties for your vendor.
However, choosing a trusted vendor is a way to overcome these disadvantages and challenges. Wondering how? Let's find out.
How to choose the right partner for IT offshore outsourcing?
You should keep in mind some general tips while looking for a vendor that offers offshore IT outsourcing services.
For instance, it is better to cooperate with mid-sized and large vendors, as they are more likely to have the talent you need internally. What's more, such companies usually boast a strong recruitment team that will fill in the required vacancy as promptly as possible.
Also, you should assess the tech portfolio of your partner-to-be. Look for a vendor that has successfully delivered projects similar to yours, preferably in your industry.
Now let's focus on the aspects that are even more critical when it comes to choosing your provider of offshore IT outsourcing services.
1. Choose the right location
Eastern Europe
Eastern Europe is an extensive IT offshore outsourcing market. Countries like Ukraine, Poland, Romania, Belarus, Slovakia, Czech Republic, and others are home to over a million professional software developers.
Ukraine, Poland, and Romania are the countries that house over 60% of talent in the region. What's more, Ukraine boats the most significant number of IT vendors (860+) in the region, according to Clutch. Poland, with 750+ IT providers, and Romania, with 300+ IT offshore outsourcing companies, come next.
The STEM-based and computer science education is excellent in the region too. According to the Times Higher Education World University ranking, the region houses 65 top universities.
Eastern Europe is also known for its attractive price-to-quality ratio and cost-effective software development services thanks to the lower cost of living rate.
When it comes to multi-cultural communication, Eastern Europe is also a reasonable choice. The region shares many aspects of Western culture and values. There are slight differences in mentality and some traditions, but nevertheless, developers from Eastern European countries are culturally compatible with European and American engineering teams.
Asia
The tech talent pool in Asia has amounted to almost 4M in 2018. India (2.75M), China (590K), and the Philippines (190K) are the destinations with the most significant number of software engineers, thus are the most popular outsourcing destinations in Asia.
However, the COVID-19 crisis has affected the Asian outsourcing market significantly. Indian IT outsourcing market has been almost paralyzed as an outsourcing destination due to the switch to remote: up to 50% of work is not being done on some projects.
Now, let's continue with other aspects to consider if you opt for IT offshore outsourcing.
2. Flexibility in choosing the cooperation/pricing model
Flexible providers of offshore IT outsourcing services offer different pricing models and help you choose the one that fits you the most.
Typically, you can go for one of the three main cooperation models: dedicated development team, fixed price, and T&M. Each of them suits different business requirements.
A dedicated development team is a model that the majority of businesses choose due to its cost-effectiveness. Typically, this model is 20% less expensive than the others. You hire a team of developers, fully engaged in your project, which gives you the benefit of knowledge preservation on the project. Even if there are some changes in team composition, your developers ensure the knowledge transfer to the new team members.
The fixed-price model is the best fit for small/medium projects with precise requirements. This model works well with short-term projects and offers the least flexibility.
T&M of Time and Material model suits the businesses that need certain expertise temporarily. Let's say you need a DevOps engineer. It makes no sense to employ him full-time if his expertise is just required occasionally. In such cases, you can choose the T&M model and only pay for the work done.
3. Established security policy
Cybersecurity threats that we face the most frequently are infrastructure vulnerabilities, phishing attacks, data losses, and high loads on IT systems. To mitigate them, you need to find a reliable IT offshore outsourcing partner with an established security policy.
Make sure that your partner-to-be is compliant with international security standards, including ISO 27001:2013, PCI DSS, ISO 9001:2015, as well as HIPAA law. These compliances guarantee that your confidential information will be safe.
Also, your partner should have a strict password security policy.
4. Streamlined Agile processes
Agile software development brings a number of benefits that are critical when it comes to remote communication. They are, for example, accelerated product delivery, enhanced ability to manage changing priorities, improved quality, reduced costs, and better cost and time predictability.
Check out this article to learn more about agile software development.
5. Powerful employer brand
A vendor with a robust employer brand can promptly and effectively find professionals for the project. So, before partnering with a provider of offshore IT outsourcing services, make sure it provides engineers with comfortable working conditions, professional growth, training opportunities, fair compensation, etc.
6. DevOps expertise
DevOps best practices are an effective way to optimize and cut IT expenditures, so pay attention to this expertise of your potential provider of offshore IT outsourcing services.
Ensure your potential partner can undertake the infrastructure audit and plan to understand the needs, potential risks, and opportunities and develop the most suitable road map.
What's more, a vendor with DevOps expertise will help you with infrastructure usage optimization as well as resource cost optimization.
Now let's view some examples of businesses that benefit from IT offshore outsourcing.
IT offshore outsourcing: Success stories
1. Lebara
Lebara is a European mobile virtual network operator (MVNO) with operations in eight countries. In 2014, they chose N-iX as the partner for the digital transformation program. Our cooperation started with a small team and has expanded to an R&D center of 100+ experts working for Lebara.
N-iX helped Lebara develop a website with broad functionality to serve the needs of Lebara's customers in the UK, France, Germany, the Netherlands, Spain, and Denmark. Also, our experts helped Lebara with a multi-cloud strategy for better flexibility and avoiding vendor lock-in.
As a result of the partnership, Lebara managed to save infrastructure costs, achieve faster time-to-market, prevent downtime thanks to the test automation framework, and introduce innovations faster thanks to the microservices architecture.
2. Gogo
Gogo is a company with over 20 years of experience providing in-flight broadband internet. They opted for outsourcing back in 2017 to improve the in-flight internet quality and predict equipment failures that caused downtime and led to wasted cost. After a challenging selection process, they chose N-iX as their IT offshore outsourcing partner.
N-iX has helped Gogo migrate to the cloud and build a cloud-based unified data platform. Also, we have ensured effective antenna health monitoring and developed models for predicting satellite antenna failures.
N-iX team has helped Gogo improve the quality of the in-flight Internet, find the reasons behind the ill-performance of antennas, predict equipment failures, and reduce the number of no-fault-found rates.
3. Currencycloud
Currencycloud is a global B2B platform that allows companies to manage their funds flow through the multi-currency wallet functionality and send funds across borders in different currencies.
N-iX cooperation with Currencycloud started in 2013 and is ongoing. The partnership has allowed Currencycloud to achieve a faster development process and time-to-market thanks to the new automation testing framework. Due to the microservices architecture developed by our experts, the company improved scalability and reached faster development cycles. What's more, N-iX developers worked on payment optimization for different regions and the automation of the compliance check system.
Why choose N-iX as your IT offshore outsourcing partner?
The company has over 18 years of experience providing IT offshore outsourcing services and has built long-term partnerships with such companies as Lebara, Currencycloud, and many others;
N-iX has offices in Ukraine and Poland which allows you to tap into a vast talent pool of over 500,000 professional developers;
We boast a robust technical portfolio that features successful projects in big data, business intelligence, cloud, Internet of Things, and other tech domains;
The vendor has a team of 30 recruiters that have collected an extensive base of candidates that we've been expanding since 2002 and which now amounts to over 95,000 professionals;
Our experts deliver solutions for companies in manufacturing, healthcare, automotive, retail, telecom, and others.
Have a question?
Speak to an expert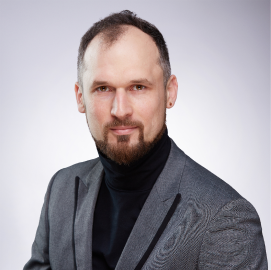 Taras Petriv
Associate Engagement Director
---