Business Intelligence comprises processes, tools, and technologies to transform raw data taken from various data sources into valid and actionable insights to take optimized strategic and operational business decisions. In broader terms, Business Intelligence technologies include data integration, data quality, data warehousing, master data management, content analytics, and data visualization. The key competitive advantage BI development gives businesses is leveraging the insights to outmaneuver the competition and establish a proactive approach to meeting customer demands.
While there is a myriad of tools, including open-source ones, the market faces an acute shortage of Big Data and BI development experts. Thus, Business Intelligence outsourcing to Europe is a sound decision since that is a region with many available specialists with pertinent education, skills, experience, and ample expertise in Business Intelligence technologies. According to the State of European Tech, the region has a combined talent pool of more than 1M tech experts.
Which country to choose for Business Intelligence outsourcing?
BI outsourcing to Poland
Poland has a talent pool of around 3,500 BI developers, according to Linkedin. Leading communities organize local and international BI and Big Data events such as Big Data Technology Summit, Big Data Tech Warsaw, Devoxx Poland, Big Data Technology Summit, etc. On top of that, various workshops take place in Poland, including IDC Business Intelligence Executive Workshop.
What's more, such global consulting companies as Atos Consulting and the international market intelligence company IDC have their offices in Poland. Some other top BI outsourcing companies in Poland worth mentioning are N-iX, QBurst, Ciklum, Software Mind, and IBA Group.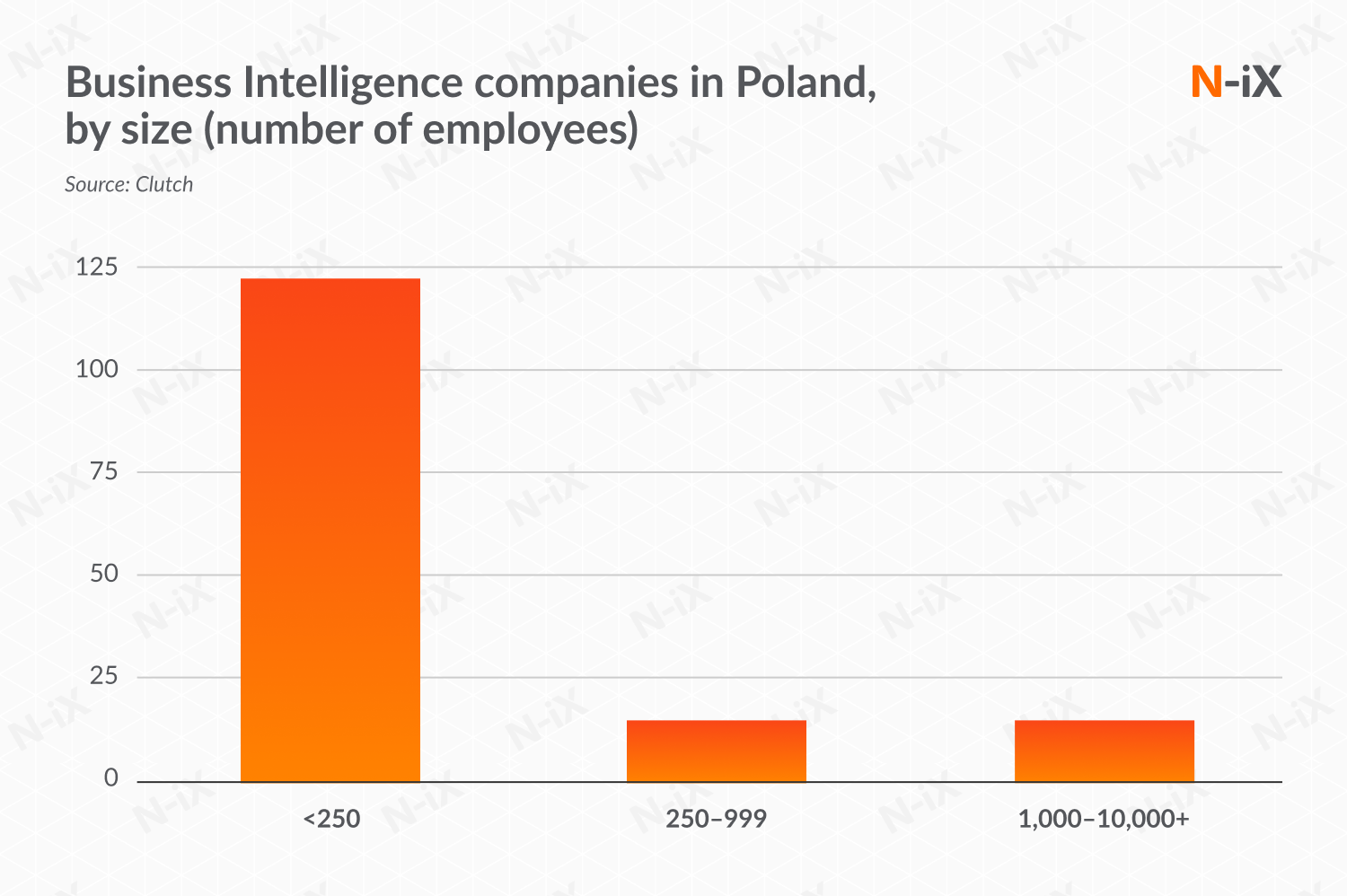 Business Intelligence outsourcing to Ukraine
The country has a strong tech education heritage and many new STEM-based education programs. For instance, Ukrainian Catholic University provides a Master's program in Data Science. The curriculum covers applied statistics, probabilistic analysis, Data Science, data visualization, data engineering for Data Science, Machine Learning, etc.
Many global companies have already benefited from Business Intelligence outsourcing to Ukraine. The country has around 300,000 IT professionals who provide first-rate software development services, including BI development. 74 IT companies in Ukraine cover data consulting and Business Intelligence. What's more, according to Linkedin, around 2,000 BI developers work in the IT sector in Ukraine.
Read more: How to partner with top BI developers: the ultimate guide
Business Intelligence outsourcing to Romania
Romania is also known for its vast talent pool of software engineers engaged in outsourcing Business Intelligence services. According to Linkedin, around 3,000 BI application development experts are currently engaged in the IT market. Local Business Intelligence expertise is in demand among top global players—well-known organizations such as Microsoft, ING, ISDC, and Oracle delegate BI projects to developers from Romania.
Romanian BI application development specialists network and share knowledge at different meetups. For example, Bucharest BI & SQL User Group arranges frequent meetups specialized in Big Data, BI, SQL Server, OLAP, SSIS, and SSRS. Such organizations as the Romanian Foundation for Business Intelligence foster research in the field and the development of the local BI community. Romania is home to around 25 vendors that provide high-quality BI development services. Top BI outsourcing companies in Romania are Coherent Solutions, Zenitech, Qubiz, Affirma Consulting, and many others.
Keep reading: How to choose the best outsourcing destination: Ukraine vs. Romania?
Business Intelligence outsourcing to Hungary
Hungarian IT specialists are also quickly adopting new trends, and BI application development is no exception. According to Linkedin, almost 1,600 BI developers are engaged in the software development sector in the country.
The Hungarian BI community arranges international Business Intelligence and analytics events such as Budapest BI Forum and BI MettOFF. Also, Hungarian BI outsourcing specialists meet up and network at such events as Budapest BI Meetup, Budapest Big Data Meetup (including BI Edition), Budapest Data Science Meetup, etc.
European companies have sufficient engineering resources to staff your project efficiently. Poland, Romania, and Ukraine, in particular, have a vast talent pool of BI outsourcing experts with solid IT background and long-lasting experience in providing BI services. Therefore, many global companies have benefited from outsourcing Business intelligence development and Business Intelligence consulting to Europe.
Compare top destinations for software development: Ukraine vs Hungary
How to choose a vendor that can help you partner with qualified BI outsourcing specialists?
A seasoned Business Intelligence developer needs to possess the following skills: solid knowledge of warehouse modeling, expertise in SQL, Python, Java, etc. Look for a company with expertise in a wide range of BI tools and technologies (for data warehousing: MS SQL, Redshift, etc.; for data stream processing: Apache Flink, Beam, and Spark; for reporting: Tableau, Power BI, Sisense, Looker, QuickSight, QlikView, QlikSense, Cognos, MicroStrategy, Pentaho, Excel, etc.).
If a project entails Big Data storage, a BI outsourcing vendor should be able to offer expertise and experience in integrating Big Data with Business intelligence (good command of tools such as Hadoop, Spark, AWS Kinesis, Hive, Pig, and Kafka).
Your engineering company should have experience in implementing Data Science if predictive analytics is required.
A Business Intelligence outsourcing company must have available data analysts who can render BI reports into insights to enable better strategic and operational decision-making.
Your potential BI team members should know how to work with both on-premise and cloud solutions (Microsoft Azure, AWS, and Google Cloud Platform) for Business Intelligence.
Another expertise to look for is proficiency with the Microsoft BI Stack: MS SQL, SSIS, SSRS, SSAS, Tabular models, Power BI, and Master Data Management service.
The BI outsourcing vendor should be capable of handling projects of various sizes (from 1 to 40 people).
When choosing a vendor for a BI development project, look for IT firms with domain knowledge in your or similar industry to ensure a better understanding of business logic and more effective data analysis.
Check if your Business Intelligence outsourcing company adheres to international data security standards such as ISO 27001:2013, PCI DSS, ISO 9001:2015, and GDPR. Some domains also demand adherence to specific industry regulations: for instance, HIPAA is crucial compliance for healthcare.
Search for certified developers with Microsoft and other BI vendors' accreditations.
A BI outsourcing company should employ a custom approach and be capable of meeting various customer demands. For instance, for one of our clients, Gogo, a leader in in-flight connectivity and entertainment, the N-iX team provides a wide range of data-driven services, including Business Intelligence outsourcing. They include Big Data services (the company has to store and process a vast amount of data about the speed and quality of the solutions it offers to many airline companies), Data Science (predictive analytics), and BI development and reporting (collecting and aggregating data from various sources and presenting it in an intelligible way).
Dive deeper into the topic: Business intelligence development: why, what, how?
Stages of BI application development at N-iX
Figuring out a customer's business needs. The BI outsourcing company can work with the available customer's requirements as well as conduct a Product Discovery analyzing the client's needs and formulate the requirements for a customer;
Analyzing data sources and creating warehouse design. A Business Intelligence developer builds the solution (both on-premises BI and cloud solutions such as Microsoft and AWS);
Validating results after deployment of the solution;
Optimizing the performance of BI solutions;
Providing quality assurance of BI software at various stages of development;
Supporting and maintaining the solution.
N-iX Business Intelligence developers provide business intelligence consulting, implement comprehensive data warehousing and reporting solutions. We also integrate and customize the existing BI software to provide our clients with the most suitable solutions to their business problems. Our BI experts have extensive expertise in data extraction, data aggregation, data grouping, data modeling, and data visualization and use the latest BI tools to produce compelling reports and reveal actionable insights.
Case study: Bringing cost-effectiveness and automation to a global tech enterprise
The list of common requests to Business Intelligence outsourcing companies spans a wide variety of tech issues, including data inconsistency, storing information in multiple data sources, as well as the need to generate data sets to create reports manually. Let's take a closer look at how N-iX specialists have solved the latter challenge during their partnership with the top US provider of managed cloud services. The enterprise's main focus is delivering personalized cloud hosting solutions.
The challenge
The client wanted to optimize the process of monthly report generation and cut the extra costs spent on IT resources. The vendor's data was stored on-premise, resulting in limited scalability and significant expenses. In addition, the company was using a third-party tool to create equipment performance reports for their clients. Together with a lack of a consolidated approach to data management, this caused inefficiencies with data accessibility, governance, storage, and organization. So, the client's key requests were to implement a unified data analysis system and automate the reporting process.
The solution
The N-iX experts have teamed up with the client's engineers to migrate the on-premise infrastructure to a custom-built warehouse hosted on Google Cloud Platform. Moreover, our data engineers have detected anomalous locations in the data and eliminated the malfunctions, which assured the high data quality.
In addition, our BI development team has replaced the third-party tool used for data aggregation and manually-based reporting. N-iX engineers implemented a tailored solution that utilized GCP for data transfer. Another important task was to optimize the creation of reports—so we consolidated information to BigQuerry as a single location. After our engineers achieved data consistency, they could promptly automate the report generation.
The value
As a result of the partnership, our client has effectively solved their initial business requests. By developing the new unified data warehouse hosted on GCP, the enterprise has considerably reduced its infrastructure expenses. What's more, BI outsourcing specialists from N-iX have implemented a unified approach to data handling that enhanced data collection and management. Another valuable cooperation outcome is cost optimization related to automation of the report generating process.
Wrap-up
As one of the leading IT outsourcing destinations, Europe has an impressive talent pool of qualified and certified specialists with expertise in a wide range of Business Intelligence tools and technologies as well as experience in Business Intelligence consulting. Top BI outsourcing companies here are flexible and can meet the demands of BI outsourcing projects which vary in size, domain, data sensitivity, required technology stack, and the number of engaged Business Intelligence developers. The companies can provide BI services or integrate Big Data with Business Intelligence tools. In addition, based on the insights, Data analysts can implement operational and overall business strategy analysis. Therefore, Business Intelligence outsourcing to European countries may bring tangible benefits to your business.
Why should you choose N-iX to build your robust Business Intelligence solutions?
N-iX is a global software engineering company with 20+ years of market experience in end-to-end software development and tech consulting;
The company's expertise covers enterprise data management and the development of custom data analytics solutions for telecommunications, retail, media, and other industries;
Our service list spans enterprise BI development, the implementation of custom ERP solutions and data profiling, data warehouse development and ETL development, SSAS consulting, and more;
N-iX specialists will guide you through all the stages of Business Intelligence development: from business analysis and solution development to lifecycle and support management;
The company's BI portfolio spans long-term cooperations with global market leaders such as Lebara, Ringier, and Gogo;
N-iX adheres to international regulations and compliances, such as ISO 27001:2013, PCI DSS, ISO 9001:2015, and GDPR;
N-iX has been repeatedly recognized by CRN among the leading solution providers in North America in their ratings, including Solution Provider 500 and CRN Fast Growth 150.
Have a question?
Speak to an expert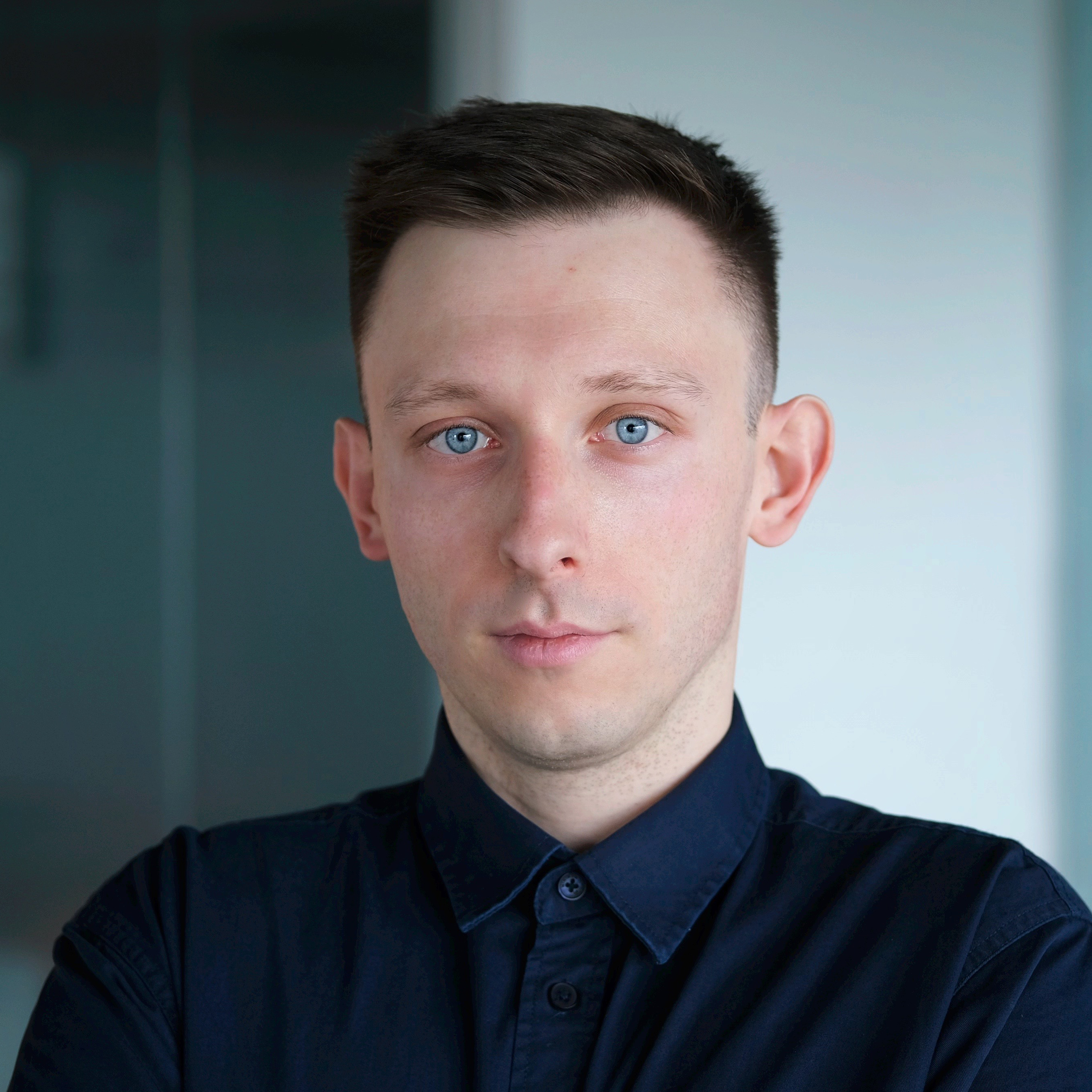 Rostyslav Fedynyshyn
Head of Data and Analytics Practice
---