2020 was a challenging year for businesses worldwide. Disrupted supply chains, changes in ordering volumes, transportation issues have made it so much harder for companies to operate. But imagine you could have an automated inventory system. The system that will allow you to easily manage your stock, predict the demand, plan for force majeure situations, and even more. The one that will allow your business to operate smoothly. In this article, we are going to talk about automation in inventory management and wonders it can work for your business, based on best industry practices and real-life success stories. Let's explore:
Experts from Gartner claim that the pandemic's global financial impact on the economy will vary between $2T and $4.5T. Despite the initial shock and cutbacks back in March and April, many companies are actually keeping up or even planning to invest more in technologies that power automation as well.
The warehouse and inventory management market was growing steadily before the pandemic. As of the end of 2019, this field was expected to double by 2025. With the worldwide pandemic and an ever-increasing need to reduce human involvement in all the processes, the numbers will grow even more.
The software market that powers inventory management automation was expected to reach $5B by 2026.
While some companies invest heavily in automation, many others lag behind and lose their competitive advantage. Let's take a look at some of the benefits that automation in inventory management brings to leading businesses today.
1. Save time and money
Manual labor is costly, especially when it comes to effective warehousing and inventory. So companies often automate inventory management to save money. A typical U.S. warehouse spends nearly 65% of the budget on labor, and this figure is growing by 3% each year. According to ABI Research, by adopting radio-frequency identification (RFID) technology alone, businesses can save between $6,000 and $72,000, depending on their inventory size.
These are the annual costs that almost any company can cut down by reducing inventory-related labor. Also, an automated inventory system helps your company by saving time that otherwise would be spent on manual maintenance of inventory.
3. Increase scalability
Some businesses have experienced a significant change in the amount of inventory they needed to handle during the pandemic. The second reason for inventory management automation is scalability, which allows companies to adapt to market changes quickly and change their stocks. It is especially true for seasonal changes and can help businesses that highly depend on events like Black Friday.
4. Reduce human involvement
The worldwide pandemic has changed the traditional working conditions. WHO significantly upgraded safety demands for working environments. If you invest in an automated inventory management system, you will be able involve less personnel, and maintain recommended social distancing requirements. And with fewer workers involved, you reduce chances of human error.
Practical benefits of automation in inventory management
Apart from large-scale reasons that make companies invest in automation of their inventory management, there are several specific perks that this decision brings to the table.
Real-time access to data. Knowing the location of every item, understanding how well or poorly a specific warehouse is stocked, and the ability to generate any report at a given time - these are the things that provide a competitive advantage when it comes to inventory management.
Preventing overstock and outages. Apart from an effective use of storage space, knowing what and when to restock helps companies maintain the right balance in terms of production and delivery.
Integration with existing software. Most enterprises have ERP and CRM systems in place, and an automated inventory management system can be easily integrated with a current ecosystem.
As you can see, an automated inventory control is a tool that comes with many benefits. No wonder that companies around the globe are heavily investing in inventory management software development. So what technological advancements are powering inventory management automation?
Wider adoption of data analytics
In 2017, the Economist published a report titled "The world's most valuable resource is no longer oil, but data" [4]. Since then, the buzz around data has been growing exponentially. Businesses gather more and more data about their processes, clients, turnover, or even market changes. However, only a handful of firms are using the full potential of data analytics. On the chart below, you can see the new data analysis uses by companies of various sizes.
Data analytics helps companies in several ways, based on the type of information gathered. Automation in inventory management relies on the four major types of data analytics:
Descriptive: what is happening with inventory, how effective the processes are, etc.
Diagnostic: why certain processes are failing or are less effective.
Predictive: when will the next peak in sales appear, and when the stocks need to be altered.
Prescriptive: how can each step of the process be optimized to reach the full potential.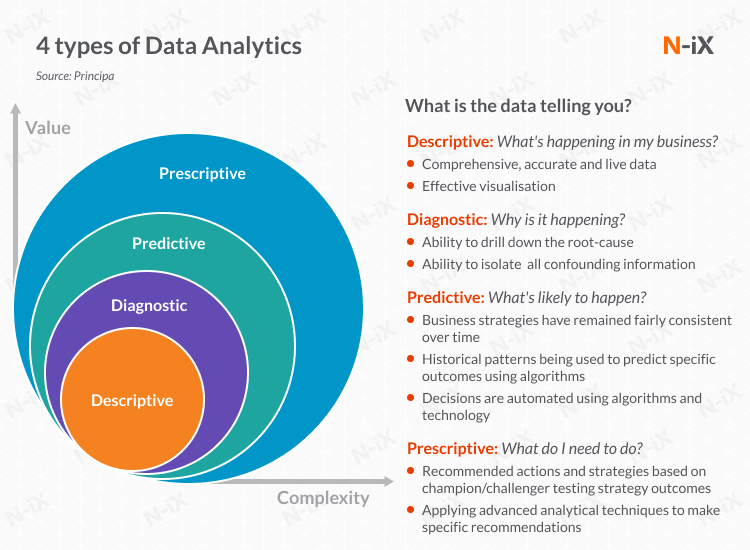 Adopting data analytics will help the companies improve their processes, liquidate the excess stock, manage obsolescence, classify inventory more effectively, forecast the demand, and react accordingly.
Read more: Big Data in manufacturing: How to make the most of it?
Deeper integration of machine learning and AI into business processes
The tech trend is often adopted by larger companies. One of McKinsey's studies revealed that nearly 20% of enterprises have some form of ML embedded in their processes. Moreover, many companies are experimenting with conversational interfaces and NLP.
And while SMEs are still catching up with industry leaders, machine learning algorithms are becoming more and more popular in the automation of inventory management systems. They help companies reduce manual work, optimize costs, enable intelligent decision making, and streamline inventory management.
Keep reading: Machine learning in supply chain: 8 use cases that will impress you
Computer vision
Many companies are successfully adopting this technology, and here's how it can help you optimize inventory management:
Improve stock taking. For example, an automated CV system can track current inventory levels in the warehouse. If the stock level is too low, it sends an alert to the inventory management replenishment department. Combined with algorithms and technology, an automated purchasing order can be created.
Reduce human errors. CV systems can cut down the human counting errors via an accurate bar-code scanning.
Detect damaged items. CV allows businesses to allocate defective inventory items with greater precision.
Computer vision is a trend that is here to stay, as it opens numerous possibilities and business opportunities.
Related: Computer Vision and Industry 4.0: How to make the most of it
Boost in the adoption of automated machinery
Another crucial technology that is driving warehouse management automation is the use of Automated Guided Vehicles (AGVs) and Automated Mobile Robots (AMRs). Traditionally, AGVs have been used in large warehouses to collect items from pallets and decks. AMRs are a more advanced form of AGVs. They don't need a fixed or pre-programmed route to navigate the warehouse. Using sensors and cameras, these robots can maneuver on their own once the warehouse map is fed into their system.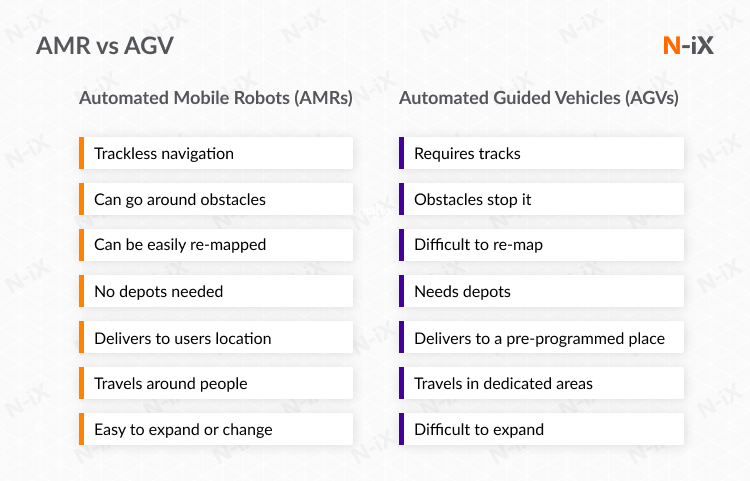 Experts say that more than 50,000 warehouses will install close to 4M robots by 2025 [5]. This technology will significantly improve their inventory management, as machines will take care of items' placement and delivery.
Introduction of 5G
Another technological advancement of 2020 is the fifth generation of wireless technology, which is expected to provide faster upload and download speed. It will also reduce the communication time between wireless devices. How does this help warehouse management automation?
With more sensors and devices relying on wireless technology, the speed and steady coverage are crucial. 5G will allow even remote warehouses to be automated to the fullest extent. You can introduce an enterprise mobility solution, invest in robotics automation, gather and process data in close-to-real-time, and more. Thus, 5G will boost the adoption of all the technologies mentioned above.
All these technological trends will definitely change the traditional approach to automation of an inventory management system. However, it is also important to find a reliable service provider that will help you address the existing issues, find the right solution for your case, and successfully implement it.
N-iX has a strong portfolio of projects for manufacturing, logistics and supply chain, and other industries. We have solid expertise in the most relevant tech stack for implementing Big Data engineering, BI, Data Science, AI/Machine Learning solutions. And here are our featured case studies in inventory management automation.
Scalable big data analytics platform as a part of inventory management automation
Our client is a Fortune 500 industrial supply company. It offers over 1.6 million quality in-stock products in such categories as safety, material handling, and metalworking. Being a large-scale industrial supply company, our client needed to efficiently manage large amounts of data, including the data on inventory-related costs. To help our clients deal with their business challenges, our team has integrated more than 100 different data sources into a unified data platform, a cloud-based solution. As a result, our client has improved the efficiency of data management and unlocked predictive analytics capabilities of the platform.
Computer vision and NLP for improved inventory management
Our client (under NDA) is a German-based, Fortune 100 engineering and technology company. To improve the logistics between 400+ warehouses, the client introduced a platform that turned out to be ineffective and unscalable. So, they have chosen N-iX as a partner to upgrade and extend their system. This project consists of three stages:
Migration to a microservices architecture, which allowed our client to add new AI-related services: anomaly detection, delivery prediction, route recommendations, object detection in logistics, OCR (optical character recognition) of labels on boxes, Natural Language Processing for document verification, data mining, and sensor data processing.
Redevelopment of a computer vision solution. Upon careful examination of the existing algorithms, we've recommended the client to change the architecture and introduce Continuous Delivery for Machine Learning. It allowed us to implement repeatable cycles of training, testing, deploying, monitoring, and operating of the ML models. That is especially important given the global scale at which our client is operating.
We have also designed the architecture of the multiplatform Computer Vision mobile app and are responsible for its end-to-end development. The app covers object detection, package damage detection, OCR, and NLP for document processing.
Why choose N-iX for inventory management software development ?
N-iX complies with international regulations and security norms, including ISO 27001:2013, PCI DSS, ISO 9001:2015, GDPR, and HIPAA, so your sensitive data will always be safe.
The company has been listed among the top software development providers by Clutch, in the Global Outsourcing 100 by IAOP for 6 consecutive years, recognized by GSA UK Awards, named CRN's 2022 Solution Provider 500 leader, included in top software development companies by GoodFirms.co, and others.
N-iX has been named No. 72 on the 2020 CRN Fast Growth 150 List for the substantial growth and performance over the previous two years.
We have 20+ years of experience in the IT market and build long-lasting, strategic partnerships with our clients;
References
Automated inventory management is becoming a 'key battleground' by Supply Chain Dive
All Enterprises Need (Computer) Vision, Forrester Research, Inc., June 14, 2019.
Emerging Technology Spotlight: Computer Vision , Forrester Research, Inc., December 10, 2018
Regulating the internet giants - The world's most valuable resource is no longer oil, but data | Leaders
---