The adoption of cloud in the healthcare industry started a long time ago, but it grew at a relatively slow pace facing many constraints. In the last few years, amid technology innovation, increased customer expectations, and the global pandemic, it has gained new momentum. So, it's no longer an option for healthcare organizations (HCO's) to move to the cloud, it's a must, which a new reality calls for.
If you are considering migrating to the cloud, but have some doubts, we are ready to dispel them in this article. Here you are going to discover the key advantages and disadvantages of cloud computing in healthcare. You will learn about healthcare and cloud computing and how to make cloud work for your organization.
Healthcare and cloud computing in a nutshell
The global healthcare cloud computing market will reach $25.54B during 2020-2024. And the coronavirus is greatly contributing to this growth. The findings of the Enterprise Cloud Index Report by Nutanix claim that 46% of respondents have increased their hybrid investments as a direct result of the pandemic. 47% say they've upped their investment in public cloud services, and 37% have invested more in private cloud despite all the advantages and disadvantages of cloud computing in healthcare. More than a third (34%) state they've adopted hybrid cloud tools or solutions as a direct result of COVID-19.
Based on the deployment type, hybrid cloud in healthcare is poised for rapid growth. According to the survey by Nutanix, the exclusive use of hybrid cloud among HCO's is expected to grow to 49% in three to five years as compared to 12% now. Setting up hybrid cloud is not that easy. It is a tedious process that involves more than a simple "buy and use". HCO's need to invest in private clouds and in one or more public cloud services, which they ultimately unite with integrated management, security, and application portability.
Today, the majority of the HCO's are on a transitory journey to hybrid cloud: they adopt hybrid cloud elements first with an eye toward ultimately integrating them. For example, many companies implement hyperconverged infrastructure (HCI) to pave the way to hybrid cloud. 64% of healthcare respondents say they've either fully deployed HCI or are in the process of doing so.
The applications of cloud computing in healthcare are numerous. Thanks to cloud computing, the healthcare industry is becoming more collaborative, patient-centered, and data-driven. Regardless of all the advantages and disadvantages of cloud computing in healthcare, companies are increasingly adjusting their infrastructures and moving them to the cloud because it is what the new reality requires. In recent years, we have all seen a notable shift in healthcare clouds from simple data storage to using the technology to lower costs, gain efficiencies, and improve customer service. Here is the list of key use cases of cloud computing in healthcare:
Data storage: EHRs; staff information; research information; physician notes; etc.
Telemedicine: remote diagnosis, monitoring; virtual surgeries; real-time alerting; etc.
Predictive analytics: Detecting diseases at their early stage; predicting the cost of treatment, possible risks; modeling the spread of diseases; predicting hospital load; etc.
Hospital management: better staff management; automation and standardization of operations.
Advantages and disadvantages of cloud computing in healthcare
Healthcare and cloud have united to improve medical outcomes and bring patient and doctor experience to the next level. Yet, the debates regarding the effectiveness of the cloud in healthcare are still ongoing. So, let's take a look at the pros and cons of cloud computing for healthcare companies.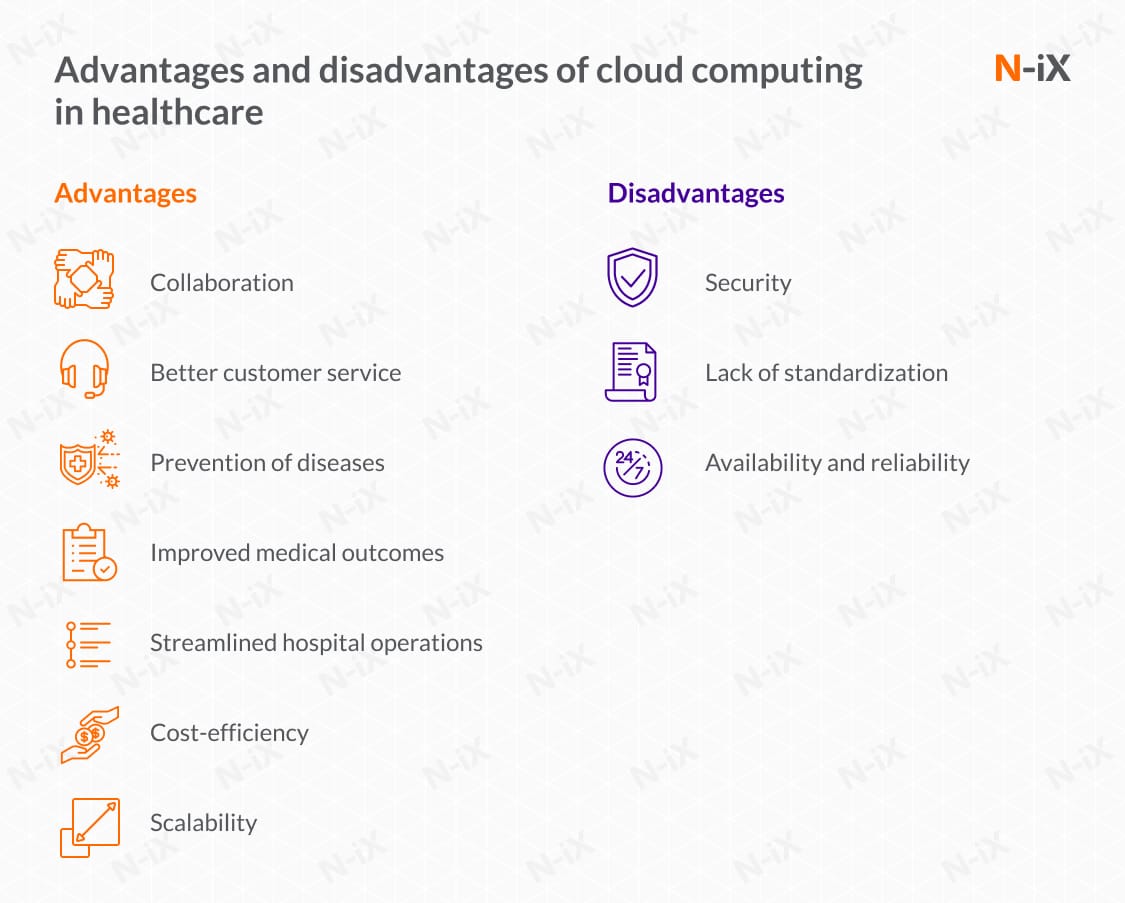 Key benefits:
Collaboration
Thanks to cloud computing, HCO's have easy access to different kinds of medical data and the ability to collaborate on it. It facilitates patient care, medical research, clinical trials, donor search, etc.
Better customer service
According to the 2019 Connected Health Consumer research by Salesforce, 47% of consumers claim that healthcare and life sciences are more focused on industry needs than patient needs. This is a problem that can be solved with cloud computing. Thanks to the cloud, consumers have high visibility during the entire process: from making the first appointment to understanding their insurance coverage and easy access to their records.
Prevention of diseases
With the help of the cloud, you can gather big data that comes from different sources and leverage intelligent technologies such as AI, ML, data science to analyze it and drive valuable insights. For example, it is possible to predict the chances of someone getting ill based on their behaviors and identify warning signs of serious illness at an early stage. Also, healthcare experts can predict and prevent the outbreaks and spread of infectious diseases.
Improved medical outcomes
Cloud helps when it comes to treating difficult diseases such as cancer, AIDS, multiple sclerosis, etc. Thanks to big data, data analytics, it is possible to collect data from patients on different treatment plans and analyze it for trends and patterns to find those with the highest rates of success. Moreover, big data and predictive analytics assist healthcare specialists with predicting future outcomes of diseases and/or treatments. As a result, the number of fatal cases decreases, and there is lower risk of disease complications.
Streamlined hospital operations
Thanks to the cloud, healthcare companies can speed up processes, save labor costs, gain better efficiency, accuracy and security. For example, Robotic process automation (RPA) solutions for the healthcare industry can handle repetitive, manual workloads through software robots. With the help of predictive analytics, healthcare specialists can forecast the load and allocate the right number of people to handle it. Also, they can prevent the unneeded emergency room visits and save healthcare costs as a result. With preventive maintenance, healthcare companies can ensure the uninterrupted performance of medical equipment and reduce the number of No Fault Found events (NFF).
Cost-efficiency
With cloud computing solutions, you enjoy the flexibility in pricing: pay only for the computing resources you use. Healthcare companies can get rid of in-house server, storage and don't need to maintain idle resources in anticipation of a surge. Plus, there are also indirect cost savings that come from the reduced downtime of apps in the cloud, increased staff productivity, and lower administrative expenses.
Scalability
As your business grows, you need to be able to reach more customers without the cost and headache of rewriting your applications. With cloud-native development, your solutions can support millions of users anywhere in the world, process millions of requests per second ensuring millisecond latency.
A few drawbacks:
Security
According to the Enterprise Cloud Index Report, security, privacy, and compliance constitute a significant challenge to cloud transformation in healthcare. 58% of healthcare companies claim that security is their major issue. It's important to understand that in the cloud is a shared responsibility between you and your cloud provider. Thus, there are certain things that depend on your provider, but the lion's share of security obligations lies on you.
How to prevent it
First, you need to select a trusted cloud provider that offers a set of tools and services to ensure strong security and is compliant with healthcare regulations. Such leaders on the market as AWS, Google Cloud Platform, and Azure are heavily investing in security and have a wide range of compliance offerings. They also offer tools for managing security across multiple and hybrid clouds. For example, AWS Outposts, Google Cloud Anthos, and Microsoft Azure Arc provide a secure way to run complex and distributed environments across on-premises, edge, and multicloud.
Healthcare companies are learning from fintech and apply similar strategies to ensure privacy, integrity, and availability of data and apps in the cloud:
develop a security strategy;
plan for security across heterogeneous environments and devices;
conduct regular audits;
avoid shadow IT;
perform risk assessment;
perform vulnerability scanning;
implement necessary controls;
configure a Firewall;
encrypt data in transit and at rest;
implement reliable authentication and authorization procedures;
leave sensitive data on-premises, store it in some particular region, depersonalize it, or use a secure chip;
isolate individual workloads to minimize any damage an attacker could cause;
don't underestimate testing;
set up automatic updates of software;
set up user access policies.
Also, it is important to educate all users on basic security rules such as:
change default configurations;
regularly update passwords;
don't use one password for all tools;
use multi-factor authentication;
don't open suspicious links.
2. Lack of standardization
Cloud makes it possible to exchange information across borders and companies in a matter of seconds, but there is an issue with the unification of the data so that it can be exchanged, interpreted, and used cohesively. The global healthcare system is fragmented and disjointed. It makes it difficult for healthcare specialists to safely share medical data. This has led to operational inefficiencies that negatively impact the patient experience and the quality of care. Today, HCO's across the world strive to ensure healthcare interoperability. The main goal is to build a more connected healthcare system so that healthcare experts have the ability to exchange, process and interpret shared data between devices, applications and health systems.
How to prevent it
Here are several steps your organization can take to improve the healthcare interoperability:
Apply intelligent automation technologies such as ML, AI, blockchain to standardize data.
Move to a single integrated EHR platform
Invest in ECM software solutions
Move some apps/workloads to public cloud
Integrate point-of-care images and workflows
Leverage health information exchange (HIEs) systems
Availability and reliability
Many healthcare companies are afraid that they will lose control over their data and apps in case of a downtime, slow or interrupted performance of cloud provider's services. Also, depending on the strength of the Internet connection, the access to data and apps in the cloud can be limited. This can largely affect user experiences and overall hospital performance.
How to prevent it
To solve these problems, it is recommended that healthcare companies apply the hybrid or multicloud strategies. This way, they eliminate the dependence on a single cloud provider and can easily switch between providers and launch the infrastructure with the help of another cloud provider.
To improve network connectivity, companies should thoroughly test the network capacity and bandwidth, prevent transport layer congestion, make use of network segmentation, move to the edge, consider using SD-WAN technology, etc.
Weighing up all the advantages and disadvantages of cloud computing in healthcare, you can see that the benefits exceed all the cons.
The featured case study
Our client (under NDA) is one of the UK's largest providers of online cognitive behavioural therapy (CBT). The company offers a web platform through which certified therapists help people cope with depression and anxiety.
In terms of its digital transformation, the company decided to improve its legacy system and move it to Microsoft Azure. The N-iX team has reinforced the client's team to help them perform end-to-end cloud transformation. Our experts have been helping the client decompose a monolith into microservices and develop new functionality in the cloud. In particular, we are collaborating on the development of a chatbot that would help healthcare specialists assess the mental health of a person and recommend therapies on the basis of NHS accepted questionnaires. The tool uses machine learning to deliver personalised recommendations for the treatment of a user based on what has worked for others with similar presenting problems.
As opposed to the traditional method of providing therapy, this one is more scalable and is able to address the high need for mental health care. According to the British charity Mind, two in five GP appointments now involve mental health, and those who are referred for treatment will face a wait of up to 18 weeks. With the help of the solution our client offers, you can access help online from the comfort of their own home or office at any time (24/7). The company has already treated more than 20,000 people. And 91% of patients said they would recommend the service.
How N-iX can help
There are a lot of well-known as well as emerging advantages and disadvantages of cloud computing in healthcare. But cloud computing is here to stay with us all for a long time. So, if you want to undertake cloud transformation, here at N-iX, we will be happy to help you.
Since 2002, N-iX has developed many innovative software products helping companies leverage cloud computing in healthcare services. Our clients include Weinmann Emergency, Think Research, Brighter AB, Cure Forward, and others.
N-iX boasts an internal pool of 1,100+ experts.
N-iX complies with international regulations and security norms, including ISO 27001:2013, PCI DSS, ISO 9001:2015, GDPR, and HIPAA, so your sensitive data will always be safe.
N-iX is trusted in the global tech market: the company has been listed among the top software development providers by Clutch, in the Global Outsourcing 100 by IAOP for 4 consecutive years, recognized by GSA UK 2019 Awards, included in top software development companies by GoodFirms.co, and others.
N-iX has been named No. 72 on the 2020 CRN Fast Growth 150 List for the substantial growth and performance over the previous two years.
N-iX is a Select AWS Consulting Partner, a Microsoft Gold Certified Partner, a Google Cloud Partner.
We have profound cloud expertise and employ 300+ cloud engineers. Our cloud experts are certified by industry leaders.
N-iX experts have proven experience working with such technologies as blockchain, computer vision, AI & ML, robotics, etc.
Our expertise in cloud computing includes cloud-native services, on-premise-to-cloud migration, cloud-to-cloud migration, as well as multicloud and hybrid cloud management.
We offer professional DevOps services, including Cloud adoption (infrastructure set up, migration, optimization), building and streamlining CI/CD processes, security issues detection/prevention (DDOS & intrusion), firewall-as-a-service, and more.
N-iX has broad data expertise to design different kinds of data solutions: Big Data / Data Warehouse / Data lake development, Business Intelligence, Data Science, Artificial Intelligence & Machine Learning, etc.
Have a question?
Speak to an expert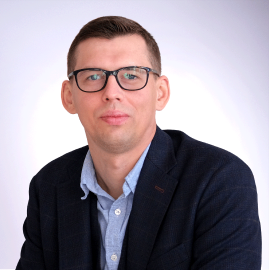 Dmytro Ovcharenko
Director of Technology Office
---