78% of companies today adopt the hybrid strategy, combining on-premise infrastructure and public cloud. Although cloud solutions continue to gain traction, many businesses still keep some of their sensitive data and regulated applications on-premises. So, what benefits does a hybrid cloud bring? How can you implement it in your organization, avoiding common pitfalls? And what are some of the best practices and popular tools & services that can help you do that? Let's discover together.
How you can benefit from hybrid cloud
In 2020, the global hybrid cloud market was estimated at $52B and was predicted to reach $145B in 2026, according to Statista. In the age of IoT, big data analytics, and AI, this type of cloud is an excellent option for companies in industries like healthcare or fintech. They must adhere to strict data privacy regulations while also using sophisticated algorithms powered by AI to derive actionable insights from huge amounts of unstructured data.
You might also like: How to make the most of hybrid cloud for banks
It is highly applicable for businesses in highly-regulated industries to plan hybrid cloud adoption. However, it is also an excellent option for any start-up or an enterprise that plans a step-by-step cloud migration. A staggering 72% of users had to bring applications back on-premises after migrating them to a public cloud. 41% of companies report migrating applications to the cloud that should have stayed on-premises. Before rushing into any decisions, it is crucial to analyze and check whether it is feasible, profitable, and safe. Hybrid cloud strategy allows you to undertake a phased approach to cloud adoption so that you can assess all the pros and cons of each option, avoiding moving apps back on-premises.
Also, such a strategy allows you to save costs on things that go together with other cloud services. Here are some of the major use cases for hybrid cloud solutions:
Computing capabilities;
Storage capabilities;
Database capabilities;
Ability to move workloads between private and public clouds;
Possibility to distribute workloads between different public and private environments.
Benefits of using the hybrid cloud:
Security. Protect your sensitive data and networks and take control of your security settings.
Faster innovations. Modernize faster and adopt advanced technologies, easily leveraging the private & public cloud or edge.
Cost-efficiency. Balance between inflexible on-premise resources and flexible but premium-priced cloud resources and find your efficient "private to public" ratio that could vary depending on the demand in terms of capacity and capability.
Minimized risk of vendor-lock-in. Improve workload visibility , provide control over where they run, and easily move your workloads to on-premises should the need arise.
Flexibility. Ensure that your solution grows and changes to match your new needs and lets you respond quickly to market changes and customer demands.
Best practices for implementing hybrid cloud
Assess your resources
Every hybrid cloud strategy begins with an in-depth assessment of available resources, apps, data, number of users, and other technical details. You need to understand what applications are critical for the core business processes and let them be stored on premises or plan their migration later on. Other less vital apps can be migrated to the cloud at the beginning of the process.
The next step is to form an effective cloud transformation strategy. There are various ways to approach this complex project. AWS, Oracle, Google, and Forrester suggest different methodologies. Combining the best practices and experience of industry leaders, we have come up with six key application transformation methods to migrate legacy applications to the cloud:
Re-host (lift and shift);
Re-platform (lift, tinker, and shift);
Modernize;
Rewrite;
Drop and shop;
Retain.
Before migration, you should consider the application complexity, risks, costs, and efforts needed for migration. If none of these methods fits, you might consider replacing your existing app with a SaaS from a cloud provider or building a new cloud solution from scratch.
Prepare and protect your data
The next step would be the protection of your data. All highly-sensitive information should be encrypted and stored on-premises. Make sure that all the data that is stored in the cloud is also protected with the right tech solutions. Also, answer the question: is all the data in the cloud needed, relevant, and used to drive business insights? Cloud allows you to process big chunks of data, enable machine learning algorithms, and scale more effectively. However, the data should be accurate and complete to deliver the maximum value.
While on the subject of data protection, don't forget to back up your data in the cloud. Unfortunately, cloud providers can experience outages too. Major cloud providers offer built-in data backup and recovery solutions.
Prepare your architecture
Businesses that are moving to a hybrid cloud should prepare the architecture of their apps for migration. If you decide to build a solution in the cloud from scratch, make sure to opt for the optimal architecture that will allow you to scale and add new features quickly. Moreover, compared to traditional monolithic apps, cloud-native applications are easier to manage and maintain. These individual microservices can be added and maintained separately when needed.
Here at N-iX, our cloud experts perform an in-depth analysis to create the optimal architecture, account for any risks of cloud migration tech debt, and create a detailed roadmap for the process. One of the critical enablers of cloud migration is Infrastructure as Code (IaC). It allows you to automatically manage and provision computers and networks (physical and/or virtual) without having to configure them manually.
Choose the cloud provider(s)
All three major cloud vendors (AWS, Azure, and GCP) offer a comprehensive set of tools for managing the hybrid cloud and supporting ecosystem. Among these three providers, Azure is more often a go-to option for its Azure Stack. It makes it easier for companies to run Azure applications from the public cloud while leveraging data hosted on-premise. It can be a good choice for companies with significant investment in Microsoft's ecosystem.
AWS has also stepped up its cloud game with solutions such as VMware and Outposts. Many other tools contribute to the success of the ecosystem. With AWS VPN, you can create IPsec Site-to-Site VPN tunnels from an Amazon VPC to an on-premise customer gateway enabling a hybrid environment. AWS Direct Connect (DX) allows you to establish dedicated connections from on-premises to AWS. AWS Systems Manager offers a standard-instances tier and an advanced-instances tier for servers and VMs in your hybrid environment. The standard-instances tier enables you to register a maximum of 1,000 on-premise servers or VMs per AWS account per AWS Region. Amazon EC2 Dedicated Hosts allow you to use your eligible software licenses from vendors such as Microsoft and Oracle on Amazon EC2 so that you get the flexibility and cost-effectiveness of using your licenses, but with the simplicity of AWS.
In 2018, Google introduced hybrid cloud support. It has dramatically increased its focus on hybrid and multi-cloud workloads using Anthos, allowing users to manage workloads on GCP and Google Kubernetes Engine.
You can choose the services of any cloud provider to suit your business needs or combine services from several providers. Multi-cloud is a choice of many companies as it gives a certain degree of freedom and flexibility, minimizing the risk of vendor lock-in.
Also, you can choose to build a custom hybrid solution to suit your specific business needs. Ready-made hybrid solutions that cloud providers offer are designed to cover a variety of business cases. But if you are sure that you won't utilize all the tools and services to the fullest, you can develop a solution that will be more cost-effective and tailored to your case.
Adopt hybrid cloud step by step
If you want to succeed with this approach, don't migrate all of your apps at once. It's always easier to test the new system on small-scale projects and then scale it on the company-wide level. Start with one or two apps as pilot projects to understand all the challenges and costs behind them. See whether it lives up to your expectations. Mark all the critical moments. It is a good strategy to begin with migrating non-critical apps and services.
Coordinate the interoperability
To avoid latency, outages, or prolonged downtime, you need to set up seamless interaction between your infrastructure and public cloud services. There are many tools for managing heterogeneous environments and ensuring high visibility and control and major cloud providers offer many such tools. However, they are rarely enough for high-load applications and enterprise-level systems. You will need help setting up all those tools and integrating them with your systems. Experienced DevOps engineers can orchestrate interoperability between all components, make necessary configurations, and ensure the top performance of every app.
Tighten up security
During your hybrid cloud adoption, make sure to adopt the DevSecOps approach and implement security measures at every stage. Azure, AWS, and GCP have a security-as-a-service option and provide numerous tools to ensure the safety of your data and applications. They also have a selection of compliance offerings, including ITAR, DISA, HIPAA, CJIS, FIPS, etc. All these vendors invest heavily in security to protect customers' data.
Here are a few steps you can take to improve both data and apps security:
Leave sensitive data on-premises;
Encrypt data assets;
Isolate individual workloads to minimize any damage an attacker could cause;
Limit networking resources exposure with firewalls;
Make use of advanced technologies such as Big Data, AI, ML, IoT, etc.;
Avoid shadowy IT practices;
Enable multi-factor authentication and set up user access policies;
Maintain high security standards on the organizational level;
Train your employees on how to maintain security in the cloud.
Optimize costs
Cost optimization is another crucial part of a successful hybrid cloud strategy. Effective DevOps practices can help companies optimize their software development, deployment, and maintenance costs. There are a lot of best practices for this process. Here are the most common ones:
Reduce infrastructure usage where possible;
Use third-party services that allow you to reduce operational overhead;
Automate the CI/CD process and provisioning of IT infrastructure;
Optimize the use of active instances;
Set alerts for crossing predetermined spending thresholds;
Leverage spot instances for serverless and parts that don't require high availability.
Monitor your hybrid cloud
Building a robust monitoring strategy will ensure effective performance, high availability, and low costs across heterogeneous environments. The key component of the process is automation. There are several best practices for effective monitoring strategy:
Identify and track your KPIs: error rates (failed requests/total requests), application availability, latency, number of time-outs, throughput;
Create operation dashboards;
Establish an alert threshold;
Integrate your monitoring system with management tools;
Implement Data Loss Prevention solutions;
Explore vendor's native monitoring tool options.
Featured case: Ensuring security, high portability, and reliability with hybrid cloud
Fluke Corporation is a US-based company that manufactures, distributes, and services electronic test tools and software for measuring and condition monitoring. The company employs nearly 2,400 people and has distributor and manufacturer representative channels in more than 100 countries.
The challenge
Fluke Corporation needed to create a highly portable solution that would comply with the best security standards, high performance, reliability, and cost-efficiency. It also needed to be easily deployable to all major operating systems on both cloud and customers' data centers.
N-iX approach
N-iX team has conducted a thorough analysis and assessed all the possible options available on the market. Our specialists have helped the client develop a custom hybrid solution following the security by design approach.
N-iX experts have collaborated on the development of the Enterprise Integration System — Connect2Assets, formerly SCHAD Automatic Meter Reading. The system integrates with a variety of PLC/SCADA/Historian systems and establishes the reading of data points (tags, parameters). It can perform sophisticated aggregations on data streams and distribution of the data to CMMS systems and IoT Platforms. It helps intelligently monitor the equipment's health by analyzing PLC/SCADA sensors that generate billions of conditions. Integrating real-time data into CMMS workflows allows teams to:
Make better-informed maintenance decisions; Get a complete view of asset health; Enable condition-based maintenance; Eliminate production gaps and reduce unplanned downtime; Transform maintenance into a business value driver.
Connect2Assets is a hybrid solution, where data is gathered, aggregated, and downsampled on-premises. Next, relevant data is transmitted to AWS cloud, where it is further processed and stored at rest. CMMS systems use it for data analysis to improve and guide asset maintenance based on real-time asset data rather than a predefined calendar, resulting in decreased maintenance costs.
This solution was developed from scratch independently from the previous on-premise solution. It is based on cross-platform technologies (Java, PostgreSQL), web UI, and messaging technologies (MQTT). Microservices architecture and relational databases are implemented on-premises and on the AWS cloud.
One of the advantages of Connect2Assets is that it doesn't require the client to invest in additional technology and devices. The solution adapts to the client's ecosystem and requires minimal adjustments on the client's side.
How can N-iX help you with implementing hybrid cloud solutions?
N-iX is a Advanced AWS Consulting Partner, a Microsoft Gold Certified Partner, a Google Cloud Partner;
We help businesses with hybrid cloud adoption. Our expertise in cloud computing includes cloud-native services, on-premise-to-cloud migration, cloud-to-cloud migration as well as multi-cloud management;
N-iX has an internal pool of 2,000+ experts and many experienced cloud engineers.
We partner with leading global companies such as Currencycloud, Globacap, Fluke to help leverage all the benefits of the cloud;
Our broad data expertise allows us to design different kinds of data solutions: Big Data / Data Warehouse / Data lake development, Business Intelligence, Data Science, Artificial Intelligence & Machine Learning, etc.;
Our experts have proven experience with such technologies as blockchain, computer vision, AI & ML, and robotics which are essential in software development;
We offer professional DevOps services, including Cloud adoption, CI/CD pipelines development, security issue detection/prevention (DDOS & intrusion), firewall-as-a-service, and more;
N-iX is compliant with PCI DSS, ISO 9001, ISO 27001, and GDPR standards.
Have a question?
Speak to an expert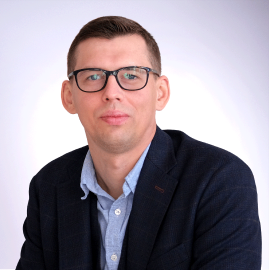 Dmytro Ovcharenko
Director of Technology Office
---