The US National health spending amounted to $3.2 trillion in 2015, which makes up about 18% of the country's total GDP. Digital transformation in healthcare is predicted to save $300 billion in the industry.
Innovations in all industries are moving at a galloping pace, and healthcare doesn't make an exception. However, because of the abundance of information, people often find it quite challenging to access the right specialist or to immediately find the data they are looking for. Due to customers' demands for more choice, more access and more control, healthcare is nowadays undergoing the process of uberisation and becoming more patient-centred. What's more, digital transformation in healthcare helps points of care to digitize paperwork and upgrade their legacy systems to enhance quality and time-efficiency, reduce costs and substantially decrease the number of human mistakes.
However, it is not essential to use the most complex and costly innovations to undertake successful digital transformation of a healthcare company. The key to successful digital transformation is choosing the most appropriate and up-to-date technologies to meet the demands of a specific project in the most effective way.
Let's take a look at 5 success stories of digital transformation in healthcare
1) Cure Forward
There are many innovations in cancer treatments which happen in clinical trials at present, but people may find it quite difficult to discover and leverage those options. Cure Forward is a US-based healthcare company which helps patients find trial labs which match their genetic mutation. Patients who are seeking experimental treatment can publish their DNA sequencing results on a website. Leading clinical trials can search patient forms looking for a match. Cure Forward also helps patients to retrieve more information about their disease and get support and advice from cancer-survivors.
At the core of the functionality of Cure Forward service is creating robust patient profiles. A patient has to fill in the form providing all their disease-pertinent medical records and info, such as DNA sequencing results, information on whether a patient has undergone chemotherapy or not, has been operated on or not, what stage of cancer a person is undergoing, etc. Cure Forward takes every effort to ensure a patient's form is filled in correctly so that it provides exhaustive information to enable the highest possible matching rate. Thus there are patient guides (Patient Support Professionals and Patient Advocates) who make sure patient profiles contain all the essential data and provide assistance in the matching process.
Cure Forward was born as a healthcare startup and has matured into an established, research-driven business. The company is focused on a specific segment of the healthcare industry, and it has created a top notch quality service to satisfy its users' demands. Cure Forward is dedicating a lot of effort to research and data analysis to increase profile matching rate to a maximum.
N-iX has been delivering software development services to Cure Forward since February 2015. To ensure solid results of our mutual work, we have been using the latest and the most appropriate tools and technologies to meet the demands of the project in the most effective way (for instance, latest Java and integration with SalesForce). Also, to make our collaboration more flexible, reliable, and transparent, Dedicated Development Team and pure Scrum Methodology are employed. N-iX has delivered a wide range of engineering expertise on this project including High Load Systems, DevOps, Cloud Solutions, UI/UX, Solution architecture, Data Science, Bioinformatics, and more.
Think Research is a Canadian healthcare software company. Its business is dynamically growing and expanding in various directions. The company develops evidence-based solutions and clinical documentation that enable doctors to deliver the best patient results. Digitization of the document flow in a clinical point of care lies at the core of the service.
EntryPoint is a privacy-compliant cloud-based platform that supports a set of Think Research healthcare applications (e.g, Order Sets, Progress Notes, Medical Reconciliation, Patient Portal). With EntryPoint, all the clinic-pertinent data and applications are easily accessible. One of its key apps, Order Sets, offers detailed, evidence-based clinical checklists, reducing medical errors and enhancing quality and safety. In addition, customized versions are developed for each medical institution to meet the demands of a specific institution. What's more, sharing customized versions among institutions fosters collaboration among them. With Order Sets, medical institutions get more accurate collection of data and faster adoption of innovative clinical ideas and practices.
At the very beginning of our cooperation, the task of N-iX team was to upgrade the company's outdated framework within 3 months, and we successfully accomplished it. Now we are working on development, and both manual and automated testing of several ThinkResearch applications.
N-iX Dedicated Development Team is using the most relevant and suitable tools and technologies, such as Ruby on Rails, Continuous Integration, MongoDB, Docker containers, etc.
3) Brighter AB
Brighter AB is a Sweden-based company which develops m-health and data-driven services. It was set up in 2007 and started with a solution that aids people in managing and self-treatment of diabetes. Later on it has expanded into a platform to help people adapt to the age-related changes in behaviour and improve quality of life of elderly people with chronic conditions.
One of the products provided by Brighter is jDome BikeAround™ – a hemispherical display solution which helps people in care homes to handle anxiety and panic. What's more, it motivates them to do cardio exercises and mental training without taking much effort.
jDome BikeAround™ is based on augmented reality. It offers elderly people an enjoyable ride in safe conditions on a training bike in front of the hemispherical jDome screen which shows images from Google Street View.
N-iX Game Development and VR Studio has helped Brighter to enhance the visualisation of their jDome BikeAround Mixed Reality demonstration app. The updated and improved design of the solution has leveled up its quality, improved the performance and user experience. The solution is widely used in care homes and clinics in Nordic countries.
DoctorOnDemand is a service which allows you to immediately contact a doctor and get consulted by a specialist during a video call. A patient can get a medical subscription or just have their questions answered.The doctor can treat such issues as cold and flu symptoms, allergies, sports injuries, back pain, heartburn, and many other non-emergency issues.There is a wide range of specialists on demand, including a lactation specialist and a psychologist. The application has 1.400+Board-licensed doctors. DoctorOnDemand has 500 000–1 000 000 downloads in Google Play.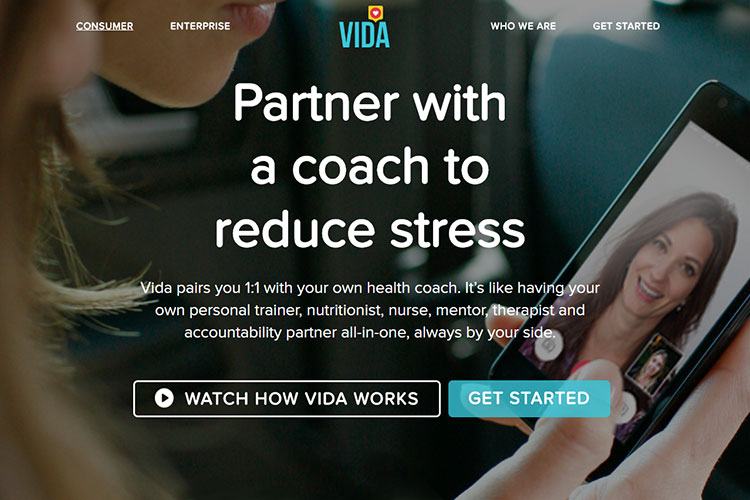 Keeping a healthy lifestyle is nowadays both a fashionable trend and an indispensable component of success and well-being. Vida Health Coach is an iOS application which connects its user with a health coach who consults them on various aspects, starting from weight loss and stress alleviation to managing diabetes and handling hypertension.The health coach assesses your data, such as weight, fat intake, exercises, etc., and sends you messages to give advice or motivation. You can meet with your coach for a video or phone call once a week. Vida is sold both directly to individual customers and to whole companies. Its clients include eBay, Duke University, Stanford MD, Anderson Cancer Center, and United Healthcare.
Wrap-up
Digital transformation in healthcare industry is driven by multiple factors, such as patient demands for more choice and transparency, and inevitable opportunities it opens both for business profitability and healthcare industry optimization. We can witness striking examples of healthcare businesses which have already leveraged the benefits of digitization and are seen by their competition as digitally mature companies. Telemedicine, m-health, AR in healthcare, clinical document flow automation, and data-driven approach are those transformative components which have granted a digital competitive advantage to the aforementioned businesses. Just like other industries (e.g. banking), the key to their effective digital transformation is adopting the most relevant and suitable technologies to meet specific demands of their projects and taking advantage of outsourcing partnership to do it in the most time-saving and cost-efficient way.
---