Staff augmentation is now considered as one of the most effective ways to improve time-to-market, cut costs, and embrace innovation. The Covid-19 crisis has proved that a remote working model is quite effective. So, many organizations are planning to increase their use of IT outsourcing despite all the staff augmentation challenges out there. Moreover, those who have never leveraged team extension services, plan to do it for the first time in 2021.
Today, businesses are becoming increasingly comfortable with augmenting their teams with offshore or nearshore IT experts. This helps them access IT talent from across the world while keeping the budget under control. Having virtual hiring interviews, signing a contract without a formal handshake, conducting online sessions, and celebrating the project success over a virtual cocktail party have become a new normal.
Are you ready to adapt to the new reality and take advantage of staff augmentation? If you happen to have faced some difficulties with extending your team with offshore or nearshore IT experts, we would be happy to help you cope with these and other staff augmentation challenges.
Top 5 staff augmentation challenges
Challenge #1: Finding the right experts
Today, the shortage of talent in America and Western Europe is a pressing problem, so it becomes more and more difficult to find IT specialists with the necessary skills, experience, and background. For example, in the USA, tech unemployment started in 2020 at 3% and ranged from a low of 2.4% to a high of 4.6% during the year, according to the US Bureau of Labor Services. In the UK, more than two-thirds (69%) of UK business leaders believe their organisation is currently facing a digital skills gap, according to the 2020 research by Microsoft. Thus, more and more companies opt for IT staff augmentation services and hire offshore dedicated developers in popular IT outsourcing destinations such as Eastern Europe, Asia, Latin America.
Solution: Partner with a reliable technology vendor
To find the most suitable IT outsourcing destination, you should take into account various aspects such as cultural compatibility, time difference, size of the talent pool, service range, technology expertise, the level of English proficiency of IT experts, etc. Follow these best practices when selecting a staff augmentation vendor:
Choose the best location: the location of the vendor's delivery center is a significant factor when it comes to finding a reliable staff augmentation company. India has been an IT outsourcing leader for many years due to its ample engineering resources. Mexican and South American developers are known for nearshore development services for countries from the US. However, these countries have less developed infrastructure, compared to other destinations. Today, more and more often, Western businesses cooperate with Eastern European vendors. This region has a highly qualified workforce, solid STEM education, and a rich talent pool. Also, it is culturally close to Western Europe and the USA, which ensures more effective communication. View our detailed report on the IT outsourcing destinations of the CEE region.
Compile a list of vendors you will consider based on their service range, case study portfolio, experience, tech expertise, security standards, etc.
Conduct an introductory call with a vendor to figure out all important issues during live conversation (staffing and onboarding process, legal issues, management, possible challenges in staff augmentation projects, best practices in testing, PM, DevOps, etc.)
Assess the reviews, references, success stories, video testimonials of the shortlisted providers. You can find this information \on the companies' websites, their LinkedIn accounts, and ranking platforms, such as Clutch, Manifest, Goodfirms, etc.
Take into account the providers' size and their recruitment capabilities, as mid-size and large vendors are more likely to have resources you need internally.
Look for a vendor that has substantial experience in building dedicated development teams that deliver solutions you need, preferably in your industry;
Make sure your partner complies with security standards, such as ISO or industry-specific certifications like PCI DSS, HIPAA, and has effective information security and business continuity (BC) policies.
Choose the provider that does everything possible to understand your business needs and requirements, sets up extra calls with you, and sends you follow-ups. Communication and empathy ensure the success of your partnership.
Challenge #2: Communication and management
Effective communication and management are the keys to the success of any partnership. And now, during the coronavirus pandemic, when all people are so distanced from each other, it's important to set up tight connections between your distributed teams so that everyone feels integrated and part of the whole.
Solution: Establish effective collaboration
Large staff augmentation companies have established management processes and communication best practices in place that ensure seamless delivery of services to clients. Small companies usually allocate all the management responsibilities to a PM. No matter what kind of company you choose, here is what you should underline when setting up partnership with a new provider:
Ensure your provider will allocate a person who would be responsible for overseeing the delivery of the project. Here at N-iX, we allocate the delivery manager to your team free of charge.
Choose the right collaboration tools for effective communication in the digital environment.
Perform regular reviews of the services delivered.
Agree on project management methodologies: Agile, Scrum, Kanban, SAFe.
Agree on coding practices.
Make sure your provider ensures security during work-from-home mode.
Socialize with your remote teammates as much as possible.
Choose a location where you will have at least 2-3 hour overlap with your outsourced team and use time-zone difference to your advantage (to ensure 24/7 support or roll out a new release. etc.)
Challenge #3: Legal issues
The process of contract negotiation is important since it provides transparency and safety into customer-vendor relationships. A poorly assembled contract may have a detrimental impact on your business. It may lead to unexpected outsourcing bills, loss of control over the quality, compromised information security and other staff augmentation challenges.
Solution: Sign up a win-win contract
The majority of contracts in software development outsourcing correspond to three main cooperation models: long-term dedicated development team, short-term time & material projects, and fixed price projects with detailed requirement scope. The type of the contract depends on your business goals and some of the clauses may vary, but there are several critical aspects any contract needs to cover to prevent escalation of legal issues:
Penalties in case of non-compliance to the contract terms by any of the parties.
Liability clauses that define limits of responsibility for both you and your partner;.Warranty to safeguard a certain quality level of the services delivered.
Notice periods - time frames for scaling up and scaling down a team. Vague notice periods can affect project execution and delivery.
Data protection rules, including deidentification, reidentification, as well as anonymization of data.
The governing law if the contract is international.
Terms for invoice issuing and invoice payment.
Non-solicitation clauses that mutually prohibit hunting IT specialists.
Challenge #4: Scalability
Extending a team with additional IT experts is one the top staff augmentation challenges many businesses face. If you are planning to set up a big software development team with multiple teams working on different projects, a long recruitment process will only extend your time-to market. Thus, you should clarify how much time it usually takes for a vendor to scale up a team with one IT specialist. Please note that even in the countries with vast talent pools, recruitment may take some time, especially if you need specialists in such rare tech stacks as Scala, Golang, or Data Science/AI-related technologies, etc. So you should take this into consideration when making your project estimates.
Solution: Choose a vendor who has enough recruitment capabilities and a wide network of IT talents
Here we gather several things you should determine before forging a partnership with a vendor:
Check what is the average company's attrition rate. According to a LinkedIn analysis and other relevant sources, it should be around 10-15%.
Figure out how many recruiters the company has.
Discover what is the company's internal pool of IT talents.
Check whether the company has a powerful employer brand. Poor employer brand is one of the main reasons why employees jump ship. Thus, before partnering with an IT outsourcing company, check whether it provides employees with comfortable working conditions, professional growth, training opportunities, fair compensation, etc. This would help eliminate a lot of staff augmentation challenges.
Agree with a vendor on reasonable notice periods for scaling up/down a team
Also, what is often important for the client is how fast the team members can join the team. This speed of onboarding often depends on the client's side. For example, you should make sure you give prompt feedback after interviews with potential employees. Today, the IT market is highly competitive. And if people need to wait for the feedback for several days or weeks, chances are they may opt for a company that provides a faster response.
Challenge #5: Project knowledge transfer
Knowledge transfer is important at every stage of the project: at the project kick-off phase, during project implementation, and when the project comes to a close. Without a robust plan on what information assets to collect and how to organize the process itself, you risk suffering from organizational waste when the whole process gets reworked from scratch.
Solution: Ensure effective knowledge sharing
To ensure a smooth and safe knowledge transfer journey, hire a vendor who has established best practices for effective knowledge transfer. N-iX has a proven track record of successfully delivering projects acquired both from clients and their previous vendors. From our experience, we have realized that knowledge transfer fails when it is ad hoc and informal, and it succeeds when it is methodical, well-planned and well-communicated. Below, you can find some basic steps your vendor should take to conduct successful knowledge transfer:
Define which knowledge items should be passed.
Define people who will be responsible for knowledge transfer.
Check out the availability of the necessary tech documentation: it is important that the new partner has as much understanding as possible about the existing code, infrastructure as well as product in general.
Conduct necessary meetings, Q&A sessions, inviting to the call the right stakeholders from your side, so that only valid information is passed in a timely manner.
Create some measurements to assess the results (time spent for project kick-off, team velocity, etc.)
How N-iX helps tackle staff augmentation challenges?
Since 2002, N-iX has been helping businesses across the globe augment their software development teams with top IT experts. More than 200 enterprises and tech companies, including Lebara, Fluke Corporation, Gogo, Travelport, and many Fortune 500 companies in Europe, USA, and Japan, have chosen N-iX as their strategic IT outsourcing partner. And here is why:
1,200 tech experts
590K developers in Ukraine, Poland, Belarus, and Bulgaria
Strong employer brand
35+ experienced recruiters
Tried and proven recruitment strategy
Help with interviewing and onboarding
A thorough candidate screening process
Centres of Excellence that ensure skills and service quality
Experience with multiple technologies: AI, ML, blockchain, data science, etc.
Ability to meet any gap in your skillset
Flexibility in scaling up/down the team
Ready-to-use and secure IT infrastructure
Experienced delivery managers that will help avoid common challenges in staff augmentation projects.
Efficient knowledge transfer
Hands-on experience with Scrum and SAFe
A well-organized and established remote working model
How to augment your team with N-iX?
Step 1: N-iX contacts the candidate and performs initial screening.
Step 2: We conduct a technical interview and assess soft skills of the candidate.
Step 3: A candidate completes the test task (optional, if needed).
Step 4: N-iX arranges an interview with the client.
Step 5: Once the candidate is approved by the client, N-iX makes a job offer.
Have a question?
Speak to an expert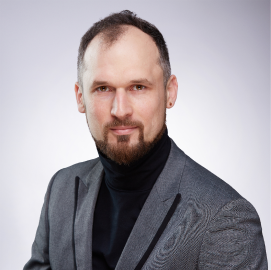 Taras Petriv
Associate Engagement Director
---