In a world of tech talent shortage, software team augmentation is the ultimate way to compensate for the lacking expertise. Top global enterprises, such as Currencycloud, have already benefited from team extension services. According to Statista, the industry will stay on the rise—by the end of 2023, the IT outsourcing market is going to reach $1.3T worldwide.
Staff augmentation can accelerate your team capacity by engaging top tech talent in your project. But it is more than that. In this article, you will discover other benefits of team augmentation and the ways to use it to your maximum advantage.
How augmenting the software team can benefit your business?
Access to a vast talent pool across the globe. Extending your team with tech professionals from distant locations allows you to fill in the talent gaps and tap into required expertise. For instance, one of the most prominent outsourcing locations—Eastern Europe, is home to more than 1.1M skilled ICT specialists.
Project flexibility. Software team augmentation is an efficient way to expand your development capacity. It also provides flexibility: you can seamlessly scale both up and down, varying the team's size according to your particular needs;
Cost efficiency. Augmenting your software team with external engineers is a rational way to optimize your costs. Rather than investing in HR operations or retraining your internal specialists, you let your tech partner do the staffing work for you;
Prompt scaling. Another notable reason to augment a software team is the ability to grow your project within short time periods. If you are trying to meet tight delivery deadlines, you can fully rely on your partner's recruitment team. Having access to an extended in-house talent pool, your partner will boost your team's scalability.
How to successfully extend your remote team: best practices
With a myriad of vendors providing software team augmentation services, choosing a reliable vendor for your team scaling might be a challenging task. To help you build long-lasting and productive collaboration with your remote specialists, we provide useful tips on how to select a credible outsourcing vendor as well as streamline your communication workflows:
Choose the vendor with a reliable security policy
The key indicator of the vendor's reliability is its security policy. It is vital that your future team augmentation service provider adheres to international standards and regulations, such as ISO, GDPR, PCI DSS, and many others. In addition, make sure that your partner has the Business Continuity and Disaster Recovery plans for any unexpected failures or incidents. These plans of action will keep afloat business operations in case of natural, human-made, or community disasters, and other unfavorable scenarios.
More on the topic: How to ensure secure software development in the time of remote
Select the right pricing model
One of the main advantages that come with software team augmentation is cost optimization. Before shaking hands, you and your software development negotiate the model that best matches your project needs and business goals. The pricing models differ depending on the requirements, project flexibility, the level of client control, and many other aspects.
No matter which cooperation model you choose initially, keep in mind that you may want to change your mind in the course of the project. Therefore, we recommend paying attention to engineering companies that offer all pricing contract types: Fixed Price, Time&Material, as well as the Dedicated Development Team. Make sure that your potential partner is flexible in terms of the model switch, as you might want to adapt to the evolving requirements and opt for another pricing model as the project progresses.
Outline your business deliverables
Before you embark on your team extension journey, you need to define what exact business outcomes you strive to achieve. Get clear on your final project goal: whether you want to modernize your system, or implement a brand new solution from scratch? Or, maybe, you are looking for external workforce to build only a specific part of your software? Guided by your project's objectives, your tech vendor will look for software developers with relevant engineering experience that will help you reach sustainable business results.
Find out about possible knowledge transfer and team integration strategies
When recruiting experts are ready with tech interviews, your outsourcing vendor will work on the painless integration of new engineers with the core team. To mitigate any risks during this stage, ask your future partner to provide a detailed team integration strategy in advance. It is vital that your outsourcing vendor's plan of action covers:
Seamless engagement in the working environment
Assess your future vendor's team integration workflow and project handover practices. The outsourcing vendor responsible for your software team augmentation should provide comfortable workplaces for your remote team members as well as a ready-to-use IT infrastructure. Don't forget to ask your vendor about the responsibilities of Delivery Managers and HR specialists: in the best-case scenario, they fully control the onboarding of new team members and create synergy with your core team.
Efficient knowledge transfer and training (if needed)
Level the project knowledge of your team members to avoid extra expenses associated with knowledge loss:
First and foremost, select the person with extended project experience that will conduct the transfer. If you have several knowledgeable people on board, let them teach new team members simultaneously—that will considerably accelerate the process;
The next step is to provide your augmented team with modern tools and environments that will enable effective training and successful knowledge adoption. Before you move on, make sure that your technical documentation is in order and your knowledge base is regularly updated;
Finally, choose the most effective knowledge transfer methods that will fit your particular project: for instance, you may present the legacy information during on-site training for a receiving team, Q&A sessions, tech talks, or live demos.
Set up clear communication flows
Once you are already at the finish line with staffing and team integration, don't forget to create a schedule of regular team meetings and syncs. Daily standups and systematic syncs will allow your remote and on-site team members to stay in touch, keep track of the project updates, and resolve any bottlenecks as they occur. In addition, to optimize your communication flows, use professional cloud-based tools for corporate messaging, project management, and collaboration (Slack, Jira, etc.)
Related: How to streamline communication with your remote development team
Why opt for software team augmentation with N-iX?
N-iX is a reliable European engineering company with 20+ years of experience in custom software development for manufacturing, logistics and supply chain, retail, fintech, telecommunications, and other domains;
Our tech team constitutes 1,900+ top-notch experts skilled in Cloud, Data Analysis, Big Data, Internet of Things, Business Intelligence, Embedded software development, and more;
The vendor's client list spans numerous long-term collaborations with global market leaders such as Lebara, Fluke, Gogo, Currencycloud, as well as many other Fortune 500 companies;
The company adheres to international regulations and standards, namely, GDPR, ISO 27001:2013, ISO 9001:2015, PCI DSS, and more;
N-iX has earned industry recognition, appearing on the top positions of the world rankings, including CRN's Solution Provider 500, IAOP Global Outsourcing 100, Strategic Sourcing nomination by GSA UK, and EMEA Inspiring Workplaces lists.
Have a question?
Speak to an expert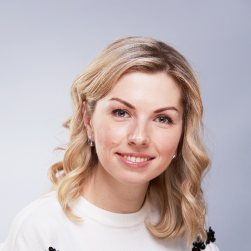 Uliana Batiuk
Engagement Director
---