As agility and scalability are more crucial than ever, companies must adapt quickly to market demands. However, hiring full-time employees for every new project or scaling is neither practical nor cost-effective. Enter nearshore staff augmentation – a flexible strategy that enables businesses to scale their teams effortlessly with skilled professionals from neighboring countries. This approach offers a sweet spot between cost-efficiency, quality, and speed. It allows businesses to adapt and innovate without the location or resource limitations.
In this article, we cover two major markers famous for nearshore IT staff augmentation – namely, Europe and Latin America. We will provide an overview of these two locations in terms of major hubs, time zone alignment, expertise, and more.
Nearshore staff augmentation for Europe: market overview
Unlike onshore outsourcing (within the same country) and offshore outsourcing (from distant locations), nearshore outsourcing involves collaborating with teams in neighboring countries. For example, European businesses often work with countries like Poland, the Czech Republic, Romania, etc., for technology outsourcing.
Main hubs
Countries like Poland, Ukraine, Romania, and the Czech Republic are the leading destinations for nearshore staff augmentation due to their robust technical education systems, high proficiency in English, and competitive pricing. Let's now take a look at them in more detail.
Poland
Poland offers a robust ecosystem for businesses seeking to expand their development teams or access specialized technical skills. With a talent pool exceeding 525,000 professionals, Poland ensures steady talent enrichment. The universities of the country annually graduate around 20,000 ICT students.
Poland's thriving tech scene comprises over 60,000 IT businesses, highlighting its status as a tech hub. Major cities such as Warsaw, Krakow, Wroclaw, Poznan, Lodz, and the Tri-city area (Gdansk, Gdynia, Sopot) are key IT hubs. The country's IT exports market is expected to reach $13B by 2026, underlining its competitiveness on the global stage.
Polish IT professionals excel in various tech skills, including JavaScript, Java, Python, Ruby, Shell, TypeScript, PHP, and C#. Moreover, Poland ranks 13th out of 111 countries in global English proficiency, facilitating effective communication with international clients.
Poland offers a favorable environment with a 19% corporate income tax rate and flexibility for individuals, who can choose between a 19% personal income tax or a lump tax ranging from 8.5% to 12%.

Romania
Romania has a robust talent pool of approximately 202,000 professionals. The country produces around 10,000 ICT graduates annually, providing a steady influx of new talent into the market.
Romania's IT exports are projected to reach $1,576M by 2028. This growth is bolstered by a workforce with highly sought-after tech skills, including proficiency in JavaScript, Java, PHP, C#, Python, React, Angular, HTML, and CSS. English language proficiency is also a significant advantage, with the country ranking 17th out of 111 globally.
The fiscal environment in Romania is conducive to business growth, with a revenue-dependent corporate income tax ranging from 1% to 16% and a personal income tax rate fixed at 10%.
Ukraine
Ukraine boasts an impressive talent pool of 363,000 IT professionals. Each year, the country's higher education system, with 300 institutions and 11 ranking in the QS World University Rankings, adds 27,000 new ICT graduates to this workforce.
There are 5,600 tech businesses spread across major IT hubs such as Kyiv, Lviv, Odesa, Dnipro, and Kharkiv. These cities are not only known for their vibrant tech scenes but also for their contribution to an IT exports market that is expected to reach $5.49B by 2028.
Proficiency in various programming languages is a hallmark of Ukrainian IT experts, with JavaScript, Java, C#, Python, and PHP being the most prized skills among them. Regarding English proficiency, Ukraine ranks 35th out of 111 countries globally.
The fiscal landscape is also conducive to the growth of IT businesses, with an 18% corporate income tax rate and a simplified tax system that offers a 5% personal income tax alongside a 22% social security tax.
The Czech Republic
The country is home to a robust talent pool of approximately 221,000 professionals, driven by a strong educational system that produces around 16,000 ICT graduates each year. This infusion of fresh talent ensures that the Czech Republic's IT workforce remains dynamic and up-to-date with the latest technological advancements.
The Czech Republic housed approximately 7,700 IT businesses, reflecting a vibrant and diverse tech ecosystem. Major IT hubs have emerged in Prague, Brno, and Ostrava. The future of the Czech Republic's IT exports market looks promising, with projections indicating that it will reach $531.5M by 2028.
Czech IT professionals are particularly proficient in Python, Java, JavaScript, C#, HTML, and Swift. English proficiency is also a key asset for the Czech Republic's IT workforce, which ranks 23rd out of 111 globally.
From a fiscal perspective, the Czech Republic offers a balanced tax environment, with a 19% corporate income tax and a revenue-dependent personal income tax ranging between 15% and 23%.
Time zone alignment
Nearshore providers and their clients benefit from being in the same or similar time zones. In Europe, countries differ in time zone at three hours most, making coordination much simpler. Additionally, Europe's compact geography means that all countries are just a brief flight away from each other. This proximity facilitates face-to-face interactions, allowing you to meet your team in person rather than relying solely on video conferencing platforms.
Technology focus areas
Eastern Europe has emerged as a significant hub for technological innovation and development, with several key focus areas driving the region's tech industry forward:
Cloud computing: Many Eastern European countries are investing in cloud infrastructure and services, helping businesses to scale, enhance security, and improve operational efficiency. For example, Poland is becoming a key player in the cloud computing space. Global tech giants, such as Oracle, IBM, and Google, have recognized this potential, with many establishing cloud services in the country.
Artificial Intelligence and Machine Learning: These technologies are being increasingly adopted for various applications, from predictive analytics to automation and natural language processing. For instance, in Ukraine, there are 30,000 professionals with AI expertise, according to LinkedIn. Moreover, Ukraine's vibrant tech ecosystem has fostered the growth of several AI startups that have gained international recognition, such as Grammarly, Reface, and others.
Cybersecurity: In Romania, cybersecurity is a pivotal segment within the ICT sector. Trade.Gov notes that the nation's National Digital Agenda 2020 Strategy, anchored in cybersecurity, is set to undergo full implementation with an estimated investment requirement of approximately $2.64B. Furthermore, Bucharest – the capital, was designated as the headquarters for the European Competence Center for Industrial, Technological, and Research Cybersecurity.
EdTech: Educational technology is also a growing field, focusing on developing digital learning platforms, virtual classrooms, and other tools to enhance the educational experience.
Read more about software team nearshoring
Nearshore staff augmentation for the US: market overview
If you are a US-based business and consider nearshoring, it is a good idea to take a look at Latin America. Countries such as Colombia, Brazil, and Mexico are home to professionals that can become valuable assets to your company.
Main hubs
Colombia
Colombia is emerging as a significant player in the nearshore staff augmentation market, with a robust talent pool of over 150,000 IT experts, Colombia presents a compelling case for nearshore partnerships. The country is home to skilled software developers, with senior developer salaries ranging from $40,000 to $65,000 per year, offering cost-effective solutions without compromising on expertise.
Colombian developers are well-versed in various programming languages and technologies, including Python, JavaScript, C#, Java, PHP, .NET, React, and Angular. They particularly excel in database development, mobile development, and data analytics, showcasing a diverse range of technical skills that can cater to various project needs.
Geographically, Colombia's proximity to the United States is a significant advantage. A mere 3-hour flight connects Bogotá and San Jose, California, facilitating easy travel for in-person meetings and team integration. The time zone alignment is another key benefit, with only a 2-hour difference from the US West Coast and a 1-hour difference from the East Coast, enabling real-time collaboration and agile project management.
Colombia's main IT hubs – Bogotá, Medellín, Cali, Barranquilla, and Cartagena – are centers of technological innovation, attracting talent and fostering a dynamic tech ecosystem.
Mexico
Mexico stands out as an attractive destination, particularly for North American companies looking for a sizable talent pool and cultural alignment. With around 700,000 software developers, the country offers a wealth of technical expertise to tap into. Senior software engineers in Mexico command annual salaries between $38,000 and $55,000, presenting a cost-effective solution for companies seeking high-quality development services without the hefty price tag often associated with North American or Western European markets.
The Mexican tech workforce is proficient in a variety of programming languages and technologies, including Python, JavaScript, C++, PHP, SQL, and Ruby. They are particularly adept at mobile development and data analytics, which are crucial for businesses in the digital age.
English proficiency, while not the highest globally, is continuously improving, with Mexico ranking 88th in global English proficiency.
Major IT centers in the US are just 3-4 hours away by plane, making it convenient for companies to visit their nearshore teams or vice versa. The minimal time zone difference – only 1 hour with the West Coast and 2 hours with the East Coast – enables synchronous workflows and real-time collaboration, vital for agile and efficient project management.
Mexico's IT hubs, including Guadalajara, Monterrey, Mexico City, Tijuana, and Merida, are not only technological hotspots but also vibrant cities with a rich cultural heritage. This creates an attractive environment for IT professionals and fosters innovation within the tech ecosystem. The combination of a skilled workforce, geographical advantages, and a thriving tech culture makes Mexico an excellent choice for companies considering nearshore staff augmentation.
Brazil
Brazil has emerged as a prominent player in nearshore IT staff augmentation. With an impressive pool of 500,000 IT specialists, Brazil is well-equipped to cater to the diverse and complex technological needs of global businesses. Senior software developers in Brazil typically earn between $40,000 and $62,000 per year, offering a competitive cost advantage while maintaining high quality standards.
Brazilian developers are proficient in a range of programming languages and technologies, including JavaScript, HTML/CSS, Python, Java, SQL, and TypeScript. They have garnered a reputation for excellence in cloud computing, computer programming, and software engineering, demonstrating their ability to tackle cutting-edge technological challenges.
English proficiency in Brazil is on the rise, with the country currently holding the 58th rank globally.
A flight from São Paulo to San Jose, California, takes around 12 hours. Although this journey is longer than other nearshore locations, the time zone alignment presents a unique advantage. Being just 1 hour behind the US East Coast and 1 hour ahead of the West Coast facilitates real-time collaboration and coordination, which are crucial for agile and responsive project management.
Brazil's IT hubs, such as São Paulo, Rio de Janeiro, and Porto Alegre, attract top-tier talent and foster a dynamic and innovative tech ecosystem. This vibrant environment, coupled with Brazil's technical prowess and strategic time zone alignment, positions the country as an attractive destination for nearshore IT staff augmentation for companies aiming to enhance their technological capabilities while optimizing costs.
Read more about nearshoring in Latin America
Technology focus areas
Latin America has been making significant strides in various technology focus areas, leveraging its growing pool of tech talent and increasing investment in innovation. Some of the key technology domains that have seen notable development across the region include:
Fintech: The region has a burgeoning financial technology sector, with startups and established companies alike innovating in areas like digital payments, peer-to-peer lending, and financial management. Brazil and Mexico, in particular, have become hotbeds for fintech innovation.
Internet of Things (IoT): IoT has been adopted in many industries across Latin America, from smart city initiatives to agricultural technology (AgTech). The region is exploring how IoT can drive efficiency, sustainability, and innovation.
e-commerce: The e-commerce sector has experienced rapid growth, accelerated by the pandemic. Latin American businesses are enhancing their online retail platforms and logistics to cater to the growing online consumer base.
HealthTech: The healthcare sector is also undergoing a digital revolution, with telemedicine, digital health records, and diagnostic tools being developed and adopted across the region.
MARKET REPORT
Get a complete overview of the 2023 software development market in Latin America!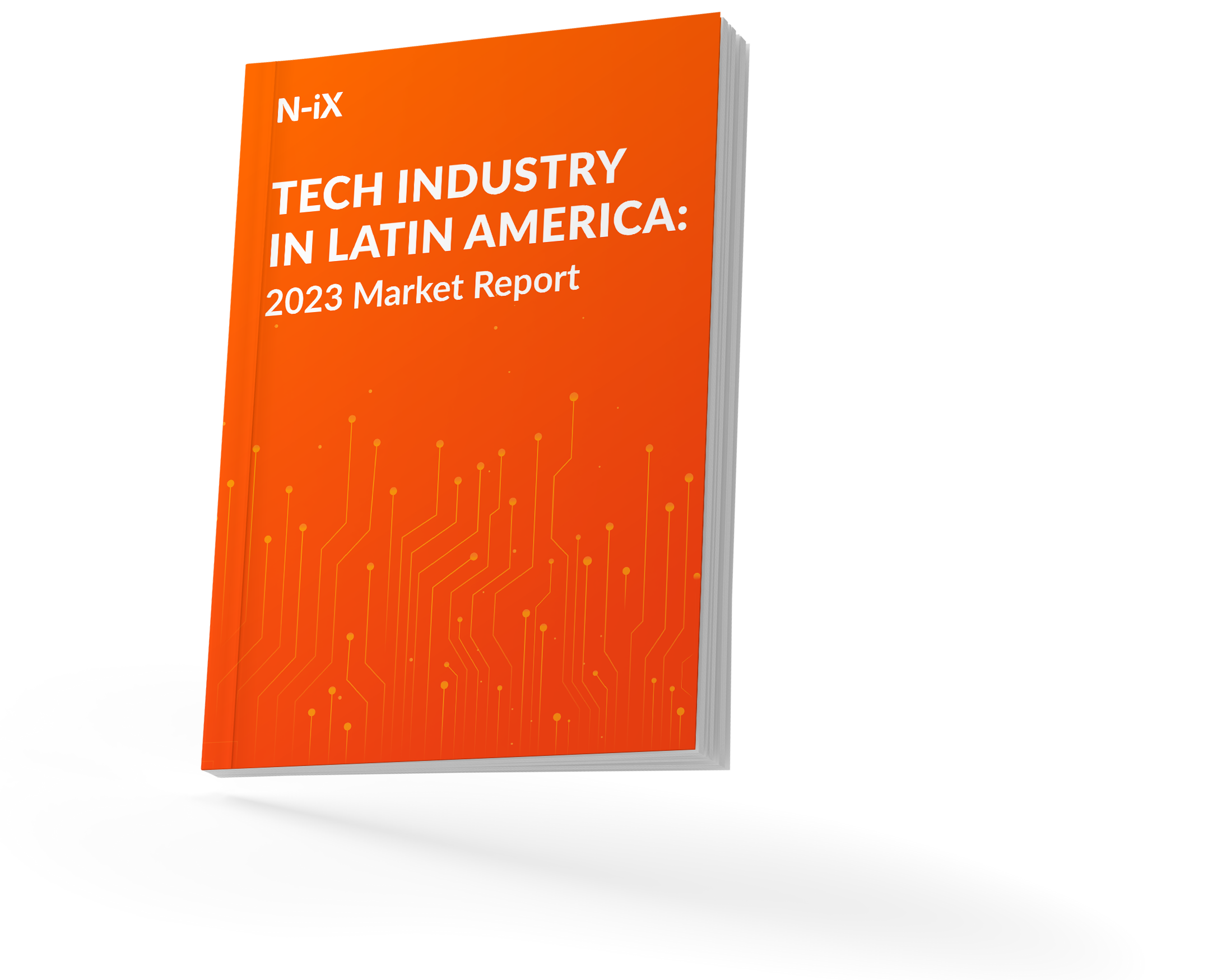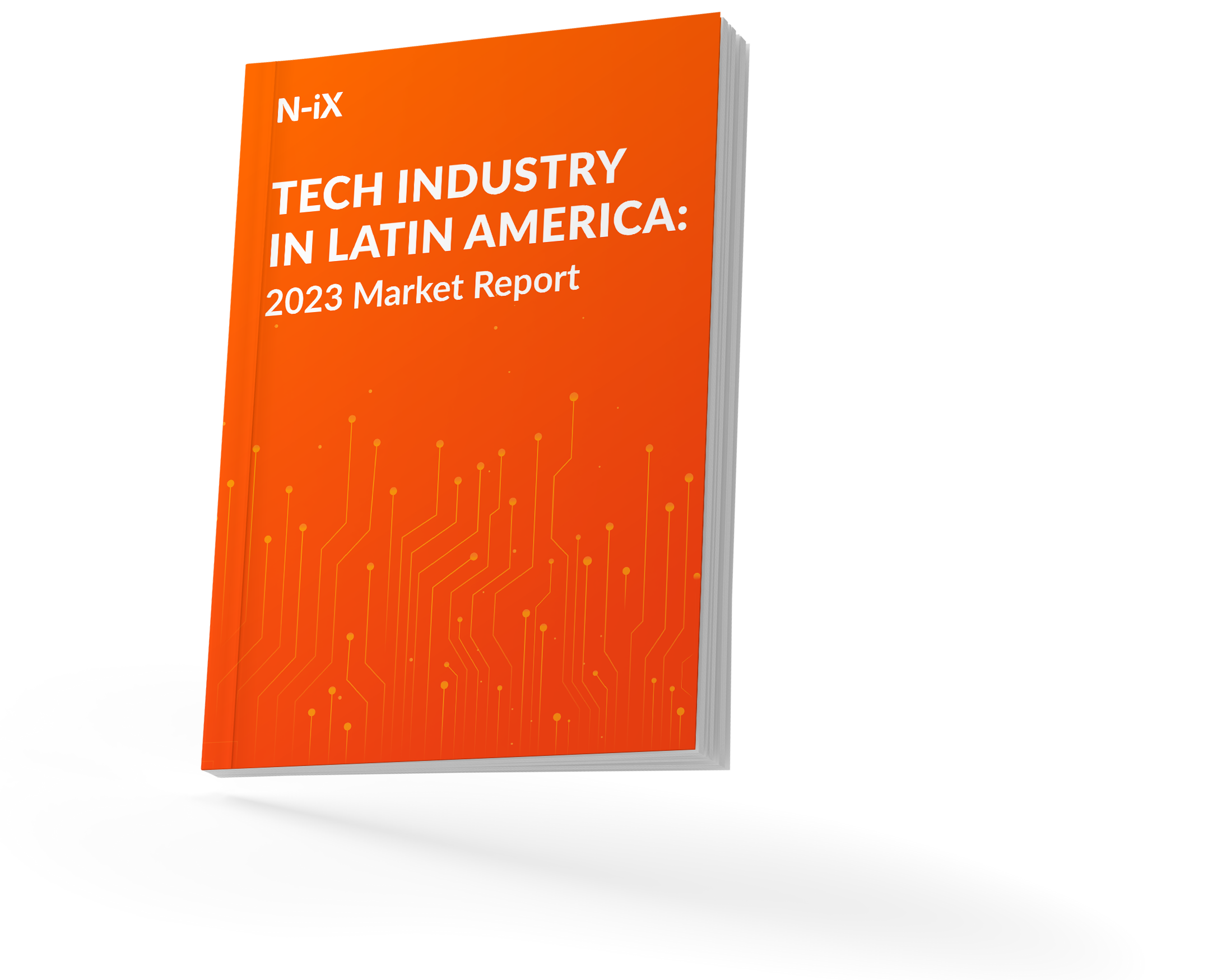 Success!
We are always happy to share our expertise with you! If you have any questions, don't hesitate to contact us.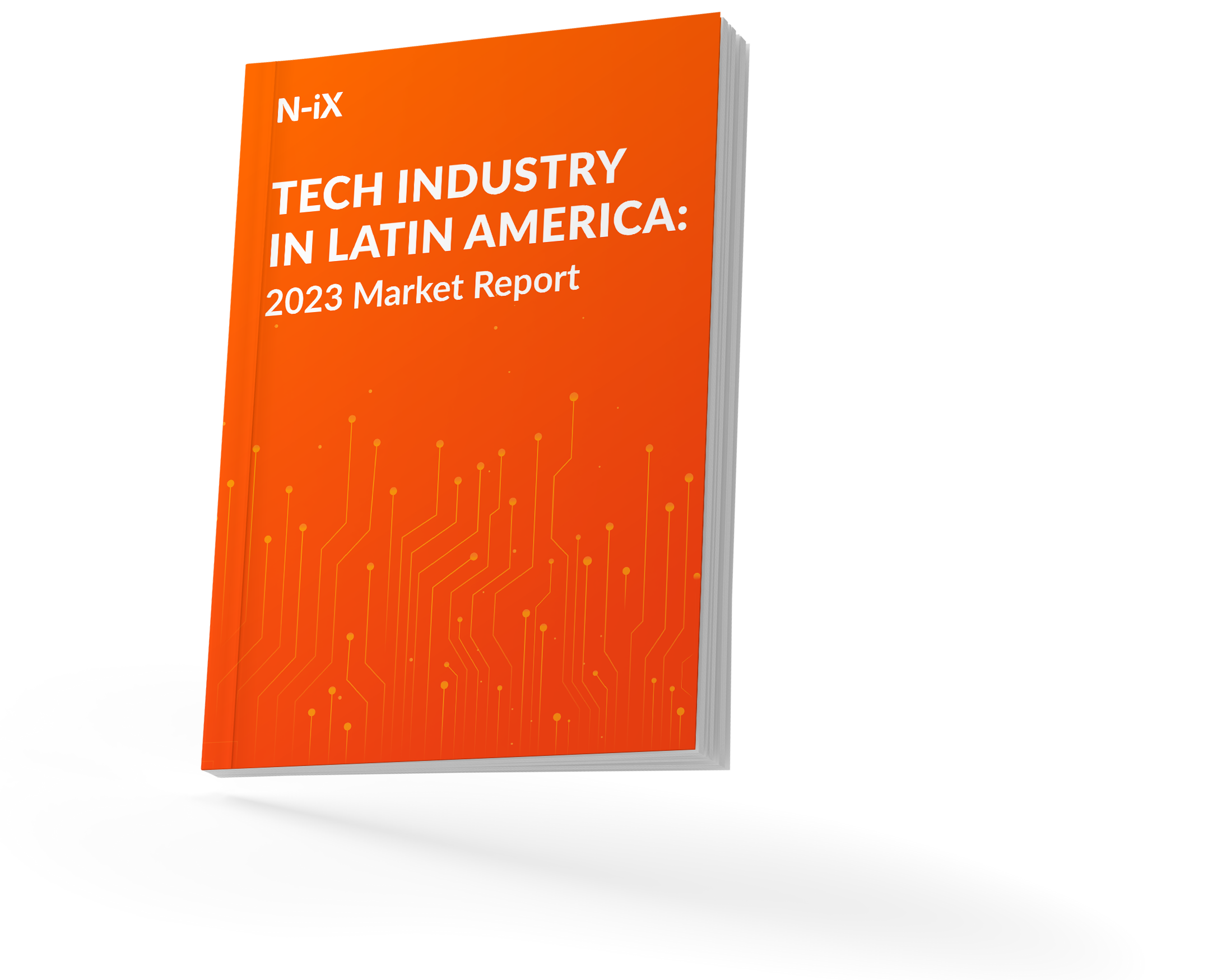 Why opt for nearshore staff augmentation with N-iX?
Opting for N-iX as your nearshore software development partner positions you for success, backed by a track record of enduring strategic partnerships, some spanning over five years, with a diverse range of businesses, including industry forerunners and Fortune 500 corporations.
Since its inception, N-iX has cultivated a rich history of collaboration with American companies, initiating this journey in 2003 with its first client, the prominent tech entity Novell, and expanding to include numerous esteemed US industry leaders. Our experience isn't confined to the US; the N-iX portfolio boasts a substantial number of European and UK clients as well.
N-iX hosts delivery centers across Europe and Latin America, granting you access to an expansive talent pool exceeding 2M professionals to fulfill your nearshore outsourcing needs.
Our global recognition in the tech market is a testament to our commitment and expertise. Esteemed platforms such as Clutch have listed us among the top software development companies. We've been featured in the Global Outsourcing 100 by IAOP, garnered accolades at the GSA UK 2019 Awards, and have been spotlighted by GoodFirms.co, among others. Further cementing our industry standing, Software Magazine ranks N-iX among the 500 largest software companies globally.
---