Digital transformation gained momentum across industries. However, the adoption of the new technology or its transformation requires profound expertise and tech talent to get the most out of this process. The need to properly implement the new tech boosts the demand for custom software development consulting services. The software consulting market will reach $539 B by 2028.
The growing market, a large number of consulting experts, and the ever-increasing share of IT consulting across the market point to the value of partnerships with software consulting experts. But how can you benefit from a partnership with a software consulting company? What are the main stages of software consulting and how do you find a reliable partner for your digital transformation? Let's find out.
What is a software development consulting?
The main objective of software consulting companies is to help you find the optimal technical solution and implement it, addressing both current and future challenges of the business. This process provides the ground for the sustainable growth and development of the business while also keeping an eye on external and internal opportunities and threats.
Software development consulting services provide you with unbiased assessment of your business from outside experts. The advisory team is supposed to help you make tech-related business decisions. That way, you can propel the efficiency of your internal processes and gain a competitive edge in the market.
Software consulting might extend beyond just advisory, as a strong team of experts can help you implement the recommended solutions (develop PoC or MVP, create a fully functional product, and more). A reliable software development company can drive your product from the product discovery up to market launch, and consulting is an integral part of that process.
What are the core responsibilities of a software consulting partner?
Different companies have different approaches to software consulting. However, the core competence of a software consulting company is to give recommendations on technical solutions. Trusted consulting and software development companies usually have a technology office (or a similar unit) that takes care of all stages of the consulting process. At N-iX, we offer the following services as a part of our consulting:
Requirement elicitation: first and foremost, the consulting team has to know everything about your needs and goals. The team will work closely with you to understand your requirements and find the optimal solution that takes your business to the next level on its digital transformation journey.
Strategy & roadmapping: the consulting team will create an action plan to develop a solution and achieve the expected results. Based on the gathered requirements, the consultants will select one or several possible solutions that would suit your business.
Solution assessment: it is also essential to assess the feasibility and marketability of the solution. You need to know whether your ideas are realistic for your time and budget constraints and whether this tech solution can help you reach your goals. The consulting software development experts will assess those aspects of your product and tell you exactly how realistic and profitable it would be for your business.
Prototyping and R&D: if you need a prototype to verify all the requirements and/or validate your idea, our engineers can also help with that.
Coordination of development: a consulting team will help you adopt the best software product development practices to benefit your business in the long run.
Benefit from the professional software development consulting services
Software development consulting services help you see new opportunities, fix the inefficiencies of your current technological solutions, and optimize the overall performance of your company. Teaming up with a reliable consulting partner, you can:
Get support from our Solution group. At N-iX, we have a Solution group—a team of top technical experts that can help you with product discovery, architecture evaluation, tech assessments, and other related matters. They can conduct a tech analysis for the most efficient digital transformation strategy, help you choose the optimal approach, and, as a result, get better results with less effort.
Access cutting-edge tech. Technology does not stand still, and failure to modernize your workflows might leave you behind the competition. A software consulting company can assist you in selecting the proper technology (and they are more likely to have hands-on experience with the latest tech). Thus, you are going to set yourself on the path of innovation.
Ensure engineering excellence. Apart from giving you a roadmap for the development process, consultants can also help you make sure your product is compliant with required industry standards, adheres to the engineering best practices, and can be scaled and adapted for your future growth.
Design a flawless customer experience. The consulting team can also conduct design research and map out the design strategy for your product. Based on the market study and audience research, they will help you create the design that delivers an excellent user experience. Thus, your customers will be happier with your product, resulting in better business results.
Optimize business operations. With the help of a Solution group, business owners and senior executives can find the potential areas for automation and ways to balance costs. A reliable tech partner can help you with RPA, infrastructure optimization, introduction of AI & ML to advance your decision making, and much more.
Modernize existing systems. Another part of consulting services is helping companies navigate a complex digital transformation through modernization of their software systems. Tech experts will select the proper replacement for an outdated technology, map out the transition, and suggest other solutions to bring even more value to your business.
How to choose the best software consulting company?
Now that we've defined the core responsibilities and benefits of software development consulting services, let's help you find the best vendor. Make sure your potential partner can deliver the expected results. That is why selecting the right people for the job is the foundation for any successful business.
1. Define your goals and requirements
Before you start your search for the best software consulting vendors, you need to know exactly what you are trying to achieve. A precise understanding of your goals is the basis for all of your next steps as it allows you to clearly define the needs of your project.
2. Make a list of potential vendors
The next step is to make a list of software consulting companies that can cater to your needs. Today, you can easily compile a list of potential partners using specialized platforms like Clutch. There, you can filter the companies by size, expertise, customer satisfaction rate, and other metrics. It is recommended that you list the companies following high selection criteria:
High rating of at least 4,7
Customer-proven success
At least 1000 experts on board
10+ years on the market
The selection criteria need to be quite rigorous since you need to partner with people who can provide high-quality consulting and software development services. It is generally a good idea to look for companies that have a strong market presence, customer-verified success, and a sufficient number of experts.
3. Check their portfolio
See what kinds of projects they've been working on before. Usually, software development consulting firms have a success stories section on their website where you can find information on their previous projects. Find out whether they've worked on projects similar to yours and examine their approach to the project.
You should also know what industries they specialize in. If the company has substantial experience working in your industry, it is a good sign. Having a partner who has already worked on similar projects in your industry gives you that extra confidence in project success.
4. See client reviews
Apart from checking their portfolio, you should also see whether their previous or current clients are satisfied with the project outcomes. Check client reviews on different rating platforms to see how strongly the company performed. You want to see value in what the company does, and there's no better way than to ask their previous customers. You may also contact their clients directly and ask them to provide feedback on the cooperation.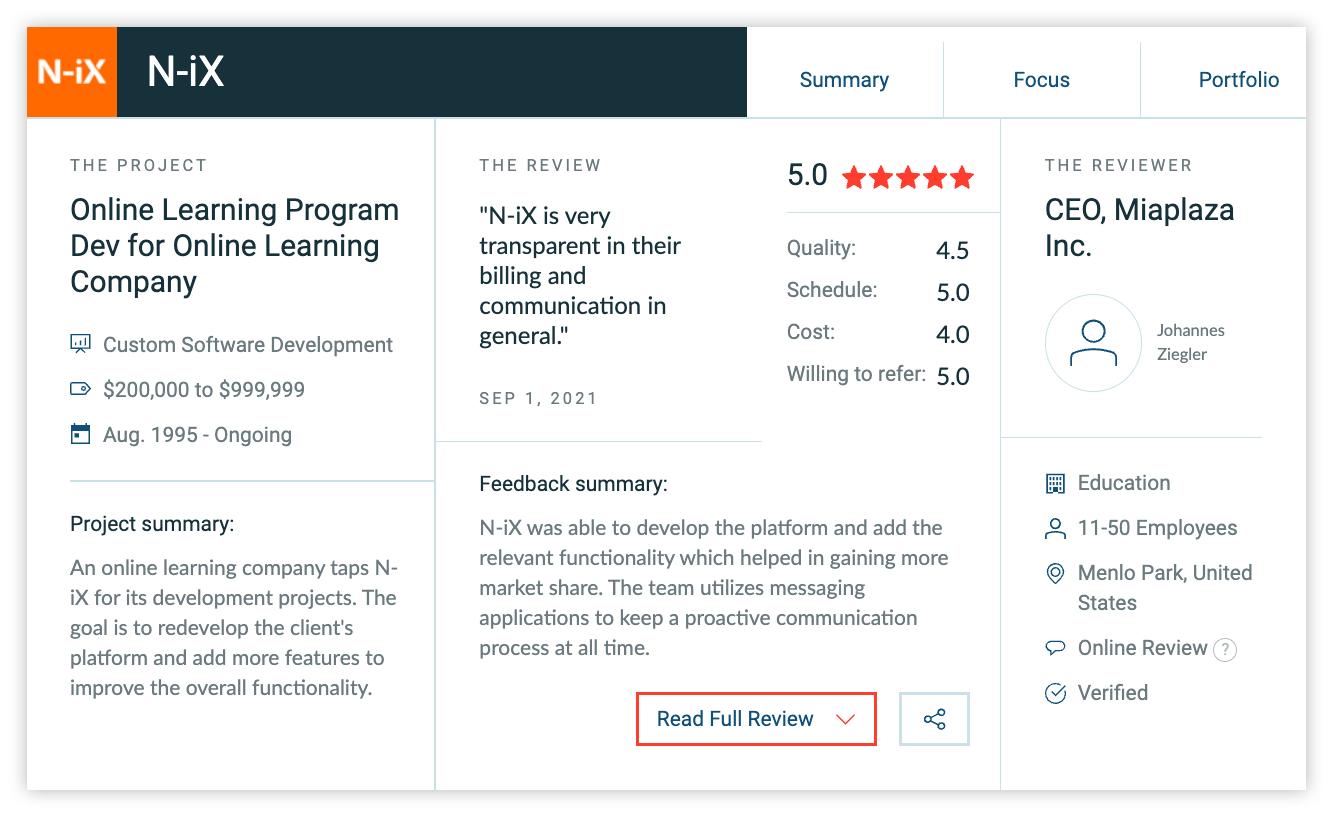 5. First contact
After you have the list of potential software development consulting partners ready, it is time to make the first contact. You can call them or use the contact form on the website to send your message. After that, you'll negotiate the conditions of cooperation, pricing model, deadlines, the number of experts on the team, legal aspects of the contract, and all the other project details.

Why choose N-iX as your software development consulting partner?
N-iX is a reliable European consulting and software development partner with 20 years of experience in industries like telecommunications, retail, agritech, fintech, manufacturing, and more;
Our team of 2,000+ experts offers services across such technology domains as Big Data, Business Intelligence, Internet of Things, Embedded Software Development, AI and Machine Learning, and more;
We work with Fortune 500 companies and industry leaders like Gogo, Currencycloud, Fluke, and others;
N-iX is compliant with international standards like GDPR, PCI DSS, ISO 27001:2013, ISO 9001:2015, and more;
We have achieved numerous industry recognitions such as IAOP Global Outsourcing 100 Leader, Forrester Now Tech report, and CRN Fast Growth 150 List, among many more.
Have a question?
Speak to an expert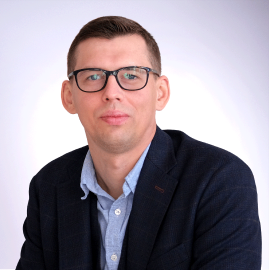 Dmytro Ovcharenko
Director of Technology Office
---