By 2023, the spending on the technologies and services that enable digital transformation worldwide is expected to amount to 2.3 trillion U.S. dollars.
Though COVID-19 pandemic has forced many companies, from startups to enterprises, to rethink their strategies and operations, digital transformation remains a priority for most of them.
For instance, according to a recent IFS study, 70% of businesses have increased or maintained digital transformation spend amid the Covid-19 pandemic
The survey found that the people concerned with economic disruption were 20% more likely to plan increased spending on digital transformation.
Regarding the industries that are the most willing to invest in digital transformation, construction (75 % of respondents), IT (58 % companies) and manufacturing (55 % companies ) are taking the lead.
However, to get a competitive edge and lay the foundation for successful digital transformation, companies need to speed up the development cycle and consider increasing the automation of software delivery. Cloud-native architectures, microservices, and DevOps best practices are a necessity for successful digital transformation.
''A shift toward cloud-native architectures, digital platforms, APIs everywhere, and open source results in technology infrastructures that are more modular, helping software development teams act independently. Modern applications also scale up (and down) as needed, freeing teams to focus on building software that differentiates their firms' digital experiences.'' - Digital Transformation Requires Development Transformation, Forrester Research, Inc., December 13, 2019
For example, according to the IDG Cloud Computing Survey 2020, the average cloud investment is up 59% from 2018 to $73.8M in 2020. Companies are also increasingly investing in data analytics, AI, and automation.
As a result, the demand for talent is on the rise.
''Demand for talent will increase further as digital experience delivery continues to evolve into new areas like chatbot integration, Alexa Skill building, and integration with AI algorithms. Successful development organizations must adjust their recruiting, retention, and sourcing strategies to account for this.'' - Digital Transformation Requires Development Transformation, Forrester Research, Inc., December 13, 2019
What's more, the global pandemic has forced companies to reduce their expenditures. And they are looking for a reliable nearshore or offshore software development partner that will help them undertake digital transformation amid this turbulent time.
Let's take a look at some digital transformation case studies and successful examples of IT outsourcing partnerships.
Сase study №1. Large-scale digital transformation in telecom
About the company
Lebara is one of Europe's fastest-growing mobile virtual network operators with a presence in 8 countries. The company offers Pay As You Go mobile SIM cards and other related products and services for international communities. The products make migrants' lives easier – from communications to entertainment, and financial services.
Undertaking a digital transformation
6 years ago, Lebara initiated a digital transformation program, which was designed by a leading consulting agency. At that time, Lebara worked with a number of IT service providers. However, the company was looking for another vendor that could cover all their needs in software development and become a long-term partner. As a result of the rigorous selection process, a new CTO chose to establish a software development partnership with N-iX, and the IT vendor became responsible for the full-cycle development of new products and their maintenance as well as new digital transformation streams.
Omnichannel user experience
Lebara needed to introduce changes to meet its needs for the growing client base and deliver a seamless omnichannel user experience
To do it, Lebara needed to migrate its Hybris B2C platform from 4.3 to 4.8 version. The N-iX experts developed a single master data system for offline and online channels (website, mobile app, SMS, USSD, and customer service). To ensure the quality of the product, the N-iX team created a custom test automation framework.
Also, we developed the website, which is available in the UK, France, Germany, the Netherlands, Spain, and Denmark. The website users can buy, register or activate their SIM cards, buy and change plans (data, SMS bundles), top up or configure the auto top-up. In addition, the website allows users to check the balance, access online support, and manage multiple user accounts.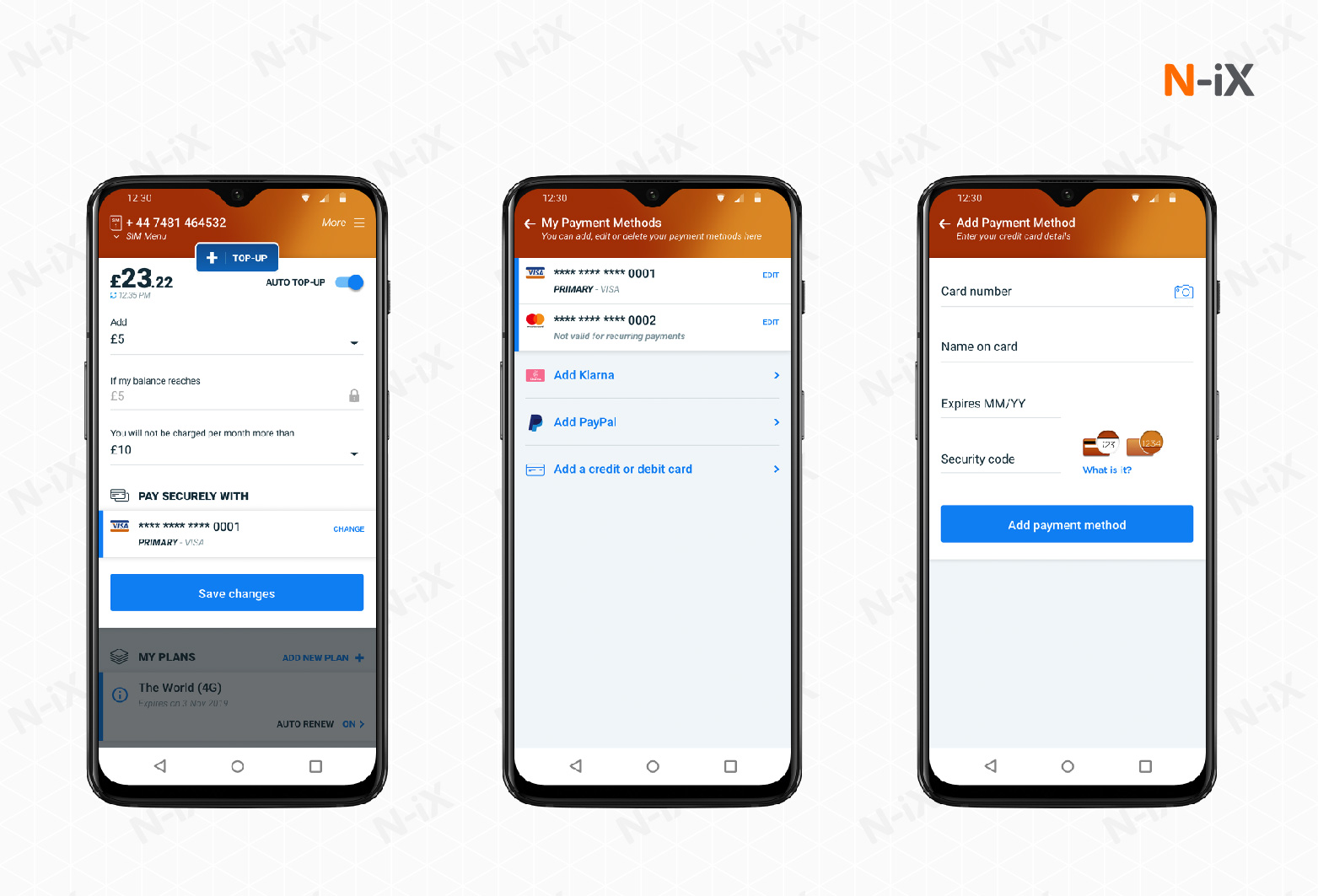 BI expertise
Another stream N-iX helped Lebara with was BI development. It covered performance optimization, development and support of the existing enterprise BI solution, which was previously supported by IBM. The N-iX team has optimized the workflow, removed delays in reporting, and helped to reduce the supporting team by two times, which allowed Lebara to decrease the overheads.
Cloud and Microservices
Following its digital strategy, Lebara decided to migrate its solutions from on-premises to the cloud. N-iX has been leading Lebara's cloud transformation and development of scalable and cost-efficient cloud solutions.
First, our specialists worked on building the microservices on AWS.
Then, our professionals contributed to the migration from on-premises to Azure.
Following the multi-cloud strategy and choosing two cloud vendors allowed Lebara to gain more flexibility and avoid vendor lock-in. Also, cloud transformation enabled Lebara to introduce innovations faster and expand their market reach.
Data expertise
Lebara was looking to monitor and optimize the operations of its departments and needed comprehensive data analytics expertise. As a result of cooperation with the IT outsourcing vendor, the company generates reports on the statistics of calls, SMS, top-ups, and more. The reports are sent to the end-users of different Lebara's departments in 6 countries. A sales department uses them to see how the department performs; a financial department — to see what is going on with the client base and whether the business generates profits or not; a marketing department — for data analytics and using it to generate specific marketing campaigns.
Also, we have helped Lebara to ensure the reports come with no delay as the previous system lacked performance and scalability and reports came with an average delay of 3-4 hours. Therefore, Lebara decided to replace the existing solution with an Azure-based data lake, which enables almost real-time data streaming and timely reports for multiple departments. Currently, Lebara is in the first stage of the data lake development that includes basic reporting. The next stages will involve expanding the reporting and integrating predictive analytics into it.
Establishing a full-fledged R&D center
While at the start of our cooperation, Lebara kept full control over the development, with time, the company has been handing over more control of processes and project management to our team. Since 2017, this process has accelerated and eventually our client delegated 100 % of R&D capabilities and part of project management to us. Lebara's development center at N-iX comprises over 100 software engineers working in various directions, from mobile to Big Data.
Benefits: Comprehensive digital transformation and optimized operations
Seamless omnichannel user experience.
Simplified business processes and improved management of commerce data flows.
The website with wide functionality to serve the needs of Lebara's customers in the UK, France, Germany, the Netherlands, Spain, and Denmark.
A multi-cloud strategy for better flexibility and avoiding a vendor lock-in; the opportunity to negotiate better terms with cloud vendors.
Optimized BI reports without delays thanks to the data lake development; all the client's reports are ready daily till 8 AM.
Saving infrastructure costs and improved scalability with cloud and microservices.
Faster time-to-market and prevented downtime thanks to the test automation framework.
Introducing innovations faster thanks to microservices architecture.
Case study #2. Helping automotive leader scale their digital transformation journey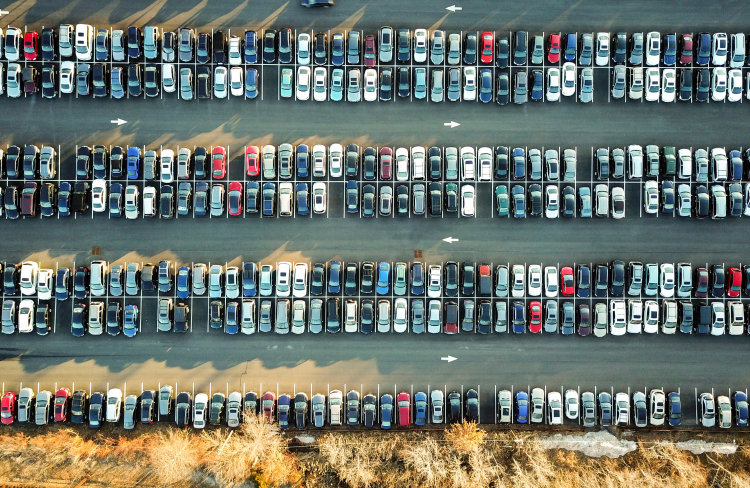 About the company
Another business that undertook a digital transformation is a leading automotive technology company with over 70 years of experience in the development and optimization of powertrain systems for passenger cars, commercial vehicles, construction, locomotive, aviation, marine, etc. The company has more than 45 engineering centers across the globe and employs over 10,000 people
Undertaking a digital transformation
The company was looking for a software development partner to help them undertake another digital transformation phase as the company has a lot of manual processes, which called for automating.
What's more, the company has a complex organizational structure, which comprises multiple independent departments. Each of the departments creates a number of standalone solutions for internal use and customer projects. Some of these applications have quite similar features. However, there used to be no solution to reuse the applications with similar functionality.
To scale their digital transformation, optimize operations, and reduce costs, The company needed to develop a SaaS platform that would help them standardize and streamline the development of digital products of different departments.
However, first, the company needed to validate the product idea, measure its ROI, and mitigate potential risks. Also, the company was looking for consulting and additional expertise in cloud software development.
To validate the product idea, our client has set on digitizing the preparation of vehicle benchmarking reports for customers as the manual process was inefficient and time-consuming.
Unveiling the business value
N-iX helped the company to understand under what circumstances the platform would be profitable for the company. To do it, we conducted two Discovery Phases - the main Discovery phase focused on the product and a Business Strategy Discovery focused on unveiling its business value.
In terms of the Business Strategy Discovery, N-iX experts prepared a comparative analysis of two scenarios: a case when a department develops a solution with the help of the SaaS platform and the case when it develops a solution on its own. The estimates show how much the company needs to initially invest in platform development and how much money a department can save if they decide to develop its solution on the platform vs developing a solution on its own.
Also, N-iX specialists interviewed several client's teams to better understand the client's business needs and the functionality of each solution. Also, we conducted a number of workshops to formulate the product vision and develop the value proposition canvas. Then, we determined what they have in common and came up with several key components.
In terms of the Product Discovery Phase, we prepared a detailed product requirements specification that describes the project, its goals, features, the optimum technology stack, and architecture overview.
As a result of the Discovery Phases, N-iX experts provided a high-level project plan with clear functional requirements, built UX/UI prototypes of the cloud-based SaaS platform and a benchmarking app hosted on it, and estimated the time and money needed to turn the idea into an MVP or a full-fledged product.
Our client received all the necessary deliverables to kick off the implementation phase successfully, including templates to evaluate whether it is more profitable to develop a solution on its SaaS platform or invest in the development of a certain type of service.
Benefits: Evidence-based decision making to avoid risks amid turbulent economic times
Based on the results of the Business Strategy Discovery, the client decided to build the SaaS platform.
The benchmarking solution hosted on a SaaS platform integrates all available vehicle benchmarks previously researched by the client and is projected to:
Reduce man-hours by 1.5 times if the application is hosted on the platform rather than developed on its own, and, therefore, save operating costs in the long run.
Replace the two-week manual process of preparing the benchmarking reports for customers and enable internal application users to publish new benchmark reports, update pricing, and manage a customer's access based on subscriptions purchase.
Provide flexibility for clients (OEMs) to select benchmarks and payment options in their subscription accounts.
Case study # 3 Digital transformation of an Agri-Services group
About the company
Origin Enterprises plc is a large Agri-Services group with leading market positions in Ireland, the UK, Poland, Romania, and Ukraine. Origin Enterprises plc ("Origin") is a leading Agri-Services group that provides integrated agronomy services. Based in Dublin, it offers value-added technologies and strategic inputs that support the delivery of profitable and sustainable food production solutions for primary producers.
Undertaking a digital transformation
Origin needed to create digital solutions for optimizing internal systems and processes in the agriculture domain, a mobile application with GPRS tracking available offline, smart planning for farmers, nutrient planning and recommendation solutions, and others. And they were looking for an offshore development partner to help them. NiX dedicated development team has been working on several projects for Origin. N-iX provides mobile application development, web development, product support (including user interviews with agronomists), project management, software QA and testing, and UI/UX design.
Our engineers have developed a mobile app and a number of web applications for Origin. They serve as digital platforms for farmers, agronomists, and product and credit providers offering wide functionality from optimizing cooperation between parties to effective estimation and recommendations in the agriculture sphere. For instance, one of the applications developed by N-iX team is a progressive web application that integrates modern web capabilities and the benefits of the mobile experience.
In order to meet the client's requirements, the team has thoroughly studied the agriculture domain and various industry specifics.
Benefits: Digital solutions for smart farming
Optimized cooperation between farmers, agronomists, product, and credit providers.
Using data-driven insights for more effective recommendations.
Why choose N-iX as your digital transformation partner:
We've helped businesses in manufacturing, telecom, automotive and other industries build innovative products and undertake digital transformation
We have over 20 years of experience in remote work and management of distributed teams and have built long-term partnerships (5+ years) with companies such as Gogo, Lebara, Anoto, Currencycloud, and others.
N-iX is compliant with PCI DSS, ISO 9001, ISO 27001, and GDPR standards;
N-iX is trusted in the global tech market: the company has been listed among the top software development providers by Clutch, in the Global Outsourcing 100 by IAOP for 4 consecutive years, recognized by GSA UK 2019 Awards, included in top software development companies by GoodFirms.co, and others.
Our expertise in cloud computing includes cloud-native services, on-premise-to-cloud migration, cloud-to-cloud migration, as well as multicloud and hybrid cloud management;
We offer professional DevOps services, including Cloud adoption (infrastructure set up, migration, optimization), building and streamlining CI/CD processes, security issues detection/prevention (DDOS & intrusion), firewall-as-a-service, and more;
N-iX has broad data expertise to design different kinds of data solutions: Big Data / Data Warehouse / Data lake development, Business Intelligence, Data Science, Artificial Intelligence & Machine Learning, etc.
N-iX is a Select AWS Consulting Partner, a Microsoft Gold Certified Partner, a Google Cloud Partner, and an OpenText Reseller Silver Partner;
---