Timely adoption of Artificial Intelligence allows fintech companies to identify threats, prevent fraud, automate monotonous tasks, and improve the quality of services. All of that translates into improved efficiency and increased profits.
Artificial intelligence is not a fast-fashion; this technology is here to stay. So, how does it change the face of the fintech industry, what are the common uses of AI in fintech, and how do you capitalize on this upcoming technology? Let's find out.
Cut redundancies, increase efficiency
You might wonder whether AI is worth your time and investment. What's in it for you?
First and foremost, customer acquisition and retention remain the primary drivers for the company's success, and AI can help you acquire new customers. This makes the work of a dedicated team of customer supporters much easier to handle. Secondly, it allows you to retain customers by increasing their engagement thanks to chatbots and digital assistants.
You can also optimize the workload by eliminating routine tasks that can be handled by AI-powered automated solutions. That way, you can reassign your employees to handle more important and complex tasks that bring more value. Automation reduces user support costs, which means more money to allocate to other business needs. All of these benefits are possible thanks to automation powered by AI.
Automation can help across business domains thanks to its wide range of applications:
Wealth management
AI-powered assistants might go much further than just chatbots. Thanks to its analytical capacity, AI can help in creating wealth management assistants that will help your clients make better purchasing decisions. You can also promote your products and services to help clients improve their spending habits or save more money. This is a financial advisory that does not require any time and effort spent by your employees.
Convenient data analytics
As for the use of AI in the finance industry, it can identify alterations in data patterns, analyze, and tune them on its own. More so, if the data quality is far from perfect, AI in fintech can still come up with useful insights by making accurate predictions and helping you make more informed decisions.
What's even more impressive is AI's ability to analyze unstructured data, which is vital for financial services. In fintech, this can be applied in several ways: first of all, for predicting the product propensity and adapting the marketing strategy by analyzing customer behavior.
Digital assistants and chatbots
AI-powered assistants minimize the load on your call center and client support team. AI chatbots can also offer personalized financial advice to your clients to help them track their expenses, achieve their financial goals, remind them of due bills, and help monitor their purchasing habits.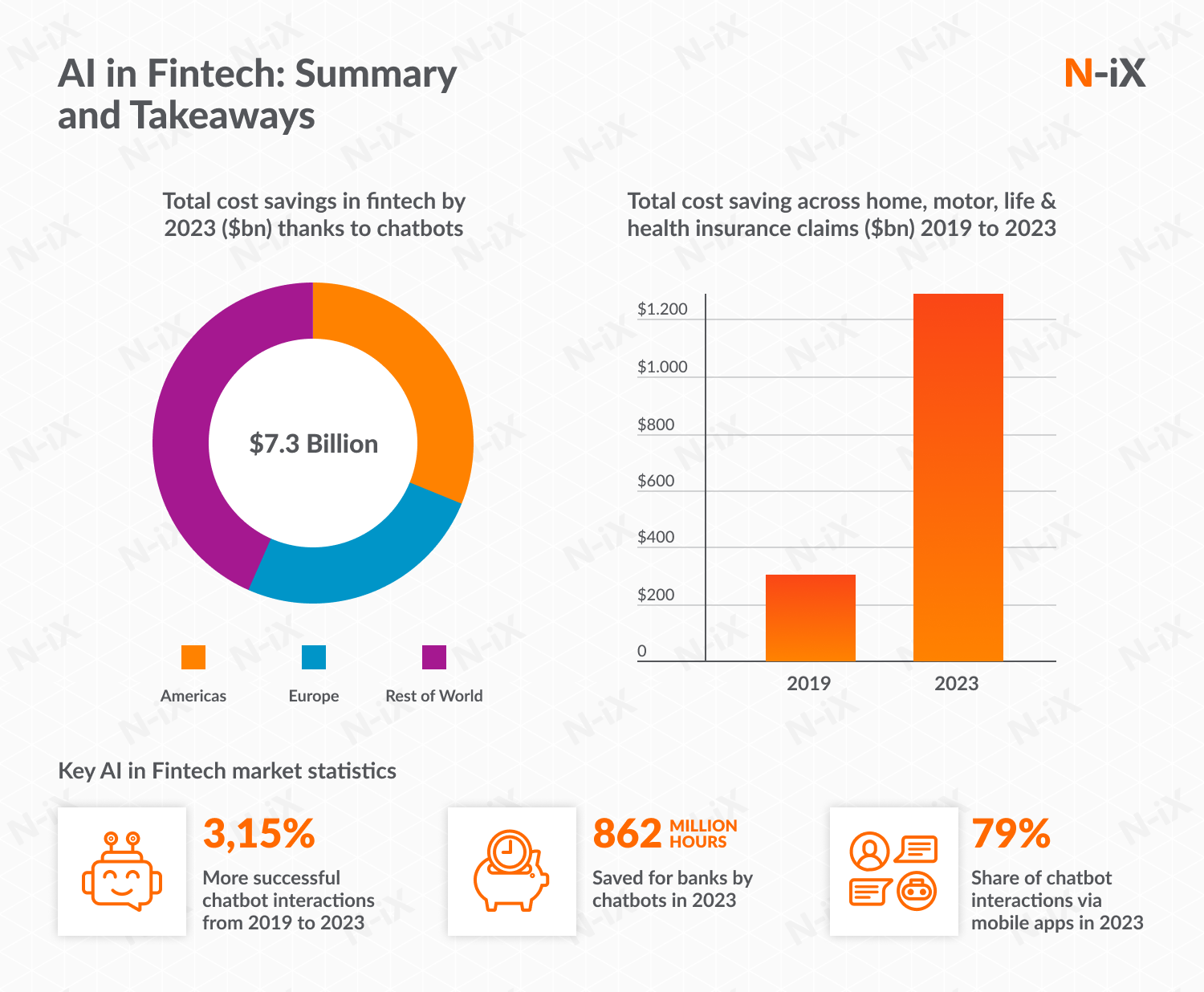 Natural Language Processing
Natural language processing (NLP) can help check the free contract text for compliance. You can take a picture of a contract page and the AI will detect any possible non-compliance. The NLP allows the chatbots to better understand the clients' inquiries and give more precise recommendations. Thirdly, you can use it for facial recognition, which helps with KYC and client onboarding efforts.
Fraud Prevention
Thanks to the AI's immense analytical capacity, it can observe and analyze clients' behavior, determine their purchasing habits, and track their location to detect any suspicious activity. The impact of AI in financial services is ubiquitous and it can help detect any unusual activities and prevent any potential fraud. Being the leading experts in machine learning and AI, the N-iX team has already delivered efficient solutions to many industry leaders, including a British fintech company.
As hackers come up with more advanced ways to gain access to your clients' personal data, so should you come up with more advanced ways to protect it. We can guarantee reliable fraud detection solutions by leveraging the capabilities of such big data tools as AWS Kinesis, Apache Pulsar, Amazon Redshift, as well as Machine Learning solutions such as Amazon ML, Google Cloud AI Platform, Azure Machine Learning Studio, and more.
Use cases of AI in fintech
According to the Fintech 5x5 report, 67% of fintech companies see AI as technology that will produce the strongest impact upon the sector in the following decade. Ignoring a technological shift in the financial sector means denying your business the healthy growth and development opportunities that artificial intelligence in fintech can provide.
Companies like ZestFinance have been leveraging the capabilities of AI to create an automation platform that allows fintech companies to assess potential borrowers faster. The platform evaluates the risks and gives employees a quick picture of whether a potential borrower is considered reliable or not.
Crest Financial Group uses a machine learning DataRobot platform to analyze the behavior of the clients and make predictions to detect and prevent fraudulent transactions.
Online payment platforms like Payoneer and Skrill use AI to analyze unstructured data. For instance, the users can upload the scans of their IDs and other documents and the system is able to recognize the free text in these documents.
Privatbank, a large Ukrainian bank, uses AI-powered chatbot that uses Natural Language Processing and is able to answer general questions and provide clients with instructions on how to use different services of the bank.
All of these solutions serve one major goal – they increase the productivity of fintech companies. By using data analysis automation tools and chatbots, you can greatly reduce the workload on your human resources.
How you can apply AI in fintech
Despite a huge promise of AI for financial services being the next big thing in fintech, even the most advanced companies have problems tapping into its full potential. One of the main reasons why that happens is unrealistic expectations. Here are some things you should keep in mind:
Proper functioning of the automation systems requires human supervision;
It takes a strong team of experts to implement relevant AI and Machine Learning solutions and keep the system going smoothly;
It is a developing technology and its full potential is yet to be discovered, so you might want to take an early start.
Along with unrealistic expectations, the early adopters of AI and automation might hit the wall not knowing where to start their journey. So how do do you adopt the technology to have a head start on the competition?
Big Data is the best solution here as it gives you a set of real tools for dealing with current problems while getting you ready for the future challenges;
In most cases, proper data engineering and analytics can be your best solution as it opens the doors for the proper implementation of machine learning and AI;
Big Data engineering, Data Science and Machine Learning can help you make the first confident step towards a true AI sysytem;.
You should keep the future impact of AI on financial services in mind, but for the time being, the best practice is to not overcomplicate it and go for the solutions that actually work right now. Your best call is to adopt Big Data and Data Science if you are going to be an early adopter of AI.
Key takeaways
AI is the most promising future technology in fintech, with 67% of companies considering it the most impactful for the following decade.
Real AI does not exist just yet but you can make your first steps towards its adoption thanks to Big Data and Machine Learning.
Automation is the key reason for the adoption of AI; it boosts productivity and reduces the load on your employees.
AI can help with fraud detection and prevention by analyzing the typical behavior of your clients and detecting any abnormal or suspicious activities.
Thanks to natural language processing, companies can streamline their communication with clients using AI-powered chatbots.
The adoption of new technology requires strong expertise, a reliable team of data engineers, and a laser focus on your core business goals.
Businesses in the financial services domain have entered a new era of growth and development thanks to big data, machine learning, and artificial intelligence in fintech. These technologies play an ever-increasing role in a vast number of processes including fraud prevention, customer service, financial analytics, stock forecasting, and many more. Right now, it is the best time to embrace the potential of machine learning and AI as the driving force for the growth and development of your fintech business.
Have a question?
Speak to an expert
Igor Tymchuk
Head of Data Unit, AVP Delivery
---