Cloud is a must for almost any type of business that aspires to remain competitive in the modern market. But the cloud itself (whether as a part of adoption or migration) requires strong expertise and considerable investment to avoid overbudgetting and failure.
The lack of in-house expertise, limited resources, and time constraints are the top challenges in cloud adoption. Many companies turn to cloud computing outsourcing as the best way to tap into the required expertise for the cloud shift. A reliable tech partner can provide you with the expertise and knowledge to successfully adopt the technology avoiding overspending and all the associated risks.
Making the cloud journey easier with an external provider
In 2022, global spending on cloud computing has reached $1.3T. Gartner estimates that spending on the cloud across the global IT sector will reach $1.8T by 2025 indicating a further shift in its adoption. As businesses look for opportunities to capitalize on the growing influence of this technology, the need for cloud outsourcing continues to grow.
Cloud has become an integral part of pretty much any business' tech strategy. But it requires strong expertise on the part of your cloud development partner. As a company that works with over 150 companies across numerous industries, N-iX can confirm that most technology projects involve cloud solutions to some extent. In our two decades of experience, we have worked on a wide range of projects that involve cloud technology, and we can support you on any stage of your cloud journey or help you with any challenges you may face.
1. Creating a strong cloud strategy
Designing an effective strategy from scratch might seem complicated or even scary. Our team will assess your infrastructure for cloud migration readiness, conduct business and product discovery, and conduct pilot platform and migration. We will also conduct knowledge transfer workshops to make sure your in-house team is familiar with the under-the-hood functioning of the infrastructure. Our experts will also help you set up effective data governance practices. A well-thought cloud strategy will provide the following benefits:
Cost-efficient project starter;
Identification of risks and challenges;
Alignment of key stakeholders;
Matching the cloud initiative with your business goals;
A roadmap for successful cloud adoption;
Maximized value of such investments.
2. Planning the effective adoption
Working with an experienced cloud outsourcing partner will help you adopt the technology and extend its capabilities over time. We will support the process by applying different approaches depending on your unique needs: refactor, rehost, rearchitect, replace, or rebuild. Thanks to the effective cloud adoption, our clients experience the following improvements:
Enhanced customer experience;
Reduced costs;
Improved security;
Faster product modernization;
Improved business and technology agility.
3. Setting up cloud operations
An experienced vendor can ensure the continuous performance of your infrastructure and its fast recovery in case of disaster. Dedicated cloud DevOps experts at N-iX will either establish the processes (for example, developing a CI/CD pipeline) or review and analyze your existing processes, suggest improvements, and assist in the implementation of the required changes. We will also provide post-migration support and help with cost optimization by helping with:
Faster time to market;
Accelerated automation;
Substantial IT savings;
Improved disaster recovery;
On-demand scalability.
4. Ensuring cloud quality and security
The N-iX team will help you ensure the quality and security of your infrastructure. We offer cloud security consulting along with penetration testing to make sure your infrastructure can withstand potential threats. We also run compliance testing. All of that will improve the overall quality of your products and the stability of your infrastructure. These actions will contribute to:
Increased customer satisfaction;
Enhanced quality and security of your system;
Adhering to compliance requirements;
Improved disaster prediction and recovery;
Reduced the cost of testing.
5. Optimizing with Cloud accelerators
There always is a way to improve and build upon the existing infrastructures, and as you could outsourcing partner, we can help with applying new technologies such as AI and machine learning into your infrastructure. We can also help with CI/CD automation, and use MLOps, DataOps, GitOps, and other methodologies that match the needs of your business. Cloud accelerator services will give you:
A strong foundation for your cloud initiative;
Streamlined adoption of new technologies;
Unparalleled performance for any size of workload.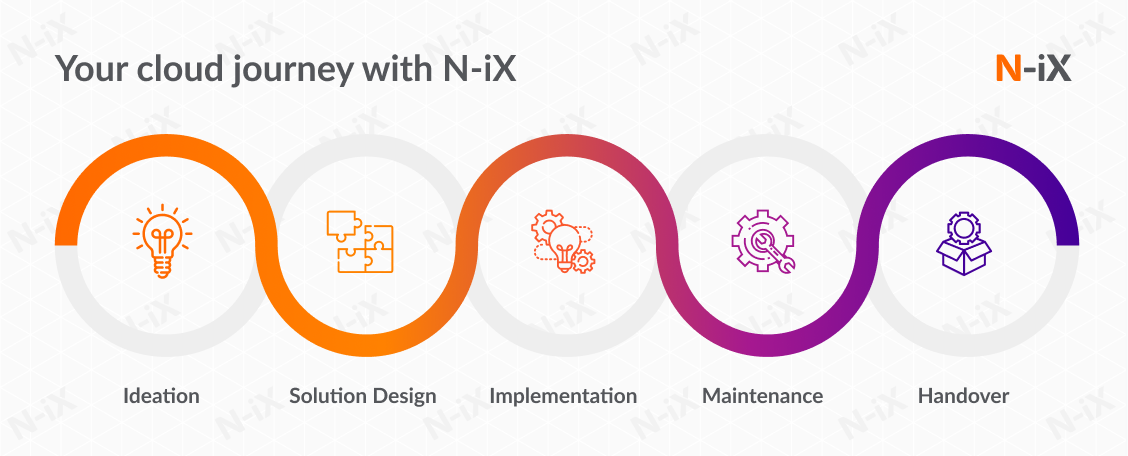 The 5 main reasons to use expert help for cloud transformation
Enterprises that are taking advantage of this technology for their IT operations must manage a variety of cloud services. The process of migration, automating business processes, designing user experience, monitoring traffic, managing services, and enacting security protocols is particularly demanding and can be difficult to do in-house. Even the most reputable organizations may not have the personnel or resources necessary to keep all of these tasks in-house.
Here are the 5 key reasons why outsourcing cloud computing is the right choice for your business.
1. Cost efficiency
Cloud outsourcing helps businesses reduce the costs of operations by allowing them to outsource certain processes to a third-party provider that specializes in these services. By delegating cloud adoption projects to a reputable vendor, businesses can benefit from reduced infrastructure costs and improved scalability. Outsourcing cloud tasks can help businesses reduce personnel costs, as they can now outsource certain labor-intensive tasks to third-party teams. Outsourcing the cloud to a reliable solution developer like N-iX can help you:
Reduce operational costs: Only pay for the services and amount of usage you require. You don't have to pay for the services, resources, or load that you don't use.
Cuts the in-house human resource load: Finding the technical expertise is vital, as the job can be quite demanding, especially with the ever-changing technology landscape. By outsourcing cloud computing and management to the experts, you won't have to recruit such professionals in-house.
Read more: Managed Cloud service providers: Tips on choosing the tech partner
2. A proactive approach to maintenance
Regardless of the size, a computing infrastructure needs to be regularly monitored and updated in order to keep it secure and functioning. Large enterprises are likely to be running multiple applications and programs, so any disruption or malfunction in one of them could lead to a complete shutdown of operations. By signing a service-level agreement with a reliable vendor, enterprises can gain more control over service levels, performance, and maintenance, leading to improved service continuity compared to doing the same work in-house.
The N-iX team offers network infrastructure management in accordance with the agreement. The network will be constantly monitored and any issues that arise will be quickly addressed. We can provide enhanced network monitoring and updates, taking away the burden of such tasks from your enterprise. The extent of services available can be altered according to the service agreement and you can adjust the scope of services as your business needs change.
3. Improved troubleshooting
Unexpected breakdowns and downtime impact business operations. Even a few seconds' delays in the web page loading have immense implications on customer retention. Among some of the most common issues are managing user engagement with applications, information, and services, maintaining resource availability, implementing security protocols, and much more. Engaging a third party for these tasks can prevent the majority of problems and accelerate response times when problems do arise.
Implementing sophisticated tools to manage the cloud infrastructure will guarantee the continuity of operations. These tools include network monitoring and scanning functionalities. Additionally, a complex network of data centers and networks is set up to minimize redundancies and bolster the system's resilience.
N-iX partners with AWS, Azure, and Google Cloud and works with specialists who set up continuous system monitoring for you. They are well-versed in the range of services that AWS, Google, or Azure offer and are knowledgeable about the workings of the stack. With their experience, they can give valuable insights on how to make the most of the platform you choose.
4. Flexibility and scalability of operations
The cloud offers a great deal of flexibility and scalability, yet it is difficult to manage correctly. No universal strategy exists that is suitable for every organization; the most effective approach depends on the type of cloud, the operations involved, the IT services necessary, and other industry- and business-specific factors.
Cloud computing outsourcing providers offer a range of customizable solutions for clients, allowing them to select individual components of the infrastructure that best suit their needs. This includes network monitoring, security, application integration, and performance monitoring, as well as the ability to adjust the number of resources as needed. For example, a client may require only 1TB of storage initially but may then choose to upgrade to 2TB for a few weeks during a promotional campaign. These services are priced according to usage, with support included, providing modular stacks for the enterprise to choose from.
5. Stronger security
The idea that cloud security is less reliable than on-premise infrastructure has been debunked in recent years. Now, security is more robust than ever with proper access controls, network monitoring, and vulnerability management in place. However, enterprises with limited financial resources may not have the resources to purchase advanced cybersecurity tools, such as security information and event management (SIEM). Furthermore, their IT teams are often overburdened and cannot fully utilize these tools.
A cloud outsourcing provider will:
Utilize advanced tools that provide total visibility into the infrastructure. For example, advanced network monitoring tools are able to detect any irregularities in network traffic in real-time. These tools are able to recognize the connections between security incidents and expedite response time.
Continuously keep an eye on the network to anticipate problems before they arise and act quickly to resolve them.
Offer the latest in advanced encryption technology to ensure secure data transfer, and continually update their offerings as technology advances.
Help in-house IT teams by taking on the responsibility of keeping systems up-to-date and secure through proactive patch updates. This decreases the likelihood of software glitches and security breaches, allowing IT teams to focus on other tasks.
True cloud shift and new business opportunities
Moving to cloud-based solutions is not only about taking advantage of the short-term benefits of the cloud but also about preparing for future innovations. Organizations that are willing to embrace dynamic, cloud-based operating models are in a better position to remain competitive in the ever-changing business landscape. With the emergence of AI, IoT and embedded technologies, edge computing, and advanced big data analytics, organizations must create a foundation to support their digital business and ensure its growth.
It is recommended to transition from a "cloud first" attitude to a more "cloud-smart" strategy, which evaluates the organization's specific goals, circumstances, and objectives in terms of the business value. This shift in its adoption is both a risk and an opportunity for IT leaders since cloud technology will become commonplace in the following years and will play a significant role in IT decision-making.
To make a true cloud shift and take full advantage of such computing capabilities, businesses turn to outsourcing cloud services to experienced vendors. Strong networks of partnerships help vendors deliver high-quality cloud services helping you achieve the goals of this transformation.
Why choose N-iX as your cloud outsourcing partner?
At N-iX, we have over 20 years of experience in the market and have established strong relationships with the leading Cloud providers: AWS, Azure, and GCP.
Our status as AWS Consulting Partner, Microsoft Solutions Partner, and Google Cloud Partner provides us with the ability to provide exceptional consulting services and exclusive offers to our clients.
Our 400 cloud specialists will guide you through the process of adoption and enable you to take advantage of the cloud's potential for developing business-oriented applications.
Our experts specialize in cloud strategizing, cloud-native services, application transformation, migration, on-premise support, automation, DevOps, and CI/CD automation and optimization.
---