According to Gartner, around 50% of tech companies have already invested in Cloud computing technology innovations. However, many enterprises still hesitate to go for Cloud services. They are not ready to deal with the continuous infrastructure maintenance and security monitoring that come along with Cloud implementation.
What's the decision? A managed Cloud service company will do this work for you, letting you focus on your core tasks. Currencycloud, cleverbridge, and many other top global enterprises have already partnered with Cloud managed service providers and leveraged the benefits of the service, such as cost-effectiveness, increased scalability, and easy infrastructure maintenance. N-iX has been helping companies with Cloud cost and resource optimization for over a decade and has 200+ successful projects in the portfolio. So, we want to share some tips and tricks on partnering with a managed Cloud service company.
How can a managed Cloud service provider help you leverage all the advantages of embarking on a Cloud journey? And how to find a reliable partner that can go far beyond the initial phase of Product Discovery and implementation and provide ongoing support for your infrastructure and services for years? Let's dive in.
Understanding managed Cloud services
Managed Cloud services are aimed at the design, implementation, and, most importantly, management of complex Cloud solutions. In this case, management stands for the complete or partial ongoing support of the client's Cloud resources and infrastructure. Your managed service provider is responsible for delivering one or several services that span configuration, maintenance, security, and optimization.
The most common types of managed Cloud services are IaaS (Infrastructure as a Service), SaaS (Software as a Service), and PaaS (Platform as a Service), chosen by a managed Cloud partner to match the infrastructure management scope according to your business needs.
Learn more about XaaS in Cloud computing: benefits, challenges, and success stories
Key benefits of partnering with managed Cloud service providers
Cloud managed service providers can help businesses embrace such infrastructure advantages as cost optimization, enhanced scalability, and flexibility as well as proactive support. Let's look at these and other benefits of relying on managed Cloud service vendors:
Cost-effectiveness
If you want to reduce the expenses associated with maintaining and upgrading an on-premise infrastructure, a managed service provider can help you optimize your costs without compromising the solution's performance. First of all, a reliable Cloud services vendor takes full control of your operational costs by identifying unused resources and eliminating expenses on the services you don't utilize. Your tech partner can also configure your Cloud services to enhance performance while keeping expenses to a minimum.
In addition, trusted managed Cloud service providers help their clients choose the most cost-effective option among the pricing models (Dedicated Development Team, Fixed Price, or Time & Material) to match your specific requirements.
Read more: Effective Cloud cost optimization: 3 essential steps for success
Enhanced scalability
Another significant advantage of partnering with a managed Cloud service vendor is flexible infrastructure capacity management. For instance, if you require more data storage capacity over time, your tech partner can simply reconfigure the system for additional space rather than buying and installing additional hardware. Therefore, you can concentrate on your core tasks while your outsourcing partner adjusts your infrastructure capacity according to growing or decreasing demands.
Strong data protection and compliance
If we speak about storing sensitive data, comprehensive data protection measures are of the utmost importance. Managed Cloud service companies are fully responsible for protecting their client's information, which covers the management of infrastructure accesses and updates, as well as the configuration of physical hardware. Additionally, Cloud vendors ensure the highest level of security by encrypting data, monitoring suspicious activities, and conducting regular security assessments. These measures allow your tech provider to identify potential security-related issues, such as data leakage or exposure, and prevent financial and reputational losses by remediating anomalies.
Moreover, reliable Cloud managed service providers can ensure adherence to industry-specific and data protection regulations, so you will avoid legal penalties, fines, and potential reputational damage, related to non-compliance.
Related: 9 best practices for strong Cloud security
Proactive infrastructure support and maintenance
The key difference between managed Cloud and regular Cloud services is that managed Cloud service providers not only offer Cloud consulting and development but take complete control over their client's Cloud resources. As a part of infrastructure maintenance, they provide migration, configuration, optimization, security, and maintenance services. Therefore, another advantage of relying on a Cloud management service provider is proactive infrastructure support. Through regular monitoring, patch management, and system optimization, your partner will take charge of the overall health and performance of your Cloud environment.
Choosing the best managed Cloud service provider
Selecting among a multitude of Cloud managed service providers can become a daunting task. Let's explore the important selection criteria that will help you choose a partner among the best managed Cloud service providers:
1. AWS, GCP, and Azure partnerships
An essential feature that can directly influence your project's outcome is your vendor's partnership with major Cloud providers. If you are looking for a vendor with both vast technological expertise and proven customer success with the Cloud, pay attention to service providers with AWS, GCP, or Azure Cloud partnership status. Before attaining any Cloud partnership, tech vendors undergo rigorous assessments from cloud providers, testing their technological expertise and checking their success stories within the partner's Cloud ecosystem. By granting accreditations, Cloud providers also prove the high proficiency of the vendor's in-house specialists – they actively participate in training sessions and obtain certifications, more on that later.

In addition, Cloud providers offer commitment and discounting options to their clients, encouraging them to migrate to AWS, Azure, or GCP. Let's take GCP – with their Committed Use Discounts, you'll obtain a reduced price in exchange for committing to pay for their resources for a period of one to three years.
N-iX, for example, is a member of AWS, GCP, and Azure partnership networks, so the vendor's tech experts can help you choose the optimal provider among the three, focusing on your business needs. N-iX has also obtained an Amazon Web Services Advanced Consulting Partner status, which verifies our robust expertise in AWS tech consulting and customer success within the ecosystem.
Business value. Entrusting your project to a Cloud partner brings businesses several benefits:
You save time and resources spent on assessing the credibility of potential partners since the diligence is already done for you by the Cloud provider.
Such managed service companies can help their clients optimize costs by introducing them to one of the provider's discount and commitment programs.
Keep reading: Comparing the Big 3: AWS vs Azure vs GCP
2. The vendor's size
When selecting from the multitude of managed Cloud service providers, consider the size of your prospective partner. Large and midsize tech companies with over 250 employees typically have streamlined development processes and strong quality control practices in place. Furthermore, major tech vendors typically have a vast in-house pool of skilled engineers, making it easier to allocate resources for new projects promptly.
Business value. With a larger managed service provider by your side, you will make use of their well-optimized processes, which, in turn, would reduce delays and streamline the project initiation and execution. In addition, a larger talent pool allows businesses to reduce the time spent on hiring and onboarding new team members, which leads to faster project start.
3. Cloud designations
How else can a tech vendor prove its credibility and level of technical expertise except for achieving a Cloud partnership status? Let's imagine you decided to sign up for Amazon Web Services and want to cooperate with a reliable tech vendor with substantial experience and capabilities within the AWS Cloud. Service providers with AWS designations should be on your radar, then. These designations correspond to specific services and practices offered by the company and signify that the tech vendor met the rigorous requirements set by AWS. Moreover, designations grant access to exclusive resources, such as training materials, marketing support, and technical assistance from AWS. As of March 2023, N-iX has earned eight AWS designations, including Amazon Redshift Delivery, AWS Data and Analytics Competency, Amazon RDS Delivery, Amazon EMR Delivery, Amazon API Gateway Designation, Amazon Kinesis Delivery, AWS Lambda Designation, and the Amazon DynamoDB Designation. In addition, N-iX has the AWS Immersion Day Partner Status: our AWS consultants host AWS Immersion Day workshops, during which they familiarize clients with specific AWS services and describe how they can benefit their businesses.
Business value. One of the validations of your potential partner's capacity to deliver measurable business value might be Cloud designations. For instance, tech vendors that joined the AWS partner network stand out for their credibility, proven ability to deliver high-quality solutions within the AWS infrastructure, and utilization of the best industry practices. AWS designations also provide companies with exclusive resources that enable them to enhance their tech capabilities and gain a competitive advantage in the market.
4. Certified specialists
Whether you want to implement Cloud-native solutions from scratch or move your on-premise applications to the Cloud, you want team members to possess advanced technical abilities and extensive Cloud experience. Therefore, when searching for a tech partner, prioritize Cloud specialists with AWS, GCP, or Azure qualifications. Accredited specialists are more likely to handle challenging Cloud-related tasks and are seasoned in the most recent industry trends and best practices. Here are some of the highly sought-after certifications among Cloud practitioners:
AWS certifications
The list of AWS certifications for Cloud experts spans 12 qualifications. However, the three most popular AWS certifications are AWS Certified Solutions Architect Associate, AWS Certified Developer Associate, and AWS Certified SysOps Administrator Associate. They cover essential AWS roles and validate various skills in designing, developing, and managing applications and infrastructure in the Cloud. As the AWS Partner, N-iX invests a lot into the professional development of its specialists, and it pays off. There are 50+ certified AWS experts among N-iX Cloud professionals who have profound expertise in AWS.
GCP certifications
GCP offers 10 certifications that can demonstrate expertise with the Google Cloud platform. The list of in-demand certifications among experts spans Google Cloud Certified Professional Cloud Architect, Google Cloud Certified Professional Data Engineer, Google Cloud Certified Professional Cloud Developer, and others.
Microsoft Azure certifications
Just like AWS, Azure offers 12 certifications that validate proficiency with the platform. The most sought-after qualifications among professionals include Microsoft Certified Azure Solutions Architect Expert, Microsoft Certified Azure Data Engineer Associate, Microsoft Certified Azure Developer Associate, and more.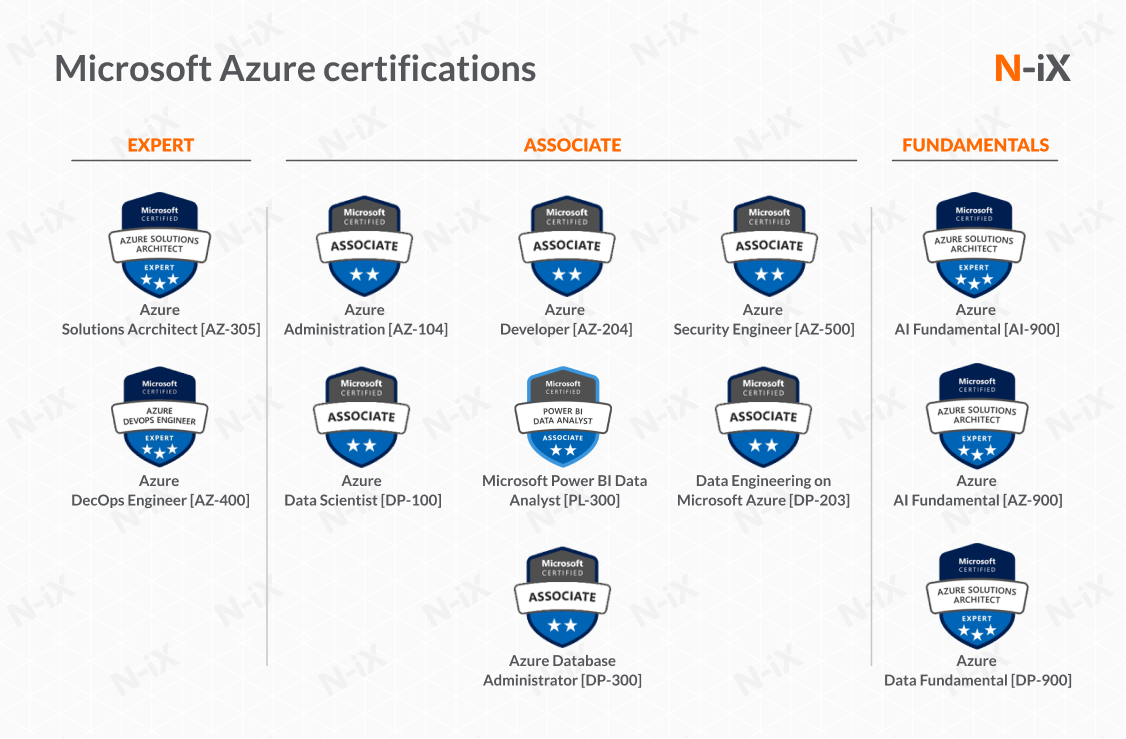 Business value. So, what's the main advantage of partnering with accredited specialists in the Cloud? Service providers with a considerable number of certified specialists can help you leverage the latest Cloud technologies and best practices, which, in turn, leads to introducing innovations and driving cost savings.
5. Proven portfolio of Cloud services projects with ongoing support
An extensive track record of Cloud projects is a must when it comes to choosing a reliable partner. However, in the case of managed Cloud services, you have to pay special attention to the projects that cover not only Cloud development/migration but also continuous infrastructure maintenance. Some of the most common maintenance practices provided by tech vendors include consulting on Day 2 Ops, continuous monitoring, alerting, logging, and creating maintenance operations dashboards. For instance, as a part of the cooperation with Currencycloud, N-iX developed the payment engine based on a Cloud-based SaaS model as well as took responsibility for the infrastructure's maintenance. The client – a global B2B platform delivering cross-border payments as a Service – needed to improve the solution's scalability and simplify the maintenance. During the project, N-iX specialists also transitioned the solution to microservices architecture. As a result of the partnership, Currencycloud got an easily maintainable solution that could scale according to growing demands. Moreover, due to migration to microservices, the client enhanced the scalability and accelerated development cycles.
Business value. By relying on a Cloud managed service vendor that has extensive experience in infrastructure management, you can effectively streamline your processes and optimize resources so that you can focus on strategic business goals while your tech partner manages day-to-day operations.
6. Robust data protection policy
How can you select a perfect managed Cloud service vendor capable of safeguarding sensitive data? One of the essential steps is to investigate the company's data security policies and guidelines. A trustworthy tech vendor should adhere to international data protection standards and regulations, such as GDPR, HIPAA, PCI DSS, ISO 27001:2013, and ISO 9001:2015. Additionally, ensure that your software development provider has a Business Continuity and Disaster Recovery Plan in case of any unexpected incidents and failures.
Business value. Shaking hands with managed Cloud service vendors that have strong data protection policies protects the organization's reputation in the long run and helps build trust with customers and partners.
Why choosing N-iX as your managed Cloud service company can add to your business value?
During 20+ in Cloud tech consulting and development, N-iX gathered a team of 400 skilled Cloud professionals that are well-versed in Cloud readiness assessment, Cloud migration readiness assessment, Cloud-to-Cloud migration, on-premise to Cloud migration, as well as the development and support of Cloud solutions;
Our Cloud portfolio spans fruitful cooperations with global market leaders, including Currencycloud, cleverbridge, Globacap, and Mobile Trading Partners, as well as Fortune 500 companies;
N-iX is an AWS, GCP, and Azure Partner, as well as is a part of the Advanced Consulting Partner status network;
The vendor has eight AWS designations, including Amazon Redshift Delivery, AWS Data and Analytics Competency, Amazon RDS Delivery, and more;
We adhere to international data protection standards and compliances, such as ISO 27001:2013, PCI DSS, ISO 9001:2015, and GDPR.
---