Many companies opt for Java development nearshore as it helps to find qualified specialists faster and scale a development team more efficiently.
Java is chosen as the core technology for multiple globally known projects. It ranks third among the most popular technologies on Stack Overflow and Tiobe Index, and it remains one of the most demanded coding languages in the world.
Being an enterprise-level technology, Java is still in high demand, especially in Europe and the US. There are almost 90,000 unfilled Java positions in the US and nearly 30,000 in the European Union.
And here's where Eastern Europe comes to the rescue. Let's take a look at the resources available in the region.
Nearshore Java development services in Eastern Europe
Overall, there are over 1,100 companies that list Java development among their services on Clutch. The majority of these vendors are located in Poland, Ukraine, and Romania and have at least one delivery center in these countries.
Java development nearshore can be hardly possible without the availability of the tech talent pool and lower competition for this talent. Eastern Europe has over 260,000 Java developers.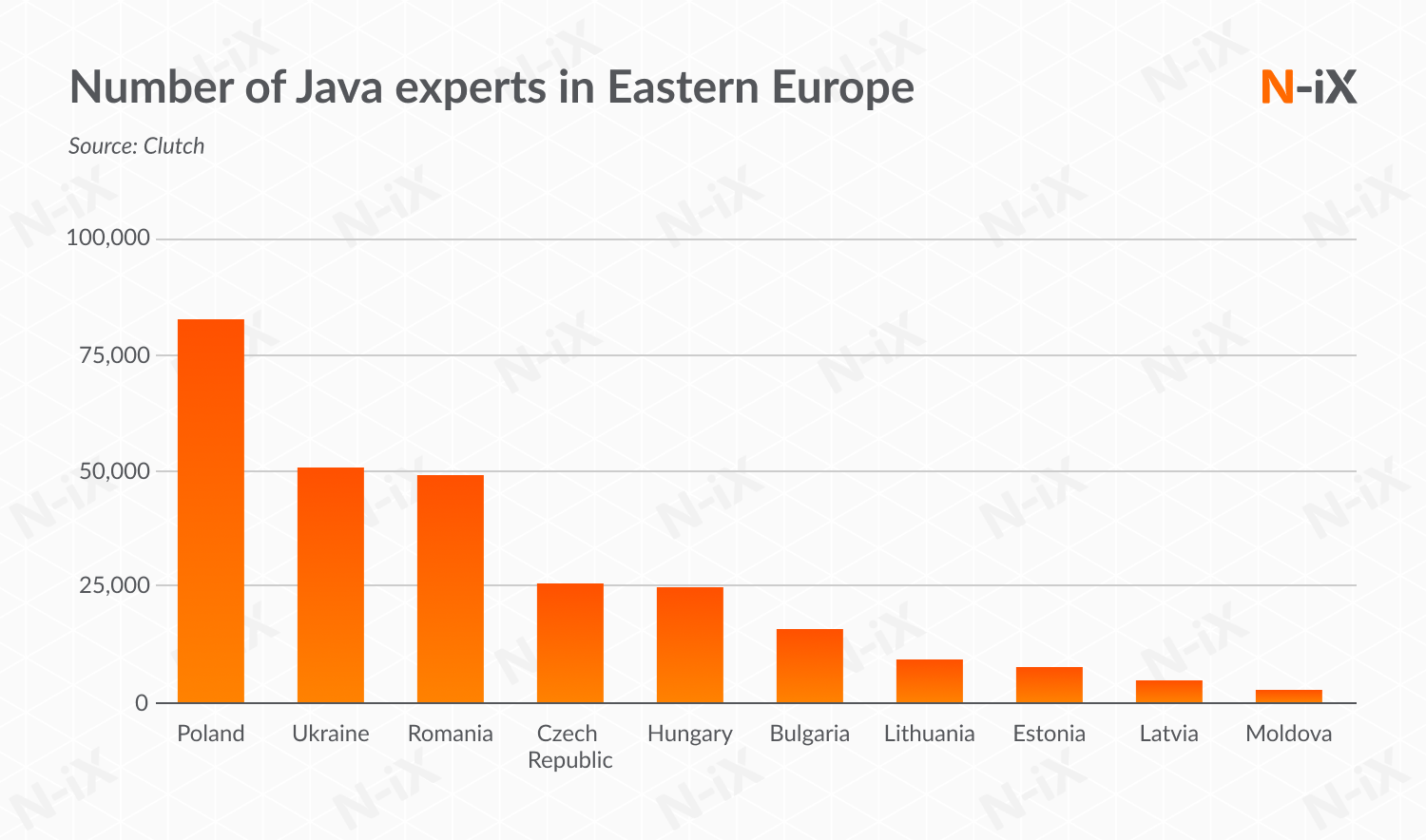 To help you find experienced and qualified Java developers, we've compiled the list of the top five java development nearshore destinations in Eastern Europe. Our research is based on Clutch ratings, Linkedin results, and reports by Bloomberg, A.T. Kearney, and more. We will be focusing on five major locations: the ones with the largest tech talent pool, availability of resources, and an established reputation as an outsourcing destination.
Nearshore Java development in Poland
The overall number of ICT specialists in the country has exceeded 450,000 experts, and around 83,000 of them specialize in Java development services. What's more, about 17,000 IT graduates enter the workforce market each year. Over 450 vendors have listed Java in their service offerings, but the overall number is probably even higher.
The value of the IT services segment in Poland reached $8.2B in 2021. It comes as no surprise that Poland was rated 15th in Tholons Top 100 Outsourcing Destinations 2020.
Poland is one of the top destinations for outsourcing your Java project. In 1999, a group of Java developers from Kraków set up the Polish Java User Group. The group brings together Polish Java enthusiasts, as well as arranges meetups & conferences to promote the Java community in Poland.
Companies that outsourced their Java projects to Poland include Dun & Bradstreet, Ista, Alderbrook, Trapeze Group UK, and others.
If you are considering nearshore Java development in Poland, explore software development in Poland: IT hubs, developers, companies
Ukraine for nearshore Java development
There are more than 297,800 specialists working in over 1,600 outsourcing companies. These vendors have versatile technical expertise and represent multiple domains, ranging from healthcare to automotive. As for the Java tech talent, the country has over 50,000 Java engineers.
As a result of the rapid development of the IT industry in Ukraine, 13 Ukrainian companies, including N-iX, were placed among the top IT service providers globally. Also, the country was rated among Gartner's top 30 offshoring and outsourcing destinations.
According to the results of the survey conducted by DOU.ua, Java remains the most popular programming language in Ukraine. It takes up 14.3% of the developer job force market. Moreover, Ukraine offers significantly lower competition for tech talent and over 350 Java vendors to choose from. Hence, it is easy to find qualified and experienced specialists to staff projects which differ in size, domain, and technological complexity.
Read more about Java engineering in this country: Everything you need to know about Java development in Ukraine
Romanian Java development nearshore
Romania houses the third-largest tech talent pool in the region with 35,000+ Java professionals. The Romanian IT talent pool is constantly increasing, with over 8,000 new IT experts graduating each year from multiple higher educational establishments. The overall value of the IT industry in Romania exceeded $6B in 2021.
Romania offers great access to qualified Java engineers. There are 210+ vendors that specialize in nearshore Java development.
You may also be interested in Ukrainian vs Romanian developers: Where to hire top tech talent
Hungary for nearshore Java development
The country is home to around 176,000 specialists employed in the IT sector. Out of them, nearly 25,000 have experience with Java development (nearshore included). Budapest is the key Hungarian IT center.
Hungary is a favorable destination for Java development. There is an extensive IT talent pool and Java-based expertise. According to Clutch, there are 45+ companies that provide Java development services. Companies that outsourced to Hungarian vendors include Telebond, Red Bull, Telenor, Opel, and others.
Read more about software development in Hungary
Bulgaria for nearshore Java development
Bulgaria is home to 60+ companies and around 16,000 Java experts. The country is rated 8th in the world for the total number of IT specialists. Approximately 3,500 IT graduates enter the market annually, and more than 220 educational establishments offer their educational programs.
Many companies opt for outsourcing their Java development to Bulgaria as it provides access to qualified Java engineers and favorable conditions for partnership. Also, the Bulgarian Java User Group was founded in 2007 to promote and enhance the Java community. It has organized many seminars and meetups ever since.
Keep reading: Hiring Bulgarian developers: talent pool, expertise, education and more
Wrap-up
There is a wide variety of destinations in Eastern Europe where you can find qualified and experienced Java developers. Many established companies choose such countries as Ukraine, Poland, Hungary, Romania, and Bulgaria. Each of these countries has a great number of specialists, a favorable business climate, and solid Java expertise.
Why choose N-iX for Java development nearshore?
Here are 3 major reasons for you to choose N-iX:
N-iX has a strong tech community of over 150 Java experts (with 62% of them being senior or leading tech specialists) and a portfolio of successfully delivered Java projects.
Over the years, the company has partnered with many industry leaders and Fortune500 companies to help them with Java software development.
We have delivery centers in Ukraine, Poland, and Bulgaria. Therefore, you can get access to the pool of 150,000 Java developers in these 3 countries.
---