The tech world knows Ukraine as the country with the booming IT sector, highly qualified software engineers, and a lot of trusted custom software development companies. The Ukrainian IT industry export volume has grown dramatically – from $2.7B in 2015 to $4.17B in 2019. Moreover, it is expected to reach $8.4B by 2025.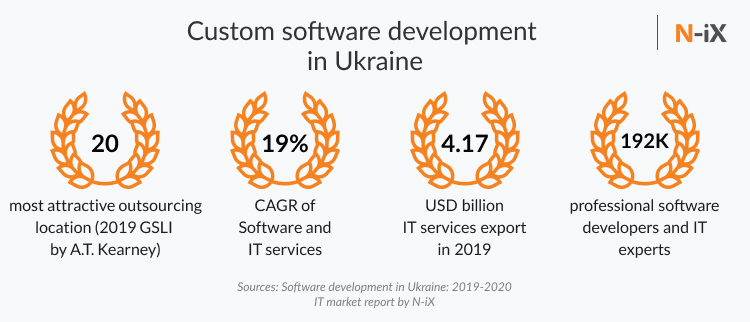 There are over 4,500 tech companies in Ukraine, with over 1,500 out of them specializing in IT outsourcing and custom software development. The majority of Ukrainian companies are working with clients from the US, the UK, Western Europe and Nordic countries.
So which companies are going to shape the Ukrainian IT industry and provide custom software development services of the highest quality in 2020 and beyond?
Top 10 software development companies in Ukraine
We have shortlisted 10 best custom software development companies which have delivered software solutions to many renown brands and proved to be reliable outsourcing partners. The list is based on a variety of different sources including Clutch, LinkedIn profiles, corporate websites, and client references.
1. N-IX
N-iX has been on the market for more than 20 years and has become one of the leading software development providers in Europe. This custom software development company is famous for building lasting partnerships with its clients. For example, Anoto worked with N-iX for more than 12 years. This vendor has got a wide range of tech expertise including big data analytics, data science, BI, AI & ML, cloud solutions and DevOps services, VR & AR, embedded software, and much more. Its software engineering teams develop bespoke software solutions for fintech, insurtech, automotive, telecom, media, healthcare, and other industries.
2. INTELLECTSOFT
The company has been on the market for more than 13 years. It has developed custom software solutions for many international clients including Fortune 500 companies. With seven engineering centres worldwide, it offers IT consulting, web development, and mobile applications development. The company specialises in blockchain, fintech, augmented reality, cloud computing, artificial intelligence, and IoT solutions. It provides services for a number of industries including construction, healthcare, retail and e-commerce, finance and insurance, hospitality, and logistics.
3. EXADEL
The company provides a wide range of custom software development services for enterprises including software and mobile app development, QA, automation, and testing services, app maintenance, and software architecture evaluation. Also, it offers big data and analytics, DevOps, and cloud services. Its developers are experienced in delivering software solutions for clients in media and publishing, finance, healthcare, retail, and high tech.
4. INFOPULSE
Headquartered in Kyiv, the company has established itself as a full-service solution provider. It is present in 10 countries and has delivery centres in Ukraine, Germany, Bulgaria, Poland, and Latvia. The company's core competencies include software engineering and consulting, infrastructure and cloud services, Microsoft/SAP solutions and services, and information security. It has experience in automotive, telecommunications, banking and finance, insurance, healthcare, manufacturing, and other industries.
5. Sigma Software
This Ukrainian custom software development company has a number of development centres and offices across the country, as well as in Poland. It specialises in product development and IT consulting. In addition, the company has expertise in ap development, turnkey solutions, and UI/UX design. The vendor is experienced in providing custom software solutions for automotive, real estate, and gambling/gaming industries.
6. INNOVECS
With offices in 5 countries and R&D centres in Ukraine, the company has been developing bespoke software solutions for more than 9 years. Its areas of expertise include Big Data, AI, ML, Blockchain, IoT, QA, cloud, web and mobile development, and art production. The company primarily serves gaming, fintech, adtech, logistics, telecom, and healthcare industries.
7. ABTO SOFTWARE
This custom software development company has offered software engineering as well as mobile app and web development services for more than 13 years. The company's specialization also covers ERP modernization and computer vision solutions. Its engineers develop software solutions based on ASP.NET, PHP, Android, and iOS technologies. The vendor has extensive experience in healthcare and construction projects.
8. SOFTSERVE
With 30 offices in 12 countries, this large software development company provides end-to-end solutions to the hundreds of businesses across the world. Its expert teams specialise in Big Data, AI, Machine Learning, IoT, DevOps, and experience design. The company has delivered successful projects in healthcare, retail, financial services, media, and other industries.

9. PERFECTIAL
This bespoke software development company primarily specialises in web app creation, UX design, cloud and SaaS, blockchain, etc. The company offers full-cycle software engineering from the discovery stage to development and audit both for small and large businesses. It has experience in various business domains such as financial services, real estate, and marketing.
10. Svitla Systems
The core competency of this software development company is web development and web design. Also, the vendor offers mobile app development, DevOps services, and quality assurance. They work with clients in a wide range of domains including digital marketing, entertainment, financial services, healthcare, real estate, and others.
Read more: 7 bespoke software development vendors cooperating with UK companies
Wrap up
These Ukrainian custom software development companies have been providing high-quality software solutions for a lot of businesses worldwide. They all have a proven track record in delivering successful projects and many positive client reviews. Choosing an outsourcing partner is difficult, so we hope this list has been helpful. Don't hesitate to contact our experts at N-iX if you have any further questions.
---