Enterprise automation today is not what it used to be several years ago. It goes far beyond simple bots and virtual assistants that take over repetitive back-office tasks. Now, we can talk about full-fledged enterprise automation platforms that help make informed decisions, optimize operations, and improve customer experience.
Where does automation start in your organization? Will automation replace humans? What are the hottest technologies in enterprise automation? You will find the answers to these and many other questions in our overview of the potential of enterprise automation in 2020 and beyond.
Enterprise automation adoption
The recent Economist Intelligence Unit report has found out that automation is at the center of digital transformation initiatives among the majority of businesses. 51% of 502 surveyed senior executives confirm extensive use of automation and 40% - moderate use. European companies are among the leaders who make extensive use of automation.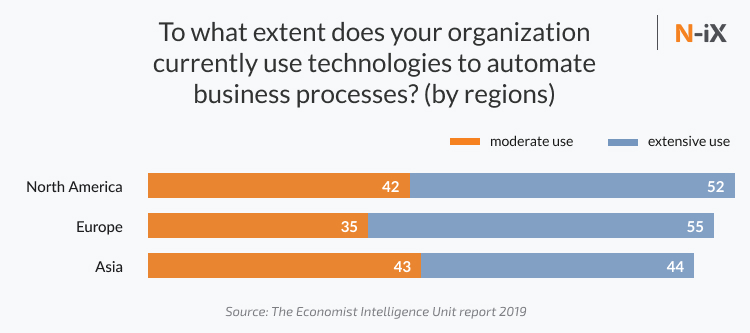 If we consider the sectors, automation prevails in technology/telecoms and manufacturing. Just a few decades ago, it was associated with manufacturing only. But now, there is almost no industry left untouched by automation.
C-level executives acknowledge the value of automation and invest heavily in it. The survey by KPMG states that more than half of companies have invested in excess of $10M in Intelligent Automation (IA), while more than one-third have already allocated $50M or more.
Automation has penetrated into all major enterprise functions: finance, customer service, marketing, procurement, sales, office administration, legal, etc. In fact, finance and accounting functions are primarily automated in organizations. This is where most of the investment is flowing - 23% of respondents admit to spending more than $50M. Customer service, sales, and marketing, however, are less invested areas. Respondents indicate spending under $10M on it.
Trends in enterprise automation
Automating a process is easy but automating processes across the whole enterprise is a real challenge. To address it, a new concept has been introduced - Automation as a Service (AaaS). AaaS is a set of services offered by technology companies to enterprises in order to automate their process workflows and increase their productivity. AaaS helps scale automation across the enterprise and orchestrate IT operations across the hybrid landscape while providing a holistic approach and keeping the view of a big picture.
Today, AaaS offerings cover mainly two areas: knowledge-based automation, powered mainly by AI, and rules-based automation that functions on a set of predefined requirements. According to a new report by Reports and Data, the global Automation as a Service market is expected to grow at a rate of 29.7% and reach $15.47B globally by 2026. In the following years, we are going to witness the increased adoption of automation among enterprises.
So let's take a look at the 5 hottest enterprise automation trends that will shape the future.
#1 The shift from RPA to other intelligent automation technologies
When we think of "automation", we usually imagine some kind of a robotic process automation (RPA) tool that performs a repetitive task. But that's just the tip of the iceberg. Thanks to automation, it is also possible to perform more complex, high-value tasks that address real-world challenges. Gartner calls it "Hyperautomation", Forrester calls it "Digital Process Automation", and IDC names it "Intelligent Process Automation". Whatever notion you prefer to use, it means the same thing: combining the right technologies to automate processes across the enterprise. And these technologies include not only RPA but also Big Data, AI, IoT, Blockchain, VR, and more. More than 60% of enterprises are leveraging multiple intelligent automation technologies. IoT and AI are among the leaders. AI provides machine learning capabilities, including natural language processing (NLP), optical character recognition (OCR) and other cognitive services that are combined with RPA to create a more intelligent automation environment. With improved technologies within the IoT area including sensors, digital twin technology, and edge computing, enterprise automation use cases become more versatile and complex.

Many enterprises do realize that automation offers a broad range of opportunities. They want to have a robust enterprise-wide automation strategy in place. And it should take a holistic view of the role of RPA, processes and services orchestration, along with a robust program for API enablement of legacy applications. What's more, this should also include Big Data Analytics and Machine Learning, which take advantage of the massive logging capabilities of RPA bots.
Many companies have already benefited from introducing intelligent automation technologies into their business workflows. For example, a leading UK information management company Vable has achieved remarkable results with their content automation platform. Thanks to applying Machine Learning, AI, and BI, N-iX experts together with the client's team have ensured powerful search capabilities and advanced analytics of the content sent.
With the help of Big Data Analytics, Gogo, a global inflight connectivity provider, has achieved around 80% of the true positive rate for identifying in-flight equipment failures. N-iX developers have helped undertake a complete transition of Gogo solutions to the cloud, build a unified data platform, and design the system of predicting failures.
Fluke Corporation, a US-based company that manufactures electronic test tools and software for measuring and condition monitoring also can't do without automation. N-iX software engineers have helped ensure reactive and preventative maintenance of the equipment based on real-time asset data rather than a predefined calendar. Together with the in-house team, we have been working to improve the maintenance of assets reducing unplanned downtime.
#2 Infrastructure automation
With the increasing adoption of microservices and hybrid IT, "Infrastructure as Code'' or "Infrastructure Automation" becomes paramount for businesses. It helps automate the provisioning, orchestrating, and managing of cloud and on-premise infrastructures. There exist a lot of tools for configuration provisioning, database management, automated testing, continuous integration (CI), and continuous deployment (CD), etc. Solutions like Kubernetes, Bcfg2, CFEngine, Terraform, Docker, Chef, and Puppet are some of the best DevOps automation tools.
Today, organizations need a single platform for monitoring a variety of environments that are being added to the traditional data center infrastructure: cloud providers, edge environments and the Internet of Things (IoT), etc. Gartner even coined a new term for that - hybrid digital infrastructure management. By 2022, 20% of enterprises will use hybrid digital infrastructure management (HDIM) tools to optimize workload placement across on-premises, cloud, and edge environments. And without a holistic approach to managing diverse, distributed environments, companies will lose the competitive advantages on the market.
Many companies have already embraced this trend. For example, Orbus, a leading global provider of enterprise software, has partnered with N-iX to implement Infrastructure as Code for all their Azure services. We have helped them migrate to microservices, ensure service orchestration, and build fully automated CI/CD.
#3 Enterprise security automation
When it comes to enterprise security, automation really matters. Enterprise attacks are becoming more difficult to prevent, detect, and mitigate. At the same time, security operations centers (SOCs) suffer from staff shortages. They simply can't find or can't afford to hire the talent they need.
So with the rise of automation, interest in Security Orchestration, Automation and Response (SOAR) solutions is growing. According to the Gartner's report, 30% of organizations with a security team larger than five people will leverage SOAR tools in their security operations. By contrast, in 2019, only 5% of companies admitted to using SOAR tools. Thanks to adopting automation tools, security teams can optimize their daily tasks, reduce response times to security events, simplify the investigation process, and minimize the damage from attacks.
The majority of businesses are already leveraging automation technologies to monitor threats, investigate security events, take preventative measures, etc. For instance, our partner, Lebara, one of Europe's fastest-growing mobile companies, has adopted Machine Learning to enable fraud prevention. It helps to determine which transactions are the most likely to be fraudulent. This allows for the automated discovery of patterns across large volumes of real-time transactions.
#4 Automation is transforming the job market
Robots are coming. And there is a concern that they will replace humans at work. Put your worries aside, this won't happen. At least, until people are involved in the process of the robot creation and its maintenance. Forrester calls it the automation paradox: humans will spend less time on easy work — and more hours on difficult tasks. The more powerful the automated systems become, the more crucial the human contribution is. Humans are less involved, but their involvement becomes more critical. If an automated system has an error, it will multiply that error until it's fixed or shut down.
It's true, automation will change the skills and requirements the workforce needs. Creativity and problem-solving skills will become the most important. It means that the adoption of intelligent automation technologies will liberate and empower workers rather than bind or displace them.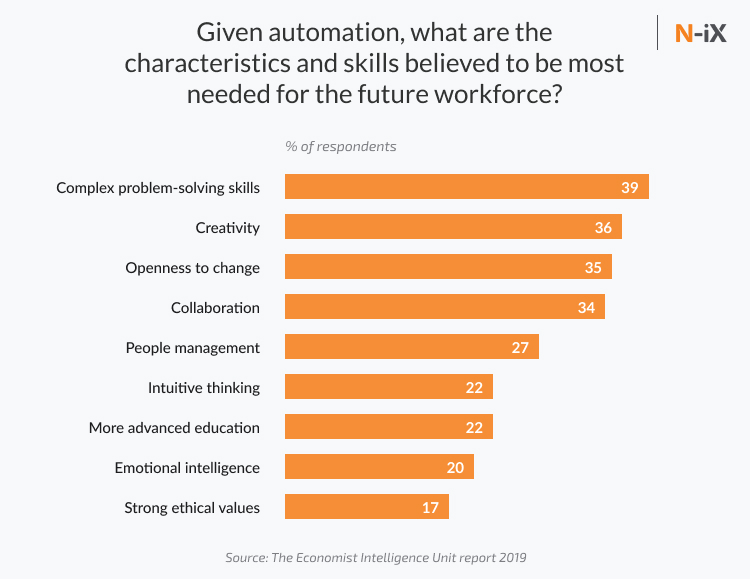 #5 Increased outsourcing of automation development
Businesses from around the world are going slow with enterprise automation. They simply don't know how to get it right. The survey by KPMG claims that in general companies lack confidence in overcoming challenges to achieve success in enterprise automation. Among the most acute issues are:
No vision and strategy for automation
Lack of relevant skills
Management of displaced employees
No enterprise-wide approach to automation
Deployment of the technology
Data privacy and security concerns
If you need help with addressing the above-mentioned pitfalls, consider finding a reliable technology partner who would share the risks with you and help you innovate. According to the survey, 51% of companies engage outsourcing partners to drive their automation strategy. In the upcoming years, more and more enterprises will partner with IT outsourcing vendors to implement and scale their automation initiatives.
Wrap-up
Enterprise automation ensures a more efficient, manageable, and flexible environment which can be easily scaled as your company grows. Automation can solve very many problems in the enterprise. It can not only execute routine processes quickly and accurately but also perform complex tasks that help reduce costs, mitigate risks, and improve overall user experience.
In an attempt to get tangible benefits, many businesses, however, pursue ad hoc automation initiatives. This further leads to a lot of issues concerned with scalability and security. If you want to approach enterprise automation with a clear and holistic strategy, contact our experts, and they will help you streamline your business processes.
---