Swedish software developers have a well-deserved reputation of excellent specialists that many companies are looking to hire. And it doesn't come as a surprise. Sweden is home to well-known tech giants like Ericsson, Skype, Spotify, unicorns like Klarna or Northvolt, and several dozens of promising startups like KRY, Wrapp, Lendify, and others.
Does it make the country a perfect outsourcing destination? What are the pros and cons of hiring Swedish software developers? And how to find top tech talent for your business? Let's find out. In the article, we are going to:
Here are a few insights into the IT industry in Sweden.
The country has Europe's 10th largest tech talent pool of 180,000 IT experts. Stockholm houses 52% of the country's IT experts [1].
It is ranked 7th in the Bloomberg Innovation Index.
Sweden holds the top 10th position in the 2020 Startup Ecosystem Rankings; and its capital, Stockholm, is in the top 10 best cities for startups [4, 5].
The country has also been recognized for its excellent business climate, ranking 10th on the Ease of Doing Business Index by WorldBank.
Swedish IT outsourcing market is growing slowly but steadily. It is projected to reach $3.98B by the end of the year [2].
As you can see, the country has an excellent tech ecosystem and business climate. Now, let's take a closer look at the talent pool of software developers in Sweden.
Sweden has a tech talent pool of over 180,000 experts [1]. If we break down this number by technology, we will see that Java developers take up over ⅓ of all experts in the country. There's also a significant number of JavaScript and Python developers in Sweden.
When it comes to the areas of tech expertise, Sweden has nearly 25,000 embedded software developers, 14,000 Big Data experts, and around 10,000 DevOps specialists.
As one of the most innovative countries in Europe, Sweden is leading cloud adoption in the region. There are roughly 10,000 AWS specialists, 14,000 Azure experts, and a little over 6,000 GCP professionals.
If you need to hire a mobile or web app developer in Sweden, the market has a large number of specialists. There are 20,000 Android developers, nearly 14,000 iOS developers, and 11,000 web app experts.
Based on the number of developers in Sweden, it may seem like it is a great outsourcing destination for your business. However, despite a large talent pool, it is hard to find and retain top tech Swedish experts. And here is why.
Strong competition for developers in Sweden
Sweden is well known for its tech expertise and talent pool. It is home to tech companies and game developers such as Spotify, Minecraft, and Candy Crush Saga, to name a few. It also houses hundreds of tech startups, research and development institutions, numerous technology parks, and international software development companies. Thus, the competition for specialists that work with either enterprise-level or emerging technologies is enormous.
Therese companies employ the lion's share of IT experts in the country, and therefore they are not available for outsourcing. In fact, Clutch lists only around 60 Swedish companies that offer custom software development and IT outsourcing services ( compared to 850+ IT outsourcing companies in Ukraine or 750+ vendors in Poland, for instance).
The majority of these Swedish IT vendors are firms with up to 50 employees (53.4%) and companies that have less than 250 employees (31%). Midsize and large vendors account for only 15.6% of the market.
Due to its excellent tech expertise, a large tech talent pool, and attractive business climate, Sweden seems like the perfect place for IT outsourcing. However, according to the report [12], Sweden has one of the most challenging labor markets. Despite the recent reforms, the talent mismatch indicator reached the highest possible score of 10.0. In simple terms, it means that the gap between skills that businesses need and the ones that the labor market can offer is great.
While Sweden has an extensive tech talent pool, it is not enough to match the market needs. As of January 2021, the Swedish IT services market had over 40,000 open job postings for IT professionals. And the forecast suggests there will be over 70,000 unfilled digital roles by the end of 2022. In addition, the specifics of the Swedish labor market, which are derived from labor laws and practises, make the workforce less willing to change jobs as well as create barriers for junior professionals to join the workforce, despite the lack of resources.
Despite their best efforts, changes in legislation, and overall focus on the development of the IT industry, Sweden has a relatively low number of ICT graduates, which means that the market lacks a qualified workforce. As of 2018, Sweden had only 3,200 computer science and nearly 13,000 engineering graduates per year.
Therefore, the main reasons for the shortage of software developers in Sweden are:
High demand;
Mismatch of the skills needed and those that market can offer;
Growing competition for the tech talent;
The inability of the education system to adapt to the current market needs;
Inflexible labor market and regulations.
The most in-demand tech specialists in Sweden in 2021
The most in-demand technologies in Sweden are Java and Python. There are over 4,600 job openings for Java and Python engineers. Then comes JavaScript with 2,150+ jobs, and .NET follows with almost 1,500 job postings.
As one of the top innovative nations, Sweden is leading the cloud adoption, creating a huge demand for IT specialists with relevant expertise. There are over 4,500 unfilled positions for AWS, Azure, and GCP experts.
There is also a great demand for DevOps experts with over 1,500 unfilled positions in Sweden. As of January 2021, the market had 1,000+ opportunities for embedded experts and 550+ Big Data experts.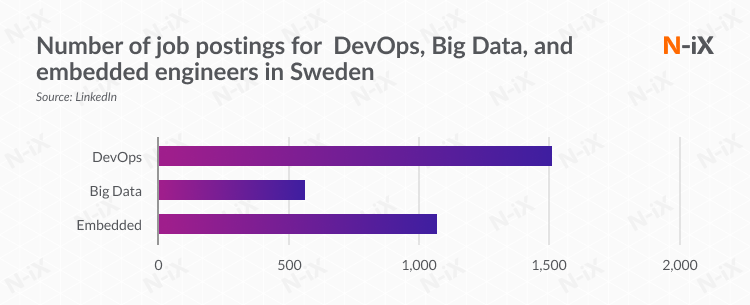 What concerns hiring a web or mobile app developer in Sweden, the demand is lower. There's a similar number of job postings for Android and iOS developers - around 1,000 job postings combined.
The market also lacks over 6,000 other IT experts including project managers, product owners, Scrum Masters, and business analysts. With such extensive usage of Agile methodologies, the need for non-developers is growing rapidly.
Overall, the Swedish market is extremely short on tech talent, and this void will only be growing year after year.
Despite having a well-developed infrastructure, a large number of developers, and an excellent business climate, it may be extremely challenging to find, hire, and retain developers in Sweden. So, instead of struggling to hire tech talent in Sweden, many companies from Nordic countries, the USA, and the UK choose to outsource their software development to companies in Eastern Europe. For example, Ericsson set up their own R&D centers in Eastern Europe and outsource part of their IT processes to companies in Eastern Europe. And they've done it for a good reason. Eastern Europe offers a perfect combo: a large talent pool, attractive rates, and high quality of IT outsourcing services. Let's take a closer look.
Why you should opt for Eastern Europe
1. A large talent pool available for outsourcing
We based this research on one of the largest listings that can be found online - Clutch. Eastern Europe has over 3,000 vendors listed on Clutch only. What's more, there are around 250 midsize and large IT outsourcing vendors.
Eastern European countries have wide-ranging tech and domain expertise.
2. An outstanding tech talent pool
The combined tech talent pool in Eastern Europe exceeds 1M professionals. The top three destinations by the overall number of experts are Ukraine, Poland, and Romania.
As the supply of tech talent here is high and competition is medium, Eastern Europe became an excellent choice for IT outsourcing for many tech giants including, Bosch, Siemens, Adobe, Audi, and others.
3. Lower rates compared to Sweden
One of the primary reasons for IT outsourcing is cost-reduction. Established outsourcing destinations like EE offer high-quality services for a significantly lower cost.
And here is why. Such outsourcing destinations as Ukraine or Poland can offer lower rates due to a significantly lower cost of living and a constant inflow of specialists. For example, Polish IT hubs are twice cheaper to live in than Nordic locations and over 60% better in terms of cost of living than NY [11].
4. Strong IT education and continuous talent inflow
Ukraine and Poland are leaders in Eastern Europe by the number of ICT graduates entering the market every year (with 17,000 and 16,000 graduates respectively). Despite changes in legislation and approaches to educational programs, Sweden still falls behind Eastern Europe by the number of CS and ICT graduates, not to mention engineering degrees. There are only 3,500 ICT graduates in Sweden annually.
Why choose Ukraine to hire top software developers?
Here are some key facts about the IT outsourcing industry in Ukraine:
The country has an extensive tech talent pool of over 200,000 specialists [1].
Ukraine (2.9) has better financial attractiveness than India (2.82), China (1.88), Poland (2.05) [8] when it comes to IT services.
It is home to 1600 + IT service providers. It takes the lead in Eastern Europe, followed by Poland (800+), Bulgaria (500+), and Belarus (500+) [9].
Ukraine was named an Offshoring Destination of the year by GSA in 2017;
More and more Ukrainian IT outsourcing service providers are recognized by Global Outsourcing 100 by IAOP; Software 500, Inc. 5000, and other industry ratings.
This country has varied tech and industry expertise.
Ukrainian IT outsourcing companies partner mostly with clients from the USA, the UK, and Nordic countries.
Numerous companies have chosen to outsource their IT processes to Ukraine, including Microsoft, Ericsson, IBM, Nokia, Volvo, Lebara, Scania, Schibsted, KTC, etc.
Read more:
Tech expertise of Ukrainian software developers
Ukraine has over 50,000 Java, 58,000 JavaScript, 21,000 .NET, 33,000 Python, and 46,000 PHP developers.
The Ukrainian IT outsourcing market has a large pool of DevOps, Big data, and embedded specialists.
Many Ukrainian IT companies have strong cloud expertise, helping clients from the USA, Western Europe, the UK, and Nordic countries build cloud infrastructure, migrate their existing solutions to the cloud, and optimize costs. The country has over 22,000 cloud experts.
Ukraine has over 54,000 mobile and web app developers, compared to 45,000 specialists in Sweden.
Wrap-up
Sweden has an excellent business climate, startup culture, and impressive tech talent pool. However, if you are looking to outsource your software development to Sweden, you may need to consider high competition for tech talent and a low inflow of new experts. Are there any other alternatives? Consider partnering with a company with an office and/or legal entity in Sweden and development centers in a less competitive IT outsourcing destination.
Why choose N-iX to hire top software developers?
N-iX has a talent pool of over 2,000 tech experts and delivery centers in Ukraine, Poland, as well as an office and legal entity in Sweden.
With 20+ years in the market, the company has shaped long-term, strategic partnerships with businesses from the USA, UK, Germany, Nordic countries, and other locations.
N-iX is a certified AWS partner, a Microsoft gold certified partner, a Google Cloud Platform Partner, an Opentext Services silver partner, and a SAP partner.
We are recognized as a trusted vendor by IAOP, GSA, Zinnov, ISG, Inc. 5000, Software 500, Clutch.co, and others.
N-iX is compliant with PCI DSS, ISO 9001, ISO 27001, and GDPR standards.
Start building your perfect development team today! Contact us if you have any questions.
References
2019 State of European Tech
IT outsourcing market revenue in Sweden 2016-2020 by Statista
Information Technology Outsourcing in Large Companies in Sweden. A Perspective on Risks, Relationships and Success Factors by Georg Hodosi
Startup Ecosystem Rankings 2020 by StartupBlink
121 Sweden Startups to Watch in 2021 by Seedtable
Tertiary education graduates by Eurostat
2019 Kearney Global Services Location Index
Software development in Ukraine: 2019-2020 IT market report [PDF]
Cost of Living Index by Country 2021 by Numbeo
Hays Global Skill Index
Have a question?
Speak to an expert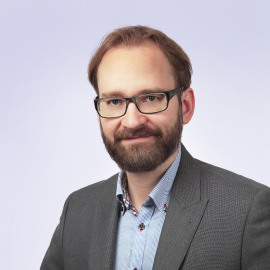 Christian Svensson
Director of N-iX Nordic
---