For many global businesses, tech talent gap is the number one issue that stands in the way of their acceleration. Forbes states that US enterprises face the highest skill shortage in a decade, with 69% of local organizations struggling to fill in the positions. With the ever-growing demand for a skilled workforce, cooperating with remote teams has become an effective alternative to staffing in-house. More and more top players such as Toyota, Lebara, and Gogo trust IT outsourcing companies with the design, development, deployment, and maintenance of their customized software.
But who are the trustworthy IT outsourcing service providers that really have the engineering capacity, strong security policy, and domain expertise to build your tailored solution? Let's find out from our list of top software engineering companies from around the world.
Selection criteria
According to Clutch, over 23K engineering vendors worldwide offer assistance with custom software development. To help you select a reliable partner among a wide variety of solution providers, we compiled a list of the top 15 IT enterprises from across the globe that are well-recognized in the industry. When choosing, we paid special attention to tech vendors that reached high positions on the international rankings, such as IOAP, GSA UK, and more. Here is the extended list of aspects we relied upon in our selection:
A sufficient number of industry recognitions that validate the high-quality tech expertise;
Compliance with the security standards and regulations, such as ISO, PCI DSS, and GDPR;
A software development team of 250+ qualified experts. Large and midsize tech companies usually have access to extended in-house talent pools and have established processes;
Minimum ten years of multidimensional experience in custom software development;
A proven portfolio of successfully delivered tech projects with client references and testimonials.
Top software engineering companies with industry recognition worldwide
N-iX
N-iX is a credible European software engineering company with over 20 years of experience in delivering end-to-end development services to manufacturing, logistics, telecommunications, fintech, and other industry providers. This large tech enterprise employs over 2,000 seasoned tech professionals with solid expertise in Cloud development, Data Analytics and Big Data, Business Intelligence services, IoT implementation, and more. N-iX appears on many rankings, such as IOAP Top Global Outsourcing 100, IT Europe reports by GSA UK, and the CRN lists.
The vendor has built long-term strategic partnerships with top global enterprises, such as Fluke, Gogo, Currencycloud, Lebara, AVL, as well as several Fortune 500 companies. To guarantee secure software development for its partners, N-iX adheres to security standards and regulations, such as ISO 27001:2013, PCI DSS, ISO 9001:2015, GDPR, and HIPAA.
SoftServe
With over 10,000 tech specialists on board, this is one of the largest software engineering companies in Eastern Europe. Their dedicated teams offer help with custom software development, Big Data and Data Analytics, IoT, Machine Learning, Artificial Intelligence, and other service lines. Among the company's clients are American and Japanese enterprises, predominantly from the healthcare, retail, and finance domains.
GlobalLogic
This is an ISO-certified software development company that has been among the tech market leaders for more than 20 years. Its service list spans digital advisory and assessment, Cloud optimization, embedded development, Internet of Things, as well as Big Data and Data Analytics. The vendor has experience in delivering custom solutions for automotive, media and entertainment, banking, healthcare, and life science business verticals.
Infopulse
Another reliable tech company with 30+ years of market experience, this engineering enterprise has successfully delivered projects for finance, telecommunications, energy and natural resources, and other industries. The vendor's in-house team constitutes is well-versed in the development of mobile and web applications, IoT, Artificial Intelligence, Machine Learning, and other services.
Ciklum
This is one of the large software engineering companies in Europe, with 4,000+ skilled IT specialists on board. The company's portfolio includes cooperations with enterprises and midsize firms, mainly from the retail, finance, hospitality, and telecommunications industries. Their tech specialists offer help with application development, the implementation of data and analytics solutions, DevOps services, robotic process automation, and more.
IBA Group
The vendor is one of the trusted European software engineering companies with around 30 years of engineering experience in finance, manufacturing, retail, and other markets. Apart from custom software development, their 2,700+ tech professionals offer assistance with the implementation of AI and ML algorithms, data engineering, ERP software development, and more.
ELEKS
One of the recognized European vendors on our list of the best software engineering companies, this IT firm has been implementing effective solutions for 30+ years. This tech enterprise handles projects predominantly for finance, supply chain, logistics, healthcare, and retail domains. Its key service lines include custom software development, Cloud migration, AI implementation, BI and Big Data consulting, and more.
Lohika
Another example of top software engineering companies from Europe, this large IT vendor has been present in the global market for more than 20 years. Among its clients are large and midsize enterprises from finance, travel and hospitality, media, e-commerce, and healthcare business verticals. Apart from custom software engineering, this vendor has Cloud expertise and experience with mobile app development and IoT implementation.
Sigma Software
One of the youngest software engineering companies on our list, this tech firm was founded in 2009. Over this timespan, the vendor has been featured in the IOAP Global Outsourcing 100 list and received the EGR Nordics Award. Their engineering teams can help clients with custom app implementation, DevOps consulting, Embedded and IoT development, and UI/UX design.
Endava
One more representative of large software engineering companies, this IT vendor has R&D centers in Romania, Moldova, Denmark, Germany, and many other countries across the globe. The tech enterprise employs over 4,800 seasoned experts that specialize in Business Analysis, ML and AI implementation, Cloud migration, DevOps, automated testing, and more. Also, the company's tech experts provide help with product design and system modernization.
iTechArt Group
This engineering enterprise has multidimensional industry expertise—the IT vendor has delivered projects for finance, healthcare, education, gaming, and other domains. The software development company has 20+ years of experience in custom software development, mobile app implementation, CRM Consulting, and web development. As for the industry recognition, the tech firm reached positions in the IOAP Global Outsourcing 100 several times.
Future Processing
This IT company is well-recognized in the industry—the enterprise has been nominated for the GSA UK awards and included in the IOAP rankings. The team's engineering expertise includes agile software development, Data Science, Business Intelligence, migration to Cloud, and more. In addition, their specialists are seasoned in IT strategy and Big Data consulting.
MentorMate
One more European vendor among the best software engineering companies, this tech firm has offices in Bulgaria and Sweden. Their specialists provide assistance with Big Data solution implementation, Cloud and DevOps, web and mobile development, Business Intelligence and Analysis, and more. One of the most notable company's industry recognitions is the BA Project of the Year award granted by IIBA.
Avenga
This global IT and digital transformation company has over 20 years of experience in building Cloud solutions, AR and VR development, BI solutions implementation, enterprise application development, and other services. The company's team of 3,500 tech specialists provides technology consulting and solution engineering services to midsize firms and large enterprises from Switzerland, the UK, and North America.
Perficient Latin America
The Colombian engineering company has been solving complex consultancy and tech requests for more than 35 years. Their agile teams focus predominantly on custom software development, DevOps transition, as well as Cloud architecture design and implementation. In recent years, the tech enterprise has earned Software Excellence Award from the European Software Institute and appeared on the IOAP Global Outsourcing 100 list.
More on the topic: How to choose the right custom software development company?
Why should you entrust the development of your tailored solution to N-iX?
N-iX is a trustworthy European software development company with 20 years of global market experience in delivering projects for telecommunications, logistics, manufacturing, retail, fintech, healthcare, and agritech domains;
The vendor's team counts 2,000+ IT specialists well-versed in Data Science, Big Data Analytics, Cloud development, Business Intelligence, IoT, Embedded software development, Artificial Intelligence, and more;
Our portfolio includes long-term collaborations with international market leaders such as Lebara, AVL, Fluke, Currencycloud, Gogo, Travelport, and Ringier, as well as the Fortune 500 companies;
The tech enterprise complies with the security standards and regulations, such as ISO 27001:2013, PCI DSS, ISO 9001:2015, GDPR, and HIPAA;
N-iX has earned industry recognition: the company reached top positions in the IAOP Global Outsourcing 100, appeared on the CRN Fast Growth list, was named a Rising Star in Data Engineering by ISG, and more.
Have a question?
Speak to an expert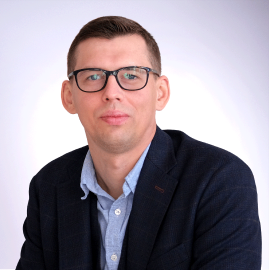 Dmytro Ovcharenko
Director of Technology Office
---