Businesses that are looking for a software testing outsourcing company may often find it challenging to choose the one which best meets their specific demands, offers the best level of software quality assurance services, and can provide them with the right experts promptly.
However, the need to find one is nagging as the demand for software testing specialists is growing, and many companies are facing a severe shortage of them.
The world faces a shortage of IT specialists
Despite the minor setback due to the pandemic, the global demand for qualified IT specialists is skyrocketing. The US Bureau of labor statistics expresses major concern about the tech talent shortage. By the end of 2021, over 1.2M unfilled information technology and CS jobs will only exist in the US. And quality assurance accounts for over 10% of this shortage. As of March 2021, there were more than 123,000 open jobs for QA experts in the United States. The European Union has almost 45,000 open QA jobs, and the UK has a little over 15,000 jobs.
With the competition that fierce, many businesses in Europe and the US feel the need to outsource their testing services. But how do you find a trusted partner that will understand your business needs and has the right expertise to help you meet them?
As a company that delivers both manual and automated software testing services to more than 60 clients across such domains as finances, enterprise software, education, hi-tech and more, we've decided to create this guide to help you find the best vendor. The guide features the findings from such sources as Clutch, PwC, Tholons, A.T. Kearney, and our QA expertise to help you find the best destination and the right company for your software testing outsourcing. It covers:
The hardest part is finding the best quality assurance partner with solid technology and domain expertise and can meet your specific business needs.
First, you need to find the best IT outsourcing destination, with the most vibrant IT market, a large talent pool, and the high quality of services provided. To help you navigate multiple locations, we've undertaken detailed research of IT testing destinations taking into account findings by Clutch, PwC, Tholons, A.T. Kearney, and other sources.
Software testing outsourcing to Asia
Asian countries have been known as outsourcing destinations for over two decades. Of course, India has the largest tech talent pool in the region, but other countries also have a great number of QA experts.
Countries in this region have also been recognized by the A.T. Kearney GSLI for resource availability and financial attractiveness. India, the Philippines, and Vietnam also rank high in the 2020 Tholons Global Innovation Index. However, this region scores relatively low in the Doing Business ranking by the World Bank and has almost no recognition in the Topcoder and SkillValue rankings.
Overall, this region can be a risky choice despite the cheaper workforce if you are looking for highly qualified experts and an excellent business climate.
Software testing outsourcing to Mexico and South America
South America and Mexico are often known for their nearshoring services, including software testing outsourcing. The tech talent pool in this region is smaller compared to Asia; however, these countries also have enough resources.
We should also note that Latin America scores higher in the TopCoder and SkillValue rankings compared to Asia. However, countries in this region have unfavorable business conditions, and some of them have an unstable political situation that can reflect poorly on the outsourcing vendors.
Also, the majority of countries in this region have moderate to low English proficiency, which can result in communication issues.
Software testing outsourcing to Eastern Europe
Eastern Europe can also be the best choice for software outsourcing. The combined pool of QA experts in the region exceeds 150,000 experts, with Ukraine, Poland, and Romania having the largest number of QA specialists.
This region also scores high in numerous international rankings, including the Global Services Location Index, Bloomberg Innovation Index, 2020 Tholons Global Innovation Index. Eastern European engineers are also in the top of SkillValue and TopCoder rankings. They also have moderate to strong knowledge of English.
We've selected the top 5 locations for IT testing outsourcing in Eastern Europe by the number of QA experts: Ukraine, Poland, Romania, Belarus, and the Czech Republic.
1. Software testing outsourcing to Ukraine
Information Technology is one of the key strategic industries in Ukraine. The value of Ukrainian software outsourcing exceeded $5B in 2020. Also, Ukraine was named the "Offshoring Destination of the Year" by Global Sourcing Association (GSA) in 2017 and ranks 20th the GSLI.
So it comes as no surprise that the country has more than 1,600 IT service providers, and about 90% of them offer testing services. What's more, 24% of IT specialists in Ukraine are QA/testers, and 19% of them have 7+ years of experience. There are a little over 48,000 QA experts, and around 16,000 ICT graduates enter the market annually.
The country organizes a wide range of QA conferences such as BAQ Conference, QA Fest, Security Testing Marathon, IT Weekend Lviv: Software Testing & Big Data, etc.
Learn more about the benefits of software testing outsourcing in Ukraine.
2. Software testing outsourcing to Poland
The country's IT services market reached $4.6B in 2019. Around 32% of Polish IT experts work for IT outsourcing (others are working for BPO and GBS companies). Around 29,000 QA professionals are involved in the IT sector in Poland. There are also 500+ IT companies that offer outsourced software testing services.
Moreover, Poland was ranked 15th in Tholons Top 100 Outsourcing Destinations. Poland was also listed 16th in the world for English skills in the EF English Proficiency Index.
3. Software testing outsourcing to Romania
The value of Romanian IT service exports reached $4.5B in 2019. Over 95,000 IT professionals are engaged in the Romanian IT sector. There are nearly 26,000 software testing professionals in Romania. Around 7,500 graduates annually enter the market.
The industry development is propelled by the presence of such global companies as Hewlett-Packard, Huawei, Ericsson, and Gameloft.
4. Software testing outsourcing to Belarus
The country is an attractive outsourcing destination for both software development and testing. The country has over 55,500 IT professionals, and there are over 13,000 QA experts. Belarus has a steady influx of new experts, as every year nearly 3,000 new specialists join the market.
Belarus ranked 49th country in the World Bank's Ease of Doing Business, 14 positions higher than in 2014. What's more, Belarusian developers reached 7th place in the TopCoder ranking.
5. Software testing outsourcing to the Czech Republic
The country is an attractive destination for IT services outsourcing. About 105,000 IT professionals are employed in its information and communication sector. And around 11,000 of them are QA engineers. However, the market faces a challenge: to attract new employees. Every year less than 4,000 technical graduates enter the Czech IT market.
The country ranks 33rd in the AT Kearney's Global Services Index, recognized for its financial attractiveness and favorable business climate.
1. Clarify your business needs
Do you need manual testing or automated? How big should your team be? What is the length of the project? All these questions will help you form the criteria that help you select the right vendor. What type of services do you need? How many experts are you looking to hire? Do you expect them to work full-time? By answering these questions, you will be able to find the most suitable form of cooperation. Here are some of the most common engagement models:
A test engineer works full-time (160 hrs per month). Full-time engagement and a long-term cooperation assignment (6+ months) will help you reduce the overall monthly cost.
The team is utterly committed to a testing project and accountable for the testing process. The team is scalable, and you can adjust its size to your current needs. A dedicated QA team is more efficient for long-term projects since you can predict the costs.
On-demand testing services
On-demand testers are partially engaged in the testing process and collaborate with other testers and testing teams on the projects. The cooperation model helps to divide the project into smaller parts. The on-demand testers model is more flexible in terms of the time specialists spend on your project.
2. Choose the outsourcing destination
There are three major IT outsourcing destinations: Asia, South America, and Eastern Europe. Each country in these destinations has its benefits and pitfalls. However, some of them have already established themselves as reliable partners. Make sure to pay attention to tech experts' availability, qualifications, the business climate in the country, etc. We will discuss all these aspects in the next section.
3. Create a long list of vendors
Once you have chosen an outsourcing destination, it is time to create a long list of companies that offer software testing services. First, you can simply google the companies. You can also check dedicated directories like Clutch, GoodFirms, Featured Customers, and others, for recommendations. This step will help you find verified and reliable companies with public reviews from their clients.
4. Narrow down the list of companies
Once you have the long list of companies you are interested in, make sure to check their portfolios and case studies. The vendor should offer a wide range of manual and automated testing services and address a variety of methodologies and platforms.
Please note that a reliable software testing outsourcing company will offer you a list of tools and alternatives to help you address your issues. However, the final selection of the instruments, tools, and frameworks takes place during the feasibility study, performed to help you find the best solution for your specific case.
When shortlisting the companies, reach out for more information. When contacting your potential software testing partner, pay attention to the level of communication they provide:
How quickly they respond to your requests.
How relevant the answers are.
How adequate is their understanding of your business goals and strategies.
Another crucial aspect is the transparency of the management hierarchy in the company. It should be easy for you to contact the responsible person. That will help you to avoid any communication bottlenecks during further cooperation.
5. Negotiate the win-win contract
Once you have selected the vendor that can fulfill your needs, it is time to sign the contract that is mutually beneficial to both you and your vendor. Review the final draft of the contract, preferably with your legal team. You need to negotiate the details of an agreement, paying special attention to such aspects as payment terms, liability, notice periods, confidentiality, IP rights, non-solicitation terms, the governing law, and a forum for dispute resolution.
Keep reading: Software development outsourcing: how to avoid contract loopholes
Summary
Choosing the best software testing outsourcing company in Europe is a tall order. It would help if you considered such crucial factors as the country's business environment, sufficient resources, the company's testing portfolio, the level of communication, management transparency, and more. We hope that our overview will aid you in choosing among the top IT testing destinations in Europe. Find the company which best meets your bespoke business needs and offers the deepest technology and domain expertise.
Quality control improvement for Code Worldwide
Code Worldwide teamed up with N-iX to enhance the scalability of its platform, handle a growing number of clients, and enable integration with key technology platforms. The N-iX engineers had a task to reduce time to market: increase the delivery speed to the end-user and increase the First Time Quality.
We have implemented the QA process, increased quality of testing documentation, and improved unit-testing coverage increased from 25% to 75%. We have also implemented integration testing. As a result, we have reduced the time to market by 60%.
Streamlining test automation for technology and business services telecom provider
The client (under NDA) has engaged our specialists to solve several issues, such as the absence of a unified approach, the unclear scope of testing, subjective data for testing, lack of integrated reports, poor extendibility, and time inefficiency.
As a part of the process, we brought client`s test automation to the industry standards and developed a quality center that controls most of the projects inside the company. We have also created a unified tool for the company as well as simulators of 3rd party applications for testing. We have eliminated manual testing by providing simulators and mocks and provided 80% coverage of API test cases (SCG). We have also reduced regression time from 3 days to 3 hours (IMN).
Test automation framework for Lebara
As a part of our long-term cooperation with Lebara, our team has worked on a single backend solution and a custom test automation framework to cover it by automated test cases.
The solution was to create a testing tool for creating automated test cases. It gives the ability to call SOAP API, REST API, All kinds of DB, Microsoft Dynamics API, Adyen Core API,
Hybris Core API, Microsoft Service Bus API. Also, it has HTML reports with results, statistics, graphics, and charts. All configuration endpoints and test data are stored in Azure Table Storage.
We have performed the full coverage of customer business rules (22 000 combinations) that are responsible for product eligibility: 22 000 test cases run less than 20 minutes. We have also created the automated regression test suite with 1000+ test cases that cover 100 omnichannel microservices.
Improved visibility into test coverage and scope for Orbus
Our client had an extensive manual QC web team. They had operational overheads with regression testing, and the test case base was huge and was hardly maintainable. There also was an issue with no visibility on test coverage and scope because of extensive and complicated documentation.
We eliminated the need for test documentation efforts that took 50% of manual QC efforts per sprint and regression testing efforts that took three weeks and blocked developers. Our experts have also increased reliability of testing with introduced web functional testing that covers automated E2E tests and API/web services testing that has become a part of the CI/CD process. We achieved controllable scope and coverage of testing due to test design as code
Automation test coverage for a big data platform
The client (under NDA) started the development of a new product — a cloud-based asset performance management platform. As there were no test automation engineers on the project, the client requested a team who would work on the solution for supply chain optimization.
As a result of our work, automation test coverage reached 80-90% for API test cases, 70% for data streaming tests, 70% for UI, 60% for ETL. We have developed the solutions for testing ETL functionality, data streams, and time-series data.The team also managed to refactor existing test frameworks to make them reusable and modular.
We have also helped our client to set up the test automation and code review processes. By refactoring the code, we were able to significantly improve old automation infrastructure, set up new coding and testing standards within involved projects.
Setting up the QA process for a global logistics platform
The client engaged the N-iX team to redevelop the logistics platform using AI and set up the QA process considering there was no QA on the project, and developers performed the testing.
We have set up the QA process from scratch. We chose the testing tools and set up the environment. Each microservice is tested separately and created a custom solution for API testing. As a result, the solution has 100% automation test coverage with all requirements covered.
N-iX has a strong portfolio of software testing projects with over 18 years of experience
Our company has over 150 test engineers and analysts onboard
N-iX offers ISTQB compliance
We offer full-cycle managed test service (manual & automation)
N-iX builds long-term partnerships with clients, helping world-known tech companies like Lebara, Gogo, Currencycloud, and many others.
Have a question?
Speak to an expert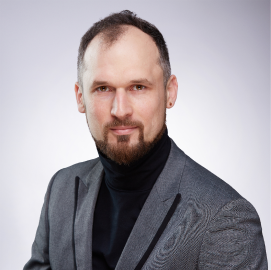 Taras Petriv
Associate Engagement Director
---