Big Data analytics helps to save costs, increase business efficiency, and improve the quality of services you provide. As the demand for Big Data developers is going up, finding experienced specialists becomes a real challenge.
How to find a reliable tech partner that can understand and meet your specific business need? And how to choose the best Big Data developers? Let's find out.
Where to find a partner for your Big Data project
Eastern Europe has long been the go-to destination to look for tech partners that can provide experts for Big Data projects. This is not surprising, since the region can boast an impressive pool of over 75,000 Big Data developers. Most of them are located across 5 countries: Ukraine, Poland, Hungary, Romania, and the Czech Republic. Let's take a closer look at each one.
Ukraine
Ukraine is the largest country in the region and has the highest number of IT experts available for outsourcing. The local pool of over 200K engineers includes approximately 10.2K Big Data experts.
Ukraine is home to many big companies with significant software outsourcing experience. Many local IT companies have successful long-lasting and strategic partnerships (e.g with Lebara, Fluke, Siemens, and many more) under their belt.
There are over 70 Big Data analytics companies in Ukraine, according to Clutch, many of which numbering 1000+ employees.
Poland
Poland holds Eastern Europe's largest overall pool of IT experts and Big Data developers - approximately 330K and 20K respectively. However, over 40% of local engineers are involved in BPO and GBS and are therefore unavailable for IT outsourcing.
Nevertheless, there are 114 companies that specialize in Big Data analytics in Poland, according to Clutch - the highest number in the region.
Hungary
Hungary has the second-highest number of Big Data engineers among the mentioned countries - approximately 14K. The tricky part, however, is that there are only 7 Data analytics companies from Hungary that are listed on Clutch. Moreover, only one of them has more than 250 employees. This means that finding a reliable partner with enough experience may be challenging.
Romania
Romania has the third-largest IT talent pool in Eastern Europe and approximately 8.2K Big Data experts. However, similarly to Poland, a big percentage of these experts work in BPO and GBS, and therefore cannot be considered as potential candidates for your project.
According to Clutch, there are 19 Big Data analytics companies in Romania, a big portion of which have 500+ employees.
Czech Republic
Last but not least, the Czech Republic has approximately 6.9K Big Data developers in a 112K IT talent pool. There are 12 Data analytics companies in the country, according to Clutch, 50% of which have over 200 employees and significant outsourcing experience.
How to find a reliable Big Data partner
There are many options when it comes to finding a tech partner, and this makes choosing the right one difficult. However, applying the following tips will make this process easier for you.
1. Look at the vendor's track record with Big Data projects
Before considering a potential tech partner for your Big Data project, you should first explore their experience with such projects. Platforms such as Clutch.co and Goodfirms should be your first point of reference. They provide verified reviews from actual clients that have partnered with a company you are considering.
A high number of reviews and a good overall score is a good indication that a company has sufficient expertise and will be a reliable asset for your next project.
2. Make sure the vendor can help you scale your product
To operate effectively, Big Data projects require a fast network and efficient server infrastructure with significant computing power. However, since data tends to grow exponentially, your infrastructure also has to be flexible enough to be able to keep up with this growth.
Therefore, make sure your partner can help you with scaling your solution. Cloud services such as AWS, Azure, and GCP are particularly great at scaling Big Data solutions and are great alternatives for on-premise infrastructure. They enable efficient solution scaling and cost optimization.
Find out if your partner has sufficient expertise in cloud development and DevOps, and inquire about their experience with refactoring monolithic architectures into microservices. Solid expertise in these areas is of key importance for scaling Big Data solutions in the cloud.
3. Assess your vendor's data security plan
Losing sensitive data to security breaches causes billions of dollars in losses every year. Since your potential partner will access your data directly, you must make sure that they have a solid security plan in place.
In addition to complying with established security standards such as ISO 27001 and PCI DSS, your partner has to follow the most common best practices of secure data handling. These include but are not limited to:
implementing static code analyzers;
caching data;
encrypting data traffic;
scanning third-party libraries for vulnerabilities.
How to choose an experienced Big Data developer
An experienced Big Data developer that will bring value to your project must have the following expertise:
Cloud solutions such as BigQuery, Cloud Composer, DataBricks, Dataprots, EMR, Snowflake, and Synapse Analytics;
Ability to maintain older MapReduce Java code and rewrite it with newer Spark technology;
Kubernetes constructs for building Big Data CI/CD pipelines;
Programming languages: Java, Scala, and Python;
Databases: SQL and NoSQL;
Big Data storing and processing technologies: Hadoop and Apache Spark;
Big Data quarrying tools: Athena, Hive, RedShift;
Real-time Big Data streaming tools: Apache Pulsar, AWS Kinesis, or Kafka.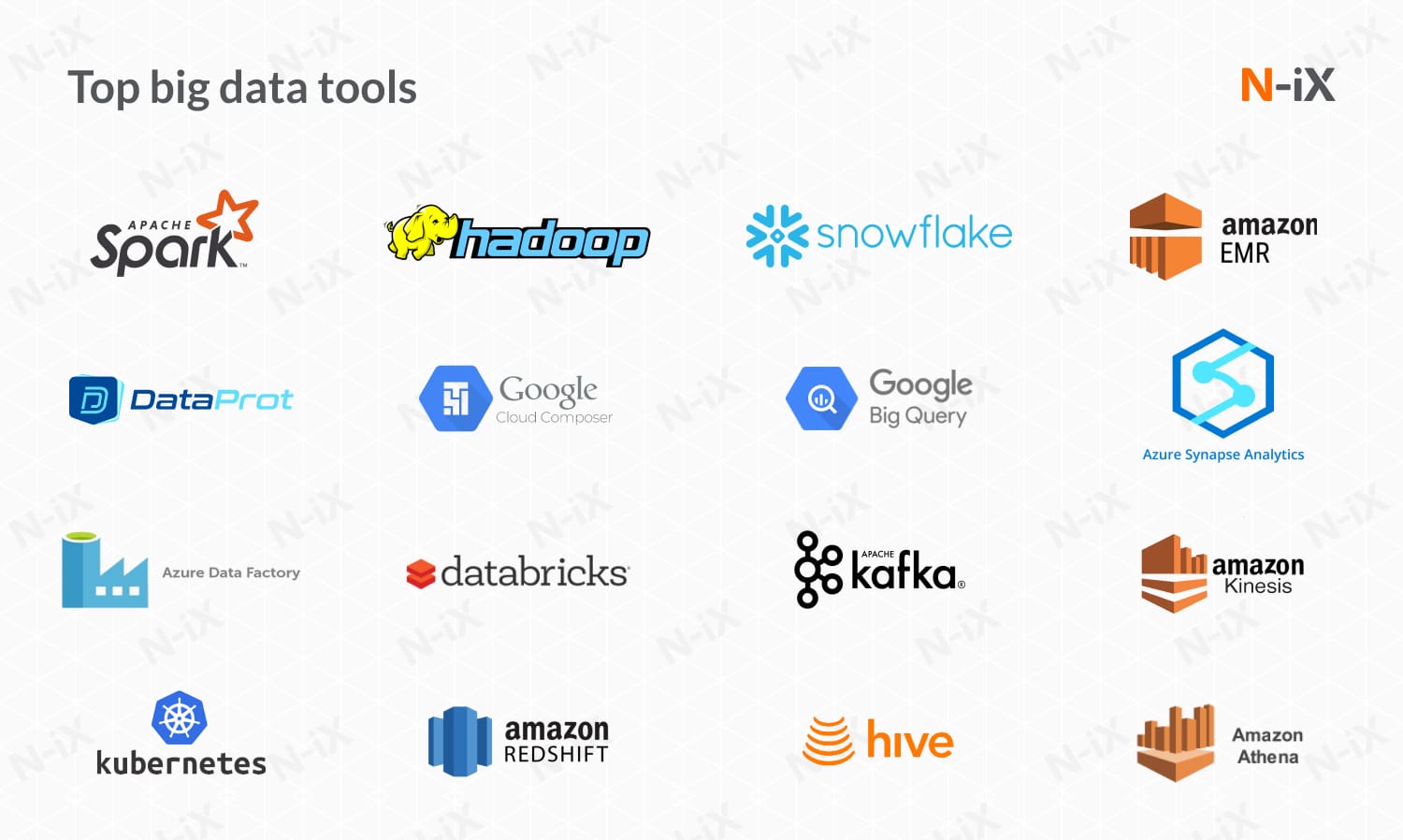 Real-life examples of how companies benefited from Big Data development
Now that we have explored all the intricacies of finding the best Big Data developer, let's take a quick look at some examples of how such experts brought value to businesses.
Improved service quality and effective equipment failure prediction for Gogo
Gogo is a global leader in providing in-flight connectivity and wireless entertainment services. One of the challenges that the company was facing before they partnered with N-iX was the lack of proper tools and experts to handle their vast amounts of data.
N-iX provided experienced Big Data developers who applied the DataOps methodologies to streamline the data flow within the organization. This allowed Gogo to effectively predict equipment failures and improve the quality of services they provide.
Head over to this page to learn more about our cooperation with Gogo.
Automated data extraction and data platform migration for Fortune 500 industrial supply company (NDA)
A US-based company that offers more than 1.6M industrial supply products needed to make their data management more efficient. They approached N-iX to migrate the existing on-premise data solution to the cloud.
N-iX engineers migrated the company's solution to a unified platform on AWS. As a result, the company enjoys more flexible data solution scaling, better reliability, automated data extraction, and reduced costs.
Visit this page if you are interested in learning more about our cooperation with the leading industrial supply company.
Cost optimization and near real-time report generation for Lebara
Lebara - one of Europe's fastest-growing telecom companies - needed to structure and optimize their data analytics. To better utilize their vast amounts of data, the company required more efficient tools for data collection, storage, and analysis.
N-iX Big Data developers are building an Azure-based data lake that can store both structured and unstructured data. This cloud solution provides excellent scaling capabilities and is more cost-efficient than the existing on-premise tool. Moreover, the solution enables more effective and timely business decision-making with nearly real-time data streaming and report generation.
Read more about our cooperation with Lebara here.
How N-iX can help you with your next Big Data project
N-iX has 130+ data experts with extensive experience delivering Big Data projects of various complexity;
Our Big Data experts are proficient in all modern data tools and technologies, including Apache Spark, Apache Airflow, Hadoop, and more;
We make sure that your data is always protected by complying with PCI DSS, ISO 9001, ISO 27001, and GDPR standards;
N-iX has vast experience in providing Big Data services for many large enterprises in the US, the UK, Australia, Singapore, and the Nordic countries;
Our company is a recognized and trusted name in the tech market, being included in various top software developer lists on platforms such as Clutch.co, GoodFirms.co, and others.
---