"Agile and DevOps are for harnessing integration, interaction, and innovation." ― Pearl Zhu.
DevOps as a service can help you automate software development, optimize delivery costs, and speed up your digital transformation. But experienced and qualified DevOps specialists are thin on the ground. So where to find a reliable DevOps as a service provider and how to choose the company that can understand your specific business needs and has the necessary expertise to meet them?
With a growing interest in cloud computing, the need for DevOps expertise is growing rapidly. The pre-pandemic estimation from Global Market insights predicted that this market would increase four times and reach $17B by 2026. North America was leading the adoption of DevOps services, with over 45% of the market share.
2020 has forced many companies to change their business processes. Some are moving to the cloud, while others are trying to optimize the cloud costs or migrate to another cloud. Whatever the reason is, all these companies need DevOps expertise and, in most cases, can't find DevOps experts locally. That is why they opt for outsourcing and look for a reputable DevOps-as-a-service company.
Clutch lists over 5,000 DevOps providers. The majority of such vendors are small firms with less than 20 people aboard. Even though DevOps experts typically work in small teams or alone, it is important to find an established company that will become your trusted tech partner. To help you with your search, we have created a list of the 20 most reliable firms in the top 3 outsourcing destinations worldwide.
To compile the list of top DevOps-as-a-service companies, we have analyzed multiple sources, including different directories (e.g., GoodFirms, Clutch.co), vendors' websites, their LinkedIn pages, etc. Next, we have focused on mid-sized (250-999 employees) and large (1,000-9,999 employees) companies as they have established processes and wider domain and tech expertise. We have then narrowed down the list to firms with 5+ years of market presence and have a portfolio of successful DevOps projects. Also, we have paid close attention to clients' reviews. So here is the list of the best DevOps-as-a-service companies in Eastern Europe, Asia, Mexico, and South America.
Eastern Europe is known for its excellent tech expertise. This region is home to over 44,000 DevOps experts. Dedicated directories list over 300 companies operating in one or several EE countries. Poland and Ukraine have the largest number of DevOps experts.

Here's the list of top DevOps-as-a-service providers in Eastern Europe.
N-iX
N-iX is one of the biggest Eastern European software development providers with over 18 years of experience in the global IT market. Their portfolio includes over 25 successful DevOps projects.
The company's experts specialize in configuration management, CI/CD, infrastructure as code, and other DevOps services. They have substantial Cloud expertise and can help you with on-premise to cloud migration, cloud-to-cloud migration, infrastructure setup, configuration management, and other services. The firm partners with North American and European businesses in fintech, telecom, retail, healthcare, etc.
Ciklum
This DevOps-as-s-service company works mainly with enterprises and midsize clients. Their domain expertise includes IT, retail, telecom, hospitality, and financial services. This firm has 35+ DevOps specialists on board and offers assistance with cloud migration, DevOps consulting, CI/CD and automation, performance tuning, as well as monitoring and alerting.
Svitla Systems
This Ukrainian vendor has development centers across the country and employs over 600 specialists. Apart from DevOps-as-a-service, they specialize in custom software and web development, as well as web design. This company works primarily with mid-market clients in business services, healthcare, and financial services.
ELEKS
Initially founded in Lviv (Ukraine), this vendor has several delivery centers across Eastern Europe. The company has been working with midsize and enterprise-level clients in finance, transportation, retail, and other industries. Their expertise includes Infrastructure as a Service, Platform as a Service, as well as DaaS - Database as a Service.
Infopulse
This Ukrainian vendor has offices in the USA, the UK, and several European countries. The company's experts can help you with CI/CD automation, automated monitoring and alerting, and cloud migration. The majority of the clients are mid-market businesses in automotive, telecom, and business services.
Symphony Solutions
This company has been on the market for more than ten years and has solid DevOps-as-a-services expertise. They also specialize in AI solutions, IT managed services, and mobile app development. Their portfolio includes projects for midsize companies in medical, gambling, education, and other industries.
Sigma Software
This Ukrainian company has several delivery centers across the country. It employs over 1,000 specialists. The primary focus is on software, web, and app development, but they also offer cloud consulting, migration of legacy systems, and other related services.
Transition Technologies PSC
Although this vendor is based in Poland, it also has offices in Denmark, the USA, and Taiwan. Among their DevOps-related services are cloud migration and management, version control, CI/CD, continuous monitoring, and configuration management. This company works primarily with midsize and large businesses representing manufacturing, automotive, IT, and transportation domains.
Euvic
Apart from DevOps-as-a-service, this company also offers custom software development and testing, mobile app development, Big Data consulting, web development, etc.In terms of DevOps-related services, their experts can help you with continuous automation, integration, testing, and improvement. The company cooperates primarily with small and mid-market businesses.
STX Next
This Polish DevOps-as-a-service company offers a wide range of services, including cloud migration, transition and transformation services, automation, and more. The company employs over 350 specialists. Their portfolio includes projects for real estate, e-commerce, and finance industries.
IBA Group
This Czech vendor was established in 1993. The company has over 2,500 experts that work in development centers in the Czech Republic, Belarus, Slovakia, Bulgaria, and Kazakhstan. Apart from DevOps-as-a-service, this vendor also provides custom software development services to companies in transportation, energy, telecommunications, etc.
Forte Group
Initially founded in Belarus, this DevOps-as-a-service vendor also has delivery centers in Ukraine and several international offices. The list of their services also includes IT staff augmentation and IT strategy consulting. They work with midsize clients that represent financial services, eCommerce, and business services domains.
EPAM Systems
With offices and development centers all over the world, this vendor employs over 10,000 specialists. Apart from DevOps services, they also offer software development services, design, and consulting to their clients. Their portfolio includes projects in financial services, healthcare, automotive, and other industries.
India is the leading country in Asia both by the number of experts and the number of companies. LinkedIn lists over 125,000 specialists with DevOps included in their expertise. There are also 650 companies that list DevOps-as-a-service in their expertise. However, the majority of these vendors are small firms with less than 50 employees.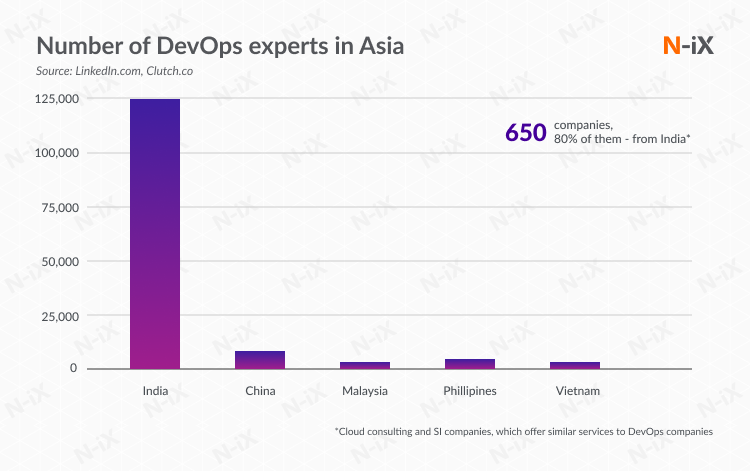 All the other countries in the region have significantly smaller tech talent pools compared to India. They also have a lower number of DevOps service vendors. Here are a few companies that match the selection criteria and are worth your attention.
Happiest Minds Technologies
It's one of the top DevOps providers in India. This vendor offers CI/CD, infrastructure and environment management, deployment automation, and orchestration. Their specialists also have experience with cloud solutions and Big Data. The majority of their clients represent finance, retail, and media industries.
QBurst
This company works primarily with small and midsize clients, helping them with CI/CD, containerization, server orchestration, support, security, and more. Apart from DevOps-as-a-service, this Indian vendor also offers BI and Big Data consulting, cloud services, custom software development, etc.
PixelCrayons
Since 2004, this vendor has been working with enterprises, digital agencies, and startups. Their DevOps services include CI/CD, cloud migration, and continuous maintenance. The company provides its expertise in software development, CMS, app development, IT consulting, DevOps, ML, and AI.
Icreon
This Indian company was founded in 2000. With over 350 experts aboard, the firm offers custom software development, IT staff augmentation, enterprise app modernization, and DevOps service. Their portfolio includes nonprofits, associations, and mid-market companies.
This region has a little over 50,000 DevOps experts and nearly 200 companies that offer DevOps services. Brazil and Mexico have the largest number of companies with DevOps projects in their portfolio.
Colombia and Chile have a lower number of companies. However, there are some vendors are established DevOps service providers.
PSL Corp.
This Colombian company also has a delivery center in Mexico and offices in the USA. Apart from DevOps expertise, their portfolio includes software development projects for midmarket clients and enterprises in financial services, marketing, transportation, and other industries.
Wizeline
Headquartered in San Francisco, this vendor has several development centers in Mexico. This DevOps-as-a-service company works with startups and midsize clients. Their portfolio includes software development projects for banks, insurance, biotech, and high tech domains.
CINQ Technologies
This vendor from Brazil has over 25 years of experience. Apart from software development and testing, BI, Big Data, they also have strong expertise in DevOps-as-a-service. The company partners with small and midsize companies in financial services, transportation, and telecom.
Once you have a long list of vendors, it's time to find the one that will become a reliable tech partner for your business. Here are key steps to ensure the selection process is successful:
Choose the processes you need to improve with DevOps services. Whether you need to set up the whole infrastructure, scale up, or review the cloud costs, set realistic goals and clear KPI's. It will also help you match your business needs to the vendor's expertise and find the perfect match.
Narrow down the long list of companies. Focus on the vendor within the selected outsourcing destination. Then, look for vendors with relevant domain expertise.
Assess the tech expertise. There are companies that specialize in single-cloud solutions, vendors that offer a wide range of DevOps services (including setting up CI/CD processes, cloud-to-cloud migration, and more), and providers with niche expertise like security infrastructure. Opt for a DevOps-as-a-service company that has comprehensive tech expertise and can cover all your needs, including the audit of your processes, resource cost optimization, and multi cloud migration.
Evaluate the tech stack a vendor has experience working with. There are cloud vendors (AWS, Azure, GCP) and technologies (Docker, Kubernetes, Terraform, etc.) that each reliable DevOps service company needs to be well versed in.
Choose a vendor with a strong portfolio. While choosing between several DevOps-as-a-service providers, opt for a vendor with a proven record of successful projects.
Minimize the risks. First, choose a vendor that has both expertise and necessary certifications. Next, discuss the cooperation model, communication channels, and knowledge transfer plans.
Negotiate a win-win contract. Once you've selected a DevOps-as-a-service company, it's time for a contract signing. Make sure your contract covers all vital aspects of future cooperation.
We have one of the top expertise in DevOps in Ukraine, including cloud adoption, building and streamlining CI/CD processes, security issues detection/prevention (DDOS & intrusion), firewall-as-a-service, and more.
N-iX offers profound expertise in such tech domains as Cloud, DevOps, Big Data, DataOps, and many others.
DevOps teams and experts at N-iX support a wide range of technologies, including AWS, Google Cloud, Azure, Docker, Kubernetes, Terraform, Ansible, and many more.
We partner with North American and European tech companies and enterprises, including Lebara, Gogo, Currencycloud, TuneIn, Fluke Corporation, Travelport, and HotSchedules, to help them bring their businesses to the next level.
Featured examples of our projects
N-iX has developed a fully automated CI/CD pipeline for Lebara. Also, our professionals performed data migration to the cloud for this client.
Our DevOps specialists have performed cloud migration of legacy infrastructure and multi-tenancy implementation for Orbus Software.
We built a fully automated CI/CD from git commit to delivering App to Production. We also helped our client FPL Online optimize their expenses by introducing the system that shuts down environments during non-business hours.
---