Data is the fuel that runs the fourth industrial revolution.
~Forbes
If your enterprise operations involve storing and processing large amounts of data, then you've probably stumbled upon the following questions:
How do we start making data-driven decisions?
How can we increase customer reach?
How can we monetize data?
And most importantly – how can we do all of that while aligning with our business objectives? You might also not have enough in-house resources and expertise to conduct a comprehensive analysis and develop a custom data science adoption strategy.
The answer is data science consulting. Partnering with a data science consultancy team can provide the expertise and solutions needed to address these concerns. As a result, businesses can get valuable insights based on data analysis and start translating it into business value.
What is data science consulting?
The main goal of data science consulting is to present you with the optimal way of extracting meaningful insights from your data. In addition, data consulting teams prepare data science strategies, describing how to utilize business data to make informed decisions. If you've already integrated data science models into your operations, tech consultants will help you use them to the greatest potential.
For instance, N-iX data science consultants and engineers helped Lebara predict equipment failures with approximately >90% accuracy rate. But apart from predictive maintenance, what are the other requests covered by data science consultants? How do you find out whether this type of consulting will work for your business case?
4 signs you need data science consulting services
1. You want to optimize the costs of existing solutions
One of the critical problems related to poor data quality is wasted financial resources. However, by reaching out to consultants for a tailored data science strategy, enterprises can prevent unnecessary spending and even gain profits. A well-implemented data science strategy can help businesses improve the quality of their data, ensure its relevancy and accuracy, and make it actionable. As a result, data science consultants can help businesses save costs by increasing operational effectiveness and providing more efficient utilization of their resources.
2. You don't know how to process large amounts of data
Dealing with massive volumes of unprocessed data seems overwhelming. However, you can ask a data consulting provider to do the job for you. Data consultants will assess your existing data infrastructure and offer ways to optimize the handling of large-scale datasets. For instance, to implement data science models, you might need to migrate to cloud first.
3. You strive to prevent risks
Detecting anomalies in a sea of data is a difficult task, becoming even more complex as your business grows and data volumes expand. Anomaly detection is a critical step in data analysis for identifying data points that differ from normal behavior. For some industries, such as finance, failure to detect anomalies can lead to financial losses and reputational damage. With a trusted consulting partner by your side, you will receive a tailored strategy aimed at proactive risk mitigation, fraud prevention, as well as the security and integrity of your operations.
4. You want to identify new opportunities for growth
Maintaining a competitive edge is impossible without advancement. Data science consulting services can help you uncover untapped market segments through data-driven insights. One way to do this is to make use of data mining techniques and ML algorithms. You might stumble upon the wide range of data science tools, not knowing which will be the perfect fit for your project. Relying on your trusted data consulting team is a solution – they will analyze the current state of your business and choose the best advanced analytics techniques and tools for your particular case.
Keep reading: Here's how to find skilled Data Science experts and monetize your data
Data science consulting: a process roadmap
Before you decide to opt for data science consulting services, it is essential to understand the upcoming journey. What are the necessary stages one must go through to develop a robust data science strategy? Most data consulting companies can get you closer to data-driven decisions in five steps:
Evaluating business inputs. The key factor that will define the course of your data science project is preparation. At the initial stage, data consulting experts assess the current state of the client's data. They evaluate the data, gather information on the existing databases and pre-trained models, and identify the pains to be addressed.
Discovery and scoping. After getting clear on pain points, your data science consulting team will communicate your expected outcomes. Guided by your idea of project deliverables, they will set realistic success metrics that will cover both business goals and technical requirements.
Developing an implementation plan. At the next stage, your data science consulting services provider will devise an implementation plan for Machine Learning models, relying on the elaborated vision of your data science product. The plan should focus on such aspects as data input, data processing methods, and tools, as well as describe your data output.
Designing and deploying ML models. With the implementation plan in place, your data science consulting partner is ready to apply, train, tune, deploy, and test chosen ML algorithms.
Handing over the deliverables. Trusted data science consulting services vendors like N-iX will not leave you alone with the implemented model. Your consulting team will write documentation and conduct training sessions on the model's further support and training if needed. In addition, they are responsible for the continuous improvement of your ML models.
How do N-iX consultants help businesses make use of their data: Success stories
Now that we've discussed the process, you'd want to know how the consultancy for data science projects works in practice. Here are some successful data science consulting case studies of N-iX:
1. Introducing predictive maintenance for a global provider of the in-flight Internet
Gogo is a leading air-to-ground connectivity provider that delivers Internet and wireless entertainment services for commercial and business fleets. The enterprise collaborates with 16 commercial airlines and equips over 2,900 commercial aircraft with their connectivity technology. Gogo needed to predict the failures of their satellite antennas that resulted in downtime and wasted costs. In addition, the client wanted to enhance the quality of their in-flight Internet.
First of all, the N-iX team migrated their on-premise data solutions to the AWS cloud and implemented a unified platform that could collect and aggregate both structured and unstructured data. Once our specialists streamlined data processing, they were able to proceed with the implementation of data science models aimed at predicting the antenna equipment failures. We applied Gaussian Mixture Model and Regression Analysis models and established a data-retrieving process from the degraded antennas. With ML algorithms in place, our engineers could correlate the gathered data with weather conditions and antenna construction. For instance, our analysis revealed that antifreeze liquid for planes gets inside the antenna, impacting its performance.
As a result of cooperation, N-iX helped Gogo to:
Identify the reasons for antennas malfunctioning as well as prevent some of the ill-performance causes;
Forecast equipment failures with a high accuracy rate of >90% up to 20-30 days in advance;
Reduce no-fault-found rate by 75%, which led to significant cost reduction.
2. Gaining valuable data insights for a leading telecom company
N-iX portfolio spans several data science consulting case studies that resulted in measurable business value. One of them is a project for Lebara – a telecom company that provides Pay As You Go SIM cards and other mobile services for migrant communities. Lebara wanted to enhance their existing IT infrastructure as well as boost scalability and agility.
This large digital transformation project included tech consulting and data analytics. The N-iX Solution Group performed a comprehensive two-week audit to identify gaps within the system and offered recommendations on cost optimization and performance improvement. We provided Lebara with a data-driven report as well as developed a strategic roadmap for the client's IT department. Moreover, our data analytics experts helped the client monitor and optimize the operations of its other departments, including sales, financial, and marketing. The N-iX team helped Lebara generate reports on the departments' performance, client base growth, and marketing campaigns. Later on, to ensure almost real-time data reports, we replaced the existing software with an Azure-based data lake.
After Lebara partnered with N-iX, they managed to:
Optimize the business processes of several departments;
Enhance management of commerce data flows;
Streamline operations, expand customer reach, and accelerate time-to-market.
Read more: From insight to action: Making the most of predictive analytics consulting

Why choose N-iX as your reliable data science consultant?
With over 2,000 specialists on board and more than 20 years of cross-industry experience, N-iX is a trusted provider of data science consultancy and advanced analytics services. Data science consultants at N-iX guide clients throughout their whole journey to data-driven decision-making. They will define your business goals, create a detailed roadmap, and choose the most effective technologies for your data science project. N-iX will help you achieve your goals through vast expertise and strong partnership:
Our data team counts more than 200 seasoned in causal and statistical analysis, predictive analytics, data mining, visualization, and reporting;
N-iX engineers are well-versed in a wide range of data science technologies, including Tidyverse, Shiny, and R, as well as the reporting tools like Tableau, Looker, and many others;
Apart from deep expertise in data science, we also have profound knowledge of Deep Learning, Computer Vision, Natural Language Processing, conversational AI, and MLOps;
Our list of data science projects spans cooperations with companies from manufacturing, telecom, intelligent traffic management, and other domains;
N-iX has several recognitions and partnerships that validate our expertise in the data field. These include a Rising Star in Data Engineering by ISG, and the AWS Data Analytics Competency, to name a few.
Have a question?
Speak to an expert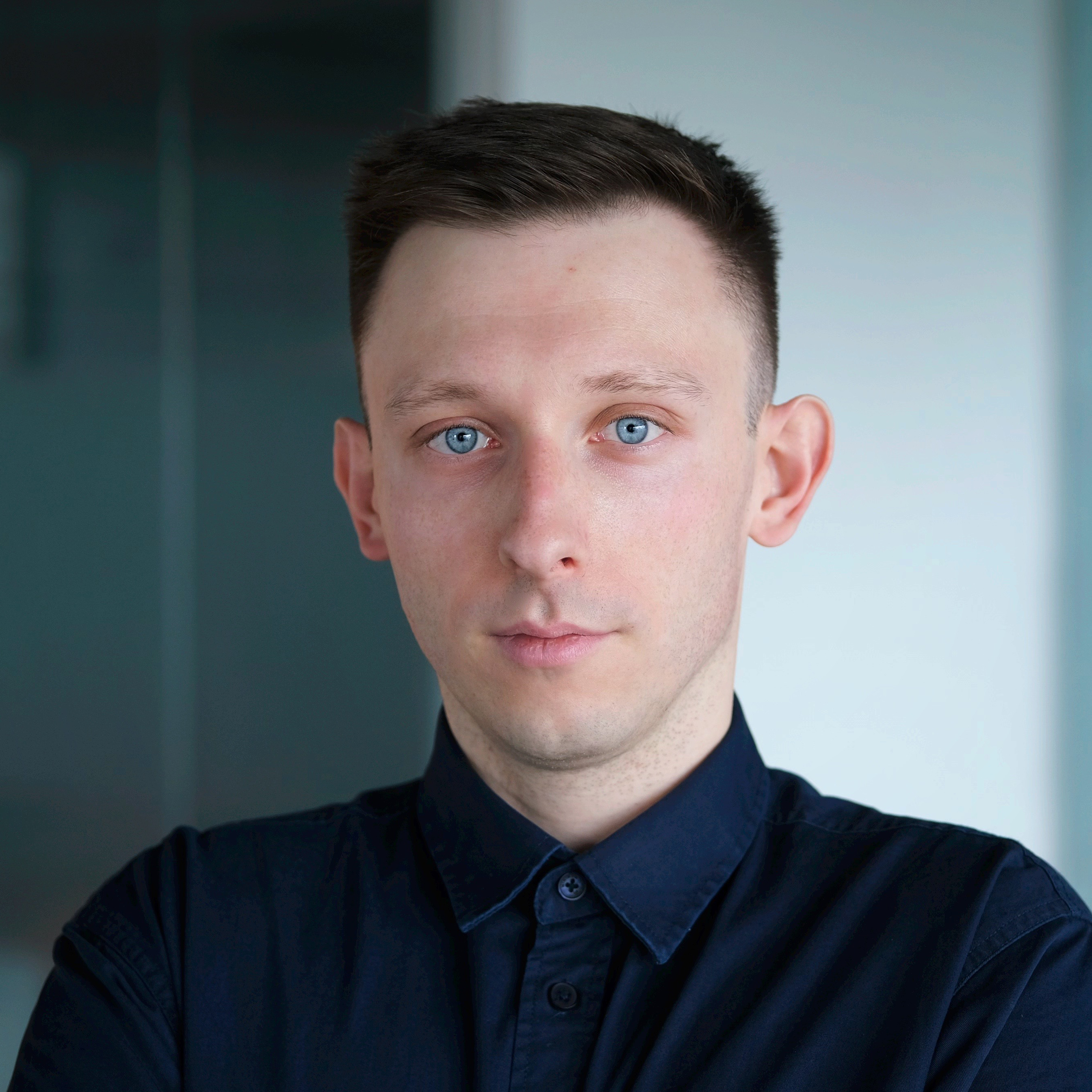 Rostyslav Fedynyshyn
Head of Data and Analytics Practice
---