Almost every organization collects tons of data but only a few take advantage of its full potential. To extract and apply the hidden insights you have to go beyond simple analytics and opt for Data Science. From accurate predictions based on historical data to effective data-driven decisions and new revenue streams – the capabilities of Data Science to monetize data are almost limitless.
However, to take advantage of these benefits you need to find experienced Data Science developers for hire. This in itself is no easy fit since the demand for such experts is growing rapidly. Indeed, surveys predict that by the end of 2022 the number of job postings for Data Science and Analytics experts will increase by 350K+, and will reach an immense 11.5M by the end of 2026. Therefore, you need to know where to look and how to find a reliable partner that can provide specialists that can match your requirements. All of this, and more, we will explore in this article.
Choose the right location: 3 locations with the most skilled Data Science experts
When it comes to finding Data Science developers for hire, there are three major talent pools you can consider: Asia, Eastern Europe, and Latin America. Let's take a closer look at what each has to offer.
1. Eastern Europe: find Data Science developers with deep expertise
Some of the most prominent global enterprises, such as Adidas, Lebara, Fluke, Siemens, and others, have formed long-lasting partnerships with tech companies from Eastern Europe. The reason for this is threefold:
Significant experience of local vendors. Tech outsourcing, including Data Science, has a long history in Eastern Europe, with many companies having 10, 20, 30, or even more years of experience. As a result, quickly establishing smooth and effective cooperation with local vendors is usually relatively easy, since they already know all the ins and outs of how to establish such partnerships effectively.
Deep expertise of local developers. Even though the pool of Data Science developers in this region is smaller than the other two destinations (currently estimated at ~21K), it makes up for it by having some of the most skilled experts. Indeed, ranking platforms such as TopCoder regularly put countries from this region in the highest spots: Poland is currently ranked 7th, Ukraine is 6th, and Bulgaria is 14th.
Cultural similarities with Western partners. Countries from Eastern Europe have close ties with the Western culture, which makes it much easier for American and European companies to establish effective communication with local vendors. This results in a much more efficient development process, especially when you need to find Data Science developers to scale your in-house team with.
2. Asia: the highest number of Data Science experts
Asia has long been a popular place to look for tech experts that operate at lower rates than their counterparts in the West. IT jobs are highly pursued here, which led to Asia having the largest pool of software engineers in the world, counting in millions. Data Science is no different, with the only exception being that most experts are located in India (approximately 72K) while other countries, such as China, Malaysia, or Indonesia, have only about 2-5K.
While looking for Data Science developers for hire in this region is certainly appealing, there are several challenges that you have to be aware of. Firstly, more vendors and experts provide you with more options, but they also make the selection process of the right partner for the job much longer. Additionally, you have to be prepared to deal with the cultural and time differences of local vendors. Since work ethics in the West and in the East are not the same, establishing effective communication may take extra time and effort.
3. Latin America: a promising pool of eager Data Science developers
Latin America is another destination where you can find Data Science developers. It is a younger but rapidly growing IT service market, that has already become the second largest in the world. The local market is similar to Asia when it comes to Data Science, since most experts are also located in a single country – Brazil. Other countries such as Argentina or Colombia can only offer 2-3K specialists.
Local service providers are especially popular among North American companies since there is virtually no time difference between the two regions. Also, since there are many experts here that are at the beginning of their IT careers and are eager to prove themselves, finding a vendor that offers reasonable cost rates is not that difficult. However, because this is a younger market, finding a trustworthy partner with sufficient experience to match your current and future needs may prove to be quite a challenge.
Form a strong tech partnership: 4 tips to hire Data Science developers
After you have picked the location that matches your requirements, it is time to go through a list of local vendors and form a tech partnership. Here are several tips that will help you find the right one.
1. Only consider Data Science experts with proven experience
The most important thing you need to consider when it comes to finding a tech partner is their experience. How many projects in the Data Science domain have they successfully delivered? Have they worked with clients that operate in the same industry as you do? Can they back up their expertise with a list of success stories?
The company's website, and, more specifically, their project portfolio should be your first point of reference to answer these questions. N-iX, for example, has a long list of successful Data Science, AI and ML projects. For example, our experts have used their extensive knowledge of Data Science, Big Data, and Machine Learning to help a global in-flight connectivity provider Gogo cut costs and improve service quality by accurately predicting equipment failures. You can read more about our cooperation here.
If the portfolio looks convincing, you should then visit the company's profile on B2B rating platforms that provide verified cooperation reviews, such as Clutch or Goodfirms. If a company does not have a profile on at least one of such platforms - this is a sign that you should look for other options. Taking these two steps in conjunction will paint a clear picture of the experience of any company that helps to hire Data Science developers.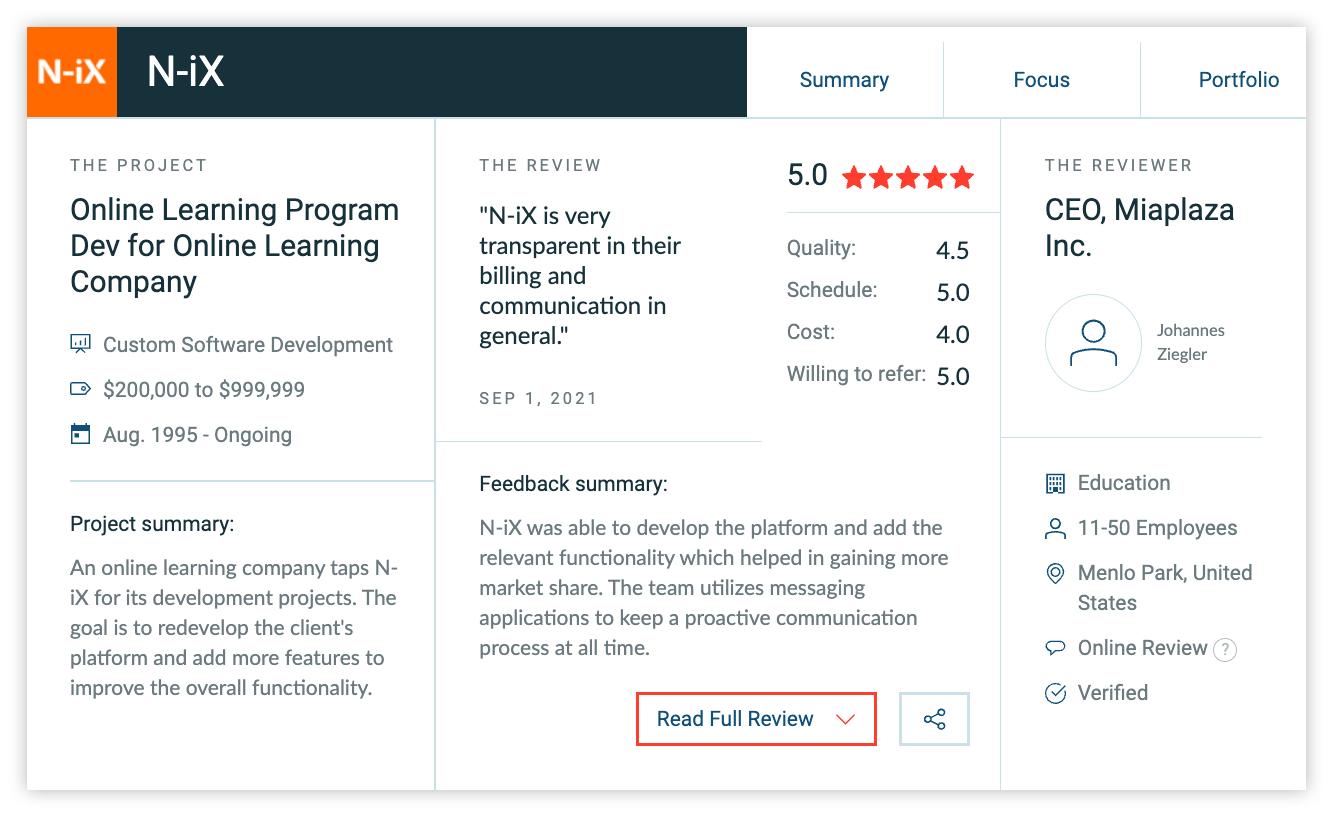 2. Assess the expertise and technical prowess of Data Science developers
One of the things that plays a key role when you need to find Data Science developers is, unsurprisingly, their expertise.
Can they help you tap into everything that Data Science is capable of? A good indication of an experienced Data Science vendor is proficiency in the following:
Data analysis: extracting valuable insights from the data you collect and helping apply them in the decision-making process;
Statistical analysis: interpreting data to identify hidden patterns and trends;
Predictive analysis: making accurate predictions based on historical data and current facts;
Causal analysis: finding cause-effect patterns to eliminate uncertainty and add clarity to your insights;
Data mining: identifying patterns and extracting relevant information from large amounts of raw data;
Data visualization and reporting: turning data into visually informative insights and timely reports.
Additionally, you have to pay attention to the tech that Data Science experts offer. Is their proficiency enough to cover all your outstanding and potential future needs? A toolset of experienced Data Science developers looks something like this:
3. Learn about the established data security policies and measures
Your tech partner will have direct access to your sensitive data. Therefore, you have to make sure that they have the necessary practices and measures that ensure that all data remains protected. This is achieved by complying with established data security regulations, such as ISO 27001:2013 and GDPR, as well as implementing best practices of secure development. For Data Science projects these best practices include:
Data caching;
Encrypting data traffic;
Implementing static code analyzers;
Utilizing data reproducibility.
4. Choose the company with the right size and a strong employer brand
It is not uncommon for Data Science projects to evolve over time and obtain the need for other technological expertise, for example, AI or Machine Learning. When this happens, having a large company as your tech partner can prove to be a significant benefit. They can quickly allocate professionals with the right expertise to your project and prevent you from spending weeks or even months looking for a specialist that matches your requirements. Moreover, companies with 1,000+ employees usually have significant experience and well-polished processes in place that ensure smooth team scaling and project development.
Besides the size, the company's employer brand should also play an important role in your selection process. Companies with a strong brand usually have a faster hiring process since they attract the attention of a lot of top-tier experts. This significantly raises your chances of finding the best experts for the job quickly. In the case of N-iX, for example, it takes only 4-6 weeks to fill a position.
N-iX: deep Data Science expertise and years of experience
N-iX has over 20 years of experience in forming tech partnerships with leading global enterprises;
Our Data unit has 200+ highly skilled data experts that have successfully delivered over 50 data and AI projects;
N-iX offers the highest levels of expertise in data and cloud development with over 150 certified experts;
Our pool of 2,000+ employees allows us to scale a team as quickly as just 4-6 weeks;
N-iX complies with established data security standards, such as GDPR, ISO 27001:2013, and others.
Have a question?
Speak to an expert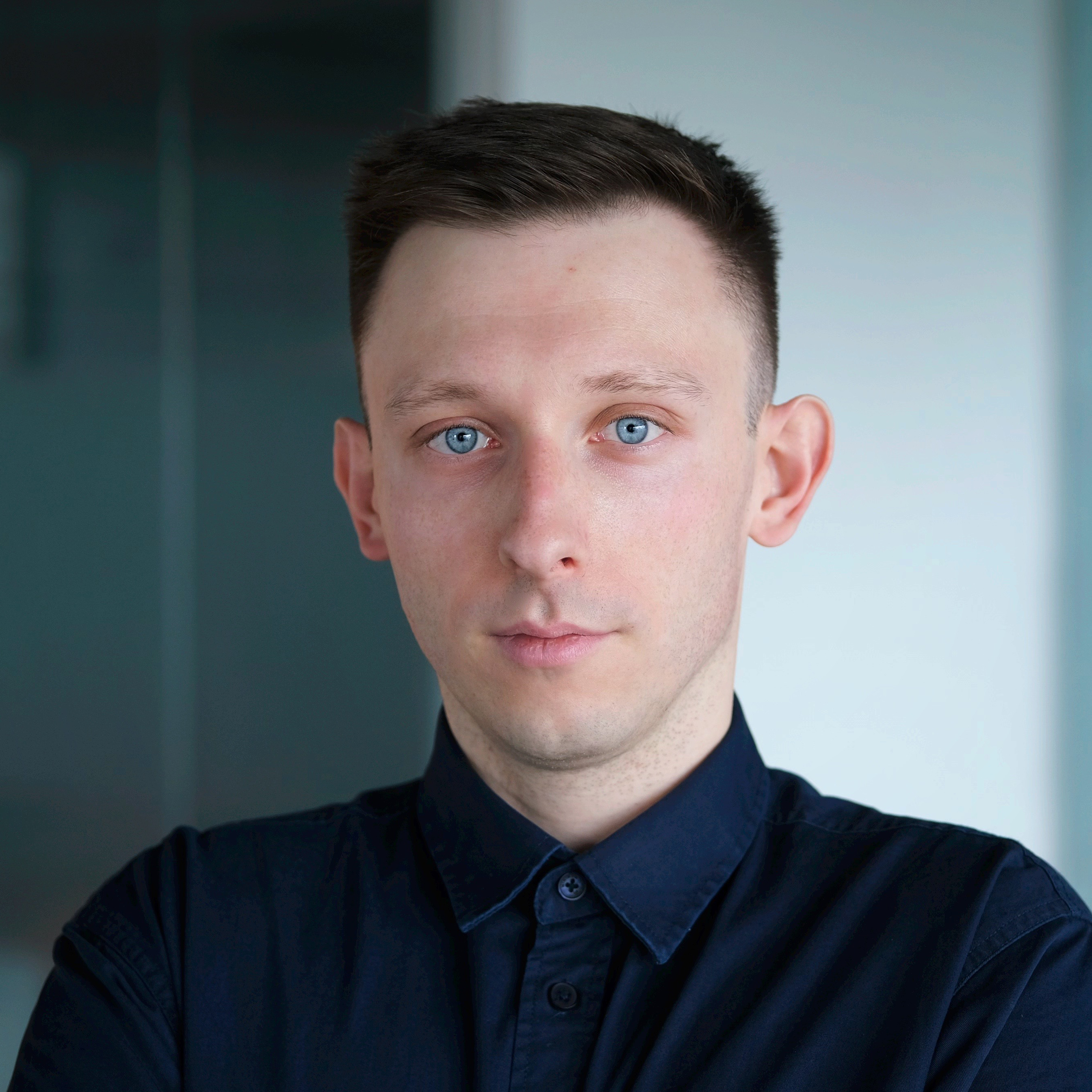 Rostyslav Fedynyshyn
Head of Data and Analytics Practice
---