An IT outsourcing strategy is a long-term plan describing which IT functions are to be kept in-house and which should be delegated to an IT vendor. It provides a detailed roadmap of transferring activities at the lowest possible cost to get the best revenue figures. So, one of the critical goals of coming up with an outsourcing strategy is to optimize expenditures.
Successful IT outsourcing strategies result in a successful outsourcing experience. It can help you reap the benefits of market-oriented innovation, flexibility, agility, and increased efficiency. At the same time, the wrong strategy can lead to money loss and poor project management. So, it is vital to choose wisely.
The article views the main types of outsourcing strategies and breaks down the challenges that can be solved with specific strategies.
Types of IT outsourcing strategies
There are different classifications of IT outsourcing strategies. In the article, however, we will overview the strategies according to the number of vendors involved (the long tail strategy for IT outsourcing and single-vendor outsourcing) as well as according to the geographical location (offshoring, nearshoring, and onshoring). The latter is about finding a vendor in your country, so it does not provide a benefit of significant cost-optimization or access to a larger tech talent pool. So, we will not dwell on this type in the article, focusing more on the rest instead.
What businesses should go for the long tail strategy for IT outsourcing (whether offshoring or nearshoring), and what challenges can these strategies help you overcome? Let's dive in.
IT outsourcing strategies by the number of vendors involved
1. The long tail strategy for IT outsourcing
The long tail strategy for IT outsourcing is about establishing partnerships with several vendors rather than entrusting all of your software engineering processes to a single one. It is a viable strategy primarily for mid-sized companies and large corporations. The long tail strategy for IT outsourcing allows you to scale your cooperation with a certain IT outsourcing provider gradually.
Let's say you choose to outsource your QA processes and have found a well-suited vendor. Your cooperation goes according to your plan, so you decide to entrust them a part of your software development. Then you allow this vendor to undertake responsibility for the full-cycle development for one of your products and so on.
Also, having several vendors by your side allows you to address many challenges. Let's take a closer look at some of them together.
Challenges that can be addressed with the long tail strategy for IT outsourcing
There are many reasons why cooperation with a certain vendor can come to an end. For instance, your provider can change its offerings, shifting focus to different business needs so they no longer align with your expectations. Any vendor can change their price for the service significantly, or you can get an attractive deal from a different company. Your vendor can merely go out of business. These scenarios are dangerous for your business, provided you entrust all your engineering processes to a single service provider.
However, with the long tail strategy for IT outsourcing, you spare yourself this headache. Transferring some processes to a vendor with which you have already established effective collaboration is way easier than building new partnerships from scratch in a short time.
Stemming from the previous point, it is easier to manage the risks or change tactics if do not depend on a single provider. What's more, you do not have to rely on the expertise of a single vendor. Thus, you can explore the market, seeking the skills you require and the price point that fits your budget. As a result, the long tail strategy for IT outsourcing provides you with more flexibility.
2. Single-vendor outsourcing strategy
A single vendor outsourcing strategy is about finding the one and only vendor and entrusting them with all of the processes that you want to be outsourced. It is a viable choice for companies of any size that do not have a wide range of products that need to be constantly modernized and maintained. If you have one product or want to build one product – a single-vendor outsourcing strategy is for you. It can help you address such challenges as:
Challenges that can be addressed with a single-vendor outsourcing strategy
Unshared knowledge costs money. If you have an in-house team and several teams working within various vendors, you may find that much of the tacit knowledge is not documented and gets lost. Unless of course, you make specific efforts to preserve this knowledge. However, if you opt for a single-vendor outsourcing strategy, this will not be a problem for you.
Much of the project knowledge exists in documentation, but most insights still reside in people's heads. So, due to the single-vendor outsourcing strategy, no knowledge is lost, and you do not have to worry about streamlining a knowledge-sharing process.
A single-vendor IT outsourcing strategy allows you to control business processes effectively, as in this case, your team is located in a single location. As a result, they will be able to resolve blockers and communicate issues in real-time immediately. To get the most out of a single-vendor outsourcing strategy, use this advantage to conduct regular syncs, daily standups, and team meetings.


IT outsourcing strategies by vendor(s) location
1. Nearshoring outsourcing strategy
Nearshoring IT outsourcing strategy means delegating your business processes to a neighboring country. For example, if you are based in the US, your nearshoring destination will be Latin American countries. In addition, nearshoring is common in Europe, where many Western European businesses entrust engineering projects to destinations like Poland, Ukraine, and Romania.
Challenges that can be addressed with nearshore outsourcing
With nearshoring outsourcing strategy, you avoid cultural gaps and potential miscommunication issues. To ensure that no problems in business communication will occur, you might consult cultural compatibility research. One of such studies, Hofstede's report, provides detailed overviews of national features regarding power distance, individualism, long-term orientation, and other dimensions.
According to the report, countries located close to one another typically have similar mentalities as well as work approaches. For example, Germany and Poland score high on masculinity and society individualism. In other words, both Polish and Germans directly communicate the issues, are goal-oriented, and have high motivation at work. There are some exceptions when geographical proximity does not guarantee a cultural match. However, you can effortlessly tackle this issue by conducting cultural training to help the partnering companies find common ground.
Visiting your development team once in a while is an effective way to make project management easier. Business trips add a human touch to your collaboration with the team and make it go beyond just business. Since worldwide traveling has resumed after the COVID-19 crisis, the pandemic does not affect the ability to take flights. The distance, however, still does. The further away your team is – the costlier your business trips become.
Nearshoring, however, addresses this challenge, as you and your team are typically up to three-hour flights away, which are way less expensive than transatlantic ones.
2. Offshoring outsourcing strategy
Offshoring is defined as relocating business processes to farther destinations. The term is most often used when the services are outsourced from one hemisphere to another. For instance, American corporations hire Romanian tech experts, or Canadian companies expand their business networks to the Philippines.
Challenges that can be addressed with offshore outsourcing
While offshoring, you can access top talent around the globe and augment your team with the expertise you need. Hiring tech experts around the world can give you access to relevant expertise unavailable in your country. According to the ABSL report, Eastern Europe has a talent pool of 1.1M tech specialists. More than 470,000 of them are involved in delivering solutions for businesses worldwide.
Offshore vendors usually have an extensive internal talent pool and a large internal base of candidates. Thus, they can all help you find the right experts for your team promptly. What's more, trusted offshoring providers have streamlined their onboarding processes. Thus the procedure gets significantly easier and faster.
Learn more about offshore development services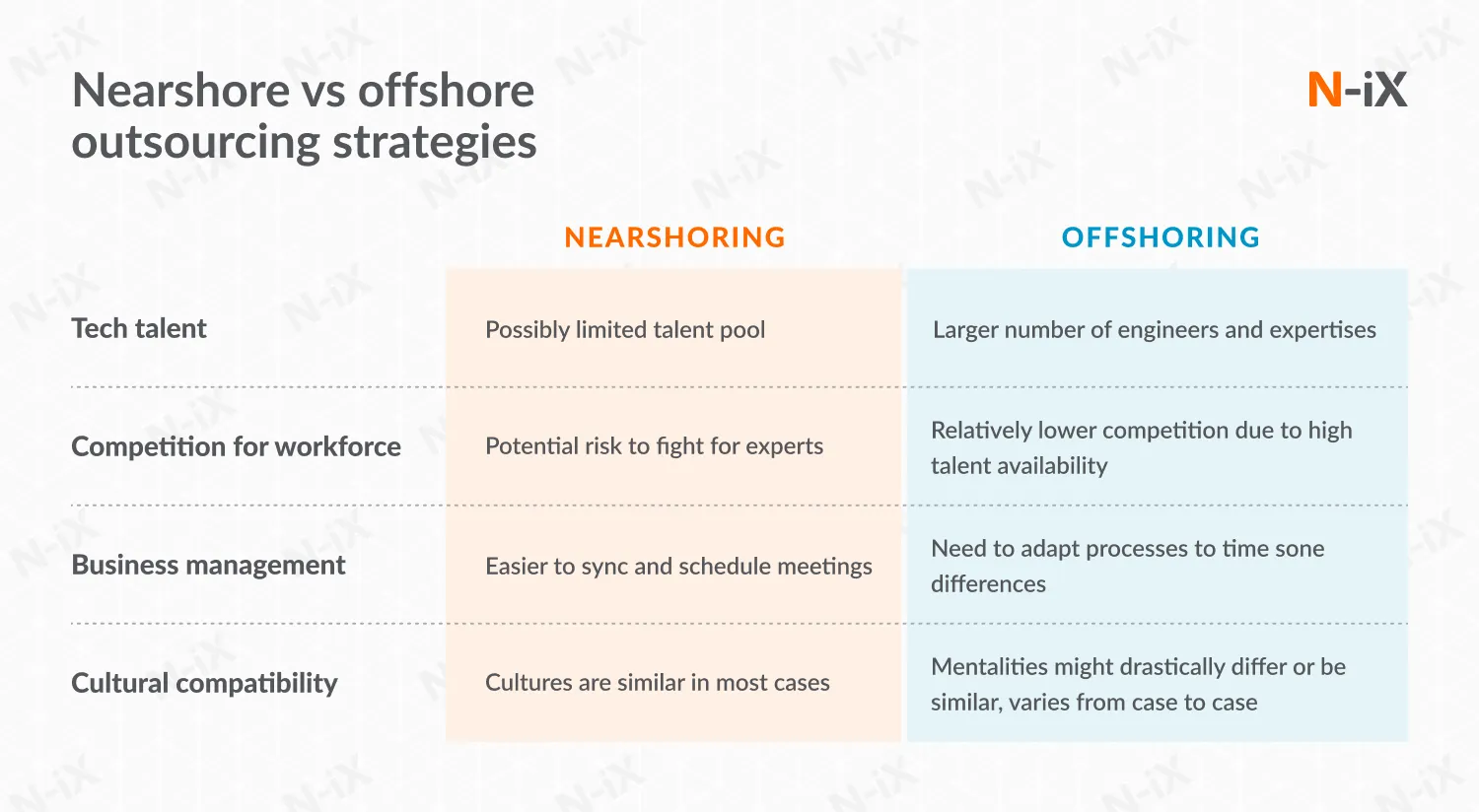 Need help building a strong IT outsourcing strategy?
1. Our Solution Group that helps validate your idea, choose the best approach, and mitigate risks
Our Solution Group can analyze your request and conduct a technical assessment to help you choose the best IT outsourcing strategy. They will assess your business needs, the current system, and existing infrastructure and come up with the best way to tackle them. Other experts can help you choose the best engagement model and type of contract to help you reach your goal and fulfill the needs of the project.
2. Our robust expertise that will help you embrace new technologies easier
Custom software development, cloud solutions, data science, big data analytics, BI, AI, enterprise mobility, embedded software, SAP and OpenText consulting, manufacturing, fintech, telecom, healthcare, retail, agritech, logistics, and supply chain – these are just a few areas where our experts excel.
3. Infosecurity compliances that make your data safe
N-iX is compliant with key international regulations, including ISO 27001:2013, PCI DSS, ISO 9001:2015, GDPR, and HIPAA, so your data will always be safe.
Learn more about the secure software development
WRAP-UP
To make your outsourcing strategy work, you need to pay attention to a whole lot of details. For instance, if you have a large project and you cannot find a single vendor to fulfill your needs, you can opt for a long tail IT outsourcing strategy and partner with both nearshore and offshore companies.
For you not to get lost, we have created a checklist to help you ensure you are making it right:
Align your strategies: make sure that your outsourcing and business strategies are aligned and help you reach your deliverables;
Define your expectations: outline the business value of outsourcing and how it supports the objectives of your business;
Make sure to have a trusted vendor by your side: the vendor should meet your requirements and be able to complete tasks of any complexity;
Negotiate a win-win contract: it should reflect strategic goals and define expectations for both your business and the vendor you have chosen;
Track your progress: make sure that you get what you have paid for. Transparency is of prime importance.
Despite choosing the perfect IT outsourcing strategy can be a real challenge, it will pay off in the future. Once you opt for the one that matches your company size, approaches business processes, and addresses your stumble points, you might not worry about business outcomes.
Have a question?
Speak to an expert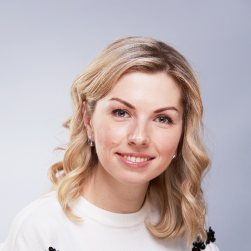 Uliana Batiuk
Engagement Director
---