Big Data has now been named the retail industry's game-changer, becoming a powerful asset to transform your business and gain a competitive edge. Vast data bulks help companies optimize pricing, streamline operations, and enhance customer experience. Big Data in retail refers to using extensive data sets to help retailers make better-informed business decisions.
According to Statista, the Big Data analytics market will be valued at $650B by 2029, showing how the demand will only grow over time. Big Data in retail creates an opportunity for understanding consumer behavior and attracting new customers. This way, retail industry players can craft specialized customer recommendations, also improving customer service.
In this article, you'll find out the key benefits of Big Data for retailers, use cases, and challenges. Before moving to the described points, let's review the three V's of Big Data first.
Three V's of Big Data in retail
To better understand how Big Data manifests itself in retail, it's crucial to understand the three V's of data: volume, velocity, and variety.
Volume refers to the amount of data that is being generated. In retail, it can come from various sources, such as point-of-sale systems, CRM systems, and website clickstreams (in e-commerce services). For retailers, the data volume is essential to conduct a proper analysis. It's then needed to draw meaningful business-related decisions.
Velocity accounts for the speed at which data is retrieved and collected, depending on the type of business. Analyzing data in real-time can be vital to make timely decisions, which is why Big Data in the retail industry can include colossal volumes of data that need to be timely collected.
Variety refers to the various types of data being generated. Data can come in various forms and from different sources. It can include traditional data sources, including transactional ones, and new, such as social media data.
Since Big Data for retail solutions are essential for structuring, categorizing, and making the most of gathered data, it's now time to review its key benefits, as follows.
Key benefits of using Big Data analytics for retail
Big Data in retail can tackle a wide range of challenges. It determines popular products, forecasts demand, and optimizes pricing to reach a competitive advantage. Thus, the most important Big Data for retail benefits are:
Data accessibility. The retail industry is one of the most data-intensive industries. To make informed decisions about inventory, pricing, and marketing, retailers must collect, access, and analyze data quickly and easily. Big Data solutions for retail can help with this by providing a centralized repository for all dataflows, making it easy to consolidate and analyze information.
Optimized pricing. Another way Big Data can help retailers is by providing valuable insights into pricing. Using Big Data, companies can utilize ML algorithms to track demand, inventory levels, and competitor activity in real time. Additionally, Big Data analytics for retail automatically responds to market changes, allowing amendments based on industry insights to apply in minutes. By developing such pricing strategies, retailers can expect increased sales and profits.
Predictive analytics. Preparing your business for future trends and market fluctuations is no easy task. Yet, using intelligent predictive ML algorithms, retail companies can understand where the demand will be. One can build purchase patterns and customer behavior specifics by gathering demographic data and economic indicators. Retailers can use this information further to adjust inventory levels, strategize marketing campaigns, and design store layouts to maximize sales.
Customer segmentation. Big Data for retail can also help companies segment their customers more efficiently. Businesses can map out groups of customers with similar needs and desires by collecting information on customer behavior. It allows retailers to tailor their marketing and sale efforts to specific groups of customers. Moreover, segmentation can highlight potential customers more likely to complete a purchase, resulting in more effective marketing campaigns and higher conversion rates.
Enhanced customer experience. What boosts customer satisfaction the most is the customizable experience. In addition to segmenting customers, retailers can use Big Data solutions to find where the customer experience can be improved. This step is vital to make amendments and changes to the product selection and other factors that impact satisfaction in the long run.
Personalized customer analytics. Finally, Big Data for retail can help in providing personalized customer insights. By analyzing information about individual customers, retail companies can understand their preferences and behaviors. Personalized analytics is then used to provide customized recommendations and promotions tailored to specific groups and communities.
Challenges of using Big Data for retailers
Besides benefits, it's crucial to mention the challenges of a Big Data strategy for the retail industry. Big Data requires a vast volume of data to analyze in retail time, making it complicated to identify the most significant bits and make informed decisions. Data sources can often be siloed, making it challenging to get an effective operational outlook. Thus far, the most critical challenges when implementing the Big Data strategy for retail are:
Dependency on a scalable information foundation. For businesses, it's crucial to operate in the information foundation that supports the rapidly growing volume, velocity, and variety of data. To manage extensive data processes, retailers need a scalable foundation, such as a cloud-based management system. Retailers must consider how best to support the data flow using AWS, Google Cloud Platform, or Microsoft Azure. Also, it's advised to make the most of ETL services for sufficient data integration. Strong security and governance processes are critical elements of information management and integrating Big Data solutions for retail.
Lack of robust analytical capabilities. When deciding on the data flow, retailers should consider how data can be analyzed within business time constraints. Some workflows might take days to process, and others must be obtained in seconds. Another related factor is the Big Data analytics capabilities. Streamlining processes, building data lakes, integrating analytics ecosystems, extracting insights, and transforming data into actionable visuals are all crucial. Big Data in the retail industry relies heavily on data differentiation, structuring, and reporting to achieve the desired results. Some examples of analytics capabilities include data mining, visualization, simulation, natural language text, geospatial analytics, query, and reporting.
Uncertainty on the key metrics. One of the critical challenges of Big Data for retail is the precise definition of key metrics vital for business operations. This process can be tricky, as there are often dozens of data types that could be relevant. Companies have to outline the metrics, such as retention or conversion rates, to utilize the benefits of Big Data for retailers. Also, the metrics can include channels, touchpoints, and drop-out stages, which can all be essential for making informed business amendments. Not to mention that the ever-changing nature of the retail landscape can make it troublesome to keep all metrics up-to-date. Prior preparation must outline KPIs and metrics before opting for Big Data retail solutions.
Use cases of Big Data in retail
While the benefits of Big Data for retail are apparent, it can be even more helpful to get to know more about use cases. We've hand-picked the most widely used ones, including:
Operational efficiency. Since the industry is highly competitive, with margin pressure always being a concern, Big Data analytics for retail can become a competitive edge. Retail companies should be highly efficient in their operations, from supply management to customer service. Big Data for retailers makes it entirely possible to gather, categorize, and analyze vast amounts of operational information. It also creates operational efficiencies that help companies improve their bottom line and compete in the marketplace.
Building robust business analytics. While collecting data on customer behavior and segmentation is important, retailers should also consider building an analytical foundation. It can include gathering operational data, which is vital for cultivating Big Data adoption. Business analysis can help retailers identify trends and patterns, make accurate predictions about future trends, and optimize business procedures. Robust business analytics includes analyses focused on gaining insights from existing internal data sources.
Efficient supply chain and inventory management. Last but not least is an efficient supply chain, which is crucial for any retailer. Supply chain and inventory management powered by Big Data can manage a large number of SKUs and ensure that products are available when and where customers need them. Inventory management is a crucial part of supply chain management, and retailers need extensive data systems to track inventory levels, forecast future demand for particular items, and optimize stock levels.
Creating personalized recommendations. When utilizing the gathered data, retailers can generate personalized shopping experiences for segmented target audiences. These can be delivered through promotional codes, special deals, and customized recommendations. With data based on demographics, purchase history, and search preferences, retail and e-commerce companies can deliver hyper-personalized experiences. Since most industry players have adopted this approach over the past years, it's becoming a standard for operating in the competitive retail landscape.
Fraud prevention. The recurrence of data infringements causes companies to pay more attention to fraud detection, which is a must to avoid financial losses. The retail industry can be particularly susceptible to fraudulent activities due to the high volume of transactions and the diversity of products and services involved. Big Data for retailers can be game-changing for anti-fraud measures, such as identity verification, transaction monitoring, and fraud-related data analysis.
Success story: cleverbridge
Now that we have explored all the business value, challenges, and use cases of Big Data analytics for retail, it's time to review a real-life example. Based in Germany, cleverbridge offers full-fledged e-commerce and subscription management solutions for monetizing digital goods, online services, and SaaS solutions. The company offers a cloud-based e-commerce platform that simplifies recurring billing and provides global compliance and payment capabilities.
The client requested N-iX to provide one of its largest customers with precise and visually informative data analytics reports. Since analytics is crucial in any Big Data solution, N-iX experts started with Product Discovery, followed by data migration and the development of a modern data platform for proper reporting. By developing the comprehensive data analytics solution, N-iX has helped cleverbridge match their largest customers' needs. In particular, the partnership resulted in:
The increased value proposition with a universal reporting solution;
Boosted information security powered by effective data governance of the developed platform;
Enhanced business decision-making capacities with renewed insights into client performance.
Read more: Driving growth in e-commerce with a comprehensive data analytics solution
Why choose N-iX for Big Data in retail services?
N-iX is one of the top Big Data vendors, with 10+ years of proven expertise in data-related services;
N-iX has a robust team of 200+ data specialists with expertise in data governance, AI/ML, legacy migration, Data Science, and Data Analytics, among the few;
The company's Big Data specialists have a deep knowledge of programming languages, including Python, Scala, Java, C/C++, and SQL. Additionally, engineers are seasoned in Apache Spark, Flink, and Beam frameworks, as well as Hadoop, Pig, Hive, and other Big Data tools;
N-iX offers technology consulting and implementation of intelligent solutions powered by AI and ML, such as predictive analytics, customer behavior analysis, risk allocation and mitigation, and predictive maintenance;
Among N-iX clients in Big Data services are cleverbridge, Discovery, Lebara, AVL, Orbus Software, Gogo, and Fortune 500 companies;
N-iX has been repeatedly recognized by CRN among the leading solutions providers in North America, as proven by Solution Provider 500 and CRN Fast Growth 150 ratings;
The company complies with industry regulations and standards, including PCI DSS, ISO 9001, ISO 27001, and GDPR.
Have a question?
Speak to an expert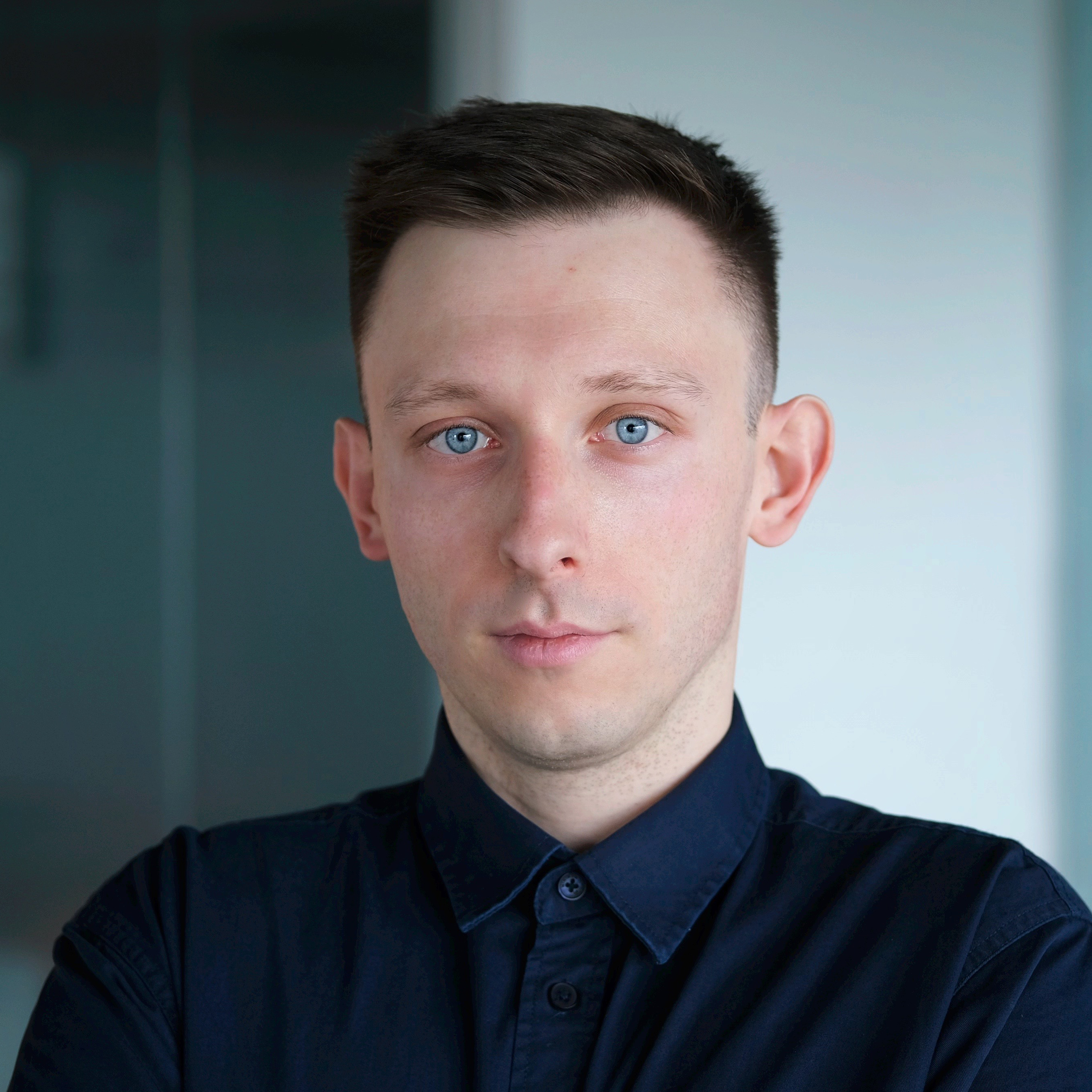 Rostyslav Fedynyshyn
Head of Data and Analytics Practice
---