So you've decided to migrate to AWS, or you need to optimize your AWS infrastructure to make it more cost-efficient, and you are looking for an AWS implementation provider that has the required expertise to deliver your project? Addressing the AWS partners list is the logical next step in your journey. However, it features nearly 100,000 companies. How do you choose the right service provider for your specific business needs? AWS offers hundreds of services and solutions, so no tech vendor can have expertise in all of them. Also, AWS partners have different delivery capabilities, operate in different markets, and have different industry focus. Therefore, you need to consider a number of factors when looking for a partner.
Key reasons to choose AWS partners
Shaking hands with an AWS partner can provide a range of benefits, including access to the latest knowledge, best practices, cost savings, and much more. Let's take a closer look at two key reasons why choosing a vendor among top AWS partners is a smart move for your business:
High service quality
One of the main advantages of choosing your tech vendor from the list of AWS partners is the outstanding quality of their cloud services. To become an AWS partner, an engineering company must undergo a rigorous verification process by Amazon Web Services. To make sure that a tech vendor matches the requirements, the experts from AWS assess the potential partner according to the following criteria:
Knowledge. AWS certifications validate the high level of technical skills and proven cloud expertise of AWS professionals. To join the AWS partners list, a cloud services vendor must have a significant number of AWS-certified specialists on board. For instance, N-iX employs over 100 AWS-certified and accredited experts, including the Cloud Solution Group, who are AWS Certified Solutions Architect Professionals. To obtain this certification, specialists need to have 3+ years of experience in AWS and pass a challenging examination. Therefore, you can be sure that the AWS partner's experts will utilize cloud best practices and provide services of excellent quality.
Experience. Another aspect that showcases the vendor's readiness to become an AWS partner is how they guide clients on their journeys with AWS services. All tech enterprises on the AWS partners list have demonstrated their ability to help businesses extend AWS adoption. Moreover, members of the Amazon Web Services network have to prove their competency in one or several technical expertise areas. For example, N-iX holds an official status of an AWS Data & Analytics Competency partner. This competency validates our expertise in utilizing AWS services and tools to deliver robust cloud solutions for collecting and analyzing large amounts of data. Another differentiator of AWS Partners' experience is the AWS SDP Designations, and N-iX holds 8 of them.
Customer success. One of the crucial requirements for becoming an AWS partner is a high degree of customer satisfaction for the clients that use AWS services. While evaluating customer success, experts at Amazon Web Services check relevant use cases as well as collect reviews from clients.
In addition to the service quality control, AWS offers their partners faster access to information on AWS products and service releases as well as internal training programs. Therefore, by relying on one of the AWS partners, you keep up with the latest updates and establish a competitive advantage.
Cutting Cloud costs with AWS
Cloud is already associated with cost optimization, but with one of the AWS partners, you can take it to another level. For their service partners, AWS offers supplementary funding advantages, such as AWS Migration Acceleration Program and AWS PoC Funding. The first program supports migrations to AWS of any size and might save you a substantial amount of migration costs.
With the PoC Funding Program, businesses can receive a one-time AWS service discount. In both cases, the amount of allocated funds is subject to AWS decision. Cooperating with AWS partners like N-iX will provide you with the opportunity to utilize these programs and their benefits.
N-iX is a MAP (Migration Acceleration Program) Eligible Partner and has a track record of successful funding for our enterprise clients both within the PoC and MAP Programs. Apart from cost reduction, working with MAP Eligible Partners offers a wide range of expertise-related benefits, such as access to advanced AWS migration solutions and professional training.
How to select the right tech vendor in the AWS partners list?
The AWS partners list features around 100,000 tech vendors from 150+ countries around the globe. With the multitude of tech vendors that differ in service offerings and AWS competencies, choosing the right partner from the AWS partners list to support you with Cloud development is a strenuous task. Here are five criteria you can use as starting points for your search:
Option 1: Choose by the country where you want to set up cooperation
One of the first questions to ask yourself is whether you want to delegate your Cloud-native services to a local AWS partner or outsource to more distant locations. Many companies on the AWS partner list have delivery capabilities in multiple locations, so you can choose where to implement your cloud project. Thus you can find more cost-efficient options in other countries with the same high quality verified by AWS.
For your convenience, Amazon offers you to filter the best AWS partners by location. Tech vendors are divided according to their presence in North America (NA), Latin America (LATAM), Europe (EMEA), or Asia Pacific (APAC). However, it's a good idea to additionally check the company's profile since many of the tech vendors on the list also have offices in other locations.
Let's take N-iX as an example: the company has R&D centers and offices across Europe and the Americas, including Poland, Ukraine, Bulgaria, Colombia, and other countries. N-iX is one of AWS advanced service partners with a presence around the globe, so you can choose one of the delivery centers that will best fit your business needs.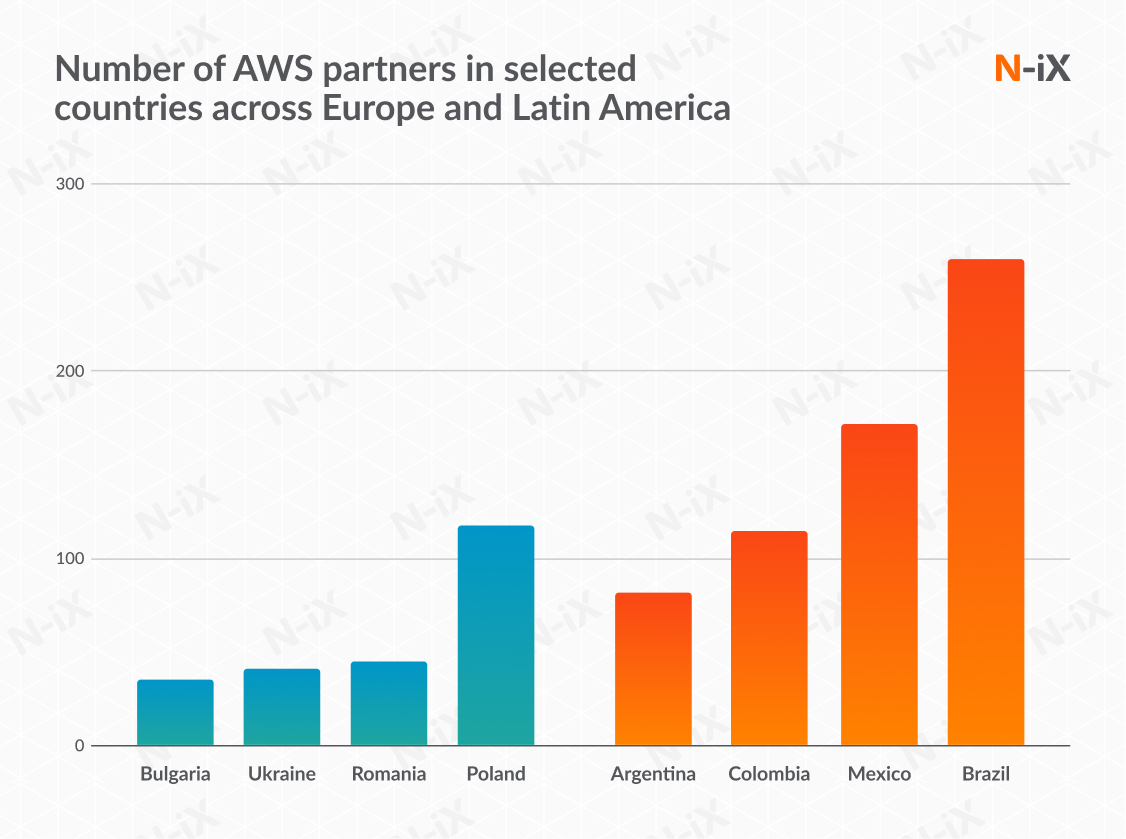 Option 2: Filter by services
Another factor that can guide your cloud vendor choice is your business request. In other words, what are your AWS service needs and expertise focus for this project? Answering this question will help you single out top AWS partners with relevant experience and competencies. Each of the AWS Service Delivery Program Partners possesses designations that correspond to a specific competency and prove the vendor's tech capabilities and customer success in the field.
Nowadays, one of the most popular business requests is the combination of Cloud computing and Data Analytics expertise. Organizations generate more and more data every year, and they need cost-effective and scalable solutions to store and process large volumes of data. If you need a reliable data partner, look at tech enterprises with correspondent designations. For instance, N-iX has several designations related to Data Analytics and serverless Cloud-native computing. These include Amazon EMR Delivery, Amazon Kinesis, Amazon Redshift, AWS Glue, Amazon DynamoDB Delivery, Amazon API Gateway Delivery, and AWS Lambda Delivery. Some of the designations' categories overlap and validate expertise in several fields at once.
As mentioned before, N-iX possesses Amazon DynamoDB, Amazon RDS, and Amazon Redshift designations that also fall into the category of databases. AWS advanced partners with these competencies have a proven understanding of the capabilities of each database service and can assist you on your way to informed decision-making.
Option 3: Search by relevant industry
As an alternative to these two methods, you can consider browsing the best AWS partners according to their domain expertise. It is a huge plus if your potential cloud services company has expertise in your domain proven by case studies. In addition to navigating through the AWS industry list, we recommend researching the vendors' focus industries on their websites or independent client review resources such as Clutch. This can give you a broader perspective on their industry experience since some vendors are only on a path to joining the AWS Competency Partnership Network.
Option 4: Browse for use cases
What if you want to explore the measurable business value provided by your potential partner before you shake hands with your AWS services company? To find a vendor with the highest level of expertise in a specific technology, you may want to review the AWS use cases section. To make things easier for you, the use cases are categorized according to the expertise field: you can browse success stories for Cloud governance, Machine Learning, and other services. N-iX is presented in the Data and Analytics category, being one of only 65 consulting partners worldwide to achieve this competency.
Option 5: Explore by AWS Partner Programs
Most of the top AWS partners went further than validating their AWS service offerings, joining AWS Partner Programs. By signing up for one of these programs, businesses can gain access to exclusive resources, full-cycle support, and funding benefits. While navigating through the list of AWS partners, you can browse them separately based on the program name. For instance, N-iX has joined such Partner Programs as Advanced Tier Services, AWS Public Sector Partner, and APN Immersion Days.
AWS Advanced Tier Services Partners stand out in the list of AWS partners for the significant number of well-trained and certified specialists as well as the track record of delivering exceptional customer experiences.
Clients from industries such as government, space, education, and non-profit domains can benefit from the AWS Public Sector Partner (PSP) Program. By participating in this program, a public sector business can expand their marketing capabilities, get access to funding benefits, and enhance the visibility of their business.
As a part of the APN Immersion Days Program, N-iX clients can take part in introduction workshops, where we introduce them to relevant AWS services and describe the main benefits for the clients' businesses.
AWS partner profile: What aspects should catch your eye?
Once you select several AWS partners that drew your attention, you should thoroughly explore their AWS partner profiles to make a final decision. On the partner's profile page, you will find up-to-date consolidated information regarding the vendor's total number of tech experts, all AWS competencies, partner programs, designations, and more. As you scroll down, you might also find customer references for the company's AWS projects.
The AWS website functionality allows you to contact the chosen enterprise. However, we recommend taking your time to visit the company's website and go through all stages of the standard vendor selection process. In this particular case, pay special attention to the company's Cloud and AWS service pages, the number of Cloud specialists, as well as AWS-certified professionals, success stories, and any other related information. Keep in mind that your AWS partner might not have all designations or industry competencies yet, but still offer high-quality services or possess vast domain expertise. Since the AWS approval procedures are complex and might take a long time, the company might right now be in the process of gaining competency or service validation. For example, since N-iX became the AWS partner in 2020, we gained Data and Analytics competency and are currently on our way to earning DevOps and Migration qualifications.
More on the topic: How to choose the right software development partner: your outsourcing handbook
For your convenience, the professional services of the top AWS partners are listed on the AWS Marketplace. If you already have an AWS account, you can purchase additional AWS services from the chosen vendor with one click and skip the contract-related procedural hurdles.
Have a question?
Speak to an expert
Orest Furhala
Head of Partnerships
---